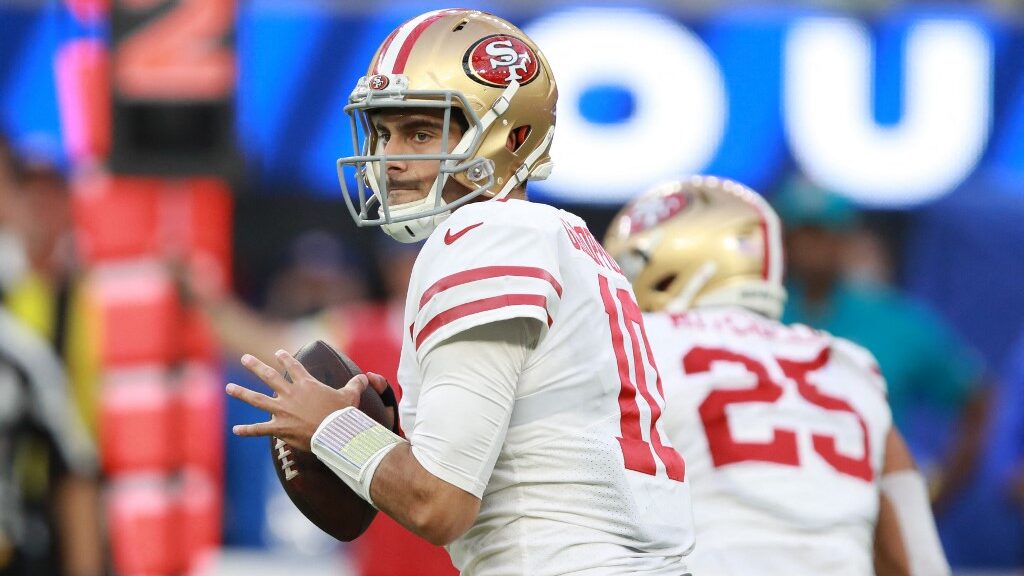 The NFL world was shocked to hear that Tom Brady was retiring from the NFL. But Brady announced he would retire before this year's Super Bowl and likely won't be looking back from here.
He hasn't ruled out a change of heart, but he's likely just playing with everyone's strings. There's likely no chance he'll ever return to the game again, knowing he did everything he could do to become the greatest quarterback in the history of the game.
Now it's time to look at who the Buccaneers will employ for next season as their starting quarterback. Will Tampa Bay fall right back to about a .500 team or can they contend next year?
That all depends on the quarterback.
Buccaneers Quarterback for 2022 Odds:
Jimmy Garoppolo: +600
Kyle Trask: +600
Nick Foles: +850
Aaron Rodgers: +950
Ryan Tannehill: +1000
Tyrod Taylor: +1000
Blaine Gabbert: +1500
Ryan Fitzpatrick: +1500
Desmond Ridder: +1800
Russell Wilson: +2000
Deshaun Watson: +2000
Drew Lock: +2500
Derek Carr: +2500
Sam Howell: +3500
Taysom Hill: +3500
Jameis Winston: +7500
Cam Newton: +7500
Jimmy Garoppolo +600
Jimmy Garoppolo would make the most sense for the Tampa Bay Buccaneers. Garoppolo came into the league, behind Tom Brady and ultimately got his shot to start games with the San Francisco 49ers.
Despite being a winner every time he's on the field, the 49ers went and drafted Trey Lance with their first pick of last year's NFL draft. The expectation is that Lance will start for the 49ers next season and Garoppolo will be on a different team.
The Buccaneers need a veteran leader to hold this Buccaneers group together. This season, the Buccaneers were plagued with injuries on both sides of the ball, but there's still so much talent returning next season, even with Brady opting out and retiring.
VIDEO PICKS: Watch BMR's Free Expert Sports Betting Picks of the Day
Garoppolo is a solid game manager and seems to be a great teammate. All of the 49ers' roster praised him every chance they got. The run game for the 49ers was special and that allowed Garoppolo to have less pressure on his back throughout his career with the 49ers.
He doesn't have the gifting ability that Trey Lance does. Lance is obviously more mobile and has a much higher ceiling than Garoppolo. But Garoppolo is a winner and is always finding himself on center stage, in the biggest games. The Buccaneers would be foolish if they didn't go after Garoppolo.
Kyle Trask +650
I wouldn't mind seeing Kyle Trask get the task of being the next quarterback of the Buccaneers. If the Buccaneers don't sign or draft any quarterback, there's a good chance that the former Florida product will get an opportunity.
Trask was a bit of a later draft pick, in the second, but he's the guy that helped Kyle Pitts and Kadarius Toney get into the league as first-round picks.
Trask will have a lot of offensive talent once everyone is healthy and would get an interesting opportunity with the Buccaneers.
The second-round selection has a chance to start, whether you like it or not. At +600, the gamble is worth it for a little bit of money.
Russell Wilson +2000
Do you want a long shot? I'll give you a long shot. It does seem like Russell Wilson wants out of Seattle and what better place to go to retire than Tampa Bay? Am I right? Brady would agree with me.
Wilson would get behind a much better offensive line and have plenty of reliable targets on the field. In three or five years, he'd win another ring with Tampa Bay and retire, just like Brady. It sounds so real!