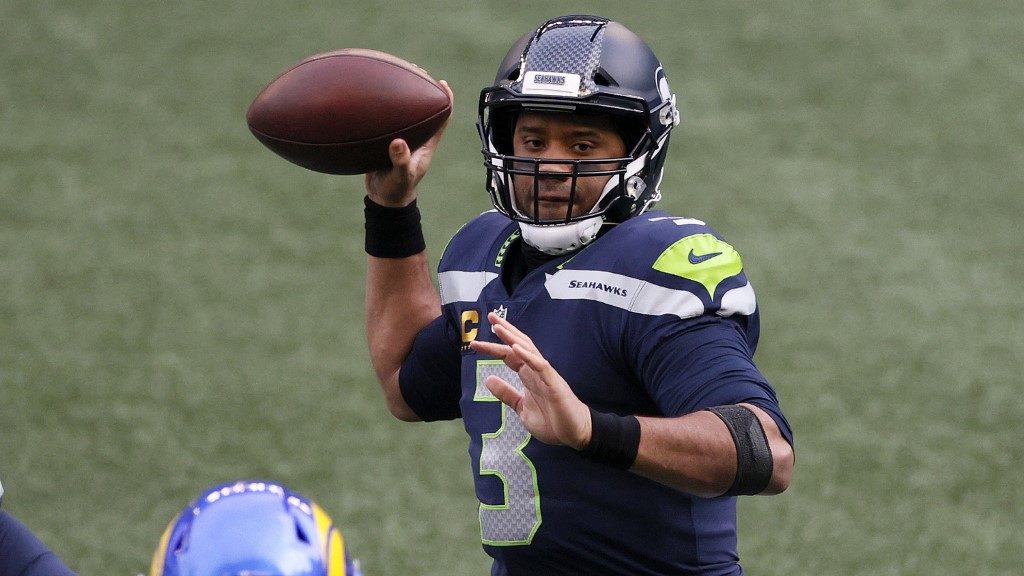 The Seattle Seahawks did indeed let Russell Wilson cook in 2020. It led to a 12-4 record, the team's best since 2014, and a career-high 40 touchdown passes for Wilson. Yet, why does it feel like the kitchen burned down as customers flock to Los Angeles, Arizona, and San Francisco for a better meal? After another quick playoff exit, Wilson still does not have an MVP vote to his name and the team has still not advanced to the NFC Championship Game since 2014.
Not to be all doom and gloom, but the Seahawks have had a winning record in all nine seasons since drafting Wilson in 2012, which makes them the 19th team in NFL history to have at least nine straight winning seasons. Ten of those first 18 teams extended their streak to 10 seasons or more. Eight teams fell off in Year 10, but those were usually the end of eras.
Moments like Johnny Unitas and Peyton Manning moving on from the Colts, or the end of dynasty runs in Green Bay (1968) and Pittsburgh (1980). Are we at the end of the Wilson and Pete Carroll era in Seattle? Wilson has been getting more vocal about his frustrations, but he is still on board for Year 10 with the Seahawks. Carroll, despite his youthful exuberance, turns 70 in a month. This union may be on borrowed time, but it is not over just yet.
Many of the top sportsbooks have the Seahawks with an over/under of 9.5 wins, which ranks behind the 49ers (10.5) and Rams (10.5). Seattle has not repeated as division champions since those Super Bowl seasons in 2013-14. Can the Seahawks continue grinding out close wins to stay ahead of the tough NFC West competition, or does Wilson start shopping for a new home in 2022?
On the Last Season of SEAHAWKS: Bobby Wagner Still Clubhouse Leader in MVP Votes
To the naked eye, the 2020 Seahawks had a strong season with an unfortunate flop at home in the first playoff game to a division rival that has had their number lately. It would be a hard sell that this team fell apart when it went 6-2 in the first half of the season and 6-2 in the last half of the season. But let's try to sell it as 2020 really was a tale of two completely different teams. In the first half of the season, the Seahawks looked like an offensive juggernaut that was keeping the boat afloat while the defense was a sieve, especially against the pass.
Wilson threw 22 touchdown passes in the first six games, tying Peyton Manning (2013) for the most in NFL history through six games. Forget just getting his first MVP vote. Could Wilson break Manning's record of 55 and finally win an MVP? Wide receiver DK Metcalf looked incredible in his second season and the team was 5-0 before the bye week and 6-1 going into a showdown with Buffalo.
Things fell off in the Bills game. The defense managed to get multiple takeaways in six of the first seven games to soften the blow of the points and yards allowed. But against Buffalo, the Seahawks had no takeaways while the offense coughed it up four times. The Bills won 44-34 to drop the Seahawks to 6-2.In the first half of the season, the Seahawks played a lot of bad defenses, including Atlanta, Dallas, and Minnesota. They also played an injury-ravaged 49ers team.
Defense in general around the league was poor in this pandemic season, and the lack of a preseason and empty stadiums almost no doubt led to historic highs for offenses with completion percentages, third down conversion rates, red zone touchdown rates, and scoring in general. It was to be expected that defenses would catch up in the second half of the year, but what happened in Seattle was especially crazy.
Between the Seahawks and their opponents, there were 6,966 yards of offense in Seattle's first eight games, the most in NFL history. The Seattle defense allowed 2,897 net passing yards through eight games, another NFL record by more than 300 yards over the previous team (2002 Chiefs). There were also 517 points scored in Seattle's first eight games, the fourth-highest total in a team's first eight games of a season in NFL history.
But look what happened with the defense in the second half of the season:
In the first eight games, Seattle allowed 243 points (third most in 2020)
In the last eight games, Seattle allowed 128 points (fewest in 2020)
There have been 1,241 teams to play a 16-game season since 1978 (strike years excluded). Seattle's difference of 115 fewer points allowed in the second half of the season ranks fourth out of those 1,241 teams. Only the 1988 Falcons (-125), 1981 Jets (-117), and 2012 Bengals (-116) had bigger declines. A big part of this was the schedule. The Seahawks caught the struggling Rams twice, the lousy New York teams (Jets and Giants), Arizona's Kyler Murray played them injured, and two bad NFC East offenses (Eagles and Washington).
However, that also meant the Seahawks were playing some better defenses in the Rams (twice), Washington, and the Giants managed to hold Seattle to 12 points at home in one of the worst losses of the Wilson era. Beyond just the defense, Seattle's offense declined too by a wide margin in the second half of the season. That decline was 89 points, which ranks as the 13th steepest out of 1,241 teams. The 2020 Seahawks are the only team since 1978 to decline by at least 80 points on both sides of the ball.
When you combine the declines on both sides of the ball for Seattle (-115 on defense, -89 on offense), you get a total change of 204 points. That is the largest drop for any team since 1978, easily beating out the 2002 Bills (-168). It's the biggest change in either direction too since the largest increase was +180 by 1978 Browns.
We now say goodbye to the 16-game seasons and eight-game splits, but in the last year of its existence, the 2020 Seahawks showed us a drop on the scoreboard unlike any team in NFL history. So, maybe it was not that surprising when the offense continued its descent with a stinker in the playoffs against the No. 1 scoring defense in the Rams. Wilson threw a bad pick-six in the second quarter and only completed 11-of-27 passes in the game. The Rams are 6-2 in the last eight against Seattle with one of the losses in 2019 in a game where Los Angeles missed a game-winning field goal.
While Wilson finished with a career-high 40 touchdown passes, that was a disappointing total after how hot he started the year. With Wilson once again not receiving an MVP vote, that means the only Seattle player in the Carroll era to get an MVP vote is still linebacker Bobby Wagner in 2014. Wilson having zero career votes is not an injustice. It is just a reflection that he has never been able to put together a complete, spectacular season worthy of a vote. While he is no doubt on a first-ballot Hall of Fame track with Seattle, we are still waiting to see him have that elite run that extends beyond the seven-to-nine game hot streak.
The Notable Changes for 2021
There are not a ton of notable roster changes for the Seahawks, who only made three picks in the whole 2021 draft due to past trades, including one of the two first-round picks that were used to get safety Jamal Adams from the Jets. The unique Adams led the team with 9.5 sacks in the 12 games he played last year. Still, you would like to see him more involved in pass coverage and to create turnover-worthy plays given the resource investment. Bobby Wagner is still there to lead the defense, but linebacker K.J. Wright departs after 10 seasons with the team.
Defensive tackle Jarran Reed was the leading pass rusher on the defensive line, but he is with the Chiefs now. The team added edge rusher Kerry Hyder, who has had a couple of nice sack seasons in his career. Most recently he chipped in 8.5 sacks for the 49ers after Nick Bosa tore his ACL last year. The Seahawks also lost corner Shaquill Griffin to the Jaguars. Ahkello Witherspoon comes over from San Francisco, which could be a lateral move at best there.
A new WR3 will have to emerge after David Moore left for the Panthers. Seattle's second-round pick was used on wideout D'Wayne Eskridge, but he already has landed on PUP with a toe injury. Fortunately, the Seahawks return one of the best duos in the league with DK Metcalf and Tyler Lockett. They both went over 1,000 yards and caught 10 touchdowns last year. Moore was the only other receiver to gain over 300 yards, but the Seahawks are not deep at receiver or overly skilled at tight end right now.
Chris Carson remains the lead back while 2018 first-round pick Rashaad Penny (time flies) is still trying to escape from Bust City. The Seahawks sent a fifth-round pick to Las Vegas for right guard Gabe Jackson, who made 99 starts with the Raiders. This will move Damien Lewis, who was decent as a rookie at right guard, to the left side this season. Wilson has dealt with better and worse offensive lines than this one before in Seattle.
Of course, the Seahawks will be working with a new offensive coordinator as Brian Schottenheimer is out after three seasons. The new coach is Shane Waldron, because teams are practically obligated these days to hire someone who has poked around with Bill Belichick in New England and Sean McVay for the last five seasons. Waldron was specifically the passing game coordinator with the Rams the last three years.
Waldron is the third offensive coordinator for Wilson. Schottenheimer infamously took the air out of the ball in 2018 when he replaced Darrell Bevell. It is unlikely we see that happen again, but this could be the year where Wilson starts to incorporate more quicker throws into his playing style as he turns 33. Wilson has taken over 40 sacks in an NFL record eight consecutive seasons, two more than the next closest quarterback (Neil Lomax). Lomax retired for health reasons before he turned 30.
Regression Alert: Close Games
Not to sound like a broken record, but the Seahawks won an unsustainable rate of close games again last season. The Seahawks were 9-2 in games that involved a fourth-quarter comeback opportunity. They only blew one lead (at Arizona) and led the league with nine holds of a one-score lead. They were also 7-3 in games decided by 1-to-7 points.
Of course, in 2019 the Seahawks did something very similar. They were 9-2 in games decided by 1-to-7 points, 5-0 at upholding one-score leads in the fourth quarter, and 7-2 in close games. It adds up to a two-year run of very impressive records in close games, which is why Seattle has won a lot of games since 2019 But these close games, despite Seattle's reputation for them, are very difficult to keep winning.
Yes, Wilson has the most fourth-quarter comeback wins (27) and game-winning drives (35) in a quarterback's first nine seasons in NFL history. That helps a lot at sustaining the success but consider these records for Seattle in games decided by 1-to-7 points in each season under Wilson since 2012: 5-5, 5-3, 3-3, 2-5, 5-3-1, 4-5, and 5-5.
The Seahawks went from 29-29-1 in games decided by 1-to-7 points in Wilson's first seven seasons to 16-5 in the last two seasons. Which one looks like an outlier to you? Throw in a stronger division with two teams (Rams and Cardinals) that the Seahawks tend to struggle with, and you can see the regression coming.
Also, despite Seattle's offensive success last year with Let Russ Cook, the Seahawks finished 20th in third down conversion rate (40.2%). It is actually a stat where the Seahawks have finished outside of the top 10 in every Wilson season except 2015 when they were fourth. But last year was the worst ranking since 2017, the only season under Wilson where Seattle failed to win 10 games and make the playoffs.
The Seahawks are going to continue being competitive in just about every game this season, but do not be surprised when what would have been another close win the last two years goes the other way this season. That is how 11-5 and 12-4 turns into 9-7 and 10-6 in this league, or at least it used to before the 17-game season.
Prediction
If I was looking for the best NFL pick this year, I would hurry up and take the over 9.5 on Seattle before the total is bumped up to 10 wins. Maybe I am too confident in Wilson, but he has started 160 consecutive games including playoffs, the sixth-longest streak by a quarterback in NFL history. Keep him healthy for another 17 games and I think you will get 10 wins at the end. You may be sweating it out and hedging on the Cardinals in that Week 18 finale, but such is life in the NFL. In most seasons, at least a quarter of the league will finish within a game of their preseason win total. Things would be even tighter if injuries were not such a big part of the game.
While the trip to Green Bay and the division games will be tough, Seattle has gone 3-3 or better in the NFC West every year since 2003. Only in that inaugural year of realignment (2002) did the Seahawks finish 2-4 in the division. There are several favorable things on the schedule too, including facing the weakest AFC division (South). The Colts could be without Carson Wentz and Quenton Nelson in Week 1. The Texans may not have Deshaun Watson available in Week 14. It is hard to imagine how playing the Steelers and Saints in 2021 could be more difficult than it would have been a year ago. Hosting Tennessee and Chicago is certainly favorable to going to those places in real road games with crowds this year.
Then there should be a few home "layups" with the Jaguars and Lions. Of course, a layup in Seattle terms means Wilson leading a last-second game-winning drive to avoid losing to a team that finishes 4-13, but that is how the Seahawks operate. Wilson and Carroll seem to embrace playing a close game instead of blowing someone out. Truthfully, this team has accumulated too much of a talent deficit to be blowing many teams out, but for as long as Wilson is healthy, I like them for 10 wins. However, that likely still means no MVP votes for Wilson and another wild card loss.
2021 Seahawks Over/Under Pick: Over 9.5 wins (-160) at Bovada (visit our Bovada Review)
*The line and/or odds on picks in this article might have moved since the content was commissioned. For updated line movements, visit BMR's free betting odds product.