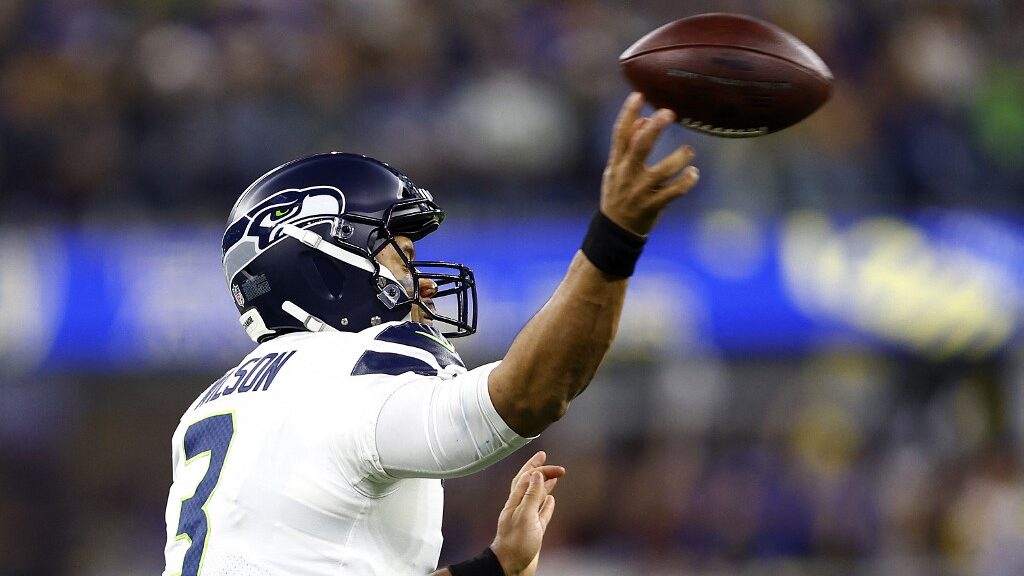 Russell Wilson was traded from the Seattle Seahawks to the Denver Broncos early this week in a stunning bit of NFL offseason news. Oddsmakers at top-rated sportsbooks were quick to react by quickly assembling several statistical prop bets based on Wilson's performance this year. We'll take you through those bets and give you our thoughts on if Russ will cook in Denver this year.
It's rare for a quarterback of Russell Wilson's stature to be traded when he's still regarded as one of the best quarterbacks in the league. Maybe the precedent set by the Rams acquiring Matthew Stafford a year ago and riding him to a Super Bowl championship set the precedent. In any case, Wilson was acquired by Denver from Seattle for compensation that included a pair of starters and four picks in this year's draft in the first two rounds.
Join Now: $1,000 BMR 12-Week All Sports Challenge
Wilson leaves Seattle after an incredible ten years there, including a Super Bowl championship and one heartbreaking near-miss. He's also generally regarded as one of the finest players to never have won an NFL Most Valuable Player Award. If he can come up big for Denver, he can certainly be a top candidate this season.
In Denver, Wilson joins a team that has struggled mightily at the quarterback position ever since the retirement of Peyton Manning. It's a team for which he can certainly put up numbers if he's at the top of his game, which most expect him to be with the motivation he'll have coming to the new team.
Russell Wilson's Level of Play Heading Into 2022-23
For the first time in his career, Russell Wilson missed time due to injury. It was a freak finger injury that could have happened to anyone, and it certainly could happen again if the fates were cruel to send all prop bets on him under. But for now, we're going to give Wilson points for his durability through ten seasons in the NFL and assume that he'll stay healthy for Denver.
Wilson did see his yards per game come down to 222.4, his second-lowest in the last seven seasons. But his efficiency was mostly on a par with what's expected of him, as his 7.8 yards per attempt were dead on with his career total in that stat.
Learn More: NFL Betting
Wilson's stats last year being more modest than usual could largely be blamed on the fact that the Seattle defense had a hard time stopping people. There were a lot of games where the Seattle offense was put in a giant hole and had scant opportunity to dig out of it. By all other measures, Wilson certainly looked like his old self in what was his age-33 season.
Wilson's New Supporting Cast in Denver
The Denver Broncos offense was pretty much middle of the road in every conceivable way a year ago. They were a tad above average running the ball, and they were a bit below average passing the ball. Denver did a nice job controlling time of possession (8th in the league) but struggled to manufacture big plays, especially in the passing game.
It was a formula that kept them in most games, but they struggled when they needed points in a hurry to rally from a deficit. But as we go through the players on the roster, you'll see that there was a lot of promise at every position group. Where Denver was lacking was in the play behind center, as Teddy Bridgewater and Drew Lock failed to give the Broncos oomph at the position.
Wilson changes all of that, of course. With him at the helm and a new play-calling outlook (more on that in a bit), this offense has the ability to quickly rise to the point where it's one of the league's best. And Wilson's stats could ride along with that.
Wide Receivers/Tight Ends
One of the main reasons that the Broncos wanted to move on from Bridgewater and Lock at quarterback is that they were squandering the receivers, which should be a major area of strength on this team. The Broncos have invested a lot of draft capital on the position in recent seasons. Wilson walks into a situation where he should be able to capitalize on that.
He will not have a go-to guy as dynamic as his old Seattle buddy DK Metcalf at his disposal in Denver. But he will have more balance, with Jerry Jeudy, Courtland Sutton, Tim Patrick, and K.J. Hamler running routes. In particular, Jeudy, a former first-rounder, and Sutton, who was hampered by the poor deep-ball ability of Bridgewater, could both be in line for breakout seasons.
Read More: How to Bet the Buccaneers With Tom Brady Coming Back for His 23rd Season
Denver did trade away rising star right end Noah Fant as part of the package to lure in Wilson. But they believe that Albert Okwuegbunam could fill in without the offense really missing a beat. The bottom line, as far as Wilson's performance is concerned, is that the targets he'll have should be more than enough for him to enjoy a big season.
Other Factors
The Broncos should be able to protect Wilson pretty well, at least better than in Seattle, where he was constantly under siege. Denver's rate stats for protecting the quarterbacks were below average, but that was partly due to Bridgewater's reluctance to throw it if guys weren't wide open. Wilson brings with him the ability to maneuver around pass rushers, and he can still scramble at an above-average level.
Perhaps the biggest thing that Wilson has going for him is a new head coach whose record as offensive coordinator in Green Bay was excellent. Wilson will have to adjust to quicker throws in the new system, but that shouldn't be more than a bump in the road. There should be more stability and innovation than what he had to work with in Seattle, where Pete Carroll insisted on banging away with the run more often than made sense.
Prop Bets for Russell Wilson in 2022-23
Over 4,000 (+100)
Under 4,000 (-140)
Wilson has gone over 4,000 passing yards in four of his ten NFL seasons so far. That includes back-to-back 4,000-yard seasons in 2019 and 2020 before things bogged down a bit last year. His career average of 234.6 yards passing per game would put him at 3,988 yards for the season if he were to play in all 17 Denver games.
It's always iffy to bet an over in a season-long bet like this because you can get torpedoed by an injury or a scenario where the Broncos play a meaningless game at the end of the year and sit Wilson. But the fact that the NFL odds are giving you even money for the over helps to mitigate that risk. This is going to be an explosive offense in Denver and Wilson could threaten for a career-high in yards.
The Pick: Over 4,000 Passing Yards (+100) at the Best Online Sportsbooks
Over 4,000 Passing Yards

(+100)
*The line and/or odds on picks in this article might have moved since the content was commissioned. For updated line movements, visit BMR's free betting odds product.