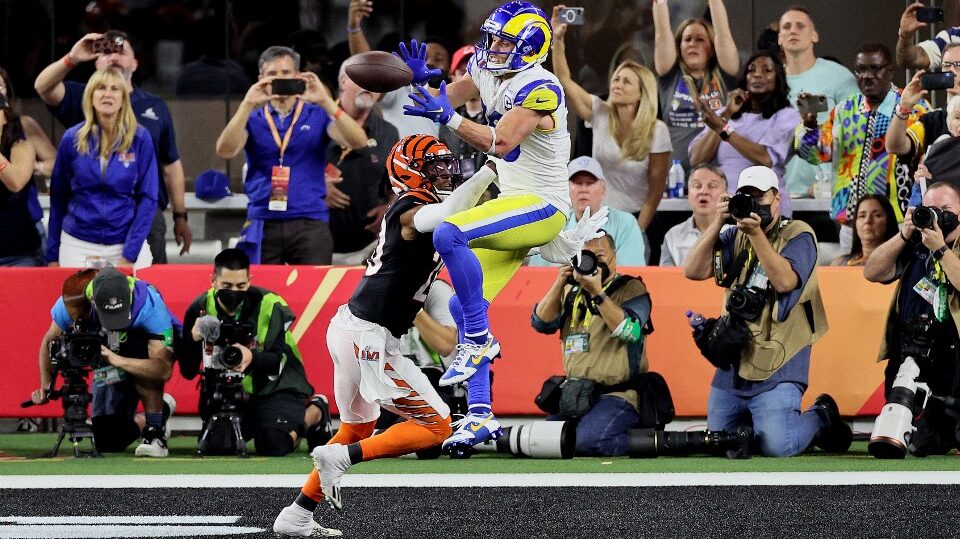 The Los Angeles Rams are the 2021 World Champions after defeating the Cincinnati Bengals, 23-20, and it's time to give a quick recap of the good, the bad, and the ugly of Super Bowl LVI.
Let's Talk Shop
The game never got out of reach and the referees kept their flags in their pockets throughout much of the game. In other words, they let the boys play and only called the glaring penalties. Roger Goodell should make it mandatory that every official and referee watch the job this crew did and emulate it next season.
Of course, they weren't perfect and missed a huge offensive pass interference call on Tee Higgins when he face-masked Jalen Ramsey away from the ball and hauled in a 75-yard bomb from Joe Burrow to give the Bengals a 17-13 lead only a minute into the third quarter.
VIDEO PICKS: Watch BMR's Free Expert Sports Betting Picks of the Day
There was another crucial, yet somewhat ticky-tack call on Cincinnati's Eli Apple when he was whistled for pass interference on Cooper Kupp, giving the Rams a first and goal at the one instead of second and goal at the four-yard line.
But overall, the officiating crew did a fine job and I only wish that kind of performance was the norm and not the exception throughout the long, glorious grind of the NFL season. All I can say is thank God for instant replay.
Singing of the National Anthem by Mickey Guyton
Regardless of exactly what your sportsbook had for a total on the national anthem, it went over…as it always seems to do. Mickey Guyton is a Western music sensation with a little more soul than your average country crooner, and she absolutely crushed her moment in the spotlight. It was a stirring performance and one that will be remembered years from now.
READ MORE: How to Bet the National Anthem Performance, Coin Toss and More Fun Super Bowl Props
However, the prop bettors were watching the clock and not Ms. Guyton, too bad because she's got the voice of an angel and the looks to boot. But her rendition took 1:50 and left anyone who bet under in their NFL picks with a losing ticket to begin their day. And no. she didn't show any cleveage either!
Will the Opening Kickoff Be a Touchback or Return?
When this prop was released, the NFL odds at many of the best online sportsbooks carrying it revealed Touchback -210/Return +170. But then the line began to plummet, as the action was fast and furious on Return on word that 26 of the last 28 Super Bowls had opening kickoffs that were returned.
Oh, and the two that were not were in domed stadiums. But SoFi was reported to be opening their retractable roof which meant it no longer qualified as a domed environment. You know, the wind could swirl a bit, knocking the kick down and making it tempting for a returner to field the ball.
Not to mention he would have well north of 110 million people watching him, and him alone, if only for a few brief moments. And what if he ran it back! He would make history, tell his kids and grandkids!
READ MORE: Swinger's Super Bowl LVI Picks
Oh, and lastly, as good as Matt Gay and Evan McPherson are, they were ranked in the middle of the pack for touchbacks during the regular season.
Put all of this information in a blender and it looked like a delightful frozen margarita just waiting to be slurped by all who bet Return +170…and +160….and +130…and +110…all the way down to -120 in some spots.
However, as we all know, the ingredients make the drink, and unfortunately, this concoction turned out like turpentine as the kickoff proved uneventful.
All those waiting with bated breath for it to be returned were resoundingly dumbfounded when it did not. I think the word is anti-climactic if you bet a little – stunningly disappointing and outrageously stupid if you bet a lot.
Rams Moneyline Wins Again
The Rams were -4 or -4 ½ depending on when and where you shopped but either way, they failed to cover. However, under 48 ½ seemed to be gaining traction amongst the sharps and that was one wise guy side that did not disappoint.
The Rams point spread bettors got a dose of WTF two games in a row after they also narrowly failed to cover the 3 ½ point impost in their 20-17 NFC Championship victory over the 49ers. Two narrow losses for those laying the lumber on the Rams but two consecutive wins for those with the cOjones to bet double their money on the moneyline with LA.
Super Bowl LVII Odds
We've barely gotten through Super Bowl LVII and already the books are dealing numbers on Super Bowl 57. Who ya got?!
MORE PICKS: Who Will Play in Super Bowl LVII?
Editor's Note: My editor felt the need to add the following paragraph:
"If you don't mind me braggin' about myself, I already wrote about the future but I'm too humble so my editor wanted to remind y'all about this so go read my column on who'll be playing in Super Bowl 56 in 2023. These odds are via BMR's top-rated sportsbooks."
Kansas City Chiefs: +650
Buffalo Bills: +650
L.A. Rams: +1000
San Francisco 49ers: +1200
Cincinnati Bengals: +1400
Green Bay Packers: +1400
Dallas Cowboys: +1600
Tennessee Titans: +2000
Denver Broncos: +2000
Baltimore Ravens: +2000
L.A. Chargers: +2200
New England Patriots: +2200
Tampa Bay Buccaneers: +2500
Indianapolis Colts: +2500
Arizona Cardinals: +2500
New Orleans Saints: +3500
Cleveland Browns: +3500
Philadelphia Eagles: +4000
Seattle Seahawks: +4000
Las Vegas Raiders: +4000
Miami Dolphins: +4000
Minnesota Vikings: +5000
Pittsburgh Steelers: +5000
Washington Commanders: +5000
Atlanta Falcons: +6000
Carolina Panthers: +6000
Chicago Bears: +6600
New York Giants: +8000
Jacksonville Jaguars: +10000
New York Jets: +12500
Detroit Lions: +12500
Houston Texans: +12500