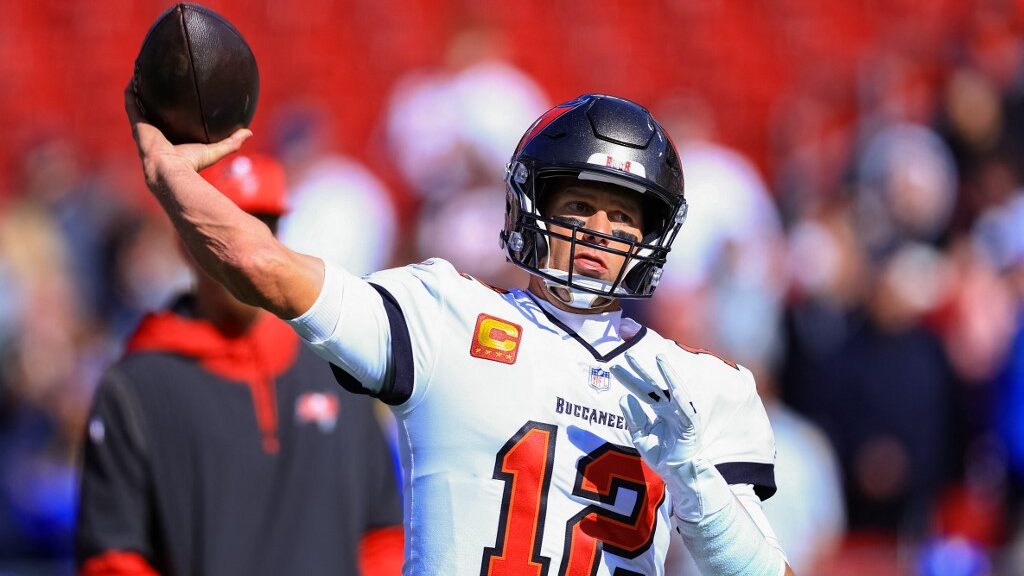 The NFC South was incredibly competitive a few years ago, but the level of competition has subsided for a few reasons. When Tom Brady joined the Tampa Bay Buccaneers, they became favorites. The only competition was the Saints, and that has shifted since Drew Brees retired.
Fans expected the division to become competitive again when Tom Brady announced his retirement from the NFL, but a quick change of heart brought him back to Tampa Bay. The Bucs now have a new head coach with the greatest player to ever step on the field.
However, the other teams won't go down quietly. The Saints are looking to win now, and the Falcons added two quarterbacks to the roster.
Who will win the NFC South? Which team has the best value for an NFL future bet? Here are the lines and values for this intriguing division.
NFC South Lines and Odds Breakdown
The NFL odds are available with BetOnline, one of BMR's top-rated sportsbooks, feel free to visit our BetOnline Review.
Tampa Bay Buccaneers (-325)
The Bucs are overwhelming favorites, and it is easy to see why. However, I don't love the value. Investing this much for a bet that won't end until the end of the season is a waste of money. You could instead invest this money in games throughout the season and increase your money over a span of time.
Also, the Bucs could be an injury or two away from losing this division. The competition is not steep, but losing someone like Tom Brady without a backup plan changes this team's outlook entirely. There is no reason to expect an injury, but it could still happen at some point between now and January.
If you want an NFL futures pick for the Bucs, look for them to win the entire NFC or the Super Bowl. Those picks make more sense if you are investing money for the entire season.
The Bucs had a solid draft, and the team made significant acquisitions in free agency. Between adding some weapons and retaining some key players, this group should be ready to make a splash once again.
New Orleans Saints (+500)
This is the best value in the NFC South. The Saints keep making moves that hint at them trying to stay competitive. They brought back Jameis Winston instead of drafting a quarterback. They gave up next year's first-round pick to have two first-rounders this year, and they drafted two players who can contribute now.
The Saints signed Jarvis Landry to join the receiving corps, and they also added Tyrann Mathieu to the secondary. These are two veterans who are looking to win, and they chose to come to New Orleans.
The Saints have concerns. The offensive line lost Terron Armstead, and Winston isn't a proven franchise quarterback yet. Still, I like the Saints to stay competitive, and they could take advantage of a weak division if the Bucs falter for any reason.
Carolina Panthers (+900)
The Panthers have no shot of winning the NFC South unless they add a franchise quarterback. Even then, there are too many concerns with this team. The secondary is strong, but key players need to stay healthy. The coaching staff hasn't proven that they can coach a winning team.
The offensive line got better with Ikem Ekwonu, but the skill players are still a question mark. Christian McCaffrey is great when he is healthy, but that is far from a guarantee. Even with an easier schedule, the Panthers should not be a competitive team this year. They are more likely to fire their head coach than they are to make the NFC Playoffs.
Atlanta Falcons (+1200)
The Atlanta Falcons should not be trying to win this season. There are too many gaps on offense, and they don't have the capital necessary to improve without drafting a ton of great players. They should be looking to trade away veterans for draft capital while playing young players for the sake of development.
This team was abysmal last year, and they somehow got worse. Adding a receiver will help, but they downgraded at quarterback. Nothing they did besides drafting Olave moves the needle in a positive direction, so this team has no hope of winning this division
*The line and/or odds on picks in this article might have moved since the content was commissioned. For updated line movements, visit BMR's free betting odds product.