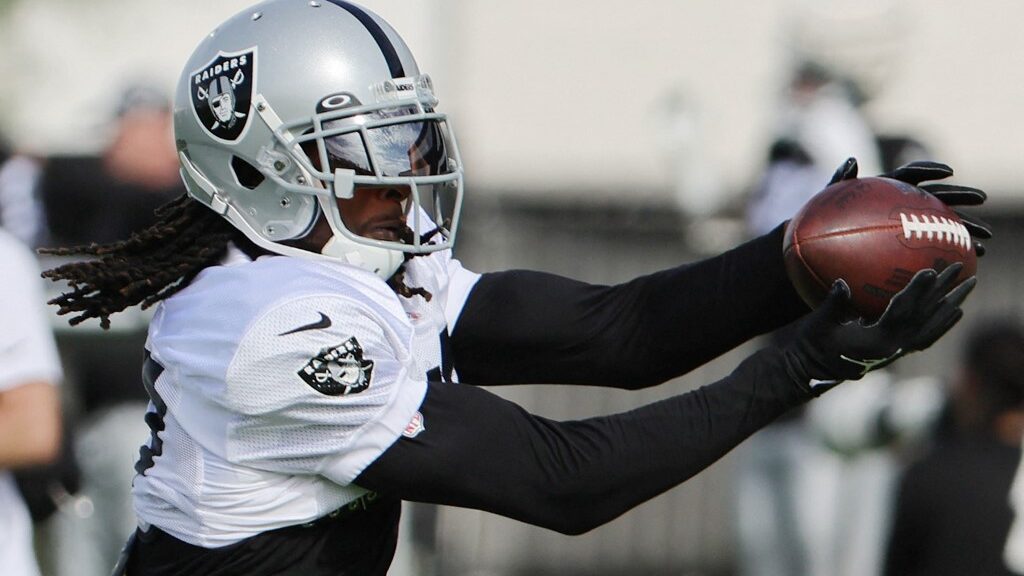 With the arrival of Davante Adams, Las Vegas Raiders are looking to make the playoffs in consecutive seasons for the first time in 20 years. Who knows? Maybe they could go on a Super Bowl run as the Cincinnati Bengals did, last season.
With a new head coach in Josh McDaniels and a roster that might be the best the team has had since losing Super Bowl 37, one could say that expectations are legitimately high for the Raiders for a change.
AFC West: Arms Race
However, this is a difficult time to play in the arms race known as the AFC West. Many of the top-rated sportsbooks have Las Vegas with an over/under of 8.5 wins, which trails every other team in the division:
Even getting the last wild card spot could be difficult when the Raiders will compete with (at least) the:
New England Patriots
Miami Dolphins
Indianapolis Colts
Tennessee Titans
The Raiders are scheduled for 12 games against teams that had a winning record last year, and that does not include two games with Denver, which finally has a real quarterback again in Russell Wilson.
The Raiders are going to have a say in how this AFC race turns out, but quarterback Derek Carr remains a question mark as he seeks his first postseason win in his ninth year in the league.
---
The Notable Changes for 2022
---
The Raiders have a new general manager after Mike Mayock was replaced by Dave Ziegler, who has deep ties to New England and its offensive coordinator Josh McDaniels. In fact, Ziegler's first NFL job was as a player personnel assistant for McDaniels' last season as head coach of the Denver Broncos in 2010.
McDaniels has not been an NFL head coach since that 2010 season, though he did briefly agree to coach the Colts in 2018 before pulling out of the deal. But after being one of Bill Belichick's right-hand men for two decades, McDaniels is more qualified than any of the disappointments that have come from Belichick's coaching tree.
Now Ziegler and McDaniels are trying to bring a New England approach to the Raiders, though their first huge move at wide receiver is not the kind of move Belichick is known for.
Is Davante Adams the Key to Unlocking Derek Carr?
In March, the Raiders made huge headlines by trading a first and second-round pick to Green Bay for Davante Adams, the most prolific wideout in the NFL for the last several seasons. Adams played with Carr to the tune of prolific numbers back at Fresno State in 2012-13.
Wide receivers are essentially never the final piece to a championship puzzle, but some all-time greats have had transformative effects on offenses that had Super Bowl seasons.
Two great examples would be:
Terrell Owens joining the 2004 Eagles
Randy Moss joining the 2007 Patriots
Donovan McNabb and Tom Brady each had their finest seasons that were far beyond their previous level of play, and both ended up losing the Super Bowl in those years. McDaniels was of course the offensive coordinator for that 18-1 Patriots team with Moss.
Different Traits
However, it is a struggle to view Adams in the same light as Moss or Owens. Moss had that incredible speed and was the most dangerous receiver in the league. Owens was incredible after the catch and the perfect understudy of Jerry Rice in the West Coast Offense.
On the other hand, Adams does many things well and could really end up helping Carr in the red zone if he insists on those back-shoulder fades, but timing and precision are the name of the game for Adams.
Adams will not run people over with the ball in his hands like San Francisco's Deebo Samuel, who averaged 10.0 YAC per catch and broke 13 tackles in 2021 to lead all wide receivers.
Adams averaged 4.8 YAC/catch in 2021 with five broken tackles according to Pro Football Reference.
Adams will not speed past everyone on the field like Tyreek Hill, who has 23 touchdowns of 40-plus yards from scrimmage in his career.
Of Adams' 29 touchdown catches since 2020, only five of them came from outside the red zone, including one of his last 15 scores. He has four career touchdowns of 40-plus yards.
Derek Carr for MVP?
Adams also is not going to dominate matchups out of the slot as Cooper Kupp did for the Rams last year. Adams is going to run crisp routes and expect Carr to put the ball on him in a good spot. While he can do that, Carr is clearly not Aaron Rodgers in MVP form.
Rodgers loves throwing to wide receivers as he has shown all his career. Carr is one of those quarterbacks who would sooner lock into a tight end or slot receiver. Outside receivers are not his dominant targets, such as Amari Cooper who went on to be more effective with Dallas when he left Carr and the Raiders.
Do I expect Adams to be as good with Carr as he was with Rodgers? Nope. But maybe the nice thing is he doesn't have to be since the Raiders have Darren Waller and Hunter Renfrow.
---
Supporting Cast
The Packers were rather limited at receiver these last few years, and in 2021, Adams had 1,040 more receiving yards than Green Bay's second-leading receiver.
That will not be necessary in Las Vegas with Waller and Renfrow. In fact, this should create one of the best-receiving trios in the league, if not the best… should McDaniels understand what he has available.
Renfrow catching more balls than Adams in the way that Wes Welker had more than Moss in New England would not be surprising to see this year.
It's All About the Carr
But Carr buying into this new offense, staying aggressive down the field, and being able to excel in situational football will determine if this becomes an elite offense. Carr finished 14th in QBR last season and has never finished a season higher than 10th.
It is not unheard of for a quarterback to peak in his ninth season, even when staying with one team.
Peyton Manning (2006)
Drew Brees (2009)
Matt Ryan (2016)
The three quarterbacks above reached their first Super Bowl in their ninth season, and that season was arguably the finest football they played in their whole careers.
Carr does not inspire that level of confidence, but if he has his best coaching, best-skill players, and if the defense can at least be average, then there is no excuse for him not to have the best season of his career in 2022.
---
Chandler Jones: Return of the Sack
One of the worst trades the Raiders ever made was sending edge rusher Khalil Mack to the Bears in 2018. The defense immediately fell apart and has struggled to find a good pass rusher ever since.
Enter veteran Chandler Jones on a three-year deal worth $51 million. Jones is 32 but should still have some good years left. He had 10.5 sacks for the Cardinals last year, his seventh season with double-digit sacks. Jones has always been one of the best defenders in the game at turning a high rate of his pressures into sacks.
Teaming Up With Maxx Crosby
Jones played for Vegas' new defensive coordinator Patrick Graham back in New England in 2012-15 when Jones was an emerging star and Graham was coaching the front seven. Graham will be happy to pair Jones with Maxx Crosby, who had 8.0 sacks and made his first Pro Bowl in 2021.
Crosby also had a sack of Joe Burrow in the playoff loss, but the pressure was not good enough against a bad offensive line. If the Raiders are going to start annually competing within this division, they are going to have to have guys who can take Patrick Mahomes and Justin Herbert down. Jones was a key signing for them.
---
Secondary: Needs More Rock
Jones and Crosby will still have to carry the defense because the Raiders did not use a top 125 draft pick in 2022 on any defender this year, and the secondary remains a young work in progress.
But one noteworthy move was the trade with Indianapolis in March. The Raiders sent defensive end Yannick Ngakoue, who led the team with 10 sacks last year, in a rare player-for-player swap for corner Rock Ya-Sin.
In his third season, Ya-Sin only faced 45 targets in coverage, but he allowed 53.3% to be complete and only allowed 4.8 yards per target, which would be elite numbers for a season. They are certainly a big upgrade from his first two seasons in Indy.
Ya-Sin only has two interceptions in 41 games, so it's not like the Raiders are getting a ball-hawking, risk-taking corner. The Raiders struggled with just six interceptions on defense last year. But Ya-Sin will be a starting corner right away for this team.
---
Prediction
With the Raiders adding McDaniels, Adams, and Jones, how could this team possibly not win at least 10 games again? Well, sustaining success in the NFL is difficult. Are the Raiders going to win six games on the final play, including another record four overtime games again?
Carr is 30-34 (.469) in game-winning drive opportunities in the fourth quarter/overtime and 27-37 (.422) in all other games in his career – a split that should be impossible in the NFL.
Carr could have the best season of his career in 2022 and still be the worst quarterback in his division because of the presence of Patrick Mahomes, Justin Herbert, and Russell Wilson.
The Raiders could play significantly better as a team in 2022 and still finish with a worse record while missing the playoffs.
Remember, the Raiders only played three teams that won 10-plus games last year: Chiefs twice, Bengals twice, and Cowboys. They were 1-4 in those games.
The Raiders are playing 10 games this season against teams with an over/under of at least 9 wins this year, according to the latest NFL odds.
The Pick
Close games going the wrong way and better competition is how a team can take steps forward while going backward in the tournament. I think that is what will happen to the Raiders in 2022. This team will finish 9-8 with a positive scoring differential, but at least seven teams in the AFC will fare better to take the playoff berths.
The Raiders might be good enough to win a couple of divisions in the NFL this year, but they are stuck in the AFC West, and with this schedule, I do not see them having more success than the other three teams. It should be enough to hit the Over 8.5 wins for your NFL picks but fade the Raiders as an annual playoff team.
NFL Pick: Over 8.5 Season Wins (-160) at Bovada (visit our Bovada Review)

Over 8.5 Season Wins

(-160)
*The line and/or odds on picks in this article might have moved since the content was commissioned. For updated line movements, visit BMR's free betting odds product.
---
On the Last Season of "The Raiders": The Path Less Taken for Good Reasons
For as long as seasons are 17 games long, we will see some 10-7 teams each year in the NFL standings. But it could be a long time before we see another take such a unique path to 10-7 and the playoffs like the Raiders did in 2021.
For starters, the Raiders finished 10-7 despite being outscored by 65 points on the season. How wild is that? The 2021 Raiders are the only 10-win team in NFL history to be outscored by more than 30 points.
This is what happens when you win four games in overtime by a combined 15 points while getting stomped 89-23 in two games against your main rival from Kansas City.
But there was no shortage of drama for the Raiders last season.
Writing Out the Bad Characters
The Raiders who were there to finish the season no doubt overcame some adversity, but the team's dilemmas were self-imposed by a few bad characters.
Head coach Jon Gruden had no time to enjoy a 3-0 start before the controversy started in October about his past emails that were discovered during an investigation into the Washington franchise. Gruden used a variety of slurs in the emails from 2011-2018 when he was a broadcaster.
The Raiders allowed him to coach in Week 5 against the Bears and the team's flat performance in a 20-9 loss to a bad opponent was likely no coincidence. The writing was on the wall for Gruden, who then resigned. You can't get caught calling commissioner Roger Goodell a gay slur and expect to continue working in the NFL.
Interim Head Coach
With Gruden gone, the Raiders promoted special teams coordinator Rich Bisaccia to interim head coach. But the locker room still had problems. Wide receiver Henry Ruggs, a first-round pick in 2020, killed a woman and her dog in a DUI crash on November 2. The Raiders released him later that day.
Just days later, the team's other 2020 first-round pick, corner Damon Arnette, was released after a video on social media showed him brandishing a weapon and making death threats.
Right after the Ruggs incident, the Raiders lost their next three games with the offense barely averaging 14 points per game. The Raiders were 5-5 and threatening to implode the rest of the season.
Thanksgiving and a Second Life
On Thanksgiving, the Raiders won another overtime game with a 36-33 stunner in Dallas that was so poorly officiated with the nation digesting its dinner. Both teams finished with 14 penalties, but Dallas in particular was flagged excessively for judgment calls on third downs to help the Raiders win. The Raiders finished the season as by far the most penalized team again, but that was one game where they got the benefit of the doubt from the zebras.
The Raiders dropped their next two games, including a 48-9 mauling by the Chiefs, to fall to 6-7. But instead of continuing to implode, the schedule threw in some favors. A Cleveland COVID outbreak led to a Monday game and a surprise start by backup quarterback Nick Mullens. The Raiders eked out a 16-14 win on a 48-yard field goal by Daniel Carlson in the final seconds.
The Raiders completed a sweep of Denver with another low-scoring win before a key game against the Colts, who were also seeking a wild card berth. It was a tight game, but the Raiders had the ball last in a tied game, and Carlson again connected for a game-winning field goal.
Division Rivals Don't Tie
In Week 18, the Raiders hosted the Chargers in the final game of the regular season. The teams could have agreed to a tie that would have put them both in the playoffs and eliminated the Steelers, but you can forget that when division rivals are meeting.
The Raiders played better than the Chargers, who just wouldn't die on fourth down behind Justin Herbert. The game went to overtime, because of course it did, and the tie almost happened too. Carlson eventually kicked the Raiders into the playoffs with a 47-yard field goal as time expired.
The 2021 Raiders join the 2011 Cardinals as the only teams in NFL history to finish 4-0 in overtime in a regular season.
Wild Card: Coming Up Short in Cincinnati
Carr was finally starting the first playoff game of his career after being injured in the 2016 season. But the Raiders were underdogs in Cincinnati in the wild-card round. The game would not be without some controversy when an inadvertent early whistle happened on a play where Joe Burrow threw a touchdown pass.
But if you look at the play closely, Burrow was in bounds when he passed, and the receiver was wide open and on his way up to make the catch in the end zone when the whistle blew. It technically should have been blown dead and the down replayed, but no one on the Bengals cheated.
The Raiders blew the defense, and one ref blew a whistle he shouldn't have.
Errors Aside
That error aside, the Raiders had some chances to win the game as the defense got some key stops of the Bengals in the red zone despite allowing a touchdown 81.4% of the time in the red zone in the regular season. Meanwhile, Vegas' offense was only 26th in red zone touchdown rate, a sore spot of the field for Carr.
Down 26-19 in the final two minutes, Carr had his chance for a heroic touchdown drive to tie or take the lead. The Raiders drove to the Cincinnati 9, but the drive stalled from there. On fourth down, Carr's pass was short of the end zone and intercepted. Even if it was caught by a Raider, it would not have scored.
Despite rallying to make the playoffs behind Bisaccia, the Raiders went a different way in the coaching search for 2022. Given the way the Raiders won their 10 games, it is safe to say this was the smart move. Last season is not a repeatable strategy for success in this league.