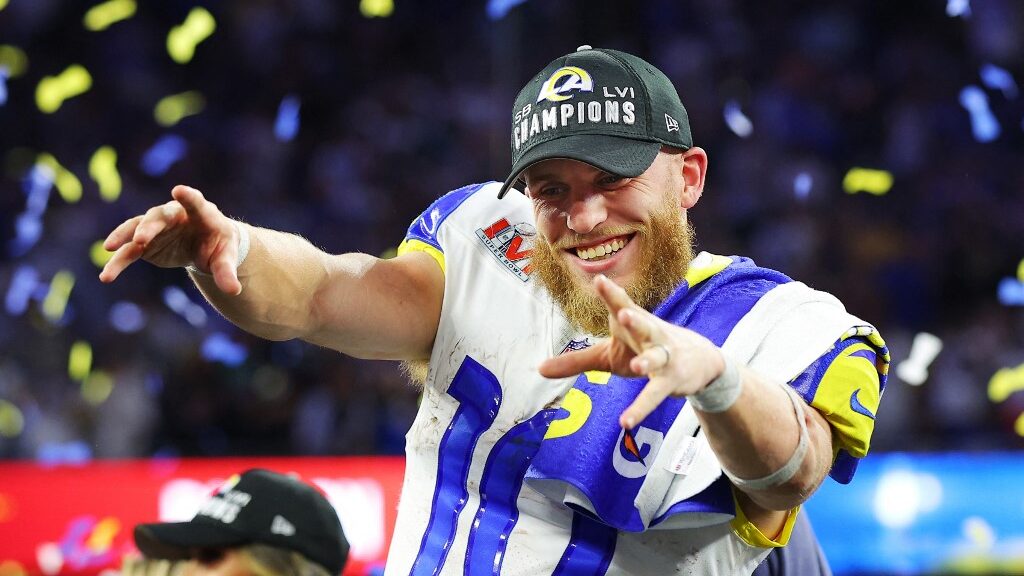 The NFL has seen a boost in the value of a true WR1. High-powered offenses are a necessity in the playoffs, and you have to win with a quality quarterback and an elite receiver.
Devante Adams and Tyreek Hill both saw massive contracts after being traded.
A.J. Brown is with a new team and will be compensated.
Terry McLaurin stayed with his team, but he got a nice pay raise.
Christian Kirk is making mind-boggling money with the new market.
One of the best value receivers last season was Cooper Kupp. He competed for the receiving yards record without being paid like the best receiver in the NFL.
His heroics in the Super Bowl earned him MVP honors, and he got a nice raise by Los Angeles Rams. He will be making around $26.7 million per year over the next five seasons with his new deal.
While the value proposition is different, Kupp still is worth the money he is being paid. Here are some reasons why.
---
Rams' Contract Structure
Some people believe the salary cap is fake, and that is not true. It is, however, easy for general managers to manipulate contracts to improve the team without passing the cap. The Rams are better at this than almost any team, and this contract is an example of why.
While Kupp will make more money and has security for multiple years, his cap hit this season actually went down. This is because of signing bonuses and other manipulative moves. Because of this, the Rams could spend money in other directions while still making Kupp happy for the next few seasons.
Also, this contract can be ended in three years without a massive dead cap. If anything happens to Kupp, the Rams won't be ruined for the long term.
Los Angeles Is Making Moves
The Rams resigned Aaron Donald this offseason, so the pairing of these two players sets the team up for success over the next few years.
Los Angeles doesn't have a massive championship window, but these contract moves make them a true contender for the foreseeable future.
Everyone wins in this contract. Kupp gets more money and security. The Rams can make more moves to improve the team. Fans can be excited about the future without sacrificing much.
---
Changes in the Rams' Offense
While the Rams did manage to manipulate the salary cap, they are still different on offense.
They traded away Robert Woods, who was the team's WR2 last year.
Allen Robinson was brought in, but we'll have to see how he works in the offense.
Unless Odell Beckham Jr. comes back, the receiver corps as a whole will take a step back next year.
The Offense is Save With Kupp
However, Kupp's ability to make any play on the field raises the floor for this offense. You can only lose talent like Beckham and Woods when you have someone as talented as Kupp on the roster.
OBJ may return once he is healthy, but you can't count on much beyond Kupp himself. The rest of the group is either young or new to the team. Van Jefferson is a complementary player who needs someone like Kupp to help him be the best version of himself.
When you pay your best players, you sacrifice depth. This only works if your top players are worth the money, and Kupp certainly is.
---
Kupp Is a Clutch Player
The Rams won the Super Bowl last year, and they aren't done competing for titles. According to the NFL futures odds, they have +1200 odds to win the Super Bowl, which shows that they are far from a one-hit-wonder. So, what will it take to repeat as champions?
You need players who can make massive plays when the moment is big. That is exactly what Stafford and Kupp did last year. Kupp scored the game-winning touchdown in the Super Bowl, and he made plenty of elite plays before that.
You always feel like you have a chance when you have Cooper Kupp on the field. He never gives up, and that is valuable for a team looking to win another Super Bowl. You can't expect to repeat without him, and you now have him locked in for the next few seasons.