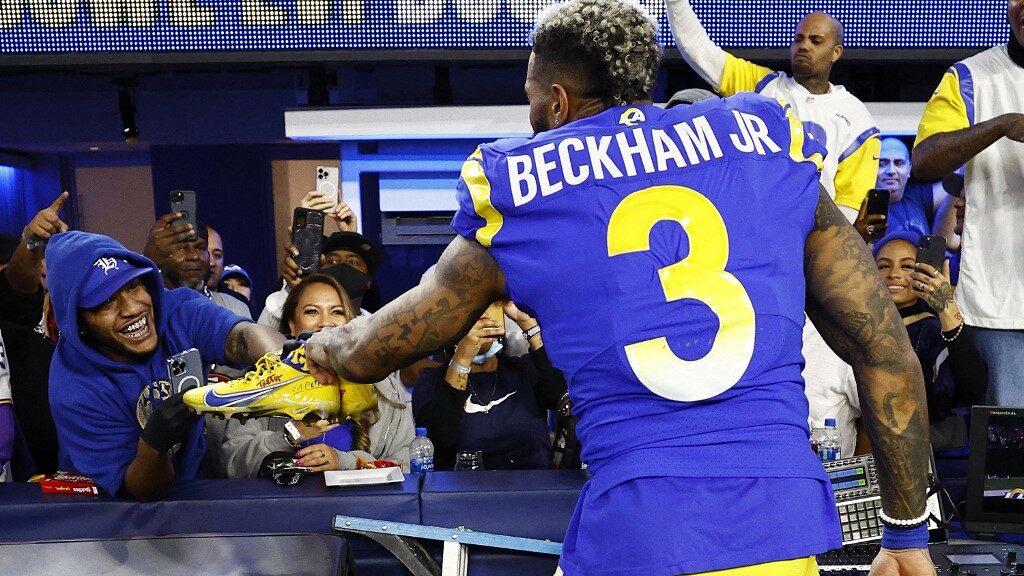 The Los Angeles Rams went all-in looking to win Super Bowl LVI. Now that the Rams are in it, it's time to win it. Since leaving the Giants, Odell Beckham Jr. was having a hard time finding consistent playing time to reps before coming to the Rams.
Once Beckham Jr. joined the Rams, Sean McVay, and the Rams offensive game-planning unit did whatever they could to get Beckham Jr. involved in the offense. Early on, Beckham Jr. wasn't getting a high amount of targets, but he was catching a ton of passes in the end zone when the Rams were in the red zone.
However, now that Matthew Stafford and Odell Beckham Jr. have some chemistry, the Rams have thrown the ball to Beckham Jr. at a high rate. Beckham Jr. is usually known as the top wideout on any team.
But with Cooper Kupp winning a bunch of awards for his play this year, it's clear that Beckham Jr. is the number two guy on the team. With the Browns, this was essentially the same due to Jarvis Landry getting most of the targets from Baker Mayfield.
Beckham Jr. might still want to be that number one guy. Or he might decide to put his ego aside and realize that being a number two receiver isn't so bad after all. Beckham has 23 targets in the postseason and has caught 19 of those balls for an average of 12.4 yards per catch.
He's also averaging a long play of 31 yards in the playoffs this season and also has a touchdown. The Rams know that Beckham Jr. is the most talented player on the field. He's got the freaky athletic ability and isn't easy to guard.

VIDEO PICKS: Watch BMR's Free Expert Sports Betting Picks of the Day
Beckham went from getting about 20 yards per game receiving to now averaging nearly 80 yards per game in the playoffs with the Rams. Stafford won't be a quarterback with the Rams forever, but he's still got a lot in the tank.
Therefore, it would be foolish for Beckham Jr. to leave the Rams for a different team. He's now involved with an offensive innovative coach in Sean McVay. However, I should note that Robert Woods could be returning next year and that could really hurt reps for Beckham Jr. eventually.
At the end of the day, money will talk, at least for Beckham Jr. The Rams have been the perfect fit this season, but with Woods potentially returning, Beckham Jr. might see opportunity elsewhere. He might use this playoff run as leverage to prove that he's still very capable of being a top wideout.
If he gets paid from another organization, he'll take it and run. Personally, I would love to see Beckham Jr. stay with the Rams. He gets to be in Los Angeles and gets very nice weather throughout the season.
However, we know that Beckham Jr. will get some exciting offers in the offseason, and money will talk. He'll go where he gets paid the most. That might not help his performance on the field, but making money is always the biggest goal for anyone, which is understandable.