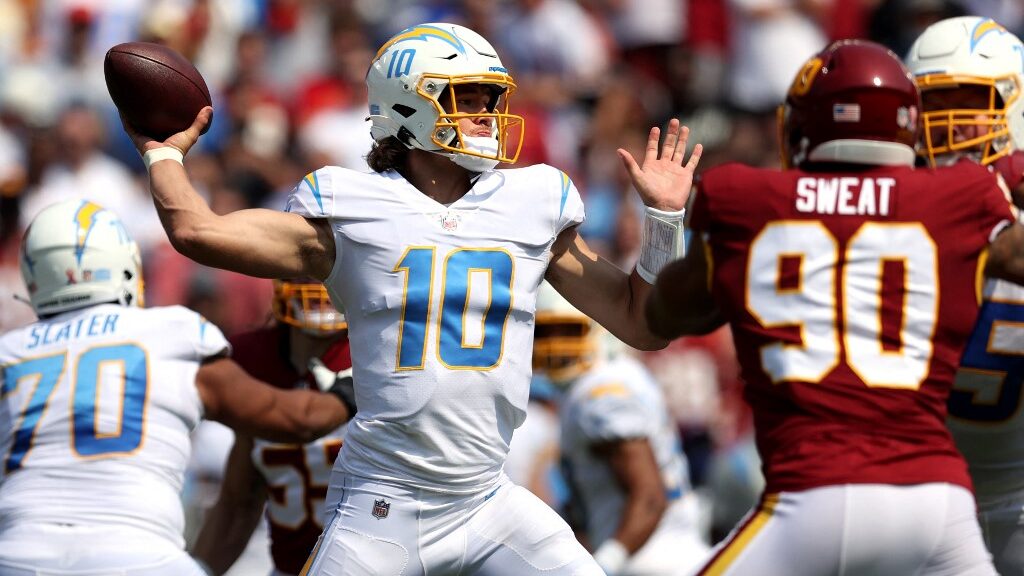 Last year's race for the Most Valuable Player (MVP) award in the NFL had more contenders than usual. The same could happen this year with such a deep AFC field, but the name that stands out the most before Week 1 is Chargers quarterback Justin Herbert.
Herbert is +900 at Bovada (visit our Bovada Review) for MVP in 2022, tying him with AFC West division rival Patrick Mahomes for the third-best odds behind only:
Josh Allen (+650)
Tom Brady (+850)
Back-to-back MVP winner Aaron Rodgers is in fifth place at +1000 at the moment.
The safest bet out there is that a quarterback will win MVP for the 15th time in the last 16 seasons. Here are five reasons why Herbert should be the best bet to win NFL MVP this season.
Reason No. 1: Herbert's Historic Start
It usually takes a special pedigree of quarterback to win MVP. No one could duplicate Kurt Warner's difficult journey to the NFL and the MVP award with the Rams in 1999. He proved it was not a fluke by doing it again in 2001. No one since Brian Sipe (1980 Browns) had such a middling career defined by one outlier MVP year where everything fell into place in the regular season.
Herbert is already well on his way to building a special career after going No. 6 in the 2020 draft.
Herbert won the 2020 Offensive Rookie of the Year.
Herbert broke the rookie record for passing touchdowns with 31.
Herbert is the first quarterback in NFL history to throw at least 30 touchdowns in each of his first two seasons.
Herbert finished third in QBR (65.6) in 2021, only trailing Aaron Rodgers (69.1) and Tom Brady (68.1).
Thirteen of the last 14 quarterbacks to win MVP finished in the top three in QBR that season.
Herbert is only the fourth quarterback in NFL history to have a 5,000-yard passing season in his age-23 season, joining:

Dan Marino (1984)
Matthew Stafford (2011)
Patrick Mahomes (2018)

Herbert's 9,350 passing yards only trail Patrick Mahomes (9,623) for the most in a player's first 32 games in NFL history.
Far from hitting his peak, if the 2022 Los Angeles Chargers can avoid their "Chargering" curse, Herbert could go down as the best quarterback in franchise history, a team that has had the likes of:
Dan Fouts
Drew Brees
Philip Rivers
Reason No. 2: The 2022 AFC West Looks Epic
Playing in the shadow of Patrick Mahomes in the same division is part of why we don't talk more about Herbert already. The Chargers have missed the playoffs the last two years, and that Week 15 showdown last season with the Chiefs for first place was arguably the best game of the regular season for the whole league.
Herbert did his part in putting the team ahead 28-21 with 2:19 left. One more stop by the defense and the Chargers may have had a much different finish to their 2021 season. Instead, Mahomes drove down the field for the tying touchdown, won the coin toss in overtime, and again went 75 yards to end the game without Herbert getting a chance in overtime.
In three career meetings between Mahomes and Herbert, the game has gone down to the final play every time, and the Chiefs won both overtime games.
This kind of battle could now extend to the whole division with the improvements the other teams made:
Raiders made New England offensive coordinator Josh McDaniels their new head coach, and he now has Davante Adams at wide receiver and Chandler Jones adding to the pass rush.
Broncos made Green Bay offensive coordinator Nathaniel Hackett their new head coach, and he has Russell Wilson as his quarterback after a huge trade with Seattle.
Wild, Wild West
Meanwhile, the Chiefs could be at their weakest state in the Mahomes era after losing Tyreek Hill in a trade to Miami, and safety Tyrann Mathieu went home to the Saints. Without a true replacement for Hill's game-breaking speed, Mahomes may not have the big plays and efficiency we are used to seeing this season.
While Wilson to Denver is a huge story, he has infamously never received an MVP vote in his career as he usually runs hot for seven-to-nine games before cooling off.
If Herbert can have an even greater season and lead the Chargers to their first division title since 2009 in what should be the NFL's best division, then that will be the centerpiece of his MVP case. Great stats in the toughest division.
Reason No. 3: Chargers Should Be an Improved Team
No quarterback has ever won MVP, as voted by the Associated Press, in a 16-game season on a team with fewer than 11 wins. The fact is Herbert is not going to win MVP if the Chargers are no better than a 10-7 wild card team. Peyton Manning in 2008 is the last quarterback to win MVP on a wild card, but at least he had a 12-4 record and league-leading efficiency metrics after a slow start.
Twenty-four of the last 32 MVP-winning quarterbacks were on a team with the No. 1 seed. Twenty-eight of 32 won at least 12 games. The bar is usually high. Herbert will not get the respect he deserves until the Chargers are a playoff team, but he was not the reason they have missed the last two tournaments:
In 2020, the 7-9 Chargers blew three leads of at least 17 points in Herbert's first six starts.
That means the Chargers blew as many 17-point leads in Herbert's first six starts as they did in 19 seasons with Drew Brees (zero) and Philip Rivers (three).
In 2021, the 9-8 Chargers lost three games to playoff teams (Cowboys, Chiefs, Raiders) where the defense allowed the game-deciding points on the final snap.
In all three games, Herbert led a go-ahead or game-tying drive late in the fourth quarter.
Through Herbert's 32 starts in the NFL, the Chargers have allowed at least 27 points a whopping 19 times, which is 59.4% of his starts. Other MVP-caliber quarterbacks do not have to deal with that in their career as evident by the rate of starts their teams allowed 27-plus points:
Josh Allen (19.7%)
Tom Brady (24.5%)
Lamar Jackson (24.5%)
Russell Wilson (26.4%)
Aaron Rodgers (32.2%)
Patrick Mahomes (40.5%)
Someone get this kid a defense, which is supposed to be the unit that head coach Brandon Staley knows best. We will see how the Chargers fare now that they added Khalil Mack to make for a great pass-rushing duo with Joey Bosa. They also signed New England corner J.C. Jackson, who is only the fourth player in 50 years to intercept at least eight balls in consecutive seasons.
With the elite status of the division and the improvement on defense, voters might overlook an 11-6 record by the Chargers if it leads to a division title with Herbert leading the league in touchdown passes.
Reason No. 4: Aaron Rodgers Is Not Getting a Three-Peat MVP
Aaron Rodgers can tie Brett Favre (1995-97) as the only quarterbacks to win MVP three years in a row, but I think voters are going to be tired of him.
Last year's MVP race was odd as Rodgers seemed to play himself out of it early with a huge Week 1 dud against the Saints. Then he got COVID after infamously trying to mince words about his vaccination status during the season, and he missed a Kansas City game his team lost.
But every time a new leader seemed to emerge, they would soon fall flat on their face. It was just that kind of season with no quarterback blowing the competition away like in so many past years.
Addition by Subtraction
Everyone from Patrick Mahomes to Josh Allen to Kyler Murray to Matthew Stafford to Tom Brady was getting MVP consideration. Even non-quarterbacks such as Colts running back Jonathan Taylor and Rams wide receiver Cooper Kupp were in the conversation.
But after Brady lost 9-0 to the Saints, it was Rodgers' award to lose even though he clearly had a stronger MVP season in 2020. In fact, 2021 was Rodgers' weakest MVP season yet of the four:
Rodgers led in QBR (69.1), but it was the first time since 2006 that no quarterback finished above 75.0.
Rodgers led in passing DVOA (27.8%) at Football Outsiders, but it was the lowest league lead since Dan Marino (25.7%) in 1996.
Rodgers' 7.7 yards per pass attempt in 2021 is the eighth-highest season of his career.
Now without by far his best receiver in Davante Adams, Rodgers would have to come close to sustaining his numbers while leading the Packers to a great record if he wants to pull off the MVP three-peat. This just does not seem likely to happen, and the Packers should take a step back after just becoming the first team to win 13 games in three straight regular seasons.
By the way, Favre barely won his third MVP in 1997. He tied with running back Barry Sanders, but it was clearly his weakest season of the three. With Rodgers already taking a step back from 2020 to 2021 and coming off his most humbling playoff loss yet, it is hard to imagine voters won't tire of another year of this.
Reason No. 5: Did I Mention the AFC West?
In conclusion, Herbert's MVP case is going to rest largely on him combining some great statistics – think a high QBR and league-leading number of touchdown passes – and the Chargers winning the toughest division in the league.
Even Derek Carr is +2000 for MVP, tied for the 11th-best odds. All four AFC West quarterbacks are in the top 11 for MVP odds going into Week 1. It is hard to imagine any other division in NFL history could say that.
It is time for some fresh blood. The Chiefs are trying to become the third team in NFL history to win their division at least seven seasons in a row. Let's see the Chargers prevent that behind Herbert.
Remember, we are talking about MVP and not the Super Bowl here. Josh Allen (+650) and Tom Brady (+850) have the best MVP odds in part because their teams have the best odds to reach the Super Bowl. We know top seeds correlate well with winning the MVP.
MVP Narratives
But what is the MVP narrative for each?
Unless Josh Allen picks up where he left off in the playoffs – 12 touchdown drives in 16 possessions – he is unlikely to match his 2020 season that came up well short in the MVP race. He also has to prove he doesn't need offensive coordinator Brian Daboll to get the job done after Daboll left to coach the Giants.
Brady is 45 years old and back for his 23rd season after a 40-day retirement. Voters will eat that part up, but is the offense going to be the same with Todd Bowles, a defensive coach, taking over for Bruce Arians? Rob Gronkowski retired and that may hold up this time. Chris Godwin is coming back from a torn ACL, but that first season back is usually not the same caliber.
Super Bowl Aspirations
Brady may have some off-field issues weighing on his mind after a mysterious 11-day absence in August. It just may not be any better than his last two seasons in Tampa Bay, neither of which produced an MVP.
Besides, Allen and Brady have serious Super Bowl aspirations, and no one has won MVP and the Super Bowl in the same season since Kurt Warner with the 1999 Rams. A prestigious regular-season award met by a disappointing postseason that falls short of a ring. That sounds like something the Chargers would do. Give me Justin Herbert for MVP.
NFL Pick: Justin Herbert to Win NFL MVP (+1000) at Bovada

Justin Herbert to Win NFL MVP

(+1000)
*The line and/or odds on picks in this article might have moved since the content was commissioned. For updated line movements, visit BMR's free betting odds product.