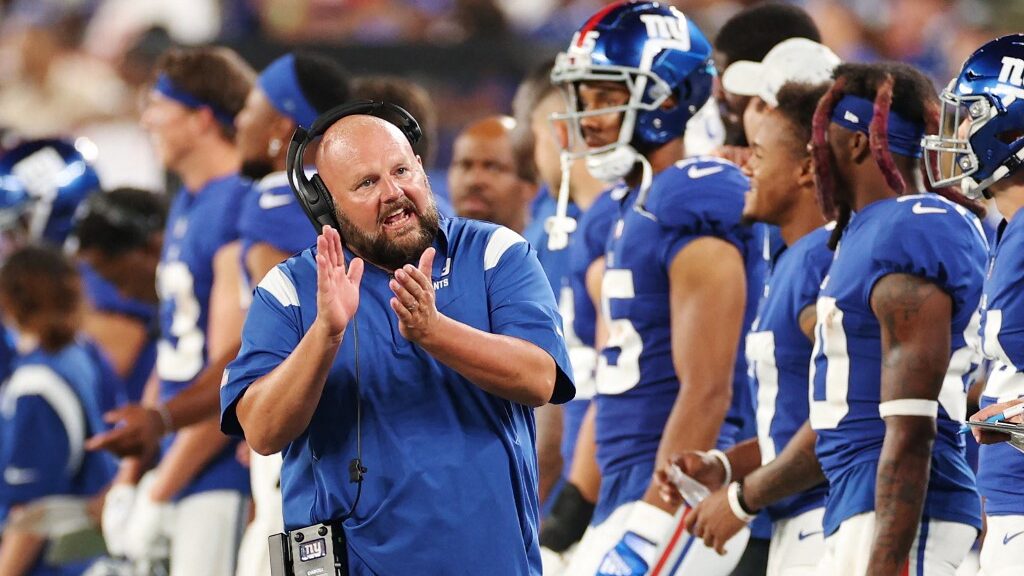 Since 2017, the New York Giants are tied with the New York Jets for the worst record (22-59) in the NFL. We said the same thing in 2021 before both teams finished 4-13 which meant we also cashed in on those two predictions. Now the Giants are moving forward with an exciting head coaching hire in Brian Daboll, who helped bring the Buffalo Bills offense back to relevance.
Can Daboll Fix Daniel Jones?
Can Daboll do the same for struggling fourth-year quarterback Daniel Jones? Like the Jets, the inability to move the ball and score has been the biggest problem for the Giants since 2017. These are the only two franchises that have not scored 1,500 points over the last five seasons.
Many of the top-rated sportsbooks have the Giants with an over/under of 7 wins for the season, which still projects them to finish last in the NFC East division. But is Daboll-Jones the right new coach-quarterback duo to bet on?
PLAY NOW: $25,000 Free-To-Play NFL Contest: BMR's 2022 Pick'Em Pool Opens for Registration
---
The Notable Changes for 2022
---
With a quarter of the league hiring a new head coach this year, the Giants may have inked the cream of the crop in Brian Daboll, who served as Buffalo's offensive coordinator since 2018. Daboll is an offensive guru who does not come from the Sean McVay or Kyle Shanahan coaching trees as most do these days, but he has spent numerous years with Bill Belichick in New England in various positions.
That might appear as a red flag as Joe Judge was also a Belichick disciple, and we saw how that failed for the Giants, as did numerous other hires from the Belichick tree. But Daboll built up his name in Buffalo by developing Josh Allen from roughly a starter to a quarterback who led 12 touchdown drives in 16 possessions in the postseason this past January.
New general manager Joe Schoen should be an improvement over Dave Gettleman, who retired in January. Schoen followed Daboll from Buffalo to New York this year, so we know this duo is in sync. But the fate of the Giants' 2022 season clearly hinges on whether Daboll can fix Daniel Jones, the quarterback the team declined to pick up the fifth-year option for. This is now-or-never time for Jones in New York.
Will Daboll Fix Jones?
Again, what better coach to fix Daniel Jones than the coordinator who turned Josh Allen into an efficient, dual-threat quarterback who can throw accurately and run well? Jones is not the physical runner Allen is, but he definitely has wheels that can be taken advantage of. He also has thrown a few decent deep balls for the Giants.
The problem is even Daboll needed a third season with Allen before they turned things around. This is expecting immediate results for Jones, who has not shown in three seasons he has franchise quarterback ability.
Fourth-Year Breakout QBs
What kind of quarterback breaks out in his fourth NFL season? Well, we have seen it recently with:
Kirk Cousins (2015)
Aaron Rodgers (2008)
Tony Romo (2006)
The problem is those quarterbacks spent most of their first three seasons on the bench, so Year 4 was their first real chance to be a starter. Drew Brees also broke out in his fourth season (2004), but he too rode the bench as a rookie. That does not describe Jones, who is 12-25 as a starter for the Giants with nearly 1,300 career pass attempts.
We need to find examples of quarterbacks who were three-year starters and did not break out yet.
Using Pro Football Reference's metric of adjusted net yards per pass attempt index (ANY/A+), which takes the era into account, Jones has had an ANY/A+ of 88, 83, and 92 in his three seasons with 2021 being his highest. An ANY/A+ of 100 is considered average, so Jones has always been below average for the Giants.
When it comes to ANY/A+ like this, Jones is just the ninth quarterback since 1970 to have an ANY/A+ no higher than 95 in each of his first three seasons (min. 200 passes per season). When you look at the list of quarterbacks, it is not encouraging outside of one name familiar to Giants fans:
Dan Pastorini (1971-73 Oilers): A career game manager, Pastorini improved in 1974 (101 ANY/A+), made the Pro Bowl in 1975, and eventually started the AFC Championship Games in 1978-79.
Phil Simms (1979-81 Giants): Missed 1982 entirely with a knee injury, served as a backup in 1983, then had an ANY/A+ of at least 100 in every season for the rest of his career, including 1986's Super Bowl MVP-winning season.
Mike Pagel (1982-84 Colts): A fourth-round pick, Pagel finished 1985 with 93 ANY/A+, then he was traded and started seven games the rest of his NFL career.
Jeff George (1990-92 Colts): A No. 1 overall pick, George was a physical talent who never quite put it together. His ANY/A+ was 100 in 1993, but the Colts moved on after he was 2-9 as a starter. George later led the NFL in passing yards with the Raiders in 1997 but finished 46-78 as a starter.
Rick Mirer (1993-95 Seahawks): Had his worst season yet in 1996 (74 ANY/A+), was traded to the Bears, and bombed the rest of his career (4-13 as a starter with nine touchdowns to 20 interceptions in 1997-2003).
Kyle Boller (2003-05 Ravens): Benched for Steve McNair in 2006, then had 85 ANY/A+ in eight starts in 2007 before the team drafted Joe Flacco and moved on.
Christian Ponder (2011-13 Vikings): After losing his job to first-round pick Teddy Bridgewater, Ponder started one more game in the NFL after his first three seasons.
Sam Darnold (2018-20 Jets): After being traded to the Panthers, Darnold had a noteworthy start in 2021 before falling into his usual poor metrics (76 ANY/A+). He is currently trying to hold off Baker Mayfield from taking his job in Carolina.
One Good Example
The good news? The Giants have the one example here of someone who turned into a consistent starter for the team who drafted the player, but even that took, technically, six years in the league for Simms to get on the right path in 1984. These Giants cannot wait that long.
If we move the ANY/A+ up to 99 for three years, then you could most notably include to the list:
Drew Bledsoe (1993-95 Patriots)
Jake Plummer (1997-99 Cardinals)
Ryan Tannehill (2012-14 Dolphins)
Blake Bortle (2014-16 Jaguars)
But is that really a good thing? Tannehill and Plummer had to leave for other franchises to find some success in this league. Bortles had his lone playoff appearance in that 2017 season when the defense dominated, but that is not a career to emulate.
Bledsoe was a notorious volume passer who made the Pro Bowl in his second season. Efficiency was not his game, but he could pull out some games late on his arm. He went to the Super Bowl in his fourth season in 1996, posting better numbers.
But does Jones feel like Bledsoe to anyone? No, that was Eli Manning, another volume passer who could put a team on his back. Jones is 3-14 (.176) in game-winning drive opportunities, the worst record among active starters. He is not trustworthy with the game on the line.
Is that coachable? It is hard to say, but the coach can put Jones in better situations where he is more likely to have success.
What Can Daboll Change for Jones?
Daboll is going to have a difficult job as a big part of the Bills' offensive turnaround in 2020 was getting Stefon Diggs and putting the ball in Allen's hands. More shotgun, more quick-passing game to get Allen in rhythm, and a lot more play-action passing.
Jason Garrett notoriously did not use much play-action for his quarterbacks, and Jones did suffer from that. However, if we compare the numbers Allen had in 2019 under Daboll with what Jones has done in New York in his career, it does not feel like more play-action and getting the ball out faster more often is going to have as dramatic a change as it did for Allen in 2020:
Josh Allen
2019 Josh Allen with play-action: 65.6% completions, 8 TD, 2 INT, 111.7 PR, 8.5 YPA
2019 Josh Allen without play-action: 57.1% completions, 12 TD, 7 INT, 78.6 PR, 6.3 YPA
Daniel Jones
2019-21 Daniel Jones with play-action: 65.1% completions, 13 TD, 5 INT, 95.8 PR, 7.5 YPA
2019-21 Daniel Jones without play-action: 62.2% completions, 32 TD, 24 INT, 81.2 PR, 6.4 YPA
With play-action, Allen went up 8.5 percentage points in completion percentage, 2.2 yards per attempt, and 33.1 points in passer rating. Jones only goes up 2.9 percentage points in completions, 1.1 in yards per attempt, and 14.6 points in passer rating. Even in 2021 he had modest increases with 0.4 in yards per attempt and 12.4 points in passer rating.
Josh Allen
2019 Josh Allen time in pocket under 2.5 seconds: 65.9% completions, 12 TD, 4 INT, 91.9 PR, 6.3 YPA
2019 Josh Allen time in pocket over 2.5 seconds: 48.4% completions, 8 TD, 5 INT, 75.8 PR, 7.3 YPA
Daniel Jones
2019-21 Daniel Jones time in pocket under 2.5 seconds: 66.9% completions, 24 TD, 13 INT, 87.0 PR, 6.1 YPA
2019-21 Daniel Jones time in pocket over 2.5 seconds: 57.8% completions, 21 TD, 16 INT, 81.0 PR, 7.3 YPA
When getting the ball out in under 2.5 seconds, Allen's completion percentage went up 17.5 percentage points and his passer rating was 16.1 points higher. For Jones, his completion percentage went up 9.1 percentage points and his passer rating was only 6.0 points higher.
Again, Jones can run, and that can make him like a poor man's Allen, so it will be interesting to see if this duo can work it out this year. If not, then the Giants are going to get a new quarterback for 2023.
As a backup plan, the Giants made a wise choice to bring in Tyrod Taylor. While his time in Buffalo predates when Daboll was coaching there, Taylor is the kind of mobile quarterback who should pick up this offense well if he is called on to start. His problem has been staying healthy, so hopefully between Jones and Taylor, the Giants will have enough healthy starts in 2022 to avoid starting someone not cut out for the NFL like Jake Fromm.
Can the Receivers Step Up?
For Daboll and Jones to work out, obviously the rest of the offense has to deliver. The arrival of Stefon Diggs in Buffalo had a lot to do with the breakout performance in 2020 for the Bills. The Giants have no such receiver, though it would be hard for Kenny Golladay to have a worse season after what he did in 2021 where he looked nothing like the budding star he was in Detroit. For the Giants, Golladay finished with career lows in:
Yards per game (37.2)
Catch rate (48.7%)
Touchdowns (zero)
Yards per target (6.9)
If Golladay is going to be a free-agent bust from the old regime, then the Giants could simply look to getting second-year receiver Kadarius Toney in line to be the primary target in this passing game.
A first-round pick in 2021, the rookie seemed to break out as soon as he got his first start against the Saints with 78 yards, then he had 189 receiving yards against Dallas. But a series of injuries led to him playing in just four more games the rest of the season. Like Golladay, Toney did not score a touchdown in 2021. That must change right away in September for this offense.
The Giants also added Kentucky wide receiver Wan'Dale Robinson in the second round of the 2022 NFL draft. He exploded last season with 1,334 yards on 104 catches. He is only 5'8" but that could make him the ideal slot receiver, or the Cole Beasley in this offense from Daboll's point of view.
Let's not forget about veteran Sterling Shepard, the usual slot receiver in this offense, after he tore his Achilles last season. He is currently on PUP and his Week 1 vs. Tennessee status could be in jeopardy. However, the Giants should be able to get him on the field this season sooner rather than later.
Evan Engram's Time in New York Comes to an End
Tight end Evan Engram led the team with 46 catches last year, but it was indeed the finale for him in New York after five disappointing seasons where he never lived up to first-round status. He will be better remembered for drops than any highlights.
The Giants are still thin at the position but they did draft Daniel Bellinger in the fourth round. He only caught 68 balls in four years at San Diego State. The Giants also signed NFL veteran Ricky Seals-Jones, who could put up Engram-like numbers if he stays healthy.
Saquon Barkley: Just a Committee Member?
The Saquon Barkley saga could be coming to an end in New York this season as he plays on his fifth-year option after the team used the No. 2 pick on him in 2018. Clearly, this pick has not worked out and should serve as a reminder that, in practice, no running back is worth such a high pick.
Returns have been diminishing from Barkley, who was at his best as a rookie and has struggled to stay healthy since. While Barkley does not like the criticism that he leaves yards on the field by trying to hit the big play, the facts cannot be disputed from last season:
On 162 carries in 2021, Barkley rushed for 593 yards (3.7 yards per carry) and two touchdowns.
On 145 carries in 2021, teammate Devontae Booker rushed for 593 yards (4.1 yards per carry) and two touchdowns.
Barkley had 41 catches on 57 targets for 263 yards (4.6 yards per target).
Booker had 40 catches on 45 targets for 268 yards (6.0 yards per target).
The Giants had a league-low nine broken tackles on rushing plays according to Pro Football Reference.
What does it say about Barkley if the Giants can use Devontae Booker and get similar if not better results? Barkley needs to embrace what will likely be more of a running back by committee approach that Daboll used in Buffalo with Devin Singletary and Zack Moss.
In fact, the Bills had games where they barely wanted to hand the ball off to their backs, putting the ball in Josh Allen's hands repeatedly instead. That may not work well for Jones, who is 3-17 as a starter when he throws at least 35 passes in a game.
The Giants added Matt Breida from Buffalo to back up Barkley. Expect him to get his share of touches this year if Booker ends up leaving. It would be very surprising to see Barkley break 1,000 rushing yards this season.
Offensive Line: Any Dogs in There?
The pressure on Jones was average last season as left tackle Anthony Thomas thankfully picked up his play after a rough rookie outing. But the Giants needed some more fixes along the line, so they drafted right tackle Evan Neal (Alabama) with the No. 7 pick. He should be a Week 1 starter.
While the Giants signed a bunch of players in free agency, only backup quarterback Tyrod Taylor and new right guard Mark Glowinski signed contracts worth more than $2 million. Glowinski has started 74 games in the NFL, including 55 starts for the Colts since 2018.
He won't be blocking for Jonathan Taylor, but Glowinski figures to be an upgrade over Will Hernandez, another misfire from the Gettleman era.
New Defense for Wink Martindale
From Lawrence Taylor to Michael Strahan to Jason Pierre-Paul, great Giants teams are usually remembered for their defense first. The Giants are hoping Kayvon Thibodeaux, the No. 5 overall pick from Oregon, becomes the centerpiece of this next era of defense.
The Giants used their top draft pick on the pass rusher who had 19 sacks in three college seasons. He had an injury scare to his knee in Sunday night's preseason game, but he remarked after the game that all is good.
New defensive coordinator Don "Wink" Martindale hopes that is the case because the Giants need to improve on the third-lowest pressure rate in the league last year. Martindale comes from a Baltimore defense that loved to blitz, but after having an off year in 2021, he lost his job. He is used to having very successful scoring defenses, but the Ravens had a lot of injuries last season.
Thibodeau now joins:
Leonard Williams
Justin Ellis
Dexter Lawrence
With this group, the Giants could have their best defensive front in years. Throw in linebacker Blake Martinez coming back from a torn ACL that limited him to three games in 2021, and a surprising rookie season from linebacker Azeez Ojulari where he led the Giants with 8.0 sacks, and the strength of this defense is clearly the front seven. There may be less need to blitz and expose the secondary because that group is not the most encouraging going into the season.
Corner James Bradberry is gone in a cost-cutting move. He had that 2020 Pro Bowl season, but his numbers were not as good in coverage in 2021. This happens often at the position. Corner Adoree' Jackson stepped up in his team debut and only allowed 4.8 yards per target in coverage. But that was not the type of player we saw in Tennessee where he allowed 9.5 yards per target in 2020, 7.3 in 2019, and 7.2 in 2018. Chances are he will be closer to the 7.2 mark this year.
Safety Xavier McKinney led the Giants with five interceptions in his second season and will look to be a player you can rely on in this secondary.
2022 Prediction
Banking on the Giants to win at least eight games after earning double-digit losses in all but one of their last eight seasons sounds rough for your NFL picks. But if you believe in Daboll, then you should believe in this schedule too.
The first month is going to be very telling if Jones is ready to deliver at quarterback, because there could be winnable games with the Titans and Cowboys if those teams regress from last year as expected. Hosting the Panthers and Bears are also games the Giants can win.
Then there is a stretch in Weeks 7-11 with the bye in the middle where the Giants could really do some damage against the:
This roster is not good enough to win all the "easy" games on its schedule, but there are at least six of those games outside the division before Thanksgiving.
Then it mostly comes down to the division games, and the Giants are good enough to win at least three games in the NFC East. Washington (now the Commanders), has usually been a good opponent for Jones, last year withstanding, and the Eagles usually have a hard time with New York.
Add it all up, and I can see the Giants finishing 8-9 to hit the over 7 wins. Still not likely enough to make the playoffs, but it is a step in the right direction. Even if Jones still looks nothing like 2020 Josh Allen, at least you can bet that Daboll will not call a quarterback sneak on third-and-9.
NFL Pick: New York Giants Over 7 Season Wins (-115) at Bovada (visit our Bovada Review)

New York Giants Over 7 Season Wins

(-115)
*The line and/or odds on picks in this article might have moved since the content was commissioned. For updated line movements, visit BMR's free betting odds product.
---
On the Last Season of "The Giants": Judge Gets Obvious Verdict After QB Sneak on 3rd-and-9
---
Head coach Joe Judge's tenure with the team lasted two miserable seasons after the Giants finished 10-23 (.303) under his staff. The Giants never had a winning record at any time in the last two years, and the team finished 31st in scoring in both seasons.
The Giants had one game with over 400 yards of offense in the last two seasons, and that was the surprising 27-21 overtime win over the Saints in Week 4. Quarterback Daniel Jones threw for a career-high 402 yards against a defense that befuddled Aaron Rodgers and Tom Brady last season.
But that game is such an outlier as Jones has not passed for 280 yards in any other start in the last two seasons. Jones finished 22nd in QBR, his worst finish yet after finishing 18th as a rookie and 20th in 2020.
NFC East Journeyman
Offensive coordinator Jason Garrett was let go after another awful performance on Monday Night Football against the Buccaneers in Week 11. The offense actually got worse from there as the Giants scored more than 13 points just once in their final eight games. New York failed to crack 200 yards of offense or score more than 10 points in their final three games, the longest streak by an NFL team since the Browns did it five games in a row in 2008.
By season's end, backup quarterbacks Mike Glennon and Jake Fromm were starting games instead of an injured Jones (neck). Running back Saquon Barkley failed to rush for 600 yards in 13 games and averaged just 3.7 yards per carry. Wide receiver Kenny Golladay led the team with a paltry 521 yards and scored zero touchdowns in a disappointing debut season.
Defense Declined Too
Last year was really a step backward as the defense also fell off after an encouraging 2020 performance that was partially the result of a weak schedule. The 2021 Giants only could feel good about a November where they pushed the Chiefs in Arrowhead in a tough loss, and the defense did step up in wins over the Eagles (13-7) and Raiders (23-16).
Those were the only two games all season where the Giants forced more than two takeaways on defense, getting three picks from Jalen Hurts and a big pick-six from Derek Carr.
But overall, the team performed worse than it did in 2020. Judge was fired after the season finale against Washington, a game that became infamous for his decision to run a quarterback sneak on third-and-9 near his own goal line. There was no coming back from that.