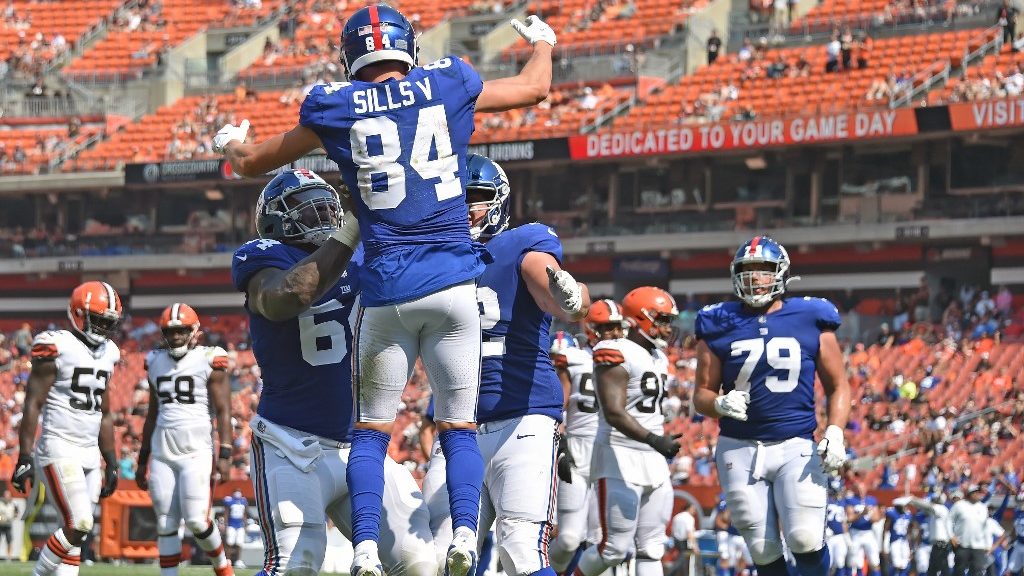 Since 2017, the New York Giants are tied with the New York Jets for the worst record (18-46) in the NFL. New York, I love you, but you're bringing me down with all this irrelevance. While the Jets are largely responsible for creating the New England dynasty by allowing Bill Belichick to go coach the Patriots and injuring Drew Bledsoe to give way to Tom Brady in 2001, the Giants were once crusaders at limiting the dominance of the Patriots. They stopped the perfect season in 2007 and they beat the Patriots again in Super Bowl XLVI.
But in the nine seasons since, the Giants have one playoff appearance (2016) and one wild card loss. Quarterback Daniel Jones enters his third season since taking the reins from Eli Manning while head coach Joe Judge will try to improve on last year's 6-10 record. The Giants have lost at least 10 games in six of the last seven seasons.
Many of the top sportsbooks have the Giants with an over/under of 7.5 wins, which would put them in third place in the division. This could be the now-or-never season for Jones after the Giants finished 31st in scoring last year. The only team worse? You guessed it: the Jets.
On the Last Season of GIANTS: The Funniest 80-Yard Play in NFL History
You know you are watching a wretched division race when a team that started 1-7 later became at one point the odds-on favorite to win the division title and host a playoff game. Frankly, the Giants probably should have won the NFC East, but they blew too many close games in Weeks 5-8.
In the first four games of the season, new offensive coordinator Jason Garrett's unit looked terrible. The Giants were the only team in 2020 to not break 300 yards of offense in their first four games, starting 0-4. Then in Dallas in Week 5, the Giants seemed to catch a break when Dak Prescott broke his ankle during the game, an instant season-ending injury. However, the Giants blew an early 17-3 lead and a fourth-quarter lead to Andy Dalton in a crushing 37-34 loss.
In the third quarter in Week 7 in Philadelphia, Daniel Jones delivered what could always be the most memorable play of his career. Keeping the ball on a zone-read option, Jones raced into the open field with nothing but green ahead of him for a potential 88-yard touchdown. However, he tripped on his own and fell short of the end zone, gaining 80 yards. The Giant Stumble provided a great laugh, showed that Jones does have great speed at quarterback, and it did not hurt the Giants as the team scored a touchdown on the drive anyway. Unfortunately, the Giants blew a 21-10 lead in the fourth quarter and lost by a point.
Against Tampa Bay, the Giants led 14-3 in the first half and 17-15 in the fourth quarter. Tom Brady answered back for Tampa Bay, but Jones is no Eli Manning in crunch time. On a night where he missed several open receivers deep, his shot at a game-tying touchdown drive came up short when the two-point conversion pass failed with 28 seconds left. The Giants lost 25-23.
Jones is now 1-11 (.083) at fourth-quarter comeback opportunities, the worst record among active players. Overall, Jones is 8-18 as a starter with half of those wins coming against Washington, who the Giants were able to sweep last year in close games. In fact, the Washington sweep kicked off a four-game winning streak that brought some life back to the Giants. They got some revenge over the Eagles with a win, then relied on the defense to beat Cincinnati after Jones injured his hamstring.
Colt McCoy had to start in Seattle where the Giants were 11-point underdogs. The offense was very ineffective as expected, but the defense put on one of the best displays of the season in leading the 17-12 upset win. Jones returned against the Cardinals, but he took six sacks as the offense sputtered to one touchdown in a 26-7 loss. He also injured his ankle, causing him to miss the Cleveland game, another 20-6 loss for the team.
Jones took six more sacks in a tough game against Baltimore before the Giants spoiled Dallas' season with a 23-19 win in Week 17. Jones' 9.16 yards per attempt in that last game was his highest since his first NFL start against Tampa Bay in 2019. At least he ended the season on a good note.
Some of the high sack totals taken by Jones late in the season could be attributed to his leg injuries affecting his mobility, but he also is a young quarterback who takes a lot of sacks. Over the last two seasons, Jones is tied with Russell Wilson and Deshaun Watson for the most games (eight) with five or more sacks.
The Notable Changes for 2021
When a team finishes ninth in scoring defense and 31st in scoring offense with a supposed franchise quarterback, then we know the offense is the biggest problem there. The Giants find themselves in a real pickle. Just because a team spent a first-round pick on a tight end in 2017 (Evan Engram), a first-round pick on a running back in 2018 (Saquon Barkley), a first-round pick on a quarterback in 2019 (Daniel Jones), and a first-round pick on a left tackle in 2020 (Andrew Thomas), it doesn't mean those positions are solved. It just means the Giants had plans for them but given the offensive problems of the last few years, these are not the easiest solutions.
Before this sounds more like lyrics to a Death Cab for Cutie song, it is similar to how spending top 10 picks on Ereck Flowers and Eli Apple did not mean the Giants had a franchise left tackle or shutdown corner for the next decade. Now you can start to see why the Giants have been so bad for so long.
The dilemma facing the Giants is that they want to add pieces around Jones to help him develop the best he can, but some of these pieces are question marks in their own right. The other factor has been that this offense has rarely been able to stay healthy and take the field at the same time. Engram missed half the season in 2019 and Barkley missed 14 games last year after he tore his ACL. If these players stay healthy this year and the offense is still bad, that is going to reflect poorly on Garrett and Jones more than anyone.
Barkley is back from that serious injury and will be backed up by Devontae Booker from the Raiders. In hindsight, we can probably stop bashing the Giants for drafting Barkley second overall over Sam Darnold in 2018 given that Jones has looked better than Darnold. But the Giants still passed on an All-Pro guard (Quenton Nelson) and Josh Allen went seventh to Buffalo that year.
It is hard to defend the Barkley pick when the Giants offense is nothing special when he plays. Also, since 2018 New York is 8-23 (.258) when Barkley plays and 7-10 (.412) when he is inactive. The Giants are 1-10 when Barkley has more than 35 receiving yards. His game is heavily predicated on breaking big plays of which he has seven touchdowns of 50-plus yards so far in his career. That is great for the highlight reel and selling jerseys, but overall, it has not been that advantageous to the Giants. He rushed 15 times for 6 yards against the Steelers in last year's opener, his only full game in 2020.
Engram made the Pro Bowl last year for which there is no logical explanation. He only caught one touchdown, had several drops that turned into interceptions, and most infamously dropped a pass against Philadelphia that could have sealed that as a win instead of a loss that came back to bite the Giants for the playoffs. The team added veteran Kyle Rudolph from Minnesota to back Engram up.
Sterling Shepard returns for his sixth season with the Giants. He is a solid receiver, but he was more successful under Eli than he is with Jones, he rarely plays a full season, he has never broken 1,000 yards in a season, and he last caught more than four touchdowns as a rookie in 2016. Jones has thrown 16 touchdown passes that gained 20-plus yards in his career and only one of them went to Shepard. Shepard's yards-per-catch average also dropped to 10.0 with Jones, who has looked more comfortable with Darius Slayton as his go-to receiver, and Slayton has led the Giants in receiving yards in each of the last two seasons.
The Giants needed to upgrade at receiver as one of Jones' few strengths actually is throwing deep, hence the "Danny Dimes" nickname he has not quite lived up to yet. That is why it made sense to go after former Detroit wideout Kenny Golladay, who has eight touchdown catches of 30-plus yards in his career. Golladay had 1,190 yards and 11 touchdowns for the Lions in 2019 before injury cut him down to five games last year. He is also currently dealing with a hamstring issue, so maybe here we go again with the Giants and injuries to their skill players.
But some extra insurance, or maybe too much of a luxury, was added in the first round of the draft this year. While most teams would be content with a receiving corps of Shepard, Slayton, Golladay, and giving former first-round pick John Ross a look, the Giants decided to add Florida receiver Kadarius Toney with the 20th pick in the draft to the mix. Toney was a marginal player for three years at Florida before exploding as a senior with 70 catches for 984 yards and 10 touchdowns. Toney is more of a slot receiver who will try to make YAC plays than a deep threat like Golladay or Slayton. At least he can learn from Shepard, but it seems unlikely that Toney will be in a position to have a huge rookie year for a passing offense that barely cracked 3,000 yards last year.
As for the offensive line, left tackle Nate Solder was one of the bigger names to opt-out of the 2020 season due to COVID concerns. However, the Giants had a replacement ready to go after spending the fourth overall pick on Andrew Thomas. He started 15 games and was neither deemed a star nor a disaster, which is a bit disappointing for early returns, but let's not write him off yet. Solder could move to right tackle this year, or the Giants could be starting three linemen who were drafted in 2020. Either way, this is one of the least impressive and least accomplished offensive lines on paper going into 2021, so it could be another uphill battle for the Giants on offense.
When it comes to the defense, New York is largely returning the same unit but without Dalvin Tomlinson (Vikings) upfront. I would stress caution that last year's decent numbers could be fool's gold given the slate of quarterbacks the Giants faced. Not only did Dak Prescott get injured in the first matchup last year, but the Giants played nine other games against starting quarterbacks who are not starting for those teams in 2021. That list includes Kyle Allen (twice), Carson Wentz (twice), Jared Goff, Brandon Allen, Andy Dalton, Nick Mullens, and Mitchell Trubisky. Mullens even carved the defense up for 343 yards in that game, a 36-9 blowout win by the 49ers. Wilson was the only good quarterback the Giants were able to make look bad last year.
Playing that kind of schedule can help explain why a corner like James Bradberry a career year had, making his first Pro Bowl, after coming over from the Panthers. Leonard Williams also had a career year with 11.5 sacks and nearly doubled his 2019 pressure total to 42. This is not to say that Bradberry or Williams will be bad this year, but the division games alone should look quite different with Ryan Fitzpatrick throwing to Terry McLaurin, Prescott leading his loaded offense, and Jalen Hurts should be better than 2020 Wentz for the Eagles.
New York has been spending so many first-round picks on offense in recent years that we forget the team made two more first-round picks on defense in 2019 after taking Jones sixth overall. The early returns have been poor so far. Cornerback Deandre Baker was drafted 30th, but the Giants had to get rid of him after one season following his charges (later dropped) for armed robbery. The Giants need to see more production out of Dexter Lawrence at defensive end. He only has 6.5 sacks and 31 pressures in 32 games.
The team's biggest defensive addition in free agency was corner Adoree' Jackson, a 2017 first-round pick by the Titans. Jackson signed for $39 million over three years a week after the Titans cut him. That looks like considerable money for a corner who has two interceptions in 46 career games and allowed 13 completions on 16 targets last year with three touchdowns in three games played.
Daniel Jones: Boom or Bust?
Thanks to Josh Allen's career progression in Buffalo, we have to entertain the idea that every quarterback who has failed to break out in his first two seasons as a starter will do it in his third like Allen did last year. That is not the norm for good NFL quarterbacks who go on to extended career success. They usually prove their worth in their first or second season. Jones could even argue that his first two seasons were better than Allen's first two seasons, though he did not have the crunch-time success to produce more wins than Allen did as Allen started a playoff game in 2019. He also did not take any big leaps in his second year other than that time he fell on his face against Philadelphia.
Jones produced an eerily similar passing stat line to his rookie season. On 11 fewer attempts, he had four fewer completions for 84 fewer yards, two fewer interceptions, and he took seven more sacks. The biggest changes were his touchdowns fell way off from 24 to 11 and that 80-yard run gave him a nice boost in the rushing department. The decline in touchdown passes feels significant. Jones is the first second-year quarterback to throw fewer than 12 touchdowns on 400-plus attempts since Trent Dilfer in 1994. Had the seasons been reversed and Jones went from 11 touchdowns to 24 in 2020, it would be easier to feel optimistic about this 2021 potential.
Using Pro Football Reference's metric of adjusted net yards per pass attempt index (ANY/A+), which will take the era into account, Jones has an ANY/A+ of 86 through two seasons. Among other quarterbacks with at least 600 attempts in their first two seasons, Jones (86) sits right in a group near the bottom with Jeff George (85), Christian Ponder (85), Blake Bortles (85), Jack Trudeau (86), Sam Bradford (86), Colt McCoy (86), Brandon Weeden (86), and yes, Josh Allen (86). Clearly, that group did not produce much long-term success, and even Allen still has to prove he can keep playing at a high level for the Bills. Troy Aikman (78) is still the only quarterback to have an ANY/A+ under 90 through two seasons (minimum 600 passes) and make the Hall of Fame.
Fumbling has been a bigger issue than interceptions for Jones. While Jones cut his fumbles down from a horrific to 18 to 11, he still led the league for the second year in a row in that stat. He already has 29 fumbles in 27 games, losing 17 of them. Eli Manning was far from elite at avoiding fumbles, but he only had 21 fumbles in his first 41 games. This could be corrected in time. Tom Brady fumbled at least 11 times in each of his first three seasons as a starter, and now he does it about a handful of times a season. This Fumbilitis could also linger throughout Jones' career as it did for former Giants quarterback Kerry Collins or Daunte Culpepper.
Again, there are problems that extend beyond Jones in New York. The Giants had a broken play-action passing game last year as they were one of six offenses to average less than 6.5 yards per attempt with play-action. The receivers were charted with the fewest broken tackles (12) on receptions and the lowest YAC per catch (3.9 yards) in the league, according to Pro Football Reference. Barkley can help with the broken tackle numbers and his presence may influence Garrett to call more play-action shots, but there is still a lot to fix in this offense, which ranked 29th on third down and 31st in the red zone last year. Between Barkley's homages to Barry Sanders stat lines and the deep balls to Golladay, this feels like an offense that will want to hit a couple home runs each week, but it might fail to make the easy plays that keep drives going.
The very definition of boom or bust.
Prediction
My gut feels that the Giants blew a golden opportunity last season when the division was crumbling around them. Prescott was out, they swept Washington's lousy offense, and Wentz was in the process of getting Doug Pederson fired. But New York had its own ineffective offense issues. Now, it feels like every team in the division has improved more than the Giants. Prescott is back for Dallas, Washington will try to support Ryan Fitzpatrick with a strong defense, and the Eagles are moving forward with Jalen Hurts and a new coach.
It is hard to find where the Giants have an edge on the competition this season. Unless Jones breaks out in his third year, the Giants are looking at having the worst quarterback situation in the division. The defense does not look ready to be the clear-cut best in the division, especially with Washington there. Judge did not assert himself as a transcendent coach last year.
When looking at New York's schedule, a 2-1 start may be as good as it gets this year. They have to travel to both of last year's Super Bowl teams as well as the Saints, Dolphins, and they will face the Bears in January weather in Chicago. All the division games should be tougher this year and it is the division where the Giants gathered four of their six wins last season. Their only non-division wins were against lowly Cincinnati and that Seattle upset.
There are six games on this schedule that I can feel comfortable with seeing the Giants win, but it is hard to predict more than that. If the Giants make a turnaround this season, then we will at least know what led to it. But for my NFL picks, I feel good betting the under on Jason Garrett and a product of the Bill Belichick coaching tree, as well as a quarterback who is banking on a third-year Josh Allen style breakout.
2021 Giants Over/Under Pick: Under 7.5 wins (-150) at Bovada (visit our Bovada Review)
*The line and/or odds on picks in this article might have moved since the content was commissioned. For updated line movements, visit BMR's free betting odds product.