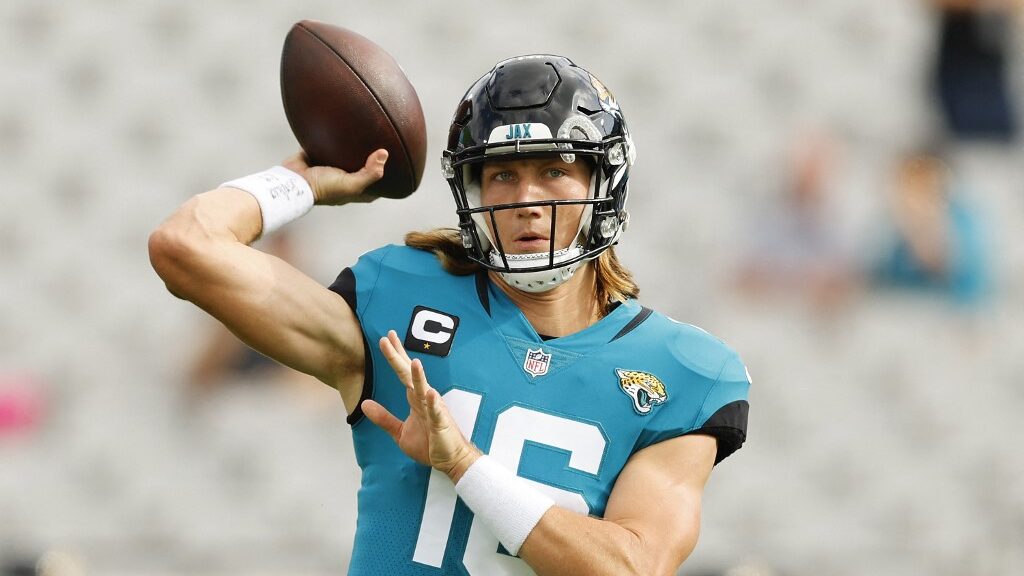 The Jacksonville Jaguars have lost double-digit games 10 times in the last 11 seasons. The only worse stretch in NFL history was when the Tampa Bay Buccaneers did it 12 seasons in a row (1983-94). You have to love Florida football.
But can things be different after the team brought in head coach Doug Pederson to fix Urban Meyer's mess and mentor young quarterback Trevor Lawrence?
For a No. 1 overall pick, Lawrence's rookie season was largely a sideshow to the clown show that was Meyer's short run. Jacksonville's 3-14 record was hardly an improvement on 2020's 1-15 finish. Now the Jaguars must avoid becoming the first team in NFL history to lose at least 14 games in three consecutive seasons.
Many of the top-rated sportsbooks have the Jaguars with an Over/Under of 6 wins. The bar is not high, but is the team ready to clear it with ease?
PLAY NOW: $25,000 Free-To-Play NFL Contest: BMR's 2022 Pick'Em Pool Opens for Registration
---
The Notable Changes for 2022
The Jaguars no doubt spent some money to shake up the roster for 2022. But whether this pays off right away will come down to the two most important positions like it always does: coach and quarterback.
Head Coach Doug Pederson: Strong Signing
There were many job openings for head coaches this year, but the Jaguars seemed to make one of the best hires by giving Doug Pederson a second chance after a year away from the game.
Pederson's Time at Philadelphia
The more we can see of Pederson without Carson Wentz as his quarterback, the better it could be for him. Wentz really is both a tribute and dishonor to Pederson's time with the Eagles. They came in together in 2016, then Pederson had that magical 2017 season where the team was balanced and played so well to earn the top seed.
Wentz was getting MVP buzz in his second season, and even after he tore his ACL, the team still won the Super Bowl with Nick Foles playing lights out. But Wentz regressed and became a burden for Pederson in the remaining years. By 2020, Wentz was playing like one of the worst quarterbacks in the league and that essentially got Pederson fired despite his ring.
Now with a fresh start with another young, talented quarterback in Lawrence, this is an exciting opportunity for Pederson to show that his offense works, especially when it's not Wentz.
If you remove Week 17 games for playoff rest and games that the quarterback did not finish due to injury, then Wentz was 7-19 (.269) against playoff teams during his Philadelphia run with Pederson. In that same time, Nick Foles (6-1) and Jalen Hurts (1-1) were a combined 7-2 (.778) as Pederson's starters against playoff teams.
Foles also led a game-winning drive against the 2017 Rams in the game that Wentz infamously tore his ACL. That game does not count as one of Foles's six wins or Wentz's seven wins. Wentz got Pederson fired in Philadelphia as the team performed better, especially against tough competition, without him.
A New Talent for Pederson
Does this mean Pederson will be as helpful to Lawrence as Sean McVay was to Jared Goff on the 2017 Rams? No, but that example of a quarterback going from an all-time horrible rookie season to a Pro Bowl-caliber second season with a new coach is why you have optimism that something good could come of this Jacksonville pairing in 2022. It's been done before.
But the Rams were much more suited to have success with great receiving talent. These Jaguars are a work in progress. But Pederson's offense, which he molded from the Andy Reid coaching tree, should be helpful in increasing Lawrence's efficiency.
More RPOs and screen passes to get his completion percentage up. The Jaguars also dropped a lot of passes last year, did little after the catch, and Lawrence should just have a better understanding of what throws he can and can't get away with in the NFL.
Pederson's Staff
Helping Pederson out as his new coordinators are some familiar faces from his Philadelphia days.
Press Taylor has never been an offensive coordinator in the NFL before, but he is the person credited with creating the Philly Special trick play that helped the Eagles beat the Patriots in Super Bowl 52. Taylor was coaching the quarterbacks while Pederson was in Philadelphia, and he moved up to passing game coordinator for that 2020 season that was derailed by poor quarterback play.
New defensive coordinator Mike Caldwell played linebacker for several NFL teams before moving into the coaching ranks. He was a teammate of Pederson's on the Eagles as a player and later as a coach. Caldwell was coaching the inside linebackers in Tampa Bay for the last three years before coming to Jacksonville this season.
Both are first-time coordinators, but the philosophies look to be well aligned between Pederson and his new coordinators.
Pass Catchers: It's an Experiment
In an offseason dominated by wide receivers being traded and signing huge contracts, the Jaguars may have embarrassed the market with its March pursuit of free agent Christian Kirk from Arizona.
The Jaguars ended up giving Kirk a four-year deal worth $72 million with the potential for $84 million. That is a lot of money for someone who never had a 1,000-yard season in Arizona and was denied a second contract.
This is a real gamble for someone who was a No. 2 wideout at best with the Cardinals, and now Jacksonville is going to pay him like the No. 1 he's never been.
The truth is the Jaguars already had a better receiver than Kirk in D.J. Chark, but his fractured ankle last October ended his season after four games. He ended up going to Detroit for 2022.
On the same day the team signed Kirk, the Jaguars spent $24 million for Zay Jones, who has come a long way since a horrific rookie season, but he too has never been anything special in this league.
Finally, the Jaguars added tight end, Evan Engram, from the Giants. At least this was only a one-year deal worth $9 million because Engram is better known for crucial drops than anything positive. He's also coming off a career-low of 408 yards in 15 games last season.
How Will It Look Like for the Jaguars?
The Jaguars likely could have worked out a deal with Chark to bring him back, and feature an offense with Marvin Jones and Laviska Shenault that would be better than this expensive trio of Kirk/Jones/Engram.
On the plus side, the Jaguars almost get an extra first-round pick back as running back Travis Etienne is back after missing his whole rookie season with injury. He could be used as a pass catcher a la Darren Sproles or Austin Ekeler and really help this offense more than the other new additions.
But even Etienne is a sour spot for Jaguars fans as a first-round pick was used on him despite undrafted James Robinson performing very well at the position in 2020. Robinson looked good again last year before he tore his Achilles late in the season.
Offensive Line Support
The Jaguars have had their share of offensive line issues, and 2022 will likely be another tough year on that front. Center Brandon Linder retired after yet another injury cut his 2021 season short. He will be replaced by third-round rookie Luke Fortner, so that could be a downgrade if the rookie is slow to pick things up.
The big upgrade comes at right guard with Brandon Scherff coming over from Washington on a three-year deal worth nearly $50 million.
Scherff has made the Pro Bowl five times, but he hasn't started more than 14 games in a season since 2016. He has missed at least five games in three of the last four seasons, so availability is always an issue with him.
Travon Walker: The Surprise No. 1 Overall Pick
If the Jaguars are realistically not going to score a ton of points in 2022, then building a stronger defense could be the best way for this team to stay competitive all season long. Taking Lawrence with the first pick last year and the subsequent moves seemed to put the Jaguars on a path where defense early and often was the most logical process in the 2022 NFL Draft.
But while Lawrence was an assumed No. 1 overall pick for many months before the 2021 draft, Georgia's Travon Walker was a bit of a surprise in this April's draft. Walker's Bulldogs terrorized opposing offenses in the 2021 season on the way to winning a national championship. In fact, Walker was the first of five first-round draft picks from that Georgia defense this year.
That much talent makes you start to question just how much of Walker's success was his own individual talent and how much was the scheme and overwhelming talent on the field together. Walker had 6.0 sacks in 2021 and finished his college career with 9.5 sacks in 36 games. It's not the only stat that matters, but Walker also had just 34 solo tackles in three years at Georgia.
If that sounds preposterously low for a No. 1 overall pick, that's because it is. For reference, 2006 top pick Mario Williams had 32 solo tackles and 14.5 sacks in his 2005 season alone at NC State. Myles Garrett, the top pick in 2017, had 81 solo tackles and 31 sacks in his career with Texas A&M.
What to Expect From Walker
Clearly, the Jaguars are not getting a three-year starter with huge production as a pass rusher at the college level. Maybe that's the type of player you would want to spend the No. 1 pick on when quarterback is off your radar, but this was a hard draft to own that top pick.
I am not going to call Walker a bust before he plays a snap, but it will be hard for him to ever live up to that lofty status he entered the league at. Jacksonville used its other first-round pick on Utah linebacker Devin Lloyd. He could be a Week 1 starter after the team lost veteran Myles Jack to Pittsburgh.
---
2022 Jaguars Prediction
Jacksonville has a good shot to finish ahead of at least Houston in the AFC South. While the Jaguars still do not look like a playoff team, the new coaching staff combined with a favorable schedule does make the over enticing for your NFL picks.
Consider that the first game of the season is at Washington against Carson Wentz, the quarterback who got Pederson fired in Philadelphia and who laid an egg against the Jaguars in Week 18 with the playoffs on the line. That is a winnable game for this team, and for the Week 2 opponent, we know the Colts have struggled in Jacksonville for a long time.
Beyond that, there are going to be winnable games against the Texans (twice), Jets, Giants, Lions, and never discount an upset against a good team. No one would have believed Jacksonville would beat Buffalo last year.
While a 7-10 record would continue the run of 10-loss seasons, it would be a step in the right direction for the franchise, which is something we rarely say about the Jaguars.
2022 Jaguars Wins: Over 6 Wins (-130) at Bovada (visit our Bovada Review)

*The line and/or odds on picks in this article might have moved since the content was commissioned. For updated line movements, visit BMR's free betting odds product.
---
On the Last Season of "The Jaguars": Urban Quagmire Sets College Coaches Back Decades
Coaching college football is not the same as coaching the NFL. Few will have proved that point better than Urban Meyer with his 2-11 record before an early dismissal in his first – and you can guarantee last – season in the pros.
There were too many controversies to remember surrounding Meyer. From his questionable nepotism hires to getting fined for practice violations in the offseason to a viral video in a bar last October where he was caught with a woman who was not his wife.
But the real kicker proved to be Meyer's poor treatment of his assistants and players. In December, former kicker Josh Lambo accused Meyer of kicking his leg during warmups of a preseason game and telling him that "I'll kick you whenever the f*** I want."
A day later, Meyer was fired, a rare win for the Jaguars these days. But the hire was so disastrous that it will likely sour NFL teams on hiring college football coaches for some time to come. Chip Kelly and Greg Schiano were not helping matters in the last decade, but Meyer shows exactly what can happen when someone doesn't get a recruiting advantage and has to win with better preparation and putting players in position to succeed.
The Jaguars never had a chance for success in 2021 with Meyer as the coach, and hopefully, the young players can shake that off for 2022.
Tank for Trevor, But Offense Tanks With Trevor
While Meyer was expected to be an offensive genius with his spread offense, the fact is the Jaguars regressed on that side of the ball. No team scored fewer points than the Jaguars did last year at 14.9 points per game.
It was not a good year for most of the rookie quarterbacks, but No. 1 pick Trevor Lawrence did little to stand out.
His 33.5 QBR ranked 28th in the league
His 17 interceptions tied for the league lead.
The Jaguars had a league-low 12 touchdown passes.
But Lawrence was often playing from behind with an inadequate cast around him or the opposite of what he had at Clemson. You know things are rough when journeyman tight end Dan Arnold plays eight games and still finishes fourth in receiving yards (324) for your offense.
Defense Creates Two Special Wins
While it was a downer of a season, there were two exciting wins that are among the best the Jaguars have had in the last decade. In Week 9 against the Bills, Jacksonville was a 14.5-point underdog. The Jaguars ended up winning 9-6 after Buffalo quarterback Josh Allen was destroyed.
In the season finale against the Colts, all Indy had to do was win as a 15-point favorite and they would make the playoffs. But Jacksonville has shockingly won seven games in a row at home against the division rival. The defense sacked Carson Wentz six times and held Jonathan Taylor to 77 yards in a 26-11 upset. It was the only game all season where Jacksonville scored more than 23 points.
With these two upset wins, the 2021 Jaguars join the 2009 Raiders as the only teams since at least 1978 to win multiple games as an underdog of 14-plus points. The Raiders actually did it three times that season.