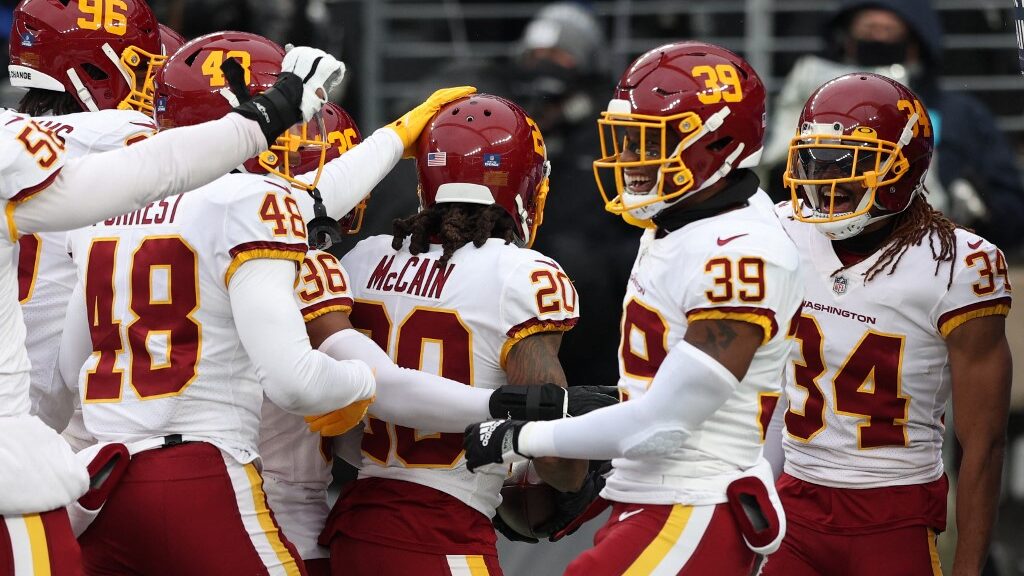 The Washington Football Team finally has a new name that should outlive us all. The Washington Commanders will make their 2022 debut in the NFL, but no change to a name, logo, or uniform changes the fact that this remains a flawed football team that is searching for relevancy.
Relevancy on the field, please. We get too many headlines for this franchise off the field. Embattled owner Daniel Snyder seems to get invited to more congressional hearings for alleged misdeeds than trips to NFL postseasons. Defensive coordinator Jack Del Rio has as many $100,000 fines for his January 6th comments as he does seasons coaching a top 10 defense since 2013.
Washington is the only team in the NFL to not have a season with at least 11 wins since 1993.
At that same time, Washington's win percentage ranks 30th in the league.
Only the Browns have played fewer playoff games.
Washington has not advanced past the second round of the playoffs since the 1991 season, tied with Detroit for the second-longest active drought.
Washington also has not won a playoff game since the 2005 season.
Clearly, 2022 does not expect to be the season where these droughts end. Many of the top-rated sportsbooks have Washington with an Over/Under of 8 wins. Washington has won exactly seven games in four of the last five seasons. Are we about to see a stacking of 7-10 seasons, or does this team avoid the NFC East basement?
PLAY NOW: $25,000 Free-To-Play NFL Contest: BMR's 2022 Pick'Em Pool Opens for Registration
---
The Notable Changes for 2022
It is going to take some time getting used to, but the name change is official, and the era of the Washington Commanders is here. But everything about this season hinges on the one huge move at quarterback after Carson Wentz was acquired via trade in consecutive offseasons.
Carson Wentz's Arrival
In 2021, Carson Wentz was traded to the Indianapolis Colts to reunite with former assistant coach Frank Reich on a team that was coming off a playoff season. Here is what the Colts provided Wentz with:
All-Pro running back Jonathan Taylor led the NFL in rushing (1,811 yards), yards from scrimmage (2,171), touchdowns (20), averaged 5.5 yards per carry, and the Colts were 9-1 when he rushed for 100 yards.
The Colts' 5.1 yards per rush ranked second in the NFL behind only Cleveland.
A strong offensive line with three multi-time Pro Bowlers, including three-time All-Pro guard Quenton Nelson.
2020 second-round pick Michael Pittman Jr. moved up to No. 1 wide receiver and had 1,082 yards and 6 touchdowns to lead the team.
Wentz threw 27.9% of his passes using play-action, the second-highest rate in the league.
The defense forced 33 takeaways, which only trailed Dallas (34) for the most in the league.
The Colts had the second-best average starting field position in the league thanks to all those turnovers and the best starts after kick returns from a special teams unit that ranked 14th in DVOA.
All that was in Wentz's favor, and the Colts still finished 9-8 and missed the playoffs after losing to Jacksonville in Week 18 as a 15-point favorite. The Colts were 0-7 when Taylor did not rush for 100 yards, and they were 1-8 when allowing more than 18 points in a game.
While Indianapolis has been thrilled to move on from Wentz, Washington still thought this was worth trading for even though it will not give him all these advantages in 2022. Washington exchanged second-round picks while giving up a third and a conditional third in 2023.
The Colts almost made the playoffs by trying to hide Wentz at quarterback, but it ultimately failed. Washington would be wise to try something similar and lean on the run game and defense, but the talent and coaching were not good enough to pull that off a year ago.
No, You Can't Fix Him
Teams continue to think they can fix Wentz and get him back to the 2017 level, but the truth is those 13 games in 2017 were the outlier. The flawed quarterback he has been the rest of the time is the real player you should expect to get.
Since 2016, Wentz has a league-high 46 games with a yards per pass attempt under 7, including a league-high 27 games with a yards per attempt under 6. He consistently has accuracy issues. He holds the ball longer than most.
The more you have to rely on Wentz, the worse he becomes:
Wentz is 8-33 (.195) when his team allows 24-plus points, or something Washington did nine times last year.
Three of those eight wins were against Washington, and the highest-scoring win (43-35 vs. 2017 Rams) was the game he tore his ACL in during the third quarter.
Wentz is 7-21-1 (.259) when he throws at least 40 passes in a game, which is nearly the inverse of Patrick Mahomes, who is 22-7 (.759).
Wentz is 10-28-1 (.269) at game-winning drive opportunities in the fourth quarter or overtime, the second-worst record among active starters.
Five of Wentz's 10 game-winning drives are against the Giants, a team that is 33-65 since 2016.
This might be a good time to point out that teams coached by Ron Rivera are just 24-54-1 (.310) at game-winning drive opportunities. At the very least, that are three things Rivera and Wentz have in common: losing close games, relying on weak divisions to make the playoffs, and having that one outlier season that people will point to as the hope for future success.
But this is not a good pairing for Washington.
Wentz's Receiver Problem
Speaking of not good pairings, try wide receiver Terry McLaurin and any quarterback he's had in Washington. Ryan Fitzpatrick may have worked out last year, but we didn't even get a full game between them. McLaurin has impressed in his three seasons, and he rightfully signed a three-year extension worth $71 million.
But if McLaurin was hoping for a better quarterback to help him achieve greater stats in 2022, Wentz is one of the worst options he could have pulled.
In five seasons with the Eagles, Wentz produced one 1,000-yard receiver (tight end Zach Ertz in 2018).
Ertz had four of the top five receiving seasons in Philly in 2016-2020, and no wide receiver ever cracked 850 yards in one season during that time.
Nelson Agholor notoriously struggled with the Eagles. He got away to Vegas in 2020 and immediately had the best season of his career with Derek Carr.
Alshon Jeffery won a Super Bowl with the Eagles in 2017, but he went from averaging 72.2 yards per game in Chicago to 48.6 yards per game in four seasons with Philadelphia.
While T.Y. Hilton was 32 years old and injured last year, it still feels like no coincidence that he scored a career-low 3 touchdowns and averaged a career-low 33.1 yards – his first season under 50.0 – the moment Wentz became his quarterback.
Granted, Wentz was able to get Michael Pittman up to 1,082 yards in Indianapolis last year, but the Colts had no other player with 400 receiving yards. Some of that was injury, and some of that was hiding Wentz's inaccuracies, especially when it comes to elevating outside receivers.
What Can Wentz Use In Washington?
Wentz likes a tight end, but that could be an issue in Washington when Logan Thomas is still on PUP after tearing his ACL last year. At least the team has a capable receiving back in J.D. McKissic, but Wentz has never shown he will consistently hit those touchdown passes out of the backfield.
Washington also got barely any use out of gadget wide receiver Curtis Samuel in his first year with the team due to injury, but it is hard to expect much from him with Wentz.
Washington drafted Penn State wide receiver Jahan Dotson with the 16th pick in April. He exploded last season with 91 catches, 1,182 yards, and 12 touchdowns. He could develop into a good one in the pros, but should you trust a rookie with Wentz as his quarterback?
Should you trust any wide receiver to have Pro Bowl-caliber numbers with Wentz? Six seasons of data say no.
Wentz Will Not Elevate Offensive Line
Wentz was thought to have joined a very good Indianapolis offensive line led by veterans Quenton Nelson, Eric Fisher, Braden Smith, and Ryan Kelly. In the end, he took 75 hits while passing, second most in the NFL in 2021 according to Pro Football Reference.
He did cut down his sacks greatly after the first six games, but he ended up taking 6 sacks in Jacksonville in the stunning season finale that eliminated the Colts from the playoffs.
How Will the Offensive Line Look Like?
The Commanders are not going to give Wentz a better line than he had in Indy, but it could be an adequate one if veteran left tackle Charles Leno holds up as he did last year. Heinicke did his own share of holding the ball too long – more than a tenth of a second longer than Wentz on average according to Next Gen Stats – so this is not something the line will not be used to.
The Commanders lost standout guard Brandon Scherff to free agency, and while Trai Turner will be a better replacement than most, that still looks to be a downgrade for the line.
Wentz should not take 50 sacks in 12 games like he did for the 2020 Eagles, but he is not the kind of quarterback who is going to quickly get rid of the ball like Alex Smith would for this team. Washington will have to live with the sacks and mistakes.
Defense: Not Reliable
Finally, there is the defense that should finish somewhere between the last two years of extreme performances. Washington still has those five first-round picks in the front seven with Jonathan Allen coming off his first Pro Bowl after a team-high 9.0 sacks.
But the draft status has outweighed the production for this group so far. Worse, the player who needs to be the most dominant one in the front seven is expected to miss at least Week 1 as Chase Young recovers from a torn ACL.
Even before the injury, the 2021 season was not going to Young's liking. He only had 1.5 sacks and 13 pressures in nine games, which would have put him well behind his rookie pace, and it's not like his rookie season was the stuff of legends when he had 7.5 sacks.
How Will the Defense Look Like?
Washington needs that front to deliver because no one in the secondary scares anyone, and the team really did not do much to add to the starters there.
Landon Collins was one of the few proven veterans there, but he was designated as a post-June 1st cut after an injury in 2021.
No one fears throwing at corner Kendall Fuller, who had 113 targets last year and still only made one interception.
Safety Bobby McCain led the team with 4 interceptions, but that will certainly be an outlier after he collected half of them in Week 18 against awful Giants backup Jake Fromm.
McCain had just 7 picks in 87 games with Miami. He also allowed 9.7 yards per target in coverage last season, the worst for any Washington defender with at least 20 targets.
When a team spends a first-round pick on a front seven defender five years in a row, you would think that defense might have some identity or a good reputation by now. The 2020 season teased that this defense was getting ready for a fight, but 2021 was just a dust-up in D.C.
---
2022 Commanders Prediction
Just from a pure talent standpoint, this Washington team should max out at 7-10 or 8-9 this season, which would hit the Under (or push) for your NFL picks. Rivera has failed to hit 8 wins in 73% of his seasons. But the schedule looks so incredibly advantageous that it almost makes you want to take the Over.
Looking at the Early Schedule
Washington plays four of the teams projected to be among the worst in the NFL, and that includes the first two games against the Jaguars and Lions. They get the Texans and Falcons in Weeks 11-12.
What if Wentz, following a 2-0 start, plays the game of his career to get revenge on the Eagles in Week 3? What if the Titans and Packers regress after losing their top wideout? Washington could steal one of those games at home, which would be six wins.
If Wentz did anything well in his career, it was beating the Giants. That should be at least a split, giving them seven wins. What if Justin Fields (Bears) or Trey Lance (49ers) greatly disappoint this year? That should be at least one more win. Then on New Year's Day, the Commanders host Cleveland, who could end up not having Deshaun Watson if he is suspended all season.
With enough regression and disappointment around the league, 9-8 is a real possibility for Washington. But if we lean on the histories of what tends to happen for teams owned by Snyder, coached by Rivera, quarterbacked by Wentz, and coordinated by Del Rio, then Under 8 wins is the only logical bet to make.
2022 Commanders Wins: Under 8 Wins (-125) at Bovada (visit our Bovada Review)

*The line and/or odds on picks in this article might have moved since the content was commissioned. For updated line movements, visit BMR's free betting odds product.
---
On the Last Season of "Washington": When the Division Isn't the Worst Ever
Washington had a surprising 2020 playoff appearance that was heavily aided by finishing 7-9 in the worst division race since the 1970 merger. But the team did at least perform admirably on defense.
In 2021, Washington finished with the same seven wins, but this time the NFC East sent two teams, Dallas (12-5) and Philadelphia (9-8), to the playoffs.
Washington was quickly made an afterthought, and the team's performance fell off a cliff as it went from outscoring opponents by 6 points in 2020 to being outscored by 99 points in 2021.
The "Ryan Fitzpatrick Era"
Ultimate journeyman Ryan Fitzpatrick was brought in to be the new starting quarterback, but his season lasted six throws before an injury ended it and his career as he retired this offseason.
Taylor Heinicke ended up starting 15 games and did not do well enough to secure the job for 2022 as the offense remained a bottom 10 unit with little to respect outside of wide receiver Terry McLaurin.
Defensive Decline
Defensively, no unit declined more from 2020 to 2021 than coordinator Jack Del Rio's group. Washington allowed 105 more points in 2021 than 2020, the only team to go above 90 points from the previous season. A big part of the problem was that Washington beat up on unimpressive quarterbacks in 2020 and was picked apart by a stronger group in 2021.
Maybe things could have been different if Washington drew New York backup Jake Fromm more, but star rusher Chase Young tore his ACL nine games into a disappointing second season that saw him finish with 1.5 sacks.
Washington also could not get off the field on third down on defense, allowing opponents to convert 48.5% of the time. Only the Chargers (49.5%) were worse.
Cowboys and Eagles Deliver the Knockout Blows
Despite the injuries to Fitzpatrick and Young, Washington was in a position to make a late run for the playoffs just like it did in 2020. A 2-6 start followed by a four-game winning streak where Heinicke was doing his best drive engineering and the defense was looking closer to 2020 had the team back to .500 with five straight division games to end the season. Anything could happen.
However, the resulting slump just showed the difference between beating up on a terrible division in 2020 and having to deal with better teams in 2021. This time it wasn't Andy Dalton leading a Dallas team instead of Dak Prescott. This wasn't getting the Eagles with Carson Wentz playing like one of the worst quarterbacks in the league.
In a four-game stretch, the Cowboys and Eagles took turns ending Washington's season.
Dallas escaped a sloppy game in Washington after Randy Gregory forced backup quarterback Kyle Allen into a game-clinching fumble in a 27-20 final that was most costly. Dallas destroyed Washington 56-14 in the rematch.
Washington vs. Philadelphia
The Eagles were able to hold off Washington's poor offense in both games, not allowing the team to surpass 17 points in either game.
Expecting the Usual
At least Washington improved to 1-4 against New York quarterback Daniel Jones, but 2022 should still be these teams battling to stay out of last place in the NFC East.
The Giants made a smart coaching hire with Brian Daboll. The Commanders are going with Wentz at quarterback.
Congrats on the new name, at least.