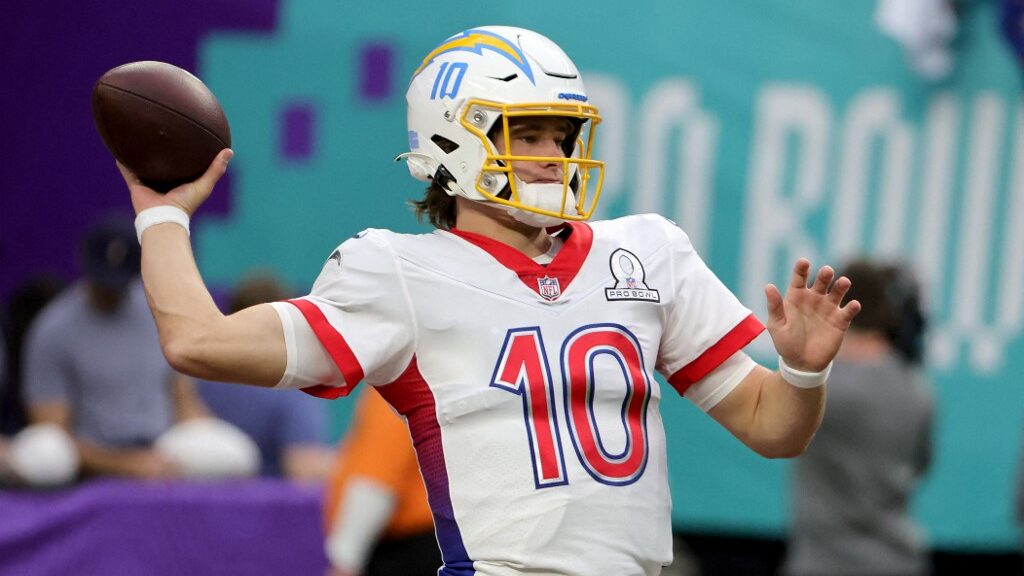 Predicting the NFL regular season's most valuable player (MVP) is not an exact science. Certainly, it isn't this early on. Smack in the middle of summer, two months before the first week of the season kicks off and well before preseason NFL action gets underway.
Of course, that's not enough of a handicap to prevent projected NFL odds, also known as NFL futures, from cropping up on various sports betting sites.
Early NFL betting markets are par for the course at the sportsbook exchange, and bookmakers have already rolled out their initial serving of favorites, contenders, and longshots for a slew of markets. This includes the coveted NFL regular season MVP Award that is determined by the Associated Press (AP).
In this column, we look at the MVP favorites as per BetOnline (visit our BetOnline Review). We'll take a specific focus on Los Angeles Chargers quarterback Justin Herbert and his chances of coming through on his very favorable odds to clinch the prestigious honor.
MVP Odds – Top 20 Bets
Josh Allen +550
Justin Herbert +700
Patrick Mahomes +900
Joe Burrow +1100
Tom Brady +1200
Aaron Rodgers +1600
Russell Wilson +1800
Jalen Hurts+1800
Matthew Stafford+2000
Derek Carr+2000
Dak Prescott +2200
Lamar Jackson +2200
Kyler Murray +2500
Trey Lance +2500
Deshaun Watson +2500
Matt Ryan +3300
Tua Tagovailoa +3300
Kirk Cousins +4000
Derrick Henry +5000
Jameis Winston +500
MVP Favorites And Popular Bets
BetOnline is one example of a top-rated sportsbook trading on the upcoming season with a slew of NFL futures markets, including the 2022 NFL Regular Season MVP.
According to the latest serving of BetOnline odds, Josh Allen is the top favorite to clinch the honor. The Bills quarterback is priced as the +550 favorite.
Josh Allen Analysis
Allen, who was drafted in 2018, is a popular bet with NFL betting fans to clinch his maiden MVP honor.
He's made significant strides in his fledgling career and especially in the last two seasons when he lead the Bills to back-to-back AFC East titles. It's those kinds of milestones that make him a legitimate contender in the eyes of the oddsmakers.
However, another quarterback is captivating the imagination of NFL betting fans: Los Angeles Chargers quarterback Justin Herbert.
Herbert's popularity in this market is so great that it has propelled him into second place on the NFL odds board. As it is, Herbert is priced at +700 with BetOnline.
This puts him just behind Allen, but in front of former MVP winners such as:
Patrick Mahomes (+900)
Tom Brady (+1200)
two-time MVP Aaron Rodgers (+1600)
How Is an MVP Voted?
Every season, players distinguish themselves for the MVP honor by having an impact on their team's regular-season output. A panel of 50 sportswriters registers their votes at the end of the season, before the playoffs.
A point system is used to rank the players for the award and whichever player receives the most points wins the award that year. The results, however, are announced just before Super Bowl. Last season, Aaron Rodgers won his second straight and fourth overall MVP award.
Rodgers guided the Green Bay Packers to the No.1 seed in the NFC behind a 13-4-0 record. In 16 games, Rodgers passed for 4115 yards and 37 touchdowns against merely four interceptions.
Justin Herbert Odds
The moment Justin Herbert stepped onto the field a star was born. It doesn't get any tougher than facing the defending Super Bowl champions in your first-ever game in the NFL and that was exactly Herbert's lot when he was thrust as a last-minute replacement into the Chargers' Week 2 clash with the Kansas City Chiefs in 2020.
Those are the kind of situations that can make or break a player in the league. In Herbert's case, it was the former. More impressively, he very nearly pulled off the unthinkable stunning upset.
In his first two seasons, Herbert boasts a modest 15-17 record. The Chargers finished with a 7-9-0 record in 2020 with Herbert going 6-9-0 in 15 starts. In his sophomore year, the Chargers went 9-8-0.
Herbert Distinguished Himself
Team record aside, Herbert distinguished himself as a starter in the league by winning the AP Offensive Rookie of the Year award in his inaugural season.
He broke just about every conceivable rookie record, including most passing touchdowns (31) and most completions (396).
In his sophomore season, Herbert distinguished himself further. He added 38 passing touchdowns to improve to 69 overall in his first two seasons combined.
As well, he finished with the most passing touchdowns (9.350) in NFL history through his first two seasons. He also set a franchise record for touchdowns (38), passing yards (5,014), and completions (443).
Why Herbert Can Win the MVP
MVP winners must be on a winning team and that usually involves a divisional championship. This is particularly the case for quarterbacks.
Thus, for Herbert to win the MVP and come through on his current +700 odds, winning the AFC West will be paramount.
That is no mean feat, even though Herbert has shown that he's more than up for the task. The AFC West is one of the toughest divisions in the league.
Kansas City's Domination
The Chiefs have dominated the division since 2016, winning six straight titles, and they're favored to win a seventh consecutive title across multiple sports betting platforms.
Kansas City's domination is a double-edged sword. On one hand, it's a massive challenge. On the other, it raises the bar. That said, the Chargers are second favorites to win the AFC West for a reason.
Herbert's Accomplish
Herbert already accomplished more than most in his first two seasons in the NFL. And if he continues on this positive trend, he's bound to take another massive step forward in 2022.
Will it be an MVP step? Time will tell. But the greatest step in that direction would be winning the AFC West. Doing so is more than likely to distinguish him from some of his peers in the MVP market, who – let's face it — have much easier divisions to contend with.