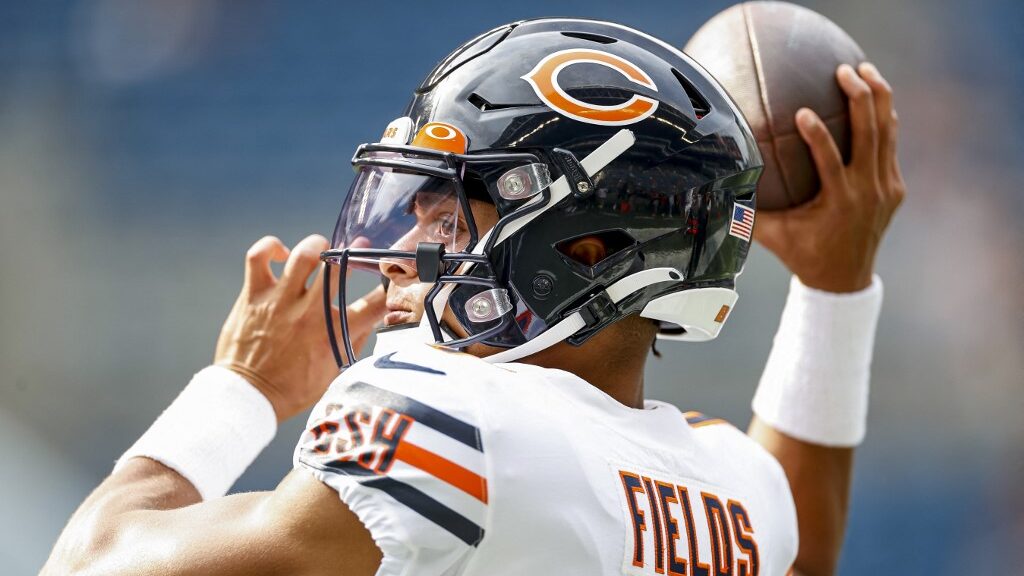 The Chicago Bears moved on from the Matt Nagy era after four seasons culminated with zero playoff wins and a 6-11 record in 2021. Now it is up to rookie head coach Matt Eberflus to help quarterback Justin Fields improve and, hopefully, break out during the 2022 season after a rough debut.
Expectations are fittingly not high. Many of the top-rated sportsbooks have the Bears with an over/under of 6.5 wins and finishing last in the NFC North. Can they turn it around this year?
PLAY NOW: $25,000 Free-To-Play NFL Contest: BMR's 2022 Pick'Em Pool Opens for Registration
---
The Notable Changes for 2022
---
This is a new era for the Bears with two big power moves. First, general manager Ryan Pace is out after seven seasons with the team. New GM, Ryan Poles, has nearly an identical name but he is young and brings over a decade of experience in helping to build up Kansas City's roster.
Then there is new head coach Matt Eberflus. The 52-year-old is a first-time coach after serving the last four years as Frank Reich's defensive coordinator with the Colts. Before that he was coaching linebackers for Jason Garrett in Dallas. Fans may be more excited about Matt Nagy leaving than Eberflus taking his place, but the Bears had to do something here.
The problem for Poles and Eberflus is that the roster's talent deficit may actually lead to a worse season in 2022 unless their young quarterback makes a huge leap this year.
Where Is the Blue-Chip Talent?
Even in seasons where the Bears had a bad football team, there were at least some very talented players on the roster, if not some of the best in the league at their position. Lovie Smith's teams were saddled by bad quarterback play, but the defense had the likes of:
Brian Urlacher
Lance Briggs
Peanut Tillman
Not to mention Devin Hester as a return specialist.
Jay Cutler was never the franchise quarterback the Bears hoped for, but he had some competent seasons, especially when Brandon Marshall was his top receiver. In the Nagy years, the Bears had Khalil Mack as a stud pass rusher after trading for him from the Raiders in 2018.
---
Where Is the Talent?
Now where has that talent gone? Linebacker Roquan Smith recently ended a holdout as he seeks a huge second contract, but he has yet to play like a Pro Bowler in four seasons. The Bears would not skip a beat without him because he is that replaceable.
Similar things could be said about safety Eddie Jackson, who was shredded in coverage last season (143.6 passer rating allowed on 41 targets) and has not caught an interception since 2019.
How Was the 2022 Draft?
This year's draft class is unlikely to be the difference maker. Chicago did not have a first-round pick this year due to past trades. The Bears chose two defensive backs, corner Kyler Gordon and safety Jaquan Brisker, in the second round, but they may have to start in one of the least trustworthy secondaries in the league.
Chicago's secret draft weapon could be fifth-round pick Braxton Jones, who is trying to win the job outright at left tackle. That would be an unexpected Week 1 starter for a line that looks shaky as the Bears added veteran tackle Riley Reiff in late July.
As for the veterans we know what to expect from, the Bears have made some curious moves this year when it comes to not bringing back Allen Robinson and Khalil Mack. These moves equate to replacing a sirloin steak that's been in the freezer too long with a value pack of Salisbury steaks. Cheap and likely regrettable.
---
Allen Robinson Leaves for Rams; Bears Trying WR by Committee?
It was thought that if anyone could be a reliable target for Justin Fields, it would be wide receiver Allen Robinson. He has been held back by bad quarterback play his whole career, but Robinson's fourth year in Chicago was his worst yet with 410 yards and one touchdown despite playing 12 games.
Robinson has left for greener pastures with the Rams, but in his place is a decent player in Darnell Mooney, who had 1,055 yards to lead the team last year. The problem is the rest of the depth chart as the Bears simply threw some money at cast-offs from good offenses such as:
Equanimous St. Brown (Packers)
Byron Pringle (Chiefs)
N'Keal Harry (Patriots – first-round bust)
Those players were not kept for good reasons.
It sure looks like more pressure could be on Mooney this year as teams know he is the only reliable target and deep threat here.
The Bears also have tight end Cole Kmet going into his third season, but he has two touchdowns on 88 career catches and no scores last year. He also averages just 9.7 yards per catch and 6.2 yards per target. No one is ever confusing him for Travis Kelce or George Kittle.
The weapons once again do not look good.
---
Can Eberflus' Defense Work Without a Khalil Mack?
Khalil Mack was a dominant edge rusher when he joined the Bears in 2018 and had an All-Pro season. He regressed a little the next two years but was still a force to be reckoned with. Last year, injury limited Mack to seven games and he was not the same player even when active.
But now Mack is off to the Chargers to team with Joey Bosa. The Bears are going to count on their new pass-rushing duo of Robert Quinn and Trevis Gipson. Quinn quietly had 18.5 sacks last year in his most dominant season since 2013 when he was with the Rams.
He is 32 now and it is hard to expect him to repeat last year's performance. Gipson came out of nowhere to pick up the Mack slack with 7.0 sacks after barely playing in his 2020 rookie season.
Dialing Down the Pressure?
The Bears had one of the weakest pass rushes last year despite Quinn's effort. Fortunately, it was still better than Eberflus' Colts, who ranked 31st in pressure rate (18.1%) according to Pro Football Reference.
Based on what he did in Indy, Eberflus is going to run a 4-3 defense that will rarely blitz. Coincidentally (or not), none of his defenses with the Colts were great at consistently getting pressure on the quarterback. That might also explain why none of his defenses were elite.
Eberflus is a linebacker guru. While Eberflus can look to Roquan Smith as his Shaquille Leonard in this defense, the fact is Leonard has been a much more impactful player despite going 28 picks later in the 2018 draft:
Roquan Smith
61 games
5 interceptions
17 passes defended
1 forced fumble
1 fumble recovered
14.0 sacks
43 tackles for loss
Darius Shaquille Leonard
58 games
11 interceptions
30 passes defended
17 forced fumbles
7 fumbles recovered
15.0 sacks
30 tackles for loss
Leonard is much more successful at attacking the ball. He forced a ridiculous eight fumbles last year alone while Smith has forced one in his whole career. That Leonard stat had a lot to do with the Colts leading the league with 14 fumble recoveries, a stat that is not reliable year to year because of the random bounces of the ball on fumbles.
Blowing Leads Late In the Game
It also should be said that had it not been for holding the Deshaun Watson-less Texans to three points in two games, the Colts would not have been a fringe top 10 defense last year. They still melted down late in games and tied for the league lead with four blown leads in the fourth quarter.
Blowing double-digit leads was a chronic problem for the Reich-Eberflus era in Indy. As a matter of fact, the same can be said about the Garrett-Eberflus era in Dallas though he was never the play caller there.
Essentially, Eberflus does not arrive in Chicago with a proven track record of defensive success, and his defensive roster is also lacking in that regard.
---
Can They At Least Fix Justin Fields?
It would not be a Chicago Bears season preview without talking about the struggling quarterback.
Expectations were not super high for Fields in 2021, but any hopes of him having some transformative effect on the offense as a dual-threat weapon a la Cam Newton (2011 Panthers) or Lamar Jackson (2018 Ravens) were quickly dashed.
The 2021 season was generally a rough one for rookie signal callers, but Fields' statistical profile shows a player who was chucking downfield throws to one of the most unreliable receiving corps in an offense that failed in situational moments.
His accuracy issues were not quite as pronounced as fellow rookies Trevor Lawrence or Zach Wilson, but it is also hard to argue Fields reached the highs of Mac Jones or Davis Mills last year.
The Bears were 32nd in third-down conversion rate (34.7%) and Fields completed 51.5% of his third-down passes with one touchdown to six interceptions.
The Bears were 31st in points per red zone trip and Fields had 11 first downs on 42 plays (26.2%).
Fields' average completed air yards was 7.1, the deepest completions in the league in 2021 (source: Next Gen Stats).
Fields' average depth of target was 9.5 yards, the third-deepest throws in the league in 2021 (source: Next Gen Stats).
Fields' 26.4 QBR is the sixth-lowest season by a quarterback since 2006, and none of the five quarterbacks behind him had a quality season after that performance (source: ESPN).
Fields' receivers averaged the third-lowest YAC per catch (4.4) in 2021 (source: Pro Football Reference).
Fields' receivers dropped 6.9% of his passes, the third-highest drop rate for a 2021 quarterback (source: Pro Football Reference).
Fields had 21.9% of his passes charted as bad throws, the second-highest rate in 2021 (source: Pro Football Reference).
Only three quarterbacks scrambled more times than Fields (46) despite him ranking just 31st in pass attempts (source: Pro Football Reference).
Fields was pressured on 27.3% of his plays, the fifth-highest rate for a quarterback in 2021 (source: Pro Football Reference).
With so much unreliability along the offensive line, the weapons, and the defense, this presents a huge challenge for Fields and new offensive coordinator Luke Getsy. Coming from Green Bay, Getsy goes from four-time MVP Aaron Rodgers to second-year Fields, a huge adjustment.
Cloning Their Nemesis' Style?
Cloning the Green Bay offense in Chicago will not work for multiple reasons, but at its core, that is a Shanahan-style offense. That could be very good for Fields if they utilize his mobility to get him to throw off bootlegs and play-action passes to receivers that will hopefully be more open and able to create YAC.
Fields rarely used play-action last year, and part of the problem was that he took a sack on 20% of those dropbacks. But when he got the throws off, he increased his yards per attempt by a full 2.0 yards.
Fields and Getsy can enter 2022 with some mystery surrounding what their offense will look like. But after decades of watching soul-crushing passing offenses in Chicago, it would be wise to temper the expectations of this working out well.
Finally, Fields was injured a couple times last season and missed multiple games each time. The Bears had Andy Dalton and Nick Foles as their other starting options. This year? They have Nathan Peterman and Trevor Siemian, which is another Salisbury steak downgrade for the roster. Fields better hope he can stay on the field for 17 games.
---
Prediction
You can see the schedule offering up those winnable games at home against the:
Houston Texans
Miami Dolphins
Two road trips to New York (read: New Jersey) to take on the Jets and Giants are encouraging. Atlanta is not going to be a good team this year. It makes sense why the line is 6.5 wins even though you know the Bears will drop some of these "winnable" games.
The NFC is the lesser conference, and the Packers may be regressing without Davante Adams, but it is still hard to see the Bears finishing anything but last in the NFC North.
This is the least inspiring quarterback/coach duo in the division right now, and maybe in the whole NFL. Until proven otherwise, keep fading the Bears for your NFL picks, I will take the under.
NFL Pick: Chicago Bears Total Season Wins Under 6.5 (-200) at Bovada (visit our Bovada Review)

Chicago Bears Total Season Wins Under 6.5

(-200)
*The line and/or odds on picks in this article might have moved since the content was commissioned. For updated line movements, visit BMR's free betting odds product.
---
On the Last Season of "Da Bears": Start Justin Fields… Or Maybe Not
---
When the Bears started Andy Dalton at quarterback, instead of Fields in Week 1 last year, the season already felt like a disappointment. Maybe we just wanted something better to watch on Sunday Night Football with the Rams hosting Chicago, but there was little reason not to put the rookie on the field.
In fact, he came off the bench in that game and scored his first rushing touchdown in a forgettable 34-14 loss.
But when Fields did make his first start in Week 3, maybe the coaches were onto something as he did not look ready. Against a so-so Cleveland defense, Fields suffered nine sacks and finished with 1 net passing yard in the 26-6 loss.
The Good Part
On the plus side, Fields never took more than four sacks in any other game. Unfortunately, he finished 2021 with the lowest QBR (26.4) in the league as his rushing contributions were not even as special as expected.
Fields rushed for 103 yards and a touchdown against a tough 49ers defense but otherwise, he did not show the kind of rushing threat you would get from Lamar Jackson or Cam Newton in his prime.
The Bad Part
The offense was expectedly bad, but the defense regressed to a below-average level for the first time since 2016. Chicago ranked 24th in points per drive allowed and only notched eight interceptions, tied for the fewest in a full season in team history.
When it came to highlights, the 2021 Bears came up empty. Fields never had a real signature game or moment in his rookie season. He may have peaked in a close loss in Pittsburgh on a Monday night. In his final start against the Vikings, he threw for 285 yards, but the Bears scored their only touchdown on a meaningless play at the buzzer in a 17-9 loss.
The writing was on the wall for Nagy and his staff. It is time for another pack of brave coaches to do the impossible and make Chicago a watchable offense again.