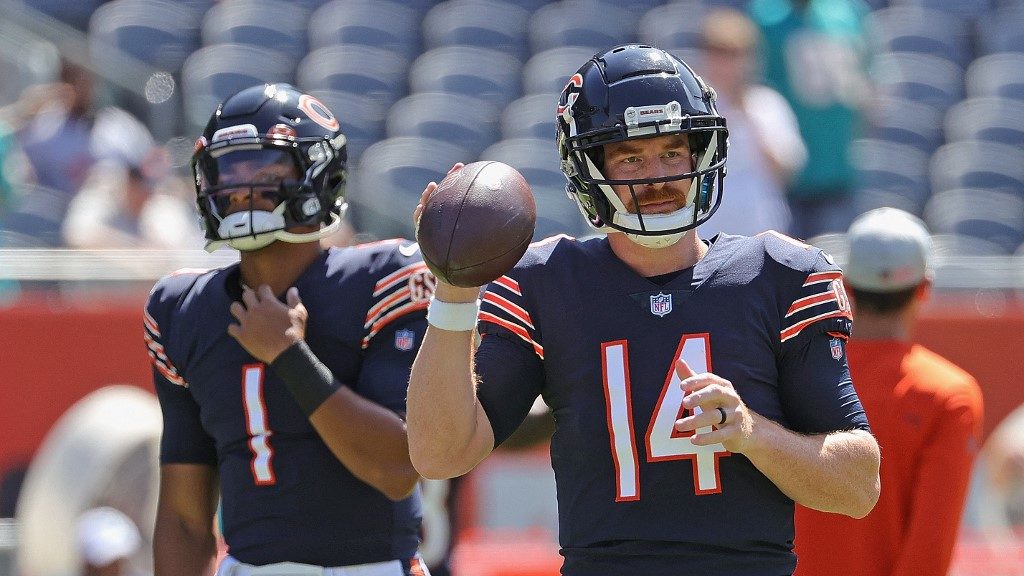 The Chicago Bears enter 2021 with some real fanfare surrounding a position they have been trying to fix for 70 years. Justin Fields was the fourth quarterback taken in April's draft after he slid to the 11th pick of the night. The Bears pulled the plug on their "what if Rex Grossman could run" project, also known as Mitchell Trubisky, and they got their man from Ohio State.
Sure, it is not a college known for producing NFL stars at quarterback, and head coach Matt Nagy may not be the most qualified person to get the best out of a young signal caller. On the other hand, Nagy has yet to have a losing season and he did go 12-4 before with Trubisky as his starter. Fields was more than a one-year wonder in college and is a better prospect than Trubisky was.
Technically, the Bears (8-8) are coming off a playoff season after sneaking into the expanded tournament as the NFC's No. 7 seed. But with Fields creeping up on Andy Dalton's starting job, can the Bears field an offense you actually want to watch this year? Many of the top sportsbooks have the Bears with an over/under of 7.5 wins. Nagy has gone over, under, and a push last year with his preseason win totals so far. Can he go over against a tough schedule?
On the Last Season of BEARS: Let's Hope Future No. 7 Seeds Are Better Than This
Not to crucify what the Bears did last year, but this team was always fool's gold. Chicago started 3-0 after becoming the first team in NFL history to win multiple games in the same season after trailing by at least 16 points in the fourth quarter. The Bears first did it in Week 1 against Detroit, a team that went on to allow the second-most points (519) in a season in NFL history. They then did it in Week 3 against Atlanta, a team that blew three huge leads last year and has a history of doing so.
The highlight of the season was the 20-19 comeback win against the future champions from Tampa Bay in Week 5. Nick Foles somehow outdid Tom Brady again on a national stage in that one. The Bears then held on in a close one with the Panthers, a team that finished 0-9 at comeback opportunities, the worst record since the winless 2008 Lions.
The Bears' parlor tricks failed to work after that. Foles almost pulled off another crazy comeback against the Saints, but the Bears lost 26-23 in overtime that day. While Mitchell Trubisky regained his starting job, the defense was cratering and the Bears' losing streak hit six games. The team looked dead in the water at 5-7. Fortunately, the schedule brought some gifts.
Another incredibly bad defense from Houston showed up and the Bears exploded for a dominant 36-7 win. This was the same Houston defense that allowed Cincinnati quarterback Brandon Allen to throw for 371 yards two weeks later. The Bears also grinded out a 33-27 win over Minnesota after David Montgomery rushed for a career-high 146 yards. Another easy win came against a Jacksonville team that was in the process of losing 15 games in a row to secure the top pick in the draft. Chicago scored at least 25 points in five straight games for the first time since 1995.
The Bears were now 8-7 with a chance to enter the playoffs on a high note if they could beat their rival from Green Bay at home. Aaron Rodgers embarrassed the defense, leading five touchdown drives in seven opportunities. The Bears continued to settle for field goals before failing to score on their last three possessions in the 35-16 loss.
But not all was lost. Thanks to the Cardinals imploding late in the season with an ailing Kyler Murray, the Bears still snuck into the playoffs as the No. 7 seed with an 8-8 record. Their prize was a trip to New Orleans against the Saints on wild card weekend. The Bears hung around into a low-scoring second half, but the Saints blew the game open late, going up 21-3 and just missing out on a 28-3 lead when Drew Brees pulled the ball back too soon on a quarterback sneak on fourth down at the 1-yard line. That set up Trubisky to lead perhaps the most irrelevant 99-yard touchdown drive in NFL playoff history. Jimmy Graham caught the touchdown on the final snap as the Bears lost 21-9, but at least Trubisky can say his last pass for the Bears was a touchdown in the playoffs.
While Trubisky nearly completed 74% of his passes down the stretch, we should congratulate the Bears for seeing through the charade. There never was a rebirth. Trubisky was taking advantage of a high rate of play-action looks, superior rushing help from Montgomery, and better YAC plays from his receivers during a four-game surge against defenses that finished 28th, 29th, 30th, and 32nd in points per drive allowed. When push came to shove against the Packers and Saints, he folded as usual. It was time for a new quarterback.
The Notable Changes for 2021
One thing Chicago has already won this year is the funniest tweet of the offseason. On March 24, the Bears tweeted a picture of Andy Dalton in a Chicago uniform with "QB1" as the caption. This was a week after the team signed the veteran to a one-year deal worth as much as $13 million. Come September 12th against the Rams, the tweet still could be true. Dalton started the team's first preseason game last weekend before giving way to Justin Fields.
Dalton has not started a full season since 2017. Going into his 11th season, we know exactly what Dalton is and isn't. He is not a franchise player and could need more coddling than Trubisky did since he is not as effective of a scrambler. While maybe the Bears won't want to throw Fields at Aaron Donald and the Rams in Week 1, this is a move that should happen as soon as possible.
If a quarterback is destined to be great, nothing that happens in September of his rookie season, barring catastrophic injury, is going to prevent that. He must learn and take his bumps along the way. The Rams would even be a great way to test that out. With a battered Nick Foles last year, the Bears lost 24-10 to the Rams with the offense managing one field goal on 11 possessions. How could it go any worse this time?
So, we know the Bears have a big decision to make at quarterback, but what other moves did the team make to put a better team on the field in 2021? After drafting Fields, the only other pick the Bears used in the top 150 picks was second-round offensive tackle Teven Jenkins. Logically, this would be the Charles Leno replacement after the left tackle moved on following a seven-season run with the Bears.
But Jenkins is unlikely to factor in early this year, especially after the team just acquired left tackle Jason Peters, a likely future Hall of Famer. But relying on a 39-year-old tackle is not great. Overall, the line looks like a weakness that could be masked by a veteran like Dalton releasing the ball quickly while Fields is going to have to run to protect himself when he holds the ball longer.
The other skill positions need more development time than new additions. More should be expected of tight end Cole Kmet after he had 28 catches for 243 yards as a rookie. Veteran Jimmy Graham is still there. Allen Robinson is a legit No. 1 wide receiver and David Montgomery seemed to be figuring things out at running back last year. Wide receiver Darnell Mooney looked like he could get open as a rookie, but he needs better quarterback play to get him the ball. The Bears traded Anthony Miller to Houston after a disappointing three-year run as a second-round pick. His loss is no big deal, but the receiving corps is not a deep one.
Defensively, the Bears have declined each year under Nagy. Last year's unit was mediocre at best. Usually, when the Bears make the playoffs, the defense is great and gets a lot of takeaways. The Bears only had 18 takeaways last year, their fewest since 2016, and only one game (Panthers) with more than two takeaways. Defensive coordinator Chuck Pagano retired from coaching this year. He will be replaced by Sean Desai, a 38-year-old who has been with the franchise since 2013 and coached the safeties the last two years. So, he is inexperienced, but he has been with the team through everything from the Marc Trestman days of no defense to the John Fox era to working under Vic Fangio with Nagy. Still, no radical changes should be coming in the philosophy.
The Bears are still leaning on a familiar front seven with Khalil Mack, Akiem Hicks, Roquan Smith, Robert Quinn, and Danny Trevathan. Mack had 47 and 45 pressures on the quarterback in his first two Chicago seasons, but last year that number dipped to 31. He will have to pick it up again after turning 30 this year.
The secondary will look a bit different after corner Kyle Fuller, the team's first-round pick in 2014, left for Denver. Once again that 2020 draft class is going to have to show big improvement. That means second-round pick Jaylon Johnson and fifth-round pick Kindle Vildor taking steps forward to make up for Fuller's departure. Tashaun Gipson and Eddie Jackson return at safety, but Jackson had the worst season of his career last year.
It was the first time he failed to make an interception and his yards per target allowed skyrocketed from 5.4 to 9.0. Without any big additions, it is hard to see this defense returning to elite status. At best, it looks like a unit that will finish on the fringes of being a top 10 defense while still getting properly roasted by Green Bay and similar top-tier offenses.
Red Alert: Rookie Quarterback Stats in the Preseason
We have pretty much already established that this team is not ready for a Super Bowl run, but it is worth pointing out again that no rookie quarterback has ever started a Super Bowl. Before we even bother getting that far in the Justin Fields discourse, we have to warn about the dangers of reading too heavily into preseason stats for rookie quarterbacks. They are not a reliable indicator of how the season will play out.
Over the weekend, Fields made his preseason debut against Miami. He entered the game in the second quarter and got seven drives of action. The first three were all three-and-out drives before a field goal to end the half, then he followed it with back-to-back touchdown drives in the third quarter as the bench players took on bigger roles.
Overall, Fields finished 14-of-20 for 142 yards, 7.1 yards per attempt, a touchdown pass, and a touchdown run with 33 rushing yards. There were good and bad moments in the game, but some fans may have taken too much of a victory lap over the touchdown drives against a lot of backups who will not make Miami's final roster.
Sure, we have seen Russell Wilson (2012) and Dak Prescott (2016) excel as rookies in the preseason. They both averaged over 8.5 yards per attempt and threw five touchdown passes. They were Week 1 starters and led their teams to the playoffs with great rookie seasons. If only it was always that easy to predict how things will play out.
In 2019, a rookie quarterback lit up the preseason by completing 29-of-34 passes for 416 yards, a staggering 12.24 yards per attempt, two touchdowns, zero interceptions, and a 137.3 passer rating. Not only are those the best rookie quarterback numbers in the preseason since 2000, but that is arguably the best stat line for any quarterback in the preseason this century.
That quarterback was Daniel Jones for the New York Giants. When the real games came, Jones was mediocre at best. His yards per attempt dropped to 6.6, which it stayed at for his second season too. Jones even passed the eye test that preseason. He looked accurate and decisive, and it looked like maybe the Giants made a strong pick despite the criticism after the draft. But so far, Jones has not lived up to that potential.
Meanwhile, that same year No. 1 pick Kyler Murray had a less than appealing preseason for Arizona. He completed 23-of-36 passes and averaged 5.36 yards per attempt, which would rank dead last in the league in almost any year. Still, he went on to win Offensive Rookie of the Year and has been the best quarterback in that class so far.
Matt Ryan and Joe Flacco both averaged under 5.0 yards per attempt as rookies in the 2008 preseason. They also both ended up going to the playoffs that year and having more success than expected. Now some bad preseason stats have led way to a bad rookie season, such as Alex Smith (2005) and Jared Goff (2016). Goff had one of the worst rookie seasons ever before Sean McVay fixed him up for his second season.
What about the other way? Who were some quarterbacks with good rookie preseason stats and bad rookie seasons and/or careers? Jones is one example, but Blake Bortles is a classic one in 2014. He looked Ben Roethlisberger-esque in August, averaging 10.2 yards per attempt, and not throwing an interception. Of course, we know how he panned out in Jacksonville.
Even Kyle Orton, a fourth-round pick by the Bears in 2005, had some success in August. He threw more interceptions (three) than touchdowns (two), but he was efficient with 10.2 yards per attempt. In the regular season, the Bears tried to hide him as much as possible as a surprise starter for the injured Rex Grossman, and Orton saw his YPA cut in half to 5.1 in games that counted. That example speaks to the problems of using stats against deep bench players who do not make it to September, which is what Orton was seeing as a fourth-round rookie that year.
Fields has higher prospects than that and we could see him sooner in the next preseason game, but even if he dominates a defense in August, it will not tell us much about what to expect this fall and winter. I will add that, overall, rookie quarterbacks with really good preseason stats tend to have better careers than those with really bad preseason stats, but it is not a good predictor for what will happen when the games count. Still, you would rather see the quarterback look good than not, and so far Fields has been encouraging.
Prediction
This is one of those NFL picks you may want to wait on longer to see if Nagy will make the switch to Fields before Week 1. With Dalton at quarterback, there is just not much to like about this team, which probably would finish 7-10 at best. But with the potential of Fields being a dual-threat quarterback, it gives the Bears more dimensions on offense.
It always starts with the schedule, and the road games especially look difficult for the Bears regardless of the quarterback decision. They have to go play the Buccaneers, Rams, Seahawks, Browns, Raiders, Steelers, and the division foes. That Thanksgiving trip to Detroit may be as easy as it gets there. The home games look more favorable, but hosting Baltimore and San Francisco are real challenges too. You can start to see why the over/under is as low as it is for a team that has won at least eight games in each of Nagy's three seasons.
That fact coupled with Fields' potential is why I am willing to go with an 8-9 record or better for this team. The Bears can sweep Detroit and at least split with Minnesota as Nagy is 5-1 against both teams since 2018. This team can beat the Bengals, Giants, and Cardinals at home. Teams like the Browns and Raiders could probably still be had on
defense, and never discount the possibility that some of those "tough opponents" disappoint this year like the 49ers or Steelers could. Then it is just a matter of one or two upsets. It sounds crazy now that the Bears beat Tampa Bay last season, but that really happened in front of a national audience. Now the team should be getting better this year, but probably still not in a position to do any damage in the playoffs if they even get there again. But we could finally be entering an era where "the Bears are on tonight" is met with anticipation instead of dread. "Could" being the operative word.
2021 Bears Over/Under Pick: Over 7.5 wins (-120) at Bovada (visit our Bovada Review)
*The line and/or odds on picks in this article might have moved since the content was commissioned. For updated line movements, visit BMR's free betting odds product.