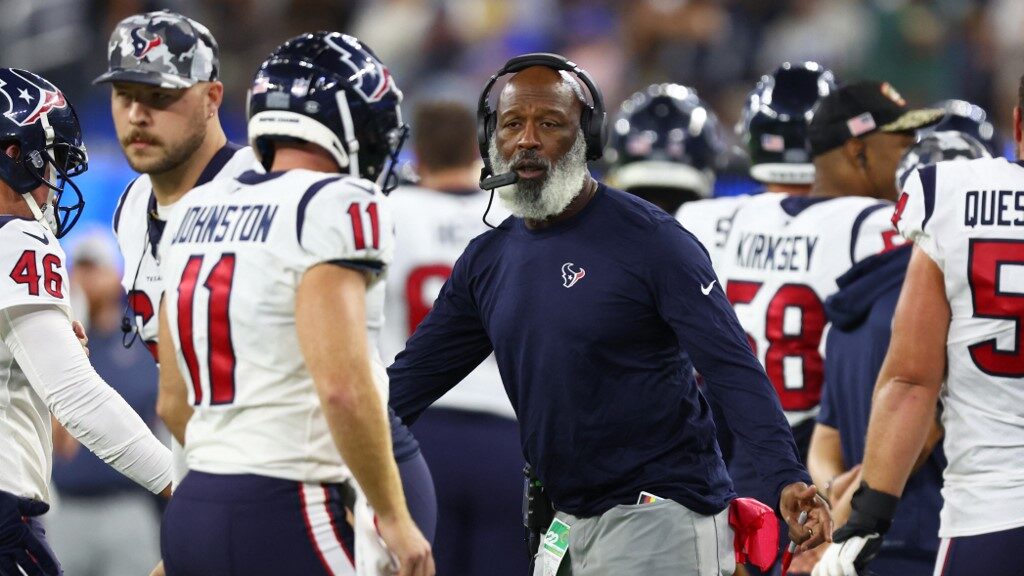 The Houston Texans predictably struggled to a 4-13 record in 2021 after Deshaun Watson sat out the whole season while his sexual misconduct allegations rocked the NFL world. Watson is Cleveland's problem now after a trade, and the Texans are just trying to move on with another new head coach in veteran Lovie Smith.
Clearly, no one is buying the Texans as a contender this year. In fact, many of the top-rated sportsbooks have the Texans with an over/under of 4.5 wins, the lowest total in the NFL.
But after a few upsets last season and some important starts for quarterback Davis Mills, can the Texans improve on last year's record to the boring 5-12 season we thought they could achieve in 2021?
Oddly enough, this team was 4-12 in Watson's final season in 2020 too. Things have been dismal in Houston ever since it blew a 24-0 lead in Kansas City in the 2019 playoffs.
PLAY NOW: $25,000 Free-To-Play NFL Contest: BMR's 2022 Pick'Em Pool Opens for Registration
---
The Notable Changes for 2022
---
Most NFL teams these days want to hire a coach who worked for Sean McVay or Kyle Shanahan as they are on the cutting edge of offensive success. If they cannot woo one of those guys, they will still gladly settle for someone who developed on the Bill Belichick or Andy Reid coaching tree.
The Texans apparently see things differently. Maybe they were soured on Belichick's assistants after the Bill O'Brien experience, but that has not stopped Houston from putting Nick Caserio (general manager) and Jack Easterby (Executive vice president of football operations) in front office positions after they came from New England.
But after making the least-inspired coaching hire of the 2021 cycle with David Culley, the Texans one-upped themselves when they promoted Lovie Smith from defensive coordinator to head coach for 2022.
Lovie Smith: The Least Inspiring Hire in Years
Since 2001, Lovie Smith has served four seasons as a defensive coordinator in the NFL with the Rams and Texans, 11 seasons as an NFL head coach with the Bears and Buccaneers, and five seasons in 2016-20 as the college head coach in Illinois.
Just one time in those two decades did Smith's teams finish with winning records in consecutive seasons, and that was when he took the Bears to the playoffs and a Super Bowl loss in 2005-06. That spectacle of a 2006 season with Rex Grossman at quarterback has long been Smith's peak, and he is now 64 years old going into this season.
Smith's second NFL tenure with Tampa Bay resulted in an 8-24 record. His college stint with Illinois produced five losing seasons and a 17-39 (.304) record.
Frankly, it is absurd the Texans interviewed ex-Miami coach Brian Flores and did not try to earn some good PR by hiring him despite his lawsuit against the NFL for hiring discrimination. Flores is with the Steelers now, and he could last longer there than Smith will in Houston after his defense already disappointed last year.
Hiring From Within
Promoting a coach already on the staff is practically never a good idea in the NFL. It lacks creativity and ignores that most teams who fired their coach have systemic problems that someone new needs to clean out and start fresh.
Just look at the last seven in-house promotions to head coach in the NFL since 2012:
Freddie Kitchens, Browns (2019): Fired after a 6-10 season.
Doug Marrone, Jaguars (2017): Reached AFC Championship Game in 2017 before finishing 12-36 in the last three seasons.
Mike Mularkey, Titans (2016): Fired after two 9-7 seasons and one playoff win.
Dirk Koetter, Buccaneers (2016): Fired after a 19-29 record in three seasons and no playoff appearances.
Ben McAdoo, Giants (2016): Made the playoffs in 2016 and was fired after 2-10 start the next year.
Jim Tomsula, 49ers (2015): Fired after a 5-11 season.
Romeo Crennel, Chiefs (2012): Fired after a 2-14 a season.
These seven coaches combined to make the playoffs three times in 14 seasons (21.4%), no one made the playoffs twice, three coaches did not see a second season, and only a fluke run by Doug Marrone's 2017 Jaguars got a team close to a Super Bowl.
Of the last 16 in-house promotions to head coach since 2003, only Jason Garrett (Cowboys) and Jim Caldwell (Colts) made the playoffs multiple times with their teams. If your only stories of success are The Clapper and a guy carried by prime Peyton Manning, then you have a losing hiring strategy on your hands.
Smith Must Elevate Rookie Defenders
Had the 2021 Texans been a team saddled by horrific quarterback play due to Watson's situation, and Smith's defense was good enough to keep them competitive, then this move may have made some sense.
But the Texans did not look like one of Smith's old Chicago teams that were wasting the greatness of Brian Urlacher, Lance Briggs, Peanut Tillman, and others with Rex Grossman and Kyle Orton as the quarterbacks. The Texans were a lousy defense under Smith in 2021:
Ranked 28th in yards per drive allowed.
Ranked 29th in points per drive allowed.
Ranked 23rd in defensive DVOA.
Ranked 24th in points per red zone opportunity.
Ranked 26th in third-down conversion rate.
Ranked 29th in net yards per pass attempt.
Ranked 28th in pressure rate (20.7%)
Allowed the second-most yards and sixth-most first downs.
Only four defenses had fewer sacks (32).
Only four defenses missed more tackles according to Pro Football Reference.
Typically, that is not the performance that gets someone promoted to head coach. Worse, it is unlikely going to result in any changes since Smith is not even naming a defensive coordinator for the team in 2022. He is going to call the shots again.
Improve the Pass Rush
The way things get better is for the talent to get better. This unit has to be something greater than corner Desmond King getting picked apart and no pass rusher notching 20 pressures in 17 games again. The days of having J.J. Watt and Jadeveon Clowney are long gone.
Houston needed plenty of help in the secondary too, and that is where the team focused its draft with the No. 3 pick spent on corner Derek Stingley Jr. (LSU) and a second-round pick on safety Jalen Pitre (Baylor). They may have to start right away in this raw secondary. The Stingley pick will be closely monitored since the team had its choice of him or Sauce Gardner, who went No. 4 to the Jets.
The pass rush is still likely to struggle unless 2020 third-round pick Jonathan Greenard builds on his 2021 performance where he led the team with 8.0 sacks. He'll get some support from veterans Jerry Hughes and Mario Addison, but both are past their prime.
The Texans' biggest draft pick for the front seven won't do much for the pass rush, but Alabama linebacker Christian Harris could make a big impact as a tackling machine. He has big shoes to fill in Smith's scheme, which will treat him as a Derrick Brooks or Lavonte David type of linebacker.
Is Davis Mills a Hidden Gem?
Finally, the most exciting player to watch on the Texans this year is second-year quarterback Davis Mills. He is another reason why the Smith hire is disappointing because we know from his long career that Smith is not going to have a ton of impact on the offensive side of the ball.
That responsibility is going to land with offensive coordinator Pep Hamilton, who was the quarterbacks coach and passing game coordinator last year. He also was Justin Herbert's QB coach for his rookie season in 2020, and he served as Andrew Luck's offensive coordinator in the 2013-15 seasons.
Mills is nowhere near the prospect of a Herbert or Luck, but for being the eighth quarterback taken in a draft that had five quarterbacks go in the top 15 picks, Mills was arguably impressive in 2021 in a bad situation:
Mills is the first rookie quarterback in NFL history to have three games with a passer rating above 125.0 (min. 25 attempts).
Mills is the ninth rookie quarterback in NFL history to throw for at least 300 yards four times.
Mills had the same amount of 40-yard touchdown passes as Patrick Mahomes (four) did in 2021, which is double the number Josh Allen (two) had as a rookie in 2018.
According to ESPN, Mills ranked 26th in QBR (35.5) for the 2021 season, but he was ahead of fellow rookies Trevor Lawrence (33.5), Zach Wilson (28.2), and Justin Fields (26.4).
According to Pro Football Reference, Mills ranked 18th in bad-throw rate (17.4% of his passes were charted as poor throws), which was better than all the other rookies and just ahead of future Hall of Famers

Tom Brady (18.0%)
Aaron Rodgers (18.2%)
Ben Roethlisberger (18.4%).
According to Next Gen Stats, Mills held the ball for an average of 2.67 seconds, which was faster than all but seven quarterbacks in 2021 – an encouraging sign for a rookie behind an offensive line that is not elite.
According to Next Gen Stats, Mills had a completion percentage above expectation of 0.5, which ranked 13th while teammate Tyrod Taylor (-4.6) had the sixth-lowest mark.
Just One Cook In the Kitchen
It was not like the Texans had an all-star cast. Wide receiver Brandin Cooks can seemingly put up a 1,000-yard season with anyone, but rookie Nico Collins (446 yards) was the second-leading receiver and tight end Jordan Akins only had 214 yards.
Rex Burkhead led the committee backfield with 427 rushing yards. The supporting cast will look largely the same in 2022, but at least Cooks is a legit No. 1 receiver.
Mills also showed some bounce-back ability last year. After his 40-0 dud in Buffalo, he came right back with 312 yards, three touchdowns, and no interceptions against Bill Belichick's Patriots.
New England came back from a 22-9 deficit to win 25-22, but Mills impressed. Some of the highlights in that game involved a flea-flicker and a wide-open receiver for a touchdown, but it would be wrong to say Mills often benefitted from such plays.
For one, Mills used play-action on only 16.5% of his throws, the eighth-lowest rate in 2021. It is something Hamilton should implement more if Mills has loosened up and gotten more comfortable with turning his back to the defense before reloading. While most quarterbacks see a statistical improvement with play-action, this was not the case for Mills as a rookie.
Mills With Play-Action
55.4% completion percentage
3 touchdowns
3 interceptions
69.6 passer rating
6.1 yards per attempt
Mills Without Play-Action
69% completion percentage
13 touchdowns
7 interceptions
92.6 passer rating
6.9 yards per attempt
Coachable Material
So, that was a bit odd but should be coachable. Mills also had a huge home-road split where he was great at home (109.6 passer rating, 7.9 YPA) and terrible on the road (63.1 passer rating, 5.3 YPA). But again, that is small sample stuff for a rookie on a bad team, and he just needs more experience to show if he has improved.
In conclusion, Mills avoided many of the usual rookie quarterback pitfalls in 2021. His accuracy was not terrible, he did not hold the ball forever too much, and outside of playing the Bills in crappy weather early in his career, he was not a turnover machine.
The only other game where he had multiple turnovers was the 31-3 loss in Indianapolis where his second pick was thrown in the final minutes while he trailed by four touchdowns. No big deal.
Mills, the Young QB
Alas, the young qb did not display much of the playmaking ability his predecessor had when things broke down and the quarterback had to operate out of the system. Maybe that will never come for Mills, but that has never stopped someone like Kirk Cousins, a fourth-round pick, from having a lucrative career in this league.
Mills needs to take this opportunity and run with it, but the talent limitations of Houston's offense, including Mills' own flaws, are unlikely to lead to this offense being good in 2022.
Good enough to win five out of 17 games? That is a much different question.
Prediction
For my NFL picks last year, I was sold on Houston finishing as the most boring 5-12 team ever thanks to Tyrod Taylor doing just enough in a weak division. Unfortunately, he was quickly injured again, and the team only pushed with four wins.
As disappointing as the Smith pick was for head coach, it is too hard to pass up this team going 5-12 and hitting Over 4.5 wins thanks to playing the AFC South and NFC East. The sweep with Jacksonville is always a possibility, and the Texans have winnable games against the:
Also, you can never discount the Cowboys or Chargers blowing a game everyone expects them to win. The Titans and Colts are also not locked to dominate in this division.
You never would have picked the Texans to beat the Titans or Chargers last year, but both upsets happened, and it is hard to see how this team has gotten any worse from 2021's situation of a coach set up to fail and an unheralded rookie quarterback.
The Texans may also be uniquely fired up for Deshaun Watson's return with Cleveland in Week 13 since his behavior is most responsible for this state of purgatory the franchise finds itself in. But 2022 is a great audition for Mills to show if he can handle this job.
If not, then the Texans could look at the 2023 draft for their next franchise quarterback.
If it comes by earning the No. 1 pick, then they should look for another head coach too. Maybe someone who is not old enough to have had multiple colonoscopies.
NFL Pick: Houston Texans Season Wins Over 4.5 (-130) at Bovada (visit our Bovada Review)

Houston Texans Season Wins Over 4.5

(-130)
*The line and/or odds on picks in this article might have moved since the content was commissioned. For updated line movements, visit BMR's free betting odds product.
---
On the Last Season of "The Texans": Long Neck Quarterback, Lame Duck Coach
---
You could say the Texans knew it would be a rough year in 2021 without Deshaun Watson ever playing a down. The team made a curious decision to hire 66-year-old David Culley as a first-time head coach, especially after his work with Baltimore's passing game in 2020 was viewed as holding the team back.
The Texans intended to replace Watson with veteran Tyrod Taylor, and their highest draft pick was used on Davis Mills, taken 67th overall in the third round. Taylor was actually playing at a very high level for six quarters, including an opening win over Jacksonville, before injury once again struck his unfortunate career.
When he returned for a four-game stint in November, he never found the success he started the season with.
The First Start
Mills got his first start in prime time against the Panthers in Week 3, and not much stood out other than a viral pic about his elongated neck.
He threw four picks in rainy Buffalo in a 40-0 shutout that would be the low point of the season, but at least there was improvement and some legitimate bright spots for the rookie. Mills shined in a 41-29 upset of the Chargers the day after Christmas, the offense's best winning effort of the season.
Dramatic Drop-Off
We knew the Texans would drop off dramatically on offense, and they did not disappoint by finishing 32nd in yards. But it was surprising to see how bad the defense still was as the unit finished 20th or worse in most major categories.
The only real highlight was when the Texans forced five turnovers against an injury-plagued Tennessee offense in a 22-13 upset win.
Given the poor hand the Texans were dealt in 2021, it was a shock to see Culley get the axe after one season while defensive coordinator Lovie Smith was promoted to head coach. In case you are wondering, San Francisco is the only team since 1990 to fire consecutive head coaches after one year each, firing Jim Tomsula after 2015 and Chip Kelly after 2016.
Could Houston be next on that list?