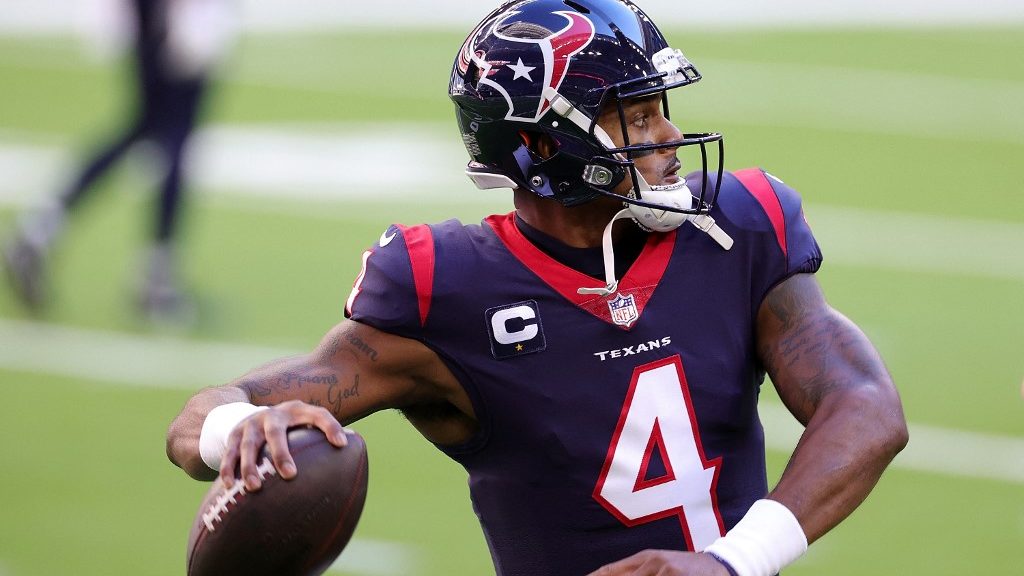 It is the most overused, cliché lede in sports in the 21st century, but this time we really do have a problem, Houston. The Houston Texans are coming off a disappointing 4-12 season, yet it feels like things are about to get lower than that given the accusations against superstar quarterback Deshaun Watson. Watson wanted a trade out of Houston before the allegations came out, but now that should be harder to pull off with his future in jeopardy. Watson is facing 22 civil lawsuits alleging sexual assault or misconduct.
It was also reported this week that 10 women filed complaints with Houston police about Watson. If Watson was in the huddle and all 10 of his teammates accused him of cheating or wrongdoing with specific stories of their experiences with him, would you say they are all lying? If Watson is on the sideline and all 22 players on the field accuse him of illegal activity, is it realistic that he has done nothing wrong? It is hard to give the benefit of doubt when this many people speak out against someone's actions.
It is not my job to decide what happens to Watson's future. The courts, criminal investigators, and NFL will all have their say on that front. Given the NFL's troubled history of dealing with these cases, it is possible that Watson will not be disciplined until the 2022 season. Players have been suspended before despite a lack of criminal charges. There is a disheartening randomness to the punishments handed out by the league, but this story is far from over.
Watson is such a valuable player to Houston that this uncertainty makes it hard to set a betting line for the team's season, let alone know which way to bet. Many of the top sportsbooks are dialed in with an over/under of 4.0 wins. Remember, even with Watson playing so well last year, the Texans finished 4-12. If you remove him from this team, then what exactly are we left with?
On the Last Season of TEXANS: The End of Multiple Eras?
There were still expectations for Houston going into 2020 following that blown 24-point lead in Kansas City in the playoffs. However, the schedule makers did the team no favors. The Texans started with a murderer's row of Chiefs/Ravens/Steelers, leading to an 0-3 start that a lot of teams would have replicated had they been given that schedule. After dropping to 0-4 with a close loss to the Vikings, the Bill O'Brien era ended. O'Brien was fired after his 100th regular season game, posting a 52-48 record and never making it past the second round of the playoffs. It was a necessary move.
Defensive coordinator Romeo Crennel took over as the interim coach, but the defense was still one of the worst in the league. The Texans blew four fourth-quarter leads while the offense was 0-7 at game-winning drive opportunities. The Texans essentially lost both games to the Colts after fumbling at the 2-yard line in the final moments. They also lost two high-scoring games at the end against division winner Tennessee.
Watson had indisputably the greatest quarterback season in NFL history for someone with a losing record. He was a one-man show for Houston, leading the NFL in passing yards (4.823), yards per attempt (8.9), yards per completion (12.6), and his 112.4 passer rating is easily the highest ever by someone with double-digit losses. He even managed to do this with his starting wide receivers missing multiple games. Watson was also the team's second-leading rusher with 444 yards as the Texans barely cracked 1,000 yards on the ground when his contributions are excluded.
You can see how much Houston needs Watson, and how a few additions in the coaching staff and defense could bring this team back to playoff contention. However, the chances that Watson has played his last down with the team are likely higher than the prospects of him playing a long, prosperous career in Houston.
The Notable Changes for 2021
While the incompetence and shortcomings in this Houston franchise were visible for years, a year ago no one would have imagined we would be at this position with Watson. Trading him is a real possibility before the season starts with Denver and Philadelphia rumored to be interested. Watson carries a cap number just south of $16 million this year that will balloon to $40 million in 2022.
From a pure talent perspective, many teams would be interested in acquiring Watson regardless of cost. If this was a decade ago, he probably would have been traded to the Oakland Raiders by now. But times have changed, and the court of public opinion is louder than ever, amplified by social media. Some teams will absolutely be scared off by the backlash from fans if they trade for a player with this many accusers.
Houston's first draft pick in April was third-round quarterback Davis Mills out of Stanford. He is a darkhorse to start this year, so the most likely Watson replacement is veteran Tyrod Taylor. This would be a significant downgrade in the passing game for Houston, but more on that below. The Texans had a chance to make a splash with their head coach signing. Maybe Kansas City offensive coordinator Eric Bieniemy would have been a good fit, but the Texans settled on a different assistant with ties to Andy Reid: David Culley.
He will soon be 66 years old and has plenty of NFL experience, mostly coaching wide receivers, but Culley has never been an offensive coordinator or head coach at the pro level. He also was most recently the passing game coordinator in Baltimore, a team that preferred to run the ball at a historic clip in today's game behind Lamar Jackson. Do you see it for your future NFL odds?
No offense to Culley, but this just feels like a lame-duck coaching hire by a franchise with no sense of direction right now. While the Texans are possibly losing the best quarterback in franchise history, they also said goodbye to the best player in franchise history this offseason. J.J. Watt played a decade in Houston and was a three-time Defensive Player of the Year. He was released in February and picked up by Arizona where former receiver DeAndre Hopkins is also playing these days. Watt is past his prime, but he still led the Texans in sacks and pressures last season.
Did the Texans add any defensive ringers to make up for the loss of Watt? Nope, unless you are excited about Maliek Collins after he had one quarterback hit for the Raiders in 2020. Shaq Lawson will make Houston his third team in three years as a disappointing first-round pick from 2016. The offense could take a step back in more ways than just quarterback this year. Will Fuller, the often-injured deep threat, is off to Miami after five seasons in Houston.
Brandin Cooks remains and is a viable No. 1 when healthy, but he may be losing Randall Cobb as Aaron Rodgers apparently is demanding him back to Green Bay in a trade. The Texans just added Anthony Miller from Chicago, but he has been nothing special so far. The Texans are still weak at tight end – without looking, name one thing Jordan Akins has done in this league – and said goodbye to veteran Darren Fells after he started 28 games for Houston the last two years.
Who needs a quarterback when you sign every running back known to the average NFL fan? Between David Johnson and Mark Ingram, the Texans are ready to win your 2016 fantasy football league. They also have Rex Burkhead and Phillip Lindsay, so there are plenty of accomplished ball carriers in town for a coach who will want to see the team do much better than 31st in rushing yards.
Is the offensive line, led by left tackle Laremy Tunsil, up to the task? We'll see.Speaking of Tunsil, that 2019 trade to acquire him is part of the reason the Texans have not had many high draft picks to use in recent drafts. That is just another reason why this job was so unattractive for any head coach, so Culley has his work cut out for him.
Tyrod Taylor: The Data on a Caretaker QB
To be on the safe side, it is worth exploring what a Houston team with Tyrod Taylor at quarterback would look like this season. In recent years, Taylor had some bad luck with injuries and lost his job quickly once teams realized they should have been starting Baker Mayfield (2018 Browns) and Justin Herbert (2020 Chargers) in the first place.
The bulk of Taylor's NFL experience comes from his three years as Buffalo's starter in 2015-17. There were diminishing returns in his play each season, but Taylor finished 7-6, 7-8, and 8-6 as a starter, making the playoffs in 2017 despite his coach's attempt to replace him with the dreadful Nathan Peterman. Those Buffalo teams were more talented than what the Texans have left, but they were not exactly powerhouses as the defense never finished higher than 15th in points allowed in those three seasons.
Taylor is by and large a game manager, or "caretaker" quarterback. He cannot carry a team like Watson. Despite 47 career starts, Taylor only has one 300-yard passing game. He is 3-13 as a starter when he throws for more than 225 yards in a game.
Taylor is 1-16 as a starter when his team allows more than 21 points. On the flip side, he is 21-3 when his team allows fewer than 20 points, so you better play good defense and run the ball well to succeed with him. Oh, you also do not want to get behind with Taylor as he is 4-17-1 (.205) at fourth-quarter comeback opportunities, which is abysmal. Watson led five comeback wins in 2018 and four more in 2019 alone.
In searching for a positive, Taylor has the third-lowest interception percentage (1.44%) in NFL history among players with at least 1,000 pass attempts. His career sack rate (9.4%) is actually higher than Watson's (9.1%), but the Texans will almost certainly ask him to throw less than Watson. Still, a lack of turnovers is something Houston can feel confident about having with Taylor's playing style.
Turnovers had a lot to do with Houston finishing 4-12 last year. Namely, the defense only forced nine turnovers, the second-worst season in NFL history. The only other team in single digits was the 2018 49ers with seven takeaways, and that team also finished 4-12. Guess what happened in 2019? The 49ers had one of the best defenses in the league and made it to the Super Bowl. That sure as hell won't happen with Houston this year, but you can at least assume a better turnover differential than minus-9.
Clearly, none of this Taylor data is optimistic about the Texans having a good season with him. Alas, we are only really interested in whether or not this team can beat its projected total of four wins. Do not underestimate just how easy it is for a lousy team with no quarterback to luck into five wins, and now Houston gets a 17th game this year to do so.
For an example, consider the 2007 Atlanta Falcons. Their star quarterback, Michael Vick, was heading to prison for his part in a dogfighting ring and they were starting the terrible Joey Harrington in his place. Taylor is a better quarterback than that, and even if you do not believe in Culley, he likely won't quit on the team in December like head coach Bobby Petrino quit on the Falcons that year. Still, Atlanta finished 4-12 and had the Falcons played a 17th game, that could have been 5-12.
Most football fans do not want to see a team that attempts to hide the quarterback and win with running the ball, defense, and lucking into turnovers. But that boring brand of football can easily produce an irrelevant, forgettable 5-12 season. The 2021 Texans having to start Tyrod Taylor sounds like the definition of an irrelevant, forgettable 5-12 season to me.
Prediction
This is one of the hardest predictions because of the quarterback uncertainty. For all we know, the Broncos could trade Drew Lock to Houston as part of a Watson deal and we might see him at quarterback for the Texans. Frankly, taking the draft picks and riding out a wasted season to get the No. 1 overall pick is the best way for Houston to move on from this mess.
However, you cannot discount the possibility that Watson plays a lot this year. That would make the over an easy pick as last year was a fluke with all the close losses, and his talent alone is enough to win five games. Stranger yet, what if Watson is thriving on the field and more allegations come out? Two of the women who filed criminal complaints this week were not part of the 22 civil cases. This just feels like an impending disaster that neither the NFL nor the Texans will want to have hang over their season.
Still, even with Taylor at quarterback, the Texans can pull off a 5-12 season. They play in the weakest division in the AFC. They have home games against the Panthers and Jets. They won't even have to play Kansas City, Baltimore, or Pittsburgh this year, the teams they started 0-3 against a year ago. The NFC West is a tough draw, but at least the Texans get the Rams and Seahawks in Houston at an early start time.
For my NFL picks, I will take the Texans to go over four wins. It may be the most boring 5-12 season you see this year but given the off-field drama that could engulf this team if Watson remains, boring may be the counterbalance fans need.
2021 Texans Over/Under Pick: Over 4.0 wins (-130) at Bovada (visit our Bovada Review)
*The line and/or odds on picks in this article might have moved since the content was commissioned. For updated line movements, visit BMR's free betting odds product.