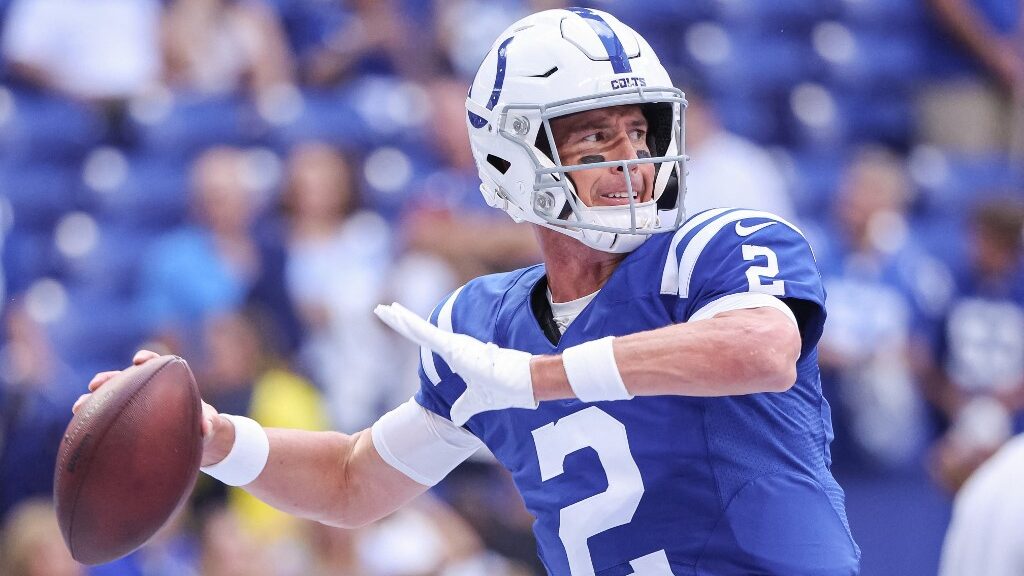 The Indianapolis Colts missed the playoffs in 2021 after a shocking Week 18 loss in Jacksonville where they were a 15-point favorite. That was enough to end the Carson Wentz experiment after one season as the team traded him to Washington.
Enter Matt Ryan, still a potential Hall of Famer, after 14 seasons with Atlanta. His best days are likely behind him, but he could be the best quarterback head coach Frank Reich has had since Andrew Luck in 2018. Incredibly, Reich has had a different starting quarterback in each of his five seasons with the Colts, who have not been led in passing by the same quarterback in consecutive seasons since Luck's run in 2012-16.
The NFL odds at many of the top-rated sportsbooks seem to believe in Ryan too as the Colts have an over/under of 10 wins, which would put them first in the AFC South division for the first time since the 2014 season.
PLAY NOW: $25,000 Free-to-Play NFL Contest: BMR's 2022 Pick'Em Pool Opens for Registration
---
The Notable Changes for 2022
---
As Colts fans know better than most fan bases, this season is about implementing another new quarterback in Matt Ryan. Fortunately, Frank Reich has gotten awfully good at adjusting to a different talent at the most crucial position. But can this be his best match since he had one year of Andrew Luck?
Matt Ryan: Tempered Excitement
When you read what Colts players have to say about this upcoming season, you cannot help but read into it a sense of relief that Ryan is replacing Wentz.
"Quarterback play is everything. We're going to have great quarterback play this year," said running back Nyheim Hines, a Ryan fan. "He makes the tight throws when he needs to. He's not missing the layups. Sometimes you can get excited and not make the easy throws. He's not missing those. He's deadly accurate."
Owner Jim Irsay could not help but gush about Ryan's leadership, adding "I haven't really experienced this since Peyton's days having a guy like this."
MVP Material
The Colts are thrilled to have a former MVP and leader like Ryan taking over, but you might want to temper the Super Bowl expectations. Granted, we just had two seasons of Tom Brady joining the Buccaneers and Matthew Stafford joining the Rams and immediately winning Super Bowls.
But Brady had the most loaded receiving corps in the league and a very talented defense on what was essentially a super team. The Rams also have built a super team by trading away draft picks for proven talent such as Stafford, Jalen Ramsey, Von Miller, and Odell Beckham Jr. They nailed their draft picks of Aaron Donald and Cooper Kupp, the best in the game right now at their positions.
Is Matty Ice Still Cool Enough?
When it comes to the Colts, we are talking about a 37-year-old quarterback coming off his worst season and joining a roster where the best players are a running back, a left guard, a third-year wideout with one 1,000-yard season, and an off-ball linebacker that forced a ton of turnovers last year.
This should be a playoff team like it was in 2018 and 2020 with the steadier quarterback play, but let's hold off on putting the Colts back in the Super Bowl.
Reich's ability to adjust the offense to fit his quarterback's skills will come in handy. When you watched Ryan on a bad Atlanta team last year, he still looked physically capable of getting the job done. His pocket movement was still impressive. All the parts around him were at their worst.
He won't be asked to carry the offense here like when he led the NFL in completions in 2019 and 2020. He will be asked to hand the ball off to Taylor behind a great line, to make the open shot plays, to get more play-action opportunities, and to show off his superior accuracy, timing, and leadership over what Wentz gave the team last year.
Ryan is a fine upgrade for the Colts, but the move does have a ceiling to it.
Missed Opportunity at WR Reunion?
There is no denying that Ryan had the worst wide receiver corps of his career last season, which had a direct impact on his numbers dropping dramatically. After years of playing with Roddy White and Julio Jones, Ryan's leading wideouts in his final Atlanta season were Russell Gage and Olamide Zaccheaus.
In coming to Indianapolis, Ryan is facing another dodgy situation at receiver. Sure, the offensive line could be the best he's had in a long time, especially if the Pro Bowlers stay healthy. Even if Taylor does not dominate the way he did last season, he should still be one of the best running backs this season.
But the tight end position is a decline for Ryan as he goes from standout rookie Kyle Pitts to Mo Allie-Cox in Indy. Veteran Jack Doyle retired this off-season. On the bright side, Ryan will get more out of Taylor and Nyheim Hines in the receiving game than Wentz did.
Uncharted Routes
But the wide receivers are going to be interesting. Michael Pittman performed well in his second year with 1,082 yards, effectively becoming the new No. 1 wide receiver that T.Y. Hilton held for so long. Hilton is going on 33 and remains a free agent. Should something happen to Pittman, the Colts could make that call during the season, but what about the call to a 33-year-old that they already failed to make?
Julio Jones is certainly the best weapon Ryan ever had in Atlanta. While he has struggled to stay healthy the last two years and has seen his production dip, he could have been a viable pickup for the Colts to add depth and chemistry with Ryan. The Colts did not go that route, and Jones is in Tampa Bay chasing a ring with Tom Brady.
Maybe Jones will be a bust in Tampa like he was with the Titans, but if he outplays Colts' rookie Alec Pierce, a second-round pick and probable possession receiver, then that will be a missed opportunity by the Colts.
New Defensive Coordinator, New Results?
Matt Eberflus, the only defensive coordinator Reich has known in Indy, is off to coach the Bears. In four years, Eberflus had decent-to-solid defenses that were never truly elite. Even last year, the Colts were a fringe top 10 defense that really padded the stats by holding the Texans (without Deshaun Watson) to three points in eight quarters.
Something the Colts did so well last year was force takeaways with 33 to rank second in the league. Shaquille Leonard alone led the league with eight forced fumbles, nearly doubling his career total from 2018-20. The Colts recovered a league-high 14 fumbles and that will be practically impossible to repeat in 2022.
Say Hello to Gus Bradley
The Colts are going forward with veteran coordinator and former Jacksonville head coach Gus Bradley, who coordinated the Raiders' defense last season. While Eberflus did not like to blitz, Bradley has taken that to extreme levels with his work with the Raiders and Chargers in recent seasons. The difference is his pressure rates have been respectable despite the lack of blitzes:
2021 Season
Bradley's 2021 Raiders: 12.1% blitz rate (32nd), 24.4% pressure rate (16th)
Eberflus' 2021 Colts: 20.2% blitz rate (27th), 18.1% pressure rate (31st)
2020 Season
Bradley's 2020 Chargers: 16.3% blitz rate (32nd), 23.8% pressure rate (14th)
Eberflus' 2020 Colts: 17.1% blitz rate (31st), 23.3% pressure rate (18th)
2019 Season
Bradley's 2019 Chargers: 13.7% blitz rate (32nd), 23.8% pressure rate (13th)
Eberflus' 2019 Colts: 22.9% blitz rate (27th), 21.3% pressure rate (23rd)
2018 Season
Bradley's 2018 Chargers: 17.0% blitz rate (30th), 21.7% pressure rate (27th)
Eberflus' 2018 Colts: 17.5% blitz rate (29th), 21.0% pressure rate (30th)
Bradley has coached the least-likely defense to blitz in three straight seasons. Chances are this will carry over to the Colts but, hopefully, there will be a better pass rush as Bradley enjoyed having Joey Bosa and Maxx Crosby in his last two stops.
Stephon Gilmore Provides Help at Corner
The Colts can say they have multiple starting corners who are Pro Bowlers, though that might be a little misleading. Kenny Moore, known for playing nickel/slot, made his first Pro Bowl in 2021, but it may not have been his best season in the last three years. He always allows a high rate of completions given the type of routes he covers, but teams were not afraid at throwing at him last year.
Moore faced 121 targets last season, which ranked second in the league. His 81 catches allowed were the most in the league. Moore also had a rough finish to 2021 in the losses to the Raiders and Jaguars. He allowed 13 catches on 16 targets for 128 yards and three touchdowns.
In April, the Colts signed veteran corner Stephon Gilmore, who made his fifth Pro Bowl last season despite playing in only nine games. Gilmore has had a very good career, but going on 32, we just have to see him stay healthy for the Colts.
Raiding the Raiders for Gold
At corner, veteran Xavier Rhodes is out after two seasons. The Colts added Brandon Facyson from the Raiders, but it may be a lateral move at best. Facyson's coverage metrics were solid last year (55.6% complete and 6.4 yards per target allowed), though the Chiefs picked on him for three touchdown passes.
The Colts may have let a better corner go in Rock Ya-Sin, who was traded in March to the Raiders for Yannick Ngakoue, an edge rusher. There is no denying the Colts needed an upgrade there. None of their edge rushers notched 20 pressures last season, and defensive tackle DeForest Buckner led the team with 7.0 sacks.
The Colts finished 31st in pressure rate (18.1%) according to Pro Football Reference. Only one team (Rams) in the bottom 10 made the playoffs last year.
On the Move
Ngakoue has been a fascinating player. A Pro Bowler for Jacksonville in 2017, it seems like every year the whole league wants him, and acquires him, but then he moves on quickly. The Colts will be his fifth team since 2019. Ngakoue has had at least 8.0 sacks in all six seasons of his career, an active streak that only Aaron Donald (eight) has bested.
In fact, Ngakoue is on a special list of five players to register at least 8.0 sacks in each of their first six seasons since 1982 that also includes:
Reggie White
Derrick Thomas
DeMarcus Ware
Aaron Donald
Maybe he can make the Colts his long-term situation.
Frank Reich and Matt Ryan Know All About Blown Leads
You can say no two quarterbacks in NFL history understand the glory and pain of huge-blown leads better than Frank Reich and Matt Ryan.
Reich was the quarterback for the Bills in 1992 when they erased a record 32-point deficit against the Oilers in a playoff win. Ryan was of course the quarterback in Atlanta to blow a 28-3 lead in Super Bowl 51 against the Patriots.
We will likely see nothing of that magnitude again for this pairing but blowing leads has been a problem for teams with Reich and Ryan:
Reich's Colts were tied for the league lead with four blown leads in the fourth quarter last season.
Reich's Colts were the only team in the NFL to blow three double-digit leads last season.
The Colts also blew a 17-point lead in Pittsburgh in 2020.
In four seasons with the Colts, Reich (five) has already blown more leads of more than 10 points than Tony Dungy (two losses in seven seasons) and Chuck Pagano (four losses in six seasons).
Ryan left Atlanta where the Falcons managed to blow eight leads of 16-plus points since 2012 (most in NFL).
Ryan is the only quarterback in NFL history to lose three games with at least a 16-point lead in the same season (2020 Falcons).
Ryan is the only quarterback in NFL history to lose multiple championship games (two) with at least a 17-point lead.
As much as we could blame Carson Wentz, Matt Eberflus, Kyle Shanahan, or Dan Quinn for these stats, the fact is Reich and Ryan have to take some accountability for why this keeps happening. Sometimes salting the game away with a long drive or just one more field goal would do the trick.
Just another thing to keep an eye on this season.
2022 Season Prediction
The overall talent base of the Colts is still basically where it was when Frank Reich arrived in town in 2018. The quarterback has largely determined if it was going to be a double-digit win playoff season or if they missed the cut. Andrew Luck and Philip Rivers made the playoffs, Jacoby Brissett and Carson Wentz did not.
Now with Matt Ryan, I think the Colts get back to the playoffs. The schedule offers a chance for an excellent start with five division games in the first seven weeks. If the Colts can get back to sweeping Tennessee like the old days, then this division could be in their control before Halloween.
For your NFL picks, I would take Over 10 wins for the Colts. Still not a team likely to get to the Super Bowl out of this AFC gauntlet, but they will play sound football and be a tough out for anyone.
NFL Pick: Indianapolis Colts Season Wins Over 10 (-135) at Bovada (visit our Bovada Review)
---
On the Last Season of "The Colts": Ding Dong, the Wentz Is Gone
---
We knew the Colts were going to be solid on defense and running back Jonathan Taylor would produce behind one of the most talented offensive lines. The wild card was Wentz, who was coming off his worst season in 2020 with Philadelphia.
With Wentz, you always have a few questions:
Could Wentz beat the good teams on the schedule?
After the Colts started 1-4 with losses to the Seahawks (healthy Russell Wilson), Rams, Titans, and Ravens (healthy Lamar Jackson), it did not look like it.
Could Wentz win the high-scoring games?
The Colts were 1-8 when they allowed at least 23 points and 8-0 when they allowed fewer than 20 points, so that's a no too.
Did Reich help Wentz fix his accuracy?
Not really as Wentz still finished 26th in on-target pass rate (73.7%) and he had the seventh-highest rate of bad throws (18.8%) according to Pro Football Reference.
Would Wentz protect the ball better?
To his credit, this one worked out as Wentz cut his interceptions in more than half to seven and brought his sack rate down to his best seasons. The timing of his mistakes is another question.
Is Wentz someone to trust in crunch time?
Absolutely not as the Colts finished 0-5 in game-winning drive opportunities, bringing Wentz's career record to 10-28-1 (.269) in that situation, the second worst among active starters.
Not surprisingly, the Wentz experiment was not successful even though he used play-action more often than all but one quarterback while enjoying an MVP-caliber season from Taylor in the backfield. The Colts were 9-1 when Taylor rushed for 100 yards and 0-7 when he did not. The Colts also forced 33 takeaways, the second-highest total in 2021.