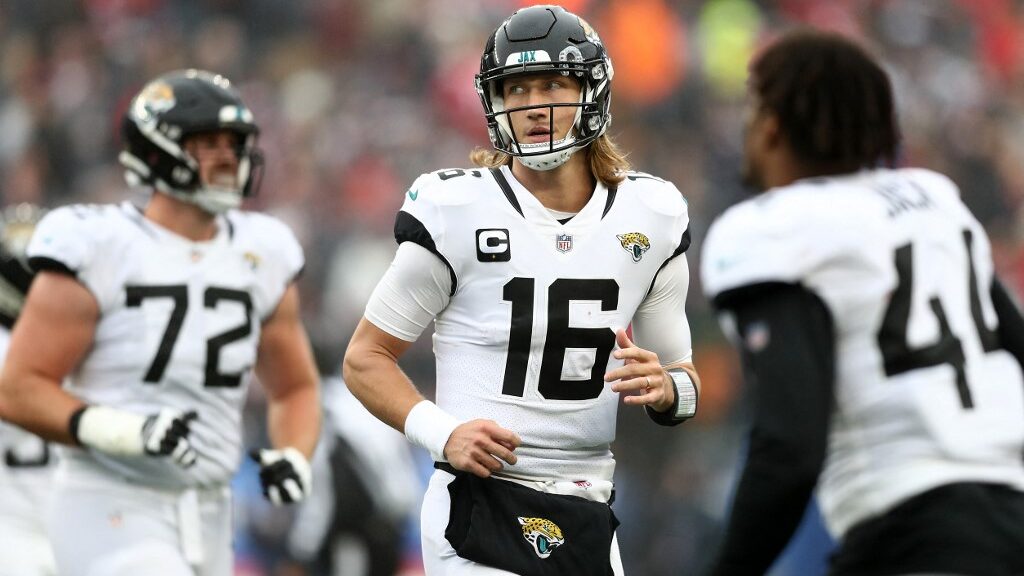 The Colts and Jaguars clash in an AFC South battle. Should you bet on the Colts to win by enough points to cover the spread? Top sportsbooks have released their NFL odds for Sunday's game between Indianapolis and Jacksonville.
After a disappointing loss to the Raiders, Indianapolis has a reason for hope: they are in a win-and-in scenario against arguably the NFL's worst team. Will Jacksonville, coming off a 40-point loss to New England, go down easy? For reasons that I will explain, you should play the spread for this game.
Indianapolis Colts vs. Jacksonville Jaguars
Sunday, January 9, 2022 – 1:00 PM EST at TIAA Bank Field
The Myth of Needing to Win
Many times, bettors justify backing aside because that side needs to win. But the team that needs to win often fails to do so. There are various psychologically grounded explanations for this phenomenon.
Some teams, for example, may struggle with the pressure they're facing while their opponent plays loose and therefore better precisely because it does not have anything to play for. Simply stated, a team needing to win does not entail that that team is reasonable to back.
This myth, that one should back the team that needs to win over the one that doesn't, is relevant for this game because the Colts would clinch a playoff spot by beating Jacksonville. They likely need to beat the Jaguars in order to make the playoffs.
Jacksonville Is Still Trying
Know for your best bets that the Jaguars have a nice history of playing spoiler, especially against division rivals. In 2016, for example, the Titans needed to beat the Jaguars in order to have a chance at making the playoffs and winning the AFC South. But the lowly Jaguars blew them out for their only home win of the season.
Last year, the Jaguars did not manage to spoil Indianapolis' playoff chances in Week 17. But they tried and were not far away. Despite falling behind 20-0, they hung around, closing the gap to six at one point. Only with a few minutes to go did Indianapolis put the game on ice.
Home Trend
The Colts won that Week 17 contest at home after being upset by the Jaguars in Week 1 in Jacksonville. Losing in Jacksonville has been a shockingly common tragedy for the Colts. They've lost six straight games in Jacksonville. This trend is something that NFL oddsmakers fail to account for when they favor Indianapolis so heavily.
Repeated Pattern
The same pattern -- of a close loss in Indianapolis followed by a win in Jacksonville -- is set up to repeat itself. In Week 10, the Jaguars lost a close game, 23-17, in Indianapolis. The team's sleepy start notwithstanding, a missed extra point, a missed field goal, and a blocked punt for a touchdown made the difference in the Week 10 battle.
Without those rare special teams blunders, the Jaguars could easily have beaten the Colts. So, clearly, they can beat the Colts. They only need to try. A lot of the same players that beat and then almost beat Indianapolis last year and that almost beat the Colts this year are obviously still around.
As evident also in their near-win against the Jets, the Jaguars have still been fighting with "nothing" to play for.
Weapons
It's simplistic and misleading to say that Jacksonville lacks weapons on offense. The Jaguars have scored over 20 points on several occasions, which is generally enough to put a team in a position to win.
Their strength is at wide receiver. While they don't have Jamal Agnew, who knifed through the Colts defense with a big touchdown play in Week 10, they have someone who is similarly skilled.
Laviska Shenault Jr., a running and pass-catching threat, is healthy. He is somebody who can make big things happen particularly by missing tackles after the catch, which he is a Cooper Kupp-level wizard at amassing.
Marvin Jones is another wide receiver who, over a longer period of time, has merited a respectable reputation. Video footage reveals the burst that Jones achieves moving vertically after he moves laterally and his impressive body control. The latter helps explain why he ranks a solid 15th in contested catch rate.
Colts' Pass Defense
These weapons will be effective against a Colt pass defense that is often vulnerable. The Colts allow too many big plays in the back end and generally allow too many receivers to be too productive. Their vulnerability is evident in the fact that they rank 18th in opposing pass yards per game.
This ranking, on the surface, is not so bad. But consider for your sports betting that Indianapolis ranks fourth in time of possession. It is easier for their pass defense stats to look nicer because their offense spends more time on the field, which allows the defense to rest and to face fewer opportunities to surrender yards.
When on the field, look especially for Jones and Shenault to exploit an Indianapolis defensive coordinator in Matt Eberflus who has garnered a reputation for putting his defensive backs in terribly unfavorable situations.
Carson Wentz vs. Jaguars Defense
One reason why I don't think the Colts will possess the ball much is Carson Wentz. An important issue with Wentz is the amount of time he takes to throw. He averages the 12th-most seconds before throwing, which is an issue that really stood out not only in last week's loss against the Raiders but repeatedly throughout the season.
Colt receivers often struggle to get open, forcing Wentz to go through a long progression. He'll also sometimes panic in the pocket, getting happy feet and perhaps falling too much in love with his very occasional ability to make good plays on the run. In these cases and in others, his vision will shrink and he'll fail to find open receivers.
Taking more time to throw is problematic for Wentz because he ranks 24th in completion rate under pressure. Jacksonville's pass rush is spearheaded by the explosive Josh Allen whose 5.5 sacks belies the frequency with which he pressures the opposing quarterback.
The Jaguars also blitz at a relatively high rate. Against the Titans, for example, Jaguar cornerbacks put Ryan Tannehill under pressure. But their front seven also accrued four sacks in that contest, showing that they can impact a game.
Jaguar pass rushers will ably impact this game especially because of the team's switch to zone coverage, which masks the weaknesses of individual defensive backs and can force the opposing quarterback to take more time to find a receiver, as Wentz already often does.
Wentz's worst games -- his 68.3 passer rating in Week 8 against Tennessee providing one example -- foreground defenses playing a high rate of zone coverage. This history creates promise for Jacksonville given its preference for the zone.
Limiting Jonathan Taylor
The Jaguar run defense, in Week 10, limited Colt offensive centerpiece Jonathan Taylor to 11 carries for 23 yards after his strong start to the game. It takes the kind of physicality and aggressiveness from different players in the front seven that they also displayed, for example, in the shocking win over Buffalo, to limit Taylor.
Both the Week 10 effort in Indianapolis and the win against Buffalo show that Jaguar defenders are reacting more quickly and generally are developing. It's rather speedy, explosive-type players like Deebo Samuel and Cooper Kupp that continue to hurt the Jaguar defense. Indianapolis doesn't feature this type of weapon.
The Verdict
Expect Jacksonville to play hard in this home finale against a division rival. Pass-catching weapons on offense and blitzing, pass rushers, and stout run defense will have Indianapolis on upset alert.
For the above reasons, invest in the Jaguars for your NFL picks.
NFL Pick: Jaguars +16 (-115) with BetOnline (visit our BetOnline Review)

*The line and/or odds on picks in this article might have moved since the content was commissioned. For updated line movements, visit BMR's free betting odds product.