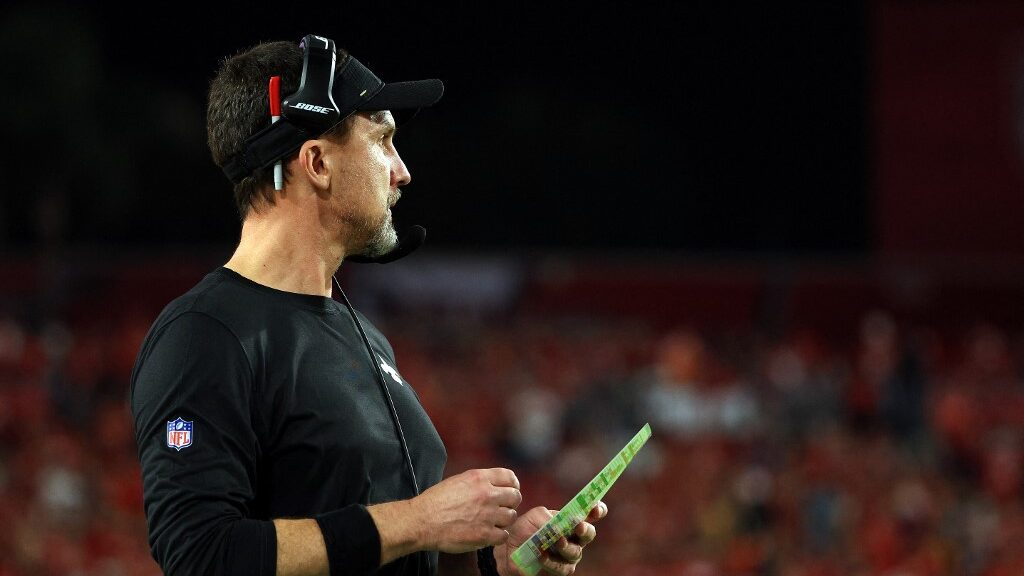 The New Orleans Saints moved on from the Drew Brees era with a 9-8 season that fell just short of the playoffs. Not only was it the most bizarre season of the Sean Payton era, but it surprisingly became the last, as the head coach retired for the time being.
Now the Saints must move ahead with defensive coordinator Dennis Allen taking the place Payton held since 2006, and Jameis Winston returns from a torn ACL to resume starting quarterback duties.
The Saints have swept the Tampa Bay Buccaneers in the last three regular seasons, but Tampa is still the overwhelming favorite in the division.
Many of the top-rated sportsbooks have the Saints with an over/under of 8.5 wins, which would still finish second in the division as the Panthers and Falcons are struggling.
But should you trust the Saints to have a sixth-straight winning season without Payton?
---
The Notable Changes for 2022
---
While the Saints are looking forward to getting Jameis Winston back healthy with a revamped receiving corps, the biggest change is Dennis Allen replacing Sean Payton as head coach.
Will Dennis Allen Succeed in Second Chance?
Allen has been nearly joined at the hip with Sean Payton in New Orleans. They arrived together in 2006 when Allen served as an assistant defensive line coach. He was in charge of the secondary that was so crucial in the team's 2009 Super Bowl season.
But after a bad stint with the Raiders as head coach, Allen returned to New Orleans in 2015 as Payton's defensive coordinator. Eventually, the defense turned into one of the better ones in the league.
Allen getting a second shot as a head coach after Payton's retirement makes some sense as someone who has paid his dues to the organization and has the respect of the players. But this is a risky hire in two different ways for the Saints.
First, giving the losing coach a second shot has a poor history of working out.
Losing Coaches and Second Chances
It is not unheard of for an NFL coach to stumble in his first crack at the job, regroup again as someone's coordinator or after some time off, and shine once given a second opportunity.
That is the story of Bill Belichick, who was fired in Cleveland after the 1995 season, built himself back up as a coordinator, and took over the Patriots in 2000 to historic success. For a less extreme example, Gary Kubiak was 61-64 as coach of the Texans before joining the 2015 Broncos and immediately winning a Super Bowl.
Okay, that one is extreme too. They all are somewhat extreme if we are talking about great success, such as Mike Shanahan's reversal of fortune from the Raiders to the Broncos, or Marv Levy taking Buffalo to four straight Super Bowls after bombing out with the Chiefs.
But Allen working out would be the longest of long shots. Allen was 8-28 with the Raiders in 2012-14, posting two 4-12 seasons and getting fired after an 0-4 start in his third season.
Not a Great Lookout for Allen
Allen's winning percentage (.222) is the lowest of any NFL coach to get a second full-time chance since the 1970 merger.
The previous worst record belonged to Marion Campbell, who was 6-19 (.240) with the Falcons, barely improved to 17-29-1 (.372) with the Eagles, then returned to the Falcons for an 11-32 (.256) finish. He never made the playoffs in nine seasons with two franchises.
Allen is only the ninth head coach since 1970 to get a second shot after winning under 40% of his games. Only one of the first eight worked out, and it was really a third (or fourth) shot that cemented it for the coach:
Mike McCormack: 16-25-1 (.393) with the 1973-75 Eagles to 9-23 (.281) with the 1980-81 Colts.
Marion Campbell: 6-19 (.240) with the 1974-76 Falcons to 17-29-1 (.372) with the 1983-85 Eagles.
Dan Henning: 22-41-1 (.352) with the 1983-86 Falcons to 16-32 (.333) with the 1989-91 Chargers.
Lindy Infante: 24-40 (.375) with the 1988-91 Packers to 12-20 (.375) with the 1996-97 Colts.
Joe Bugel: 20-44 (.313) with the 1990-93 Cardinals to 4-12 (.250) with the 1997 Raiders.
Pete Carroll: 6-10 (.375) with the 1994 Jets to 27-21 (.563) with the 1997-99 Patriots.
Romeo Crennel: 24-40 (.375) with the 2005-08 Browns to 4-15 (.211) with the 2011-12 Chiefs.
Pat Shurmur: 9-23 (.281) with the 2011-12 Browns to 9-23 (.281) with the 2018-19 Giants.
Six of these eight coaches won at a lower or equal rate in their second stint. The only coach to post a winning record was Pete Carroll, and even his New England tenure is viewed as a disappointment given the Super Bowl appearances it came in between for Bill Parcells and Bill Belichick.
Carroll had to leave for the college game with a very successful tenure at USC before returning to the NFL in 2010 with Seattle where he has turned into one of the best in the game.
Who did Carroll replace in Seattle? Jim Mora Jr., who was handed the job in advance when Mike Holmgren retired. He lasted through one 5-11 season, which brings us to the second risk of giving Allen the job.
Promoting a Coach Almost Never Works
Three teams this year are making the risky move of promoting a coach already on staff to head coach. All our defensive coordinators too in a league that is pushing towards hiring offensive minds.
Allen is replacing Sean Payton in New Orleans, Todd Bowles is succeeding the retired Bruce Arians in Tampa Bay, and Lovie Smith has the job in Houston after it fired David Culley following one season.
As the Mora example warns, promoting someone after your coach retired is not necessarily better than promoting someone after the head coach was fired.
Just look at the last seven in-house promotions to head coach in the NFL since 2012:
Freddie Kitchens, 2019 Browns: Fired after a 6-10 season.
Doug Marrone, 2017 Jaguars: Reached AFC Championship Game in 2017 before finishing 12-36 in the last three seasons.
Mike Mularkey, 2016 Titans: Fired after two 9-7 seasons and one playoff win.
Dirk Koetter, 2016 Buccaneers: Fired after 19-29 record in three seasons and no playoff appearances.
Ben McAdoo, 2016 Giants: Made the playoffs in 2016 and was fired after 2-10 start the next year.
Jim Tomsula, 2015 49ers: Fired after 5-11 season.
Romeo Crennel, 2012 Chiefs: Fired after 2-14 season.
These seven coaches combined to make the playoffs three times in 14 seasons (21.4%), no one made the playoffs twice, three coaches did not see a second season, and only a fluke run by Doug Marrone's 2017 Jaguars got a team close to a Super Bowl.
Payton won 63.1% of his games for the Saints. He had a legend at quarterback in Brees for most of them. Allen does not have that luxury as Jameis Winston is someone who has won 42.9% of his starts and never made the playoffs as a starter.
Remember when the Saints had head coach Jim Haslett and quarterback Aaron Brooks at the turn of the century? This is going to look more like that than it will Payton-Brees.
---
Winston Returns to New Receivers
We will find out this year if the Saints tried to limit Jameis Winston's attempts in 2021 to limit his turnovers, if they did it because of the lack of weapons, or if it was a little of both.
The weapons should be better this year and that starts with the return of Michael Thomas.
Slant Boy Returns
Michael Thomas made NFL history with 149 catches in the 2019 season, breaking Marvin Harrison's record of 143 catches. But since then, we have only seen Thomas catch 40 balls in 2020, and none in 2021 after he missed the entire season with an ankle injury that has plagued him.
Thomas is an integral part of the offense, and his career catch rate of 77.6% is incredible. However, the nickname "Slant Boy" is not without warrant, as Thomas does catch a lot of short passes, and he only averages 11.7 yards per reception for his career. That is a lower number than you'd expect from a No. 1 wide receiver.
Thomas had incredible chemistry with Drew Brees, who was one of the best at consistently finding his guys and attacking the weaknesses in the defense. With Jameis Winston, the decision-making has never been up to Brees' standard, and he excelled in Tampa Bay while throwing to a bigger target down the field in Mike Evans.
Winston and Thomas have almost no playing experience together in New Orleans. If Thomas is healthy enough to stay on the field, he is going to produce in this offense. But any expectations of him reaching his pre-injury numbers with Brees now that he is with Winston should be eliminated from thought. This is not that offense anymore.
Jarvis Landry Returns to Louisiana
The Saints love these little veteran wide receiver signings, and Jarvis Landry should be able to step in and contribute as a starter this season.
He had a career-low 570 yards in 12 games with Cleveland last season, but he can bring toughness and leadership to the receiving room.
High Hopes: Chris Olave
If the Saints are going to get any instant impact out of their 2022 draft class, it won't be from first-round offensive tackle Trevor Penning. He is headed to IR after suffering a turf toe injury in the preseason.
The player to watch out for is Ohio State wide receiver Chris Olave, the No. 11 pick in the draft. Olave never had the huge 1,000-yard season in college, but he was very productive and caught 36 touchdowns.
He might be the deep threat in this offense after running a 4.39 40-yard dash. He could be a candidate for Offensive Rookie of the Year if the Saints get back to throwing the ball around more like the old days.
Kamara Legal Update
The NFL does not seem close to handing out any discipline for Pro Bowl back Alvin Kamara after he was allegedly caught on video punching a man several times.
Kamara was arrested in February for battery resulting in bodily harm. With the way the NFL takes its time on such matters, there may not be a suspension until the 2023 season.
Taysom Hill: Sean Payton's One True Love?
Another thing we will find out this year is if Sean Payton was the biggest believer in the world in Taysom Hill, or if the Saints really do like him as a gadget player.
For now, Hill is listed as a tight end and the team added a more established backup in veteran Andy Dalton in case Winston is injured again.
Defense Adds the Honey Badger
Allen's success with the defense is why he has the head coach job now. He has named Ryan Nielsen and Kris Richard as co-defensive coordinators, but like how Payton always had his fingerprints on the offense, Allen should still be heavily involved with the defense.
It remains a strong unit with Cameron Jordan coming off another stellar season with 12.5 sacks. Demario Davis continues to lead the linebackers and corner Marshon Lattimore has a new friend in the secondary that should prove valuable.
Changes and More Changes
In May, the Saints brought safety Tyrann Mathieu back home to New Orleans with a three-year deal worth $33 million. Mathieu just wrapped a three-year run with the Chiefs where he was individually honored each season, won a Super Bowl, and intercepted 13 passes.
He is 30 now and is not coming off his best season, but his swagger and big-play ability should fit in great for the Saints, who could have used a few more takeaways last year. The team also traded Chauncey Gardner-Johnson to Philadelphia, so that makes the arrival of Mathieu more important.
The Saints also added safety Marcus Maye from the Jets, but he has not started September well after getting arrested for aggravated assault with a firearm.
With the way the NFL handles discipline, nothing may happen to him for this season, but he could be the weak link in the secondary when he plays.
There is nothing fundamentally to dislike about the defense. You would just like to see some of the young guys step up more since most of the stars are in their early thirties now.
Marcus Davenport, a 2018 first-round pick, had a career-high 9.0 sacks in 13 games last season. This year is a big opportunity for him as he recovers from off-season shoulder surgery.
---
2022 Saints Prediction
When Sean Payton was suspended for the 2012 season, the Saints finished 7-9 even with Brees in his prime. We can point to the defense being worlds better now than it was then, but the combo of Allen and Winston being successful just goes against any logic I think I have gleaned from many years of NFL research.
The 8-28 coach and 33-44 quarterback winning together just does not add up, even if this is a great second chance for both. I have too much respect for Brees and Payton to think this team will continue winning without them when it has to come in a completely different manner.
Looking at the schedule, a 4-1 start and 3-1 finish look more than reasonable. But that middle where the Saints play what should be eight straight playoff contenders should decide if this team is going to do any damage this season. Remember, last season the Saints started 5-2, and finished 4-1, but that 0-5 streak in the middle killed them.
In the end, I see the defense regressing, Winston turning the ball over more, and the Buccaneers will finally get a regular-season win over this team with Tom Brady at quarterback. That adds up to no better than 8-9, so my NFL pick is the under 8.5 wins for New Orleans.
NFL Pick: Under 8.5 Wins (+110) at Bovada (visit our Bovada Review)

*The line and/or odds on picks in this article might have moved since the content was commissioned. For updated line movements, visit BMR's free betting odds product.
---
On the Last Season of "The Saints": The Most Bizarre Team in the NFL
---
We knew the Saints would have to change their approach without Drew Brees at quarterback, but little did we expect such a bizarre season:
Away from home, they handed eventual MVP Aaron Rodgers the first 35-point loss of his career and intercepted him twice.
They were shredded in losses by Sam Darnold (305 yards) and Daniel Jones (402 yards) on teams who otherwise were a combined 7-25.
They won by 15 points in New England with a plus-3 turnover margin, something that had not happened to Bill Belichick since 2012, in the AFC Championship Game against Baltimore.
Down 24-6 in the fourth quarter against Atlanta, the Saints rallied to take a late lead before allowing a game-winning field goal on the final snap. This started a five-game losing streak.
The run defense was great again, finishing No. 1 in yards per carry allowed (3.7), but the Eagles ran wild on the Saints for 242 yards in a 40-29 win.
The Saints shut out Tom Brady's Buccaneers 9-0 to complete another season sweep despite having to play three different quarterbacks in those two games.
After Taysom Hill and Trevor Siemian landed on the COVID list, the Saints had to start No. 4 quarterback Ian Book against the Dolphins in a 20-3 loss that was arguably the worst quarterback start of the season as Book was outmatched.
The Saints won their final two games to finish 9-8 and just needed the Rams to hold off the 49ers, who came back from a 17-point deficit and won in overtime, eliminating New Orleans from the playoffs.
This was a season that was both exciting and frustrating.
A Different Offense
Other than the seemingly random outcomes in games, the Saints were also doing this with an offense unlike anything we were used to seeing in the Payton era:
Quarterback Jameis Winston threw for 5,109 yards in his last season as a starter and averaged 274.1 passing yards per game with Tampa Bay.
In New Orleans, Winston was averaging 185.7 passing yards per game in his first six starts before tearing his ACL against Tampa Bay.
Known for a record number of 5,000-yard passing seasons under Brees, the 2021 Saints finished 32nd in passing yards with four starting quarterbacks combining for 3,437 gross passing yards in a 17-game season.
No receiver broke 700 receiving yards as star wide receiver Michael Thomas missed the entire season with an injury.
Marquez Callaway (698 yards) and Deonte Harris (570 yards) were the only Saints to break 500 receiving yards.
Running back Alvin Kamara made the Pro Bowl and took on a career-high 18.5 rushing attempts per game, but it was his least effective season in the NFL.
Kamara's 3.7 yards per carry was his first season under 4.6 yards per carry, and his 70.1% catch rate was also a career low.
The offense has reloaded, but the days of penciling in the Saints as an elite offense seem to be over.