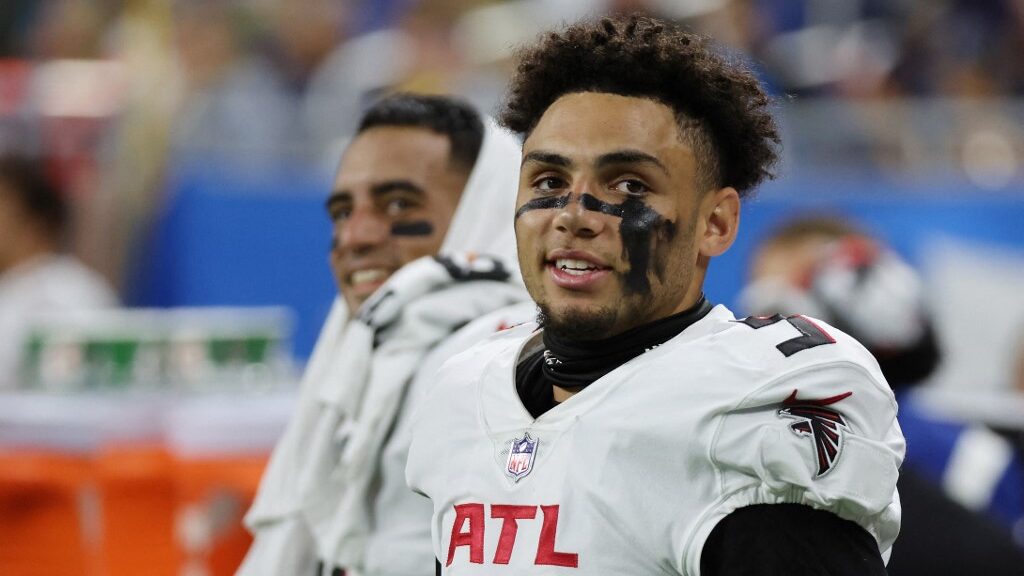 Leave it to the Atlanta Falcons to underachieve in Matt Ryan's final seasons as the franchise quarterback.
In 2020, the Falcons had the best scoring differential (minus-18 points) for a team that finished 4-12 or worse in NFL history.
In 2021, the Falcons had the worst scoring differential (minus-146 points) for a team that won at least seven games in NFL history.
Atlanta is always setting the records no one wants, and now we wonder if these things will continue at all in the post-Ryan era after the team traded the best quarterback in franchise history to the Colts.
The Falcons never had a season under Ryan where they were outscored by more than 90 points until last year. Performance-wise, that's why 2021 was arguably the worst season in Atlanta since 2007, a year infamous for Michael Vick's dogfighting scandal and head coach Bobby Petrino quitting on the team.
That 4-12 season led to the drafting of Ryan in 2008. Yet, the Falcons still finished 7-10 last year thanks to only blowing one fourth-quarter lead and finishing 5-3 in close games.
In a way, you could argue this team overachieved last year given the statistical deficiencies. The problem was too many blowout losses as the offense fell apart in Ryan's final season with the team. Now coach Arthur Smith enters a difficult second season with little in place outside of tight end Kyle Pitts.
Many of the top-rated sportsbooks have the Falcons with an Over/Under of 5 wins, projecting them to finish last in the NFC South. But can Smith figure things out with new quarterback Marcus Mariota?
---
The Notable Changes for 2022
After making the pivotal changes at general manager (Terry Fontenot) and head coach (Arthur Smith) a year ago, the Falcons are admittedly in a rebuild after trading quarterback Matt Ryan to the Colts for a third-round pick.
Arthur Smith and Marcus Mariota, Take Two
There is little denying that Marcus Mariota, the second overall pick in the 2015 draft, is worthy of another starting quarterback job in the NFL after he backed up Derek Carr in Las Vegas the last two seasons. Mariota is going on 29 years old and has thrown 77 touchdowns to 45 interceptions in his career, and he is mobile.
The scary part is the last time Mariota was a team's starter, he was benched in a bad offense coordinated by Arthur Smith in Tennessee. Ryan Tannehill took over and the results were immediately better, leading to Mariota's departure from Tennessee.
Now Smith gets Mariota in an Atlanta offense that doesn't have Julio Jones, doesn't have Calvin Ridley because of an absurd year-long suspension for gambling while he was inactive last season, and the team didn't even keep Russell Gage after back-to-back seasons with over 770 yards.
Expecting Mariota to deliver in an offense that has shed so much of its outside receiving talent is a big problem. Expecting Mariota to hold up behind an offensive line that forced Matt Ryan into his worst season last year is an even bigger concern.
How Did It Go the First Time?
Holding the ball too long is what really did in Mariota in Smith's offense in Tennessee. Smith was the tight ends coach early in Mariota's career before taking over as offensive coordinator in 2019 after Matt LaFleur took the coaching job in Green Bay.
In the Mariota-Smith offense in 2019, Mariota had an absurd sack rate of 13.5%. He already got through a 2018 season at 11.3%, which is still way too high, but this was crippling the offense as the team just couldn't score anymore with Mariota at quarterback. Tannehill changed everything for that team.
What to Expect From Mariota Now
Mariota is going to take sacks more often than Ryan did last year, which was already too much for Atlanta's liking. While he is going to be more mobile and have designed runs, the injury risk is going to be huge for someone who was not viewed as durable in Tennessee.
Basically, this is going to be a big audition for Mariota and perhaps his last chance as a starter in the league, but there is real concern that it will be a short-lived one either for the need to bench him or unfortunate injury.
The Falcons drafted Cincinnati quarterback Desmond Ridder in the third round. Do not be surprised if he gets his first start in 2022 for the Falcons.
Falcons' History With WRs
Wide receivers have been a tricky position to predict for NFL teams. It is looking like the Cincinnati Bengals hit a grand slam with Ja'Marr Chase in 2021, and that was a player the Falcons could have gone for instead of tight end Kyle Pitts one pick earlier.
But simply taking the first wide receiver in the draft has rarely led to getting the best one, or at least that is the case in recent drafts:
2020: Justin Jefferson (WR5) is a 100% lock to have a better career than disgraced Vegas wideout Henry Ruggs (WR1).
2019: The top player is to be determined, but Marquise Brown (WR1) is not even in the top five right now in a class with DK Metcalf, Deebo Samuel, Terry McLaurin, A.J. Brown, and Diontae Johnson all going in the second or third rounds.
2018: Carolina's D.J. Moore (WR1) is edging out Calvin Ridley (WR2) for the most catches and receiving yards in the class, so this one is going by the board so far.
2017: Cooper Kupp (WR7) is the toast of the draft while Corey Davis (WR1) was a top-five bust for the Titans.
2016: Tyreek Hill (WR18) was a fifth-round steal for the Chiefs and Michael Thomas (WR6) was also blowing away Corey Coleman (WR1) prior to injury in New Orleans in one of the worst-scouted classes in recent time.
2015: Stefon Diggs (WR19) has similar numbers to Amari Cooper (WR1), but Diggs has had better peak value and has been remarkable as a fifth-round pick.
2014: Sammy Watkins (WR1) was never the top of his class, a strong one that features the early dominance of Odell Beckham Jr. (WR3), the consistency of Mike Evans (WR2), and the recent dominance of Davante Adams (WR9).
2013: DeAndre Hopkins (WR2) is the head of his class while the Rams invested in a gadget player with the No. 8 pick in Tavon Austin (WR1).
2012: T.Y. Hilton (WR13) was a steal for the Colts while Justin Blackmon (WR1) was a bust for the Jaguars with the No. 5 pick in a brutal first round that also featured Michael Floyd, Kendall Wright, and A.J. Jenkins.
Even when the Falcons aggressively traded up for Julio Jones in 2011, he was the second wideout off the board at No. 6 after the Bengals drafted A.J. Green with the No. 4 pick. They ended up being by far the two best receivers in that draft, though you can say that Jones ended up being better than Green.
Oddly enough, it is looking like the last two cases of the first wideout being the best are the years the Falcons settled for Pitts and Ridley instead of Chase and Moore. That aside, the Falcons knew they had to do something at wide receiver with Ridley's season-long suspension, so they ended the run on defenders and linemen in April's draft by making USC wide receiver Drake London the first skill player off the board at No. 8.
Is Drake London WR1?
Honestly, it's not a good sign for a draft if the first skilled player goes at No. 8, but London is the first pick in a draft considered deep at the position. He stepped up in his junior season with more catches (88) and yards (1,084) than he had in his first two seasons combined despite only playing eight games before injury.
But London is getting the label of a possession receiver in the NFL due to his size (6'4") and less than blazing speed. He will have to show great ball skills at the next level to justify the pick. In his first preseason game on Friday, London had a 24-yard catch from Mariota that was half YAC, but he, unfortunately, suffered a knee injury and could be down a week.
Having avoided a serious injury, London is going to have many opportunities to have an immediate impact. Running back Cordarrelle Patterson and tight end Kyle Pitts can be very helpful to the quarterback, but they are still going to need that threat at wide receiver.
The Falcons also acquired Bryan Edwards, who played with Mariota in Las Vegas the last two years. He had 571 yards last season. That might be the stronger wideout connection in Atlanta to start the year as London adjusts to the new speed of the NFL.
Where Is the Pressure on Defense?
One of the most disappointing parts of Atlanta's 2021 season was the lack of pressure on defense. Coordinator Dean Pees is going on 73 years old and has been around Bill Belichick and John Harbaugh in his career. He has seen everything, and he should have been an improvement on the passive style of Dan Quinn, who came from the Pete Carroll coaching tree.
Instead, the 2021 Falcons had just 18 sacks in 17 games. It is tied for the third-lowest total of sacks by any defense since 2010. Atlanta also had the lowest pressure rate of any defense in the league, the fewest quarterback hits, and no player notched even 5.0 sacks. In fact, Dante Fowler (4.5 sacks) was the only defender to have more than 2.0 sacks last season.
One of those defenses that only had 18 sacks in a full season was the 2020 Bengals, who rode an improvement up to 42 sacks to the Super Bowl last year, but that defense acquired defensive end Trey Hendrickson.
What to Expect From the Defense
It is hard to see where that pass-rushing help is coming from on this year's defense. It won't be from inside linebacker Rashaan Evans, a new addition from Tennessee who played for Pees there. Outside linebacker Lorenzo Carter could be a new starter, and he had a career-high 5.0 sacks and 16 pressures for the Giants last year. That might be enough to replace what Fowler did last year, but it is not good enough.
In the draft, the Falcons used the 38th pick on Penn State defensive end Arnold Ebiketie. He transferred from Temple to Penn State for his final season where he shined with 9.5 sacks in 2021. Without much ahead of him on the depth chart, Ebiketie needs to be a contributor for the Falcons this season.
Something needs to work up front or else the Falcons risk leaving this secondary on islands again in 2022. Second-year corner A.J. Terrell developed as hoped for in 2021, allowing just 4.8 yards per target. Now if only the Falcons could get some pressure on the opposing quarterbacks, then his job might get easier.
---
2022 Falcons Prediction
Of all the NFL picks that could finish as a push this season, Atlanta going 5-12 in 2022 might be the most likely. Nothing short of a Comeback Player of the Year award for Mariota is going to get this team to easily clear five wins.
But there are going to be some winnable games on the schedule as the Saints and Panthers are not world beaters in the division, especially with their quarterback issues and the loss of Sean Payton in New Orleans.
The Falcons also expect to host Cleveland (without Deshaun Watson) and Chicago, and you never know when the Chargers or Steelers will lay an egg as a road favorite. Road games in Seattle (Week 3) and Washington (Week 12) are also winnable if Mariota can get things going for Smith's offense.
So, this should not be some 3-14 disaster season, but it probably is going to be a tough finish on both sides of the ball again. For Atlanta's sake, let's hope Calvin Ridley does not have a bet on this one, but for me, I am taking Under 5 wins since the schedule does not confidently have 6 wins listed.
2022 Falcons Wins: Under 5 Wins (-190) at Bovada (visit our Bovada Review)

*The line and/or odds on picks in this article might have moved since the content was commissioned. For updated line movements, visit BMR's free betting odds product.
---
On the Last Season of "The Falcons": Better Off Watching FX's Atlanta
Usually, we can recap an Atlanta season with some fascinating statistics on how they became the first team in NFL history to lose a game after doing something incredible. But 2021 was not that kind of season in Atlanta.
Ryan's Atlanta Swansong
The offense and defense finished in the bottom quarter of the league in most statistics, but it was a little surprising to see that happen to the offense after such strong numbers with Matt Ryan since 2008.
Despite starting all 17 games, Ryan passed for 3,968 yards and 20 touchdowns.
It was the first time he did not throw for 4,000 yards since 2010, and the 20 touchdowns tie the second-lowest season of his career.
Ryan's 7.1 yards per pass attempt is his lowest season since 2013.
The Falcons dipped to 23rd in yards per drive and 25th in offensive points per drive.
Ryan finished 21st in QBR (46.1), easily his lowest rating and ranking of his career.
He definitely took a beating in his age-36 season as no quarterback had more hits than Ryan's 84 according to Pro Football Reference. It was the fourth season in a row that Ryan took at least 40 sacks, and it would have been more if his pocket movement wasn't still strong for his age.
Receivers: The Swiss Army Patterson
This is what happens when an offense deteriorates in talent after the Falcons let Julio Jones go in the offseason, and new No. 1 wide receiver Calvin Ridley managed just five games after injury and personal problems cut his season short.
Even when Ridley was active, he averaged a career-low 9.1 yards per catch and was only averaging 56.2 yards per game. Something was always off with his game last year.
Rookie tight end Kyle Pitts eventually lived up to the hype of being the highest drafted tight end ever. He took advantage of the 17-game schedule and became the first rookie tight end to go over 1,000 receiving yards since Mike Ditka did it in 14 games in 1961. Pitts led the team with 68 catches and 1,026 yards, but he only caught one touchdown.
The surprise standout proved to be Cordarrelle Patterson, who used his fifth NFL team to have his finest season yet as a runner (618 yards and 6 touchdowns) and receiver (548 yards and 5 touchdowns).
Offense Didn't Let the Defense Blow It
Clearly, there were more problems than just previous coach Dan Quinn's scheme as new defensive coordinator Dean Pees saw his unit finish 30th in both points and yards per drive allowed. No defense allowed more plays per drive than the Falcons.
The nicest thing you could say about the defense is it only blew one fourth-quarter lead after a league-high five blown leads in 2020, but even that was misleading last year. The rest of the team just did a good job of either not putting them in that position or covering up for them when they did blow it badly.
Against the Giants, the Falcons kicked a game-winning field goal on the final play of the game in a 17-14 win.
Against the Dolphins, the defense did blow a 27-14 lead in the fourth quarter, but the offense got it together and Ryan engineered a game-winning field goal drive with no time left in a 30-28 win.
Against the Saints, the defense blew a 24-6 lead in the fourth quarter only for Ryan and the offense to get a game-winning field goal with no time left in a 27-25 escape.
The defense did intercept Detroit backup quarterback Tim Boyle in the final minute of a 20-16 win in Week 16, but that probably would have been another blown game if Jared Goff was in for the Lions.
While the Falcons won seven games in 2021, they had the lowest strength of victory in the NFL as their victories came against teams who won 31.5% of their games. The Falcons have not beaten a playoff team or a 10-win team since upsetting the 49ers in San Francisco in December 2019.
Your move, Marcus.