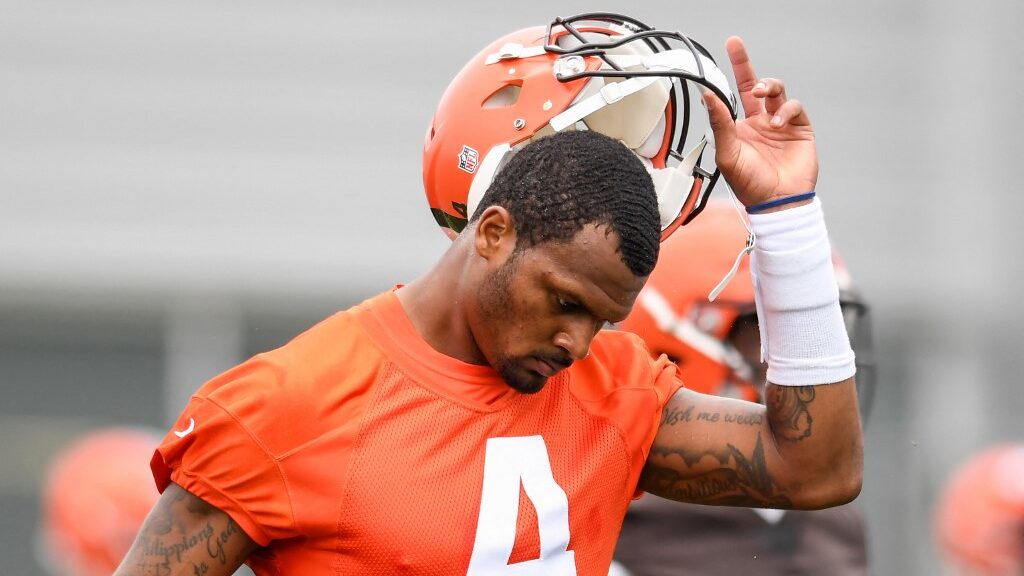 Editor's Note: On Thursday, August 18th, 2022, the NFL and the NFL Players Association (NFLPA) agreed on an 11-game suspension and a $5 million fine. Watson could be reinstated on November 28th, 2022, pending a professional evaluation by behavioral experts. Brown's head coach, Kevin Stefanski confirmed that Watson won't play again this preseason.
Every NFL team will play in a preseason game this week, and the Cleveland Browns are facing questions unlike any other team in the league. While some teams are looking at injury concerns or position battles on the offensive line, the Browns are still trying to figure out if their franchise quarterback will play a single down this season.
After over 20 allegations of sexual misconduct, many settlements, and some lawsuits still pending, Deshaun Watson's future in the NFL remains in limbo.
His disciplinary case was heard by an independent former judge, and she decided to suspend Watson for only six games despite calling his actions egregious and predatory. She also said that the NFL met the burden of proof, but the suspension was only six games.
PLAY NOW: $25,000 Free-To-Play NFL Contest: BMR's 2022 Pick'Em Pool Opens for Registration
However, the NFL quickly appealed the suspension, so a person designated by Roger Goodell will make a new decision. But because of this appeal, we are back in limbo. Will the designee stick to the six-game suspension? Will Watson's suspension last the entire season? Is there any way Watson's camp sues the NFL and finds a way to play this year?
Let's go through the options and detail what it means for the Browns.
---
A Quick Note
I feel like this must be said before we talk about what happens on the field. Obviously, this is a sensitive subject that is more important than the game of football.
There are many victims in this situation, and the Browns are not one of them if they play without Watson for a season.
The Browns knew what Watson was accused of when they traded for him, and he still had active cases pending. They gave him a fully guaranteed contract that included protections against a suspension.
While I will be writing about NFL futures bets and making predictions moving forward, I wanted to make that part clear. Writing about the football side of this issue is not meant to minimize the impact Watson's actions have had on many women, and those acts need to be kept in mind instead of being thrown to the wayside.
---
What if Watson Is Out for the Whole Season?
Rumors say that the NFL wanted Watson to be suspended indefinitely with a chance to apply for reinstatement after one season. They also reportedly offered Watson's camp a settlement that included a 12-game suspension and a hefty fine.
Because of this, the NFL can't come back with anything less than a 12-game suspension, and they probably need to do something more significant. I expect the NFL ruling to include a suspension for the entire season.
If that holds, you have to pick the Browns under and fade their odds to win the division or the conference.
The Browns' current NFL odds are at +210 to win the division, and I don't see any value there. They need Watson to play at least half of the season to even have a shot of making the Playoffs, and that is seeming less likely by the week.
What if It's Only Six Games?
The Browns are hoping that this suspension somehow stays at six games. If that happens, Jacoby Brissett will start the year under center for the Browns.
He has experience as a starter, but I would expect the team to rely on the run game instead of the quarterback.
The Browns have an easy start to the season, so a 4-2 record in the first six games with Brissett remains possible.
If he goes at least 3-3, Watson could easily help the Browns win the division. However, this is under the assumption that the suspension remains at six games.
Do the Browns Have Any Other Options?
After trading away Baker Mayfield, the Browns have no quarterback on the roster with experience in this system.
However, don't be surprised if they trade for Jimmy G. He has proven that he can be the quarterback of a good team, and he would thrive in this offensive system. Or at least, he would thrive as much as he would anywhere else.
There are no other starting quarterbacks on the market, so those are the Browns' 3 options for this season.
A trade for Jimmy G would only happen if the Browns believe Watson will be out for the whole season. Otherwise, they will start Brissett until Watson is back.
Still, I wouldn't bet on the Browns this season.