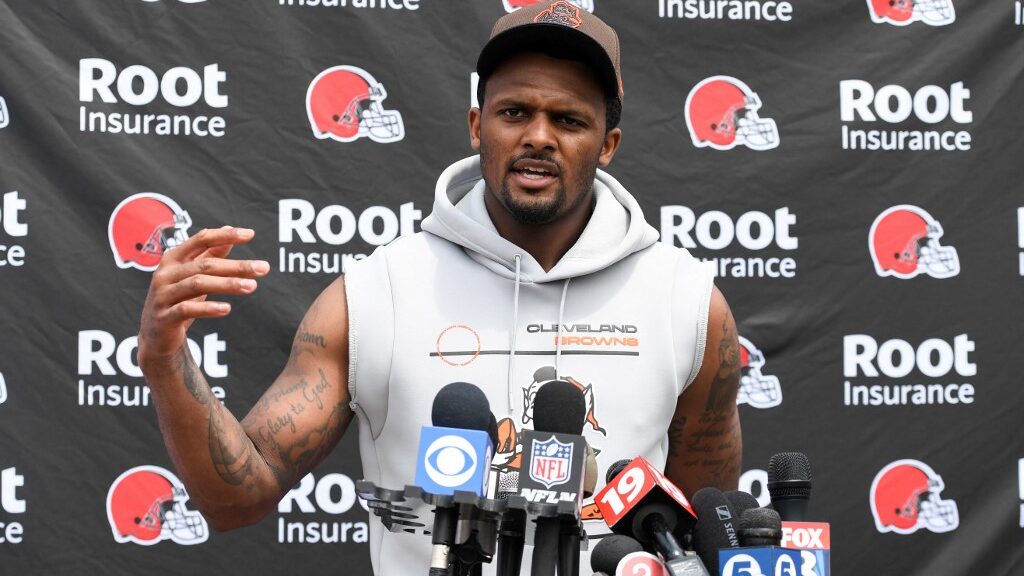 Editor's Note: On Thursday, August 18th, 2022, the NFL and the NFL Players Association (NFLPA) agreed on an 11-game suspension and a $5 million fine. Watson could be reinstated on November 28th, 2022, pending a professional evaluation by behavioral experts. Brown's head coach, Kevin Stefanski confirmed that Watson won't play again this preseason.
The Deshaun Watson situation is the big headline in all NFL circles, and it is clear to see why. When he last played, he was viewed as one of the best quarterbacks in the NFL. Since then, lawsuits and sexual misconduct allegations kept him off the field for one year, and resentment towards the Houston Texans put him on the trading block.
The Cleveland Browns traded for Watson, and many believed that we were a brief suspension away from this being in the rearview mirror. Instead, more lawsuits were filed. Reporting uncovered disturbing details and now Watson's future in the NFL remains in limbo.
The NFL is investigating the situation, and rumors are swirling as Watson gets ready for his hearing with the league. The audience is scheduled for Tuesday, June 28th, and no immediate announcement is expected. Nonetheless, the NFL reportedly will seek at least a 1-year suspension but we must remember that any punishment will be subject to an appeal.
With that in mind, let's break down the next couple of questions.
What can we realistically expect from the Browns?
How many games will Watson miss this season?
What Is the Minimum Number of Games Watson Could Miss?
Watson settled most of the current lawsuits, but that likely won't lower his potential suspension. It may work in his favor as a PR move to avoid more details coming out in court, but a settlement does not prove innocence.
At this point, some suspension must come down. The only way Watson plays every game this year is if he appeals the suspension and plays the year while everything is settled in court. He would still be facing a suspension in future years, and this is the most unlikely scenario.
When the Appeals Are Said and Done
Assuming there is a suspension that is upheld this year, the bare minimum feels like four games. Other players have received similar suspensions for sexual misconduct. However, this assumes that at least some of the allegations are disproven in court. If everything is upheld, Watson would be lucky to play any games this season.
Watson does not have to be proven guilty to receive a suspension, either. He won't go to jail for any criminal suits, but the fact that we are over 2 dozen civil suits will force the NFL's hand.
So, what is a more realistic expectation for a suspension?
How Long Will Watson Be Out?
According to rumors, many expect Watson to miss at least the entire season due to a suspension. He already sat out all of last season, but that was not technically a suspension. That could play into the NFL's decision, but they can't look weak in this situation.
As the information continues to be released, things look worse and worse for Watson. People will be looking at the NFL to set an example, and nothing less than a season-long suspension would do that.
Now, another option is to suspend Watson for a year with the ability to extend if more information comes out. Watson is facing more accusers by the day, so a decision this week may not reflect all the information at hand.
Last Drive for Watson?
While it seems unlikely that Watson has played his last down in the NFL, that remains a possibility. An indefinite suspension is in the cards if any solid evidence is released. If there is no way for any human to give Watson the benefit of the doubt, then Watson may have played his last down in the NFL.
It's worth mentioning that Cleveland structured Watson's contract so a suspension this year would not impact his pay significantly. If the NFL wants to retaliate, they could extend the suspension into next season as well. This is all speculation, but it is not hyperbolic to say that Watson is more likely to sit out the entire year than he is to play a single down.
What Does This Mean for the Browns?
It's important to say that football is an afterthought when you consider the suffering of dozens of women in this case. The Browns knew about the allegations, and they chose to trade for Watson anyway. Still, we must get to the football side of things.
Cleveland has +325 odds to win the AFC North, and there is no value with that pick. If Watson is out, Baker Mayfield likely won't be back. Jacoby Brissett will be the top option, and he won't be able to move the scale when the Browns play the Ravens and the Bengals.