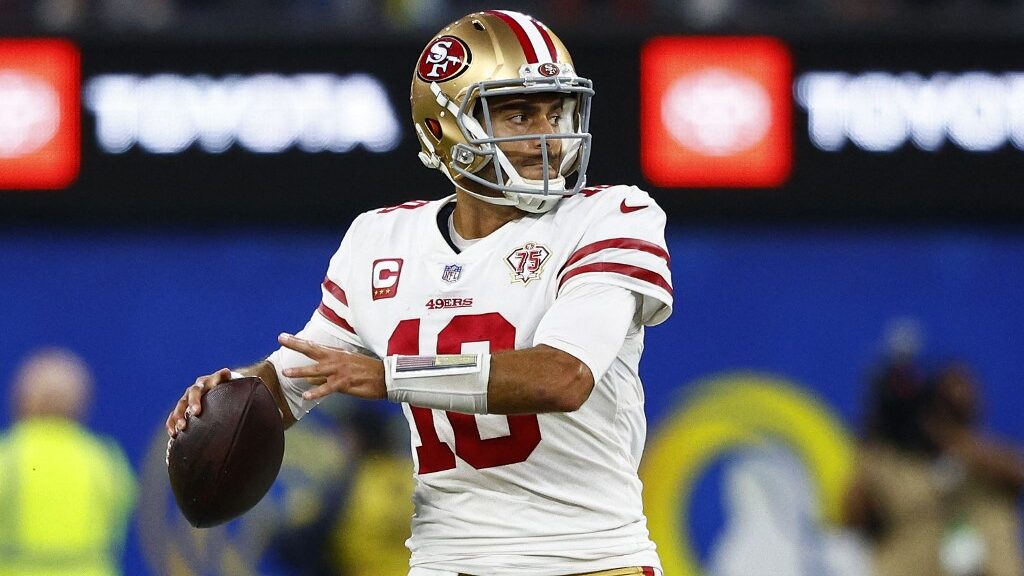 When the San Francisco 49ers traded up in the 2021 NFL Draft to draft North Dakota State quarterback Trey Lance at No. 3 overall, it was clear they were planning for life after Jimmy Garoppolo.
In fact, NFL insider Ian Rapoport had said on multiple occasions since the draft that the Niners had plans to trade Garoppolo.
But it looks like that might not be happening after all —at least just yet.
Under the Knife
Garoppolo injured his shoulder on January 16 when the San Francisco 49ers defeated the Dallas Cowboys 23-17 in the wild-card playoffs. He played through the injury the next two games and quickly realized that some off-season rest wouldn't allow it to heal properly so he went under the knife in March.
The surgery was a success and Garoppolo is set to start throwing again once training camp kicks off at the end of July. So, what's the problem?
The Surgery May Have Hurt Garoppolo's Trade Value
For the Niners, Garoppolo's shoulder surgery could impact his trade value since the team would no longer be getting a 100% healthy Garoppolo.
Nonetheless, 49ers' GM Arthur Lynch believes the "minor" surgery isn't going to hurt a potential trade.
"As for the trade, Jimmy's a part of us right now. A lot of people need or want quarterbacks right now and he's obviously a guy they'd look at. So, yes, we have listened, but he's a part of us and he's going to work diligently to get back from this surgery," Lynch said following Jimmy's surgery.
Struggling to Stay Healthy
Garoppolo, who is now 30 years old, has struggled to stay healthy over his four years in the Bay Area, missing over 30 games.
When he is available as a starter, the Niner's record is a winning one and without him, it's a losing one. But while winning is everything in the NFL, being healthy and actually available in the lineup means much more.
Garoppolo Should Start if He Sticks Around
So if Garoppolo ends up on the 49ers' roster come Week 1 of the new league year, then San Francisco should keep him at QB1, and after reporting trade rumors, Rapoport believes if he's still hanging around San Fran, then he could be the starter.
"I still think there is a chance Jimmy G starts for the 49ers," Rapoport said on June 7 during an appearance on the Pat McAfee Show.
"Let's say Garoppolo gets cleared in early August," Rapoport continued. " What if he comes to camp and is the better quarterback in training camp. They have to start him. He did lead them to the playoffs just last year."
McAfee added, "NFC Championship, Super Bowl, that mother f*$%&# has been there."
An Important Player
It's no secret that Garoppolo is an experienced vet, who has won a lot of games for the Niners and still has enough juice, along with endless weapons around him to be an NFC contender once again this season. Not to mention his teammates are close with him and remain very supportive of him.
"There's no crime in having a talented, developing quarterback wait a little bit longer," Rapoport said about Lance.