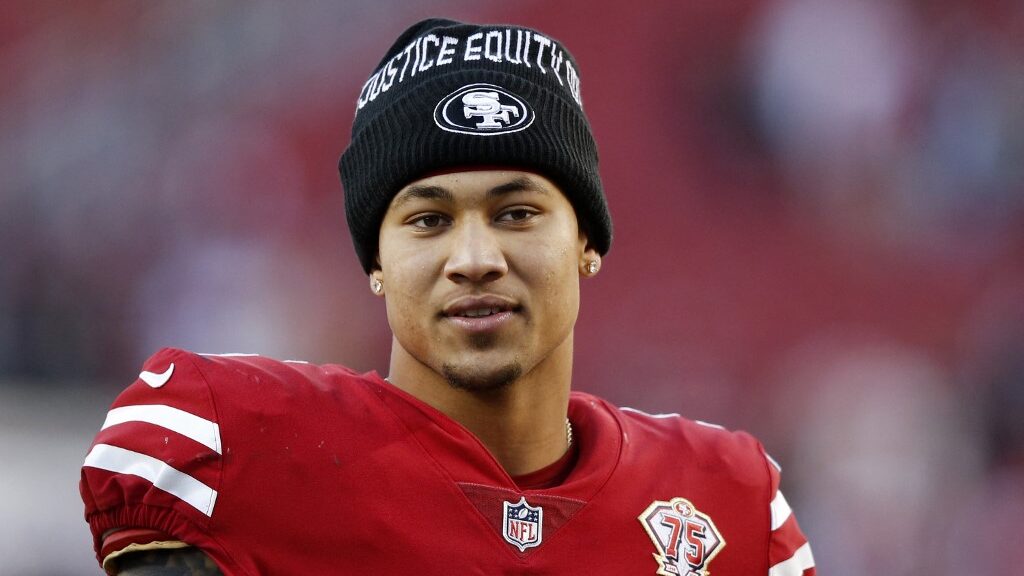 Leadership and trust––these are two things, aside from raw talent of course, that every NFL quarterback must have in order to lead a successful offense. And in just his second season in the league, San Francisco 49ers' Trey Lance has developed into a leader and gained the trust of his teammates––just in time to take over the starting job.
With Jimmy Garoppolo still recovering from offseason shoulder surgery, Lance has been taking first-team snaps during OTAs and minicamp and is on track to start come Week 1 of the 2022 NFL season.
Now, leading up to training camp, there's been a lot of talk around the league questioning if he's ready to go or not, but for the most part, analysts seem to be in his corner. And more importantly, so are the Niners' coaches and players.
The 49ers Believe in Lance
The San Francisco 49ers are not going to pull a Cleveland Browns mistake and count out Garoppolo while he's still on the team's roster. Thus, they won't come right out and announce Lance as the starter, just yet.
Nonetheless, they believe Lance has what it takes when the time does come.
"All these reports, I don't know where they all come from," 49ers' GM John Lynch told reporters back in May. "We always believe in competition, but at the same time, we are great believers in what Trey Lance brings to the table. We believe he is ready. He is going to have to show that. I think he's ready to show that to us, show that to his teammates, and show that to the world."
Trey Lance's First NFL Year
After missing the 2020 season at North Dakota State due to COVID-19, the 49ers sat Lance behind Jimmy Garoppolo for the majority of his rookie season.
In the first year, he appeared in six games with two starts and completed 41 of 71 pass attempts for 603 yards and 5 touchdowns. He also helped in the ground game with 38 carries for 168 rushing yards and a score.
While two starts isn't a lot and may be concerning to some as the season approaches quickly, the stats show what he's capable of and it still counts as experience on his resume. And to reiterate, he's getting all of the first-team snaps during offseason workouts which will help groom him for the starting job.
49ers' Players About Trey Lance
Lance has been putting in extra work this offseason, from hanging around the facility longer than expected and building chemistry with his teammates to even training with them outside of scheduled workouts.
And all of the extra work he's doing isn't going unnoticed.
Brandon Aiyuk
"I've seen a whole lot from him," Niners' wideout Brandon Aiyuk said. "Especially since we've started this offseason program, how much he's grown, just seeing him throw the football, leading the locker room, connecting with guys. Yeah, we have a special quarterback."
George Kittle
It isn't just the 49ers' top wideout taking notes on Lance's progress, veteran tight end George Kittle has noticed a shift in his game.
"I definitely think he's taking ownership," Kittle said. "You can kind of tell that… I think he's trying to better himself every single day. He's got his personality showing a little bit and he's going to be out there slinging the rock around, so the more practices, the more he'll get comfortable being the No. 1 guy in the huddle and I think he'll just get better from that."
Kyle Juszczyk
And veteran fullback Kyle Juszczyk has also seen some major improvements.
"I feel like Trey has done a really good job in really taking on all the different parts in being the QB1," Juszczyk said. "At least for myself, I feel like I've seen improvement on the field as far as his performance."
There Is Still Time Left
Lance and his teammates will get a few weeks off until training camp begins at the end of July. That's when the full pads come on and it's pedal to the metal up until the start of the next NFL season, which means Lance will have to continue to prove himself.
But for now, he's on the right track.