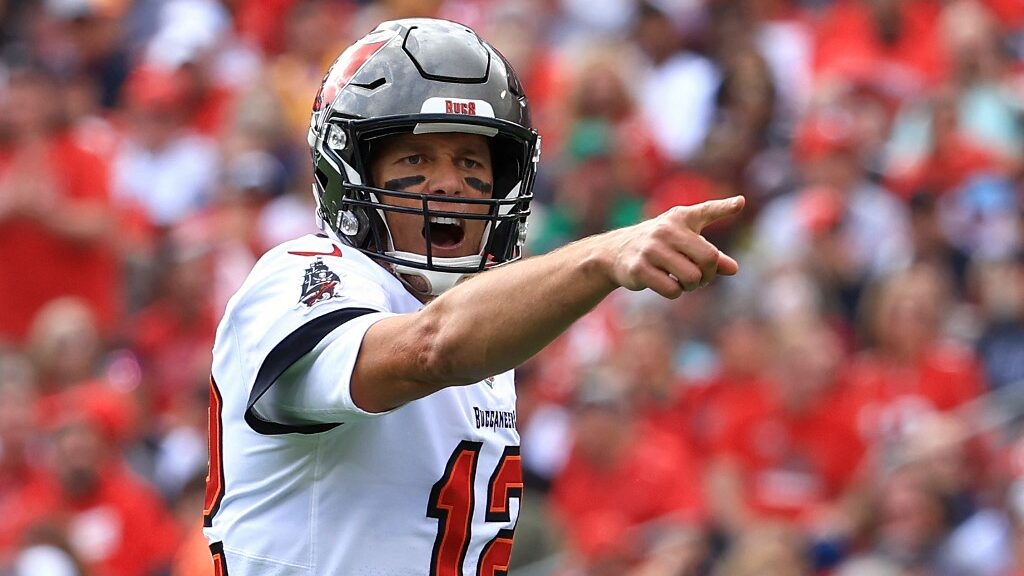 The Tampa Bay Buccaneers won a franchise-record 13 games in 2021, but they became the latest NFL team to not repeat as champions after a wild 30-27 loss to the Los Angeles Rams in the divisional round. It looked like it would be the final game in Tom Brady's career, but his retirement lasted just six weeks before he announced his return for a 23rd NFL season.
But there are other retirements that might stick for Tampa Bay as head coach Bruce Arians and tight end Rob Gronkowski have since called it a career. Then again, they both retired in the past and were still going strong last year. The only person we know for sure won't be back with the Buccaneers this year is disgruntled wideout Antonio Brown.
Regardless of the retirements, Tampa Bay remains very relevant in an NFC that had seven double-digit loss teams last year, watched division rival New Orleans lose head coach Sean Payton, and the only team to finish with a higher seed (Green Bay) lost Davante Adams.
Add it all up, and the Buccaneers have the highest projected win total (11.5) in the NFC right now at most of the top-rated sportsbooks.
---
The Notable Changes for 2022
The 2022 Buccaneers could already go down in history as the team with the most retirement news.
Tom Brady started February with a botched retirement announcement that never felt real, and just 40 days later he did in fact announce his return for his age-45 season.
Indications are this will be the final one for real, and he has been in the habit of winning every Super Bowl in even-numbered years since 2014.
Ali Marpet's Retirement
This Tampa Bay team should look different than the last two seasons. Guard Ali Marpet announced his retirement after seven seasons and after making his first Pro Bowl in 2021.
The Buccaneers used their second pick in the second round to take Michigan's guard Luke Goedeke. But before you feel bad for Brady, keep in mind they still have three solid starters along the line from last year, and the team added Shaq Mason, Brady's right guard from his New England days.
Rob Gronkowski's Retirement
Rob Gronkowski made his second retirement announcement in June, but after he already came back to play for Tampa Bay after taking all of 2019 off, can you really trust him to stay away for good? If the Buccaneers are injured late in the season again, don't you think Brady will make the call to get Gronk back?
Either way, Cameron Brate should do a solid job in Gronk's place. The team also added veteran Kyle Rudolph and drafted Cade Otton in the fourth round. But there is no true replacement for the greatest tight end in NFL history.
Bruce Arians Leaves at Odd Time
Maybe the most unexpected retirement was that of coach Bruce Arians.
While it was inevitable that he would step away and have one of his coordinators replace him, the timing was most odd as Arians announced the move in late March, which is several weeks after the coach hiring cycle tends to end.
Instead of choosing the younger offensive coordinator Byron Leftwich, the Buccaneers are giving defensive coordinator Todd Bowles his second shot as a head coach.
The New Men in Charge
Todd Bowles has the quarterback in place that he never had as coach of the Jets, but there will not be anyone checking over his aggression with blitz calls as the team goes with a committee of inexperienced coordinators in Larry Foote and Kacy Rodgers. Tampa should remain one of the toughest run defenses to face.
Leftwich is still there to coordinate the offense, and many believe that there was a rift between Brady and Arians on the offensive side. But Arians retires with one of the best records among coaches in close games in the last 40 years.
Arians's teams were 38-29-1 (.566) in game-winning drive opportunities compared to 7-22 (.241) for Bowles in his coaching career, so we'll see if Arians's "no risk it, no biscuit" approach is emulated or missed in his absence from the sideline this year. The Buccaneers did need five game-winning drives, including one against the lowly Jets, to win their 13 games last year.
Who Didn't Retire in Tampa?
The Buccaneers did not bring back defensive lineman Ndamukong Suh, but the team did add veteran Akiem Hicks from the Bears and used their highest draft pick (33rd overall) on Logan Hall (Houston). Hicks is a solid addition if healthy, but it would be hard to say the roster is better this year than the last two years when you subtract Gronkowski, Marpet, Suh, and Brown.
There's also the lingering issue of Chris Godwin's health after tearing his ACL in December. Those usually take a minimum recovery time of 9 months. He may not be ready for the start of the season.
The team added veteran Russell Gage from the Falcons where he had just over 770 yards in each of the last two seasons. He can make some plays from the slot and will be a Godwin replacement to start with Mike Evans out wide.
---
2022 Buccaneers Prediction
Tampa Bay is not a franchise used to sustained success, but it's not every day you land a future Hall of Fame quarterback.
The Buccaneers can ride Brady until the wheels fall off, and if they win the NFC South again, it will be the first time in Tampa Bay history the team has won consecutive division titles. But obviously, there are loftier goals than that.
Looking at the Early Schedule
There may be no tougher stretch in Tampa Bay's schedule than the first four games, especially if Godwin is not ready. The Bucs open on the road against the Cowboys and Saints before getting to host the Packers and Chiefs. It would not be surprising to see Tampa Bay at no better than 2-2.
The Cowboys gave Tampa Bay all it could handle on opening night last year.
Obviously, the Saints are 4-0 against Brady in the regular season these last two years with a lot of takeaways in those games.
The Packers and Chiefs may be taking a step back without Davante Adams and Tyreek Hill, but those are still expected to be top-tier teams this season.
It Gets Better
After that first month, things get easier, and again the home schedule is favorable with the Ravens and Rams both having to travel to Florida. Things also look better after the Week 11 bye with a road game in Arizona on Christmas night, but the Cardinals have notoriously faded late in the season under Kliff Kingsbury.
PLAY NOW: $25,000 Free-To-Play NFL Contest: BMR's 2022 Pick'Em Pool Opens for Registration
Even if Tampa Bay starts 2-2, loses to one of the Rams or Ravens, and loses two out of three against the 49ers, Bengals, and Cardinals late in the year, then that would still be 12 wins. It is hard to imagine Brady would prematurely end his retirement to be an afterthought in an unimpressive conference.
Go with the Buccaneers to hit the Over in wins for your NFL picks.
2022 Buccaneers Wins: Over 11.5 Wins (+105) at Bovada (visit our Bovada Review)

*The line and/or odds on picks in this article might have moved since the content was commissioned. For updated line movements, visit BMR's free betting odds product.
---
On the Last Season of "The Buccaneers": Regression Meets Regret
Tampa Bay's attempt to run it back in 2021 had one fatal flaw in its design: originality. In 2020, Tampa Bay was one of the healthiest teams in the league. By becoming the first Super Bowl champion in the salary cap era to return all 22 starters – as well as many key reserves – the following year, Tampa was banking on this type of injury luck in consecutive years.
The Buccaneers were also hoping that shiny ring would keep Antonio Brown's head in check. The team also figured it could avenge 2020 losses to the Saints and Rams after adjusting so well in a rematch with the Chiefs in Super Bowl LV.
As we know, this did not work out.
Saints Have Brady's Number Again
Of Tampa Bay's five losses in 2021, four were against the Saints and Rams, two teams that have their number. Injuries also proved crucial. Early on, it was a rash of injuries in the secondary, and the defense had one total takeaway in the four regular-season losses. Rob Gronkowski injured his back in the Week 3 loss to the Rams and missed five games. Brown was also inactive for more than half the season with nagging injuries.
But the floodgates really opened in a stunning Week 15 game on Sunday Night Football at home against the Saints. It was in this spot a year ago that the Buccaneers were demolished 38-3. This time it was a 9-0 loss as wide receiver Chris Godwin tore his ACL. With running back Leonard Fournette also injured, the Buccaneers were down on weapons, but the shutout was still a shocker.
Brady came into the game as the odds-on favorite for a fourth MVP award, but 9-0 all but destroyed his chances. The Saints swept Tampa Bay despite playing three different quarterbacks in those two games (Jameis Winston, Trevor Siemian, and Taysom Hill).
Antonio Brown Exits Stage Left
In Week 17, Brown was expected to have a huge game against the Jets as he was close to hitting incentive bonuses in his contract. But after a quiet half, Brown removed his equipment during the third quarter and walked off the field after dancing in the end zone.
Head coach Bruce Arians immediately said after the game that Brown was no longer with the Bucs, and Brown has not been picked up by another NFL team since his release in January.
Brown alleges he was too injured to play and that the team tried to cover that fact up, but regardless of which side you believe, this spectacle was one of the wildest things anyone has done during a game. It took longer than expected, but the addition of Brown finally bit Tampa on the behind.
Brown's absence also limited the receiving corps that went from the best in the league to just okay without Godwin and Brown. Brady became just the second quarterback in NFL history to pass over 700 times in a season, but the pass-happy approach was going to be difficult in the playoffs without his stud receivers.
The Playoff Exit
The Buccaneers had no problems with a weak No. 7 seed from Philadelphia in the wild card round, but Sean McVay's Rams were looking to win a third-straight game against Tampa Bay in the divisional round.
Tampa Bay also had to manage that day without star right tackle Tristan Wirfs due to injury. Aaron Donald and company feasted on Brady early as the Rams built a 27-3 lead in the third quarter. But in what would have been such a fitting final game for Brady's career, the Rams tried their best to choke and hand him a win.
The Rams fumbled four times, including twice in the fourth quarter, in addition to coming up short on a 47-yard field goal that should have ended this one early. The game was tied in the final minute, but defensive coordinator Todd Bowles sent a big blitz that Matthew Stafford took advantage of with a bomb to Cooper Kupp, setting up the game-winning field goal for the Rams. Tampa Bay's title defense was over in the second round.
While the story seemed to end there for several Buccaneers, the most important one is coming back for 2022.