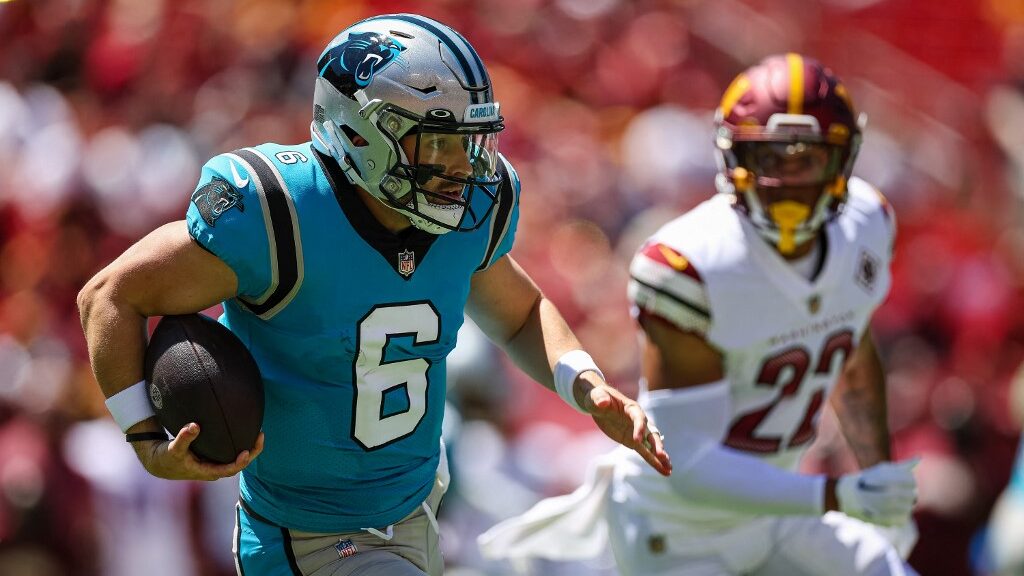 The Carolina Panthers have tried two head coaches and three different leading passers since 2019, but nothing has stopped the team from winning exactly five games a season in the last three years.
Head coach Matt Rhule might be on his way out if things do not improve in 2022. Rhule is the odds-on favorite, at +270 on Bovada (visit our Bovada Review), to be the first coach to leave his position this season.
Enter quarterback Baker Mayfield, who is looking for a fresh start after being unceremoniously dumped by the Cleveland Browns after four seasons.
We know Mayfield will come with flaws and a huge chip on his shoulder, but can he lead another incompetent franchise to some playoff success?
Many of the top-rated sportsbooks have Carolina with an over/under of 6.5 wins.
---
The Notable Changes for 2022
Nothing says Super Bowl incoming like adding punter Johnny Hekker after a great decade with the Rams. All jokes aside, we may be seeing the punt unit often if the last two years are any indicator of how Matt Rhule's NFL offense fares.
The Panthers have another new quarterback in Baker Mayfield, but this may be another short-lived experiment.
Matt Rhule and Baker Mayfield: A Match Made in Purgatory?
Just like how Baker Mayfield should have been drafted ahead of Sam Darnold in 2018, Mayfield should be starting ahead of Darnold in Carolina in 2022. He is a better quarterback, and he will get more out of the offense provided that D.J. Moore and Christian McCaffrey stay healthy this year.
But it is hard to get excited about this change in Carolina given that we have two seasons of evidence to suggest that Matt Rhule is not the right coach for this team. Some of the most damning criticism leveled at Rhule in Carolina was said a year ago by former quarterback Teddy Bridgewater, who accused Rhule's staff of not practicing situational football such as the two-minute drill and red zone.
Do the results speak for themselves? All these stats cover the last two seasons of the Rhule era:
Carolina is 0-13 at fourth-quarter comeback and game-winning drive opportunities (0-9 in 2020, 0-4 in 2021).
The 0-9 record in 2020 ties the 2008 Lions for the worst record in the league in the last 21 seasons.
Carolina is 1-23 when allowing 17 or more points in a game, including 0-12 in 2021.
Conversely, Carolina is 9-0 when allowing fewer than 18 points in a game under Rhule.
Carolina is 2-14 in games against teams with a winning record, including a 2-8 record in 2021.
The 2021 Panthers finished 29th on third down and 25th in red zone touchdown rate after finishing 25th on third down and 28th in the red zone in 2020.
Basically, if the Panthers are playing a decent team, they will lose. If they are in a close game, they will lose. If they do not allow a minuscule number of points, they will lose.
For a fan, this is a lousy way to watch a team. In adding Mayfield as the quarterback, this is not likely going to get better if his history in Cleveland follows him to Carolina:
Mayfield is 6-17 (.261) at fourth-quarter comeback opportunities and 7-17 (.292) at game-winning drive opportunities; both in the bottom five records among active starters.
The Browns were 0-7 at game-winning drive opportunities last season (0-6 with Mayfield at quarterback).
Mayfield is 8-24 (.250) when this team allows at least 24 points, and he has lost three starts where the Browns allowed fewer than 17 points, including two games last year.
Mayfield is 8-22 (.267) against teams with a winning record in his career.
The Browns finished on average 17.8 in third down conversion rate and 8.3 at scoring touchdowns in the red zone during Mayfield's four-year tenure, so only the red zone saw them consistently above average.
None of Mayfield's offenses in Cleveland ever finished in the top 10 in yards or points per drive.
According to Pro Football Reference, Mayfield had the third-highest rate of bad throws (inaccurate) in 2021 at 20.9%
Mayfield is not the kind of quarterback you want to rely on in a shootout or to make the pivotal plays late with the game on the line. He is someone who can function well in high-percentage situations such as play-action looks and playing with a lead.
In theory, there is a role for him to do well on the kind of team Rhule wants to be, but the Panthers have rarely played well enough on either side of the ball to be in control of games. After only playing five close games in 2021, there is a good chance the Panthers will have a few more nail-biters in 2022, and it is unlikely they will continue to lose every single close game under Rhule.
But if Mayfield is going to carry his usual level of play with him to the Panthers, and if Rhule is going to continue coaching the way he has the last two years, then it would make no sense for this team to elevate itself to the playoffs in 2022.
Panthers Invest in Offensive Line
Carolina's quarterbacks took 52 sacks last year, a number that is far too high. Mayfield can cut that number down, though he is coming off his worst season in part because he took a sack on 9.3% of his dropbacks.
If you are going to build an offense around McCaffrey and make Mayfield successful with play-action passing, then better offensive line play is crucial.
The Panthers gave their biggest free-agent contract to former Rams guard Austin Corbett, who briefly played with Mayfield in Cleveland in 2018-19 as members of the same draft class by the Browns. Corbett was not a dominant part of the Rams' line on its way to winning the Super Bowl, but he should help the Panthers.
The bigger move came in the draft when the Panthers used the No. 6 pick on tackle Ikem Ekwonu from NC State. If he can play at a high level as a rookie left tackle, then the line will be one of the most improved in the league this year. But this is asking a lot from a rookie.
Carolina's offensive line will likely look better in 2023 than it does in 2022, which could be in time for Matt Corral to get his opportunities at quarterback. The team made Corral their second draft pick this year in the third round (94th overall).
Defense Needs More Splash Plays
In 2020, the Panthers had a franchise-low seven interceptions on defense, but the team recovered a league-high 15 fumbles. We noted the fumbles would regress, which did happen as they only recovered seven in 2021. However, the defense only notched nine interceptions too, so that remains a problem as 16 turnovers are not enough in a 17-game season. The Panthers failed to create multiple turnovers in any of their last seven games, finishing 0-7 in those games.
It is hard to see where these splash plays are going to come from in 2022 as the Panthers did not draft any defensive players in the first three rounds. The pass rush was essentially a two-man operation between Brian Burns and Haason Reddick. Otherwise, the Panthers had to blitz with one of the highest rates in the league.
Burns made his first Pro Bowl and is solid entering his fourth season with the team. But Reddick was a one-year audition, notching 11 sacks and proving that he was not a one-year wonder in Arizona. He earned a nice payday with the Eagles for the next three years ($45 million).
What to Do Now?
That leaves a pass-rushing void with the Panthers hoping for more out of Yetur Gross-Matos, a second-round pick in 2020 who has 6.0 sacks in 26 games. Burns also will be expected to have his first double-digit sack season if this pass rush is going to be at least average after losing Reddick.
The secondary lacks stars even after making some questionable trades during the season last year. The Panthers gave up a 2023 sixth-round pick for just eight games of veteran corner Stephon Gilmore, who signed with the Colts in April.
The Panthers also traded a third-round pick for 2020 first-round pick C.J. Henderson, a corner with a short stay in Jacksonville. Henderson had a rough season and hasn't made an interception since getting one in his NFL debut in 2020.
Corner Jaycee Horn, the 2021 first-round pick, only played three games before going on injured reserve. Getting him back is more exciting than any other addition to this defense, which also added safety Xavier Woods from the Vikings.
But a defense led by Burns, Horn, and linebacker Shaq Thompson (currently on PUP) still does not look championship caliber for the Panthers.
---
2022 Panthers Prediction
Remember when the Panthers started 3-0 last season thanks to a weak schedule and COVID outbreak for the Saints? Well, it could happen again. If anything, the Panthers should absolutely start 1-0 with Mayfield getting revenge on the Browns, without Deshaun Watson, at home in Week 1.
But as last year proved, even a 3-0 start could still lead to a 5-12 finish. However, the division offers two winnable games with Atlanta, the Saints could take a step back without Sean Payton, and even Tampa Bay may be more vulnerable this season. The Panthers also get to play the Lions and Seahawks late in the season after the bye.
The bar is still understandably low for this team, but I think Mayfield gives them their best quarterback play in years, and the talent will be enough for a 7-10 finish that puts the Panthers over 6.5 wins for your NFL picks.
Is that enough to keep Rhule's job for 2023? That is a different question.
NFL Pick: Over 6.5 Wins (-130) at Bovada (visit our Bovada Review)

*The line and/or odds on picks in this article might have moved since the content was commissioned. For updated line movements, visit BMR's free betting odds product.
---
On the Last Season of "The Panthers": September Stars
At halftime in Week 4, quarterback Sam Darnold was leading the NFL with five rushing touchdowns, and the 3-0 Panthers –led by a defense that was allowing 10 points per game– led 14-13 in Dallas. This was either going to be the surprise team of 2021, or this was the pride before the fall.
Obviously, things peaked there. The Cowboys lit up Carolina's defense in the second half, Darnold never rushed for another touchdown in 2021, and the 3-0 start that came against the Jets, Saints, and Texans was simply fool's gold, especially for the defense. Even in the New Orleans upset, the Saints were missing a lot of coaches due to COVID.
Not even a brief, surprise reunion with Cam Newton could uplift the spirits of the Panthers, who finished 2-12 after a perfect September. Darnold thought he was escaping the Jets, but he finished the season in Jets form, finishing 28th in QBR and only the Jets and Jaguars scored fewer points than Carolina after Week 6.
Star running back Christian McCaffrey had another injury-plagued season that limited him to seven games. While the team did go 1-4 in his first absence, it was only 1-3 in the four games he returned to play before ending the season on the inactive list. McCaffrey has played 10 games in the last two seasons after not missing a game in his first three seasons.
Not What the Stars Expected
Wide receiver Robby Anderson was hoping to build on his 1,000-yard season in his team debut in 2020, but as it turns out, Darnold was not a good influence on him with the Jets.
Last season, Anderson had the worst season of his career with career lows across the board in yards (519), yards per catch (9.8), yards per target (4.7), yards per game (30.5), and catch rate (48.2%).
Darnold is still with the Panthers, but the team would be wise to give Baker Mayfield the job and see if he can keep them relevant past September.