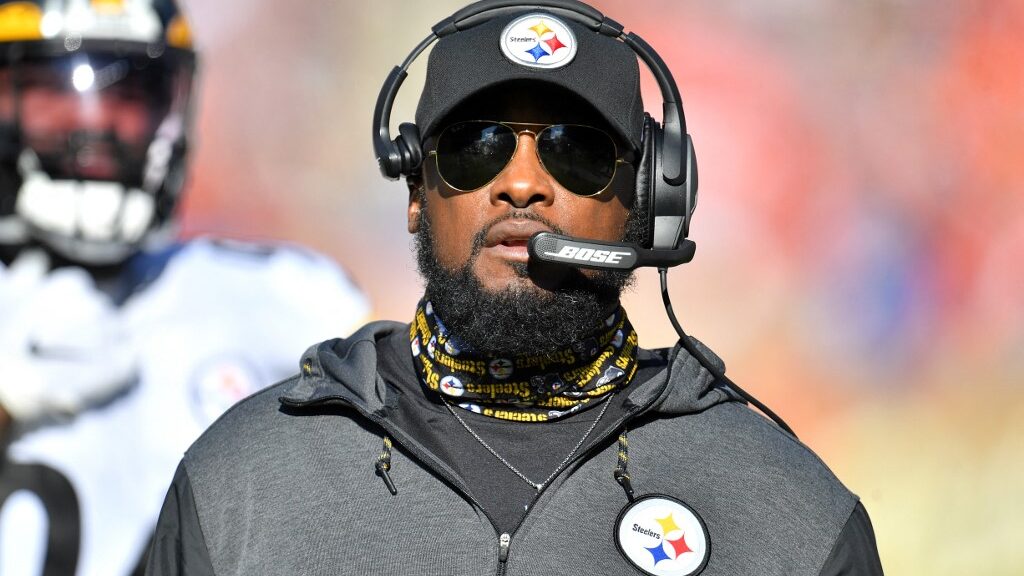 The Pittsburgh Steelers overcame long NFL odds to make the playoffs by grinding their way to a 9-7-1 record to earn the No. 7 seed with some help on the final day of the regular season.
The postseason was another quick exit after the Steelers were blown out 42-21 in Kansas City, signaling the end of Ben Roethlisberger's career after 18 seasons in Pittsburgh.
The Steelers never had a losing record in Roethlisberger's 18 seasons, the third-longest streak in NFL history behind only the:
1965-85 Cowboys (21 seasons)
2001-19 Patriots (19 seasons)
What's Coming
Now entering his 16th season, that means head coach Mike Tomlin can still say he has never had a losing record. That will be put to the test more than ever this year as he goes forward with Mitchell Trubisky and first-round rookie Kenny Pickett as his quarterbacks.
Many of the top-rated sportsbooks have the Steelers with an over/under of 7.5 wins, the lowest total yet in the Tomlin era. Can he get it done without the services of a Hall of Fame quarterback, or do we see Pickett sooner than later?
PLAY NOW: $25,000 Free-To-Play NFL Contest: BMR's 2022 Pick'Em Pool Opens for Registration
---
The Notable Changes for 2022
---
Think we might talk about the quarterback competition? Mike Tomlin has not officially named a starter, but all signs point to Mitchell Trubisky being the guy in Week 1.
The Steelers signed Trubisky to a two-year deal worth just over $14 million, but first-round draft pick Kenny Pickett might make that a short leash for Trubisky.
What Happens When a Hall of Fame QB Leaves?
Before we get into Trubisky vs. Pickett, let's consider the impact of losing a quarterback like Ben Roethlisberger, a future first-ballot Hall of Famer.
Here is every instance of a Hall of Fame (or in the discussion) quarterback in the salary cap era and what his team did without him for that first season:
Warren Moon: 1994 Oilers were 2-14 (no playoffs) after he left.
Joe Montana: 1995 Chiefs were 13-3 (lost in the divisional round) after he retired.
Jim Kelly: 1997 Bills were 6-10 (no playoffs) after he retired.
John Elway: 1999 Broncos were 6-10 (no playoffs) after he retired following back-to-back Super Bowl wins.
Steve Young: 2000 49ers were 6-10 (no playoffs) after he retired.
Dan Marino: 2000 Dolphins were 11-5 (lost in the divisional round) after he retired.
Troy Aikman: 2001 Cowboys were 5-11 (no playoffs) after he retired.
Kurt Warner: 2010 Cardinals were 5-11 (no playoffs) after he retired.
Brett Favre: 2008 Packers were 6-10 (no playoffs) after he first retired despite starting Aaron Rodgers, and the 2011 Vikings were 3-13 (no playoffs) after Favre retired for good.
Peyton Manning: 2011 Colts were 2-14 (no playoffs) when he was injured for the entire season, and the 2016 Broncos were 9-7 (no playoffs) after he retired.
Tom Brady: 2020 Patriots were 7-9 (no playoffs) after he left for Tampa Bay.
Eli Manning: 2020 Giants were 6-10 (no playoffs) after he retired.
Drew Brees: 2021 Saints were 9-7 (no playoffs) after he retired.
In 15 seasons, those teams missed the playoffs 13 times and had a losing record 11 times. The 1995 Chiefs (Steve Bono) and 2000 Dolphins (Jay Fielder) had arguably weaker quarterbacks than Trubisky, but both teams rode a great defense to the playoffs.
Before Steelers coach Bill Cowher got his quarterback in 2004, he always had a:
Running game
Good offensive line
Great defense
Tomlin seems to have none of the three going into 2022, but we will see what they cook up.
---
Is Mitchell Trubisky a Sitting Duck?
Mitchell Trubisky brings 50 regular season starts and good mobility to a Pittsburgh offense that should be the most talented he has started for in the NFL.
Unfortunately, a young collection of skill players has come at the expense of a cheap offensive line that is truly "you get what you paid for" quality.
The Steelers have a:
First-round running back (Najee Harris)
Second-round tight end (Pat Freiermuth)
Trio of second or third-round wideouts (Diontae Johnson, Chase Claypool, and intriguing rookie George Pickens)
That is nice, but when your offensive line is a group of mid-round picks and undrafted players without a pedigree, then you are asking for trouble.
The line was clearly outmatched and penalty prone in the preseason games against three of the projected weakest teams in the league (Seahawks, Jaguars, and Lions).
Match Facts
Trubisky often had to bail from the pressure and make something happen. The fact that he had respectable numbers to go along with his experience and mobility edges over rookie Kenny Pickett are why he will likely have the Week 1 job.
We are going to see early why Roethlisberger was getting the ball out in under 2.4 seconds the last two seasons, easily the fastest of any quarterback in the league. He knew this line cannot block and it is arguably worse now from a talent perspective. Trubisky will take more sacks this year.
Trubisky's Skills
To his credit, Trubisky has consistently held the ball just under 2.7 seconds in Chicago, so he is not someone who takes forever to make decisions. He just sometimes makes very poor decisions and struggles to be consistently accurate.
He is at his best when he can use play-action and lean on a strong running game, two things the Steelers have failed to do for many years now.
Najee Harris
Sure, Najee Harris gets a ton of touches and breaks a lot of tackles, but most of his plays do not go far because he is usually hit after receiving the ball.
Harris ranked 47th out of 53 backs in rushing yards before contact per touch (1.7) last season according to Pro Football Reference. The Steelers were 31st as a rushing offense in that category. This says more about the line than anything.
---
Trubisky Is Not an Improvement Over Old Roethlisberger
This idea that Trubisky is going to be a better option than the Roethlisberger of 2020-21 is shortsighted. Trubisky's best season was 2018, and a lot of his value that year was as a scrambler, which is something he toned down in the years since. Calling him a poor man's Josh Allen would still be too high praise at this point.
While the Steelers threw the ball short last year, they were 27th in YAC per completion (4.7 yards). Offensive coordinator Matt Canada has done a poor job of utilizing the receiving talent he has, and the idea that Roethlisberger was holding back his offense should be put to the test this year. It's not like Trubisky has ever established himself as a big playmaker down the field.
Trubisky's average touchdown pass gains 13.6 yards, the shortest in NFL history among the 221 quarterbacks to throw at least 50 touchdowns.
Since 2018, Trubisky averages 6.7 yards per pass attempt and 10.3 yards per completion.
Since 2018, Roethlisberger averages 6.7 yards per pass attempt and 10.2 yards per completion.
Situational football is where the Steelers are going to miss the 2020-21 version of Roethlisberger the most compared to Trubisky. Third downs, red zone, and finishing games in the fourth quarter.
Roethlisberger led seven game-winning drives in 2021 and finished his career 58-58-1 (.500) in game-winning drive opportunities, one of the best records in history.
Trubisky is 7-15 (.318) at game-winning drive opportunities in his career, one of the worst records among active starters.
Of Trubisky's five fourth-quarter comeback wins in his career, three of them were 1-point deficits and the other two were against the Lions, the only team he consistently owned in his career.
Trubisky is 1-18 when trailing by more than three points in the fourth quarter in his career.
It makes sense for Tomlin to start Trubisky in Week 1. If he plays well, then he can become trade bait in a league starved for good quarterbacks. If he struggles, then the team can go to Pickett as the financial investment in Trubisky is so minimal.
But if the season turns into a lost cause, then there is no reason not to get the rookie some action this year.
---
Kenny Pickett: Well, He Is Not Dan Marino
Perhaps more than any other NFL team, the Steelers care about history and tradition. Their selection of Pitt quarterback Kenny Pickett with the No. 20 pick feels a lot like a team not wanting to make the same mistake twice.
In 1983, the Steelers knew Terry Bradshaw was near the end of his career. There was a chance to draft Pitt quarterback and hometown legend Dan Marino with the 21st pick.
The Steelers instead went for nose tackle Gabe Rivera, who played six games in his NFL career. Marino fell to No. 28 to the Dolphins, rewrote the league's passing records, and the Steelers did not find gold at quarterback again until 2004 with Ben Roethlisberger.
What to Expect in the Season
Flash forward to the 2022 NFL Draft and the Steelers knew they had to make a move after Roethlisberger's retirement. But the fact that every quarterback in this ridiculed class was still on the board at No. 20 is a criticism of the class itself that should not go ignored.
After the Steelers drafted Pickett at No. 20, no more quarterbacks were chosen until Atlanta took Desmond Riddler with the No. 74 pick, which is very unusual.
When most drafts have multiple quarterbacks go in the top 10 picks, it should be concerning when no one pulls the trigger until the 20th.
---
Pickett's Stats
Pickett is the second quarterback since the common draft started in 1967 to go first in his class at pick 20 or higher while still landing in the first round. The last was Jim Druckenmiller (1997), a bust for the 49ers who you could not trust to get Young his Gatorade, let alone supplant him as the starter.
Pickett is only the 10th such quarterback since 1967 to go outside of the top 10 as the first quarterback in his class. The history is not kind for NFL success:
1968: Greg Landry (1.11), 98 starts
1972: Jerry Tagge (1.11), 12 starts
1977: Steve Pisarkiewicz (1.19), 4 starts
1978: Doug Williams (1.17), 81 starts
1980: Marc Wilson (1.15), 60 starts
1991: Dan McGwire (1.16), 5 starts
1997: Jim Druckenmiller (1.26), 1 start
2000: Chad Pennington (1.18), 81 starts
2013: EJ Manuel (1.16), 18 starts
2022: Kenny Pickett (1.20)
When Chad Pennington is the cream of the crop and Doug Williams is the next best outcome, that is discouraging. In fact, the five drafts where the first quarterback was not taken until after the first round provide more quality starters than this:
1974: Danny White (3.53), 92 starts
1984: Boomer Esiason (2.38), 173 starts
1985: Randall Cunningham (2.37), 135 starts
1988: Tom Tupa (3.68), 13 starts
1996: Tony Banks (2.42), 78 starts
No one said drafting a quarterback is an exact science. History alone won't sink Pickett, and unusually small hand size is another hurdle that so far does not seem to matter for him.
Pickett's hands measured at 8.5 inches, which would be smaller than any current starter in the NFL. But in the preseason games, Pickett looked confident and fairly accurate. The numbers were solid and he executed the two-minute drills that were so crucial for the Roethlisberger era to gain an edge over the competition.
Will that carry over to the real games when you're not playing the backups of three of the worst teams in the NFL? We have no idea, but at least Pickett looked good in the preseason.
One other notable critique is that Pickett mostly just threw quick passes to his first read. There were more deep attempts and scrambling with Trubisky in the game as one might expect.
---
Kenny Picket vs. Dan Marino
While Dan Marino peaked as a college junior before regression in his senior season at Pitt, Pickett threw more touchdowns at Pitt in 2021 (42) than he did in his first three seasons combined (39). He enters the NFL on a high note, but chances are he will ride the bench to begin the season.
But if the Steelers get off to a really bad start with Trubisky struggling, Week 9 at home after the bye would be an excellent spot to give Pickett his first start. Either way, it feels more likely than not that we will see him start this year. Trubisky has never started every game in a season, not even in his best season in 2018 when he started 14 games.
But I would temper expectations for Pickett in 2022, and I would certainly stay away from him for Offensive Rookie of the Year when he is unlikely to start for some time.
---
Why Isn't the Defense Better?
The Steelers return the reigning Defensive Player of the Year after T.J. Watt tied the official sack record with 22.5 sacks last season. He did that despite missing two full games and playing fewer than 50% of the snaps in three more games as nagging injuries cut into his playing time.
Defensive lineman Cameron Heyward also made the All-Pro team with 10 sacks. Yet between Watt, Heyward, and safety Minkah Fitzpatrick as the third-highest paid player on the team, why was this defense so bad at times last year?
The run defense was terrible all season. Not many quarterbacks shredded the Steelers, but many of the best ones did, including Patrick Mahomes (twice), Justin Herbert, and Derek Carr.
While Joe Burrow did not hit 200 passing yards in either matchup, he completed 81% of his passes, only took two sacks, and the Bengals beat the Steelers by double digits twice in the same season for the first time since 1989.
Season 2021 Review and Changes
While Pittsburgh's offense was not very helpful in 2021, there were at least three games where the defense also contributed to producing arguably the worst two or three quarters of football in the Roethlisberger era.
The Steelers trailed 31-3 at halftime in Cincinnati, 29-0 in the third quarter in Minnesota, and 30-0 into the third quarter in Kansas City. Take your pick on the worst of the bunch.
The 2021 Steelers allowed at least 27 points before the fourth quarter five times last year, the most in a season in team history. It happened six times if you include the playoffs. Naturally, this did lead to another change in the coaching staff.
---
New Defensive Coordinator, Same Results?
Defensive coordinator Keith Butler "retired" after seven seasons in that position, though it may have been more of a respectful move than just firing him after such a bad season.
While the Steelers added ex-Miami coach Brian Flores as a defensive assistant, it is Teryl Austin taking over Butler's spot after coaching the secondary the last three years to mixed results.
Austin had some initial success as Detroit's defensive coordinator in 2014 before things declined quickly there and with Cincinnati in 2018.
He does inherit some great players in Watt and Heyward, but again, they were there last year when all these blowouts took place.
Living Up to the Hype
The Steelers have yet to see first-round impact out of linebackers Devin Bush and safety Terrell Edmunds, and time may be running out there. Myles Jack should be a good fit at inside linebacker from Jacksonville, and Larry Ogunjobi is a good replacement for retired defensive end Stephon Tuitt.
The secondary still lacks talent despite adding corner Levi Wallace from Buffalo. Once again, this defense will rely on Watt being the most dominant force in the game, Heyward bringing the same intensity and Fitzpatrick seeing if he can draw the ball into his hands the way he did in 2020.
In fact, turnovers will be one of the most interesting storylines for this team. In the past when Roethlisberger was out, Tomlin's Steelers seemed to play out of their minds on defense to compensate for the quarterback loss:
Tomlin's defense with Roethlisberger at QB: 144-79-1 (.645), 5.07 yards per play, 20.2 points per game, 1.42 takeaways per game.
Tomlin's defense without Roethlisberger at QB: 18-15-1 (.544), 4.83 yards per play, 17.5 points per game, 2.12 takeaways per game.
Match Breakpoints
While the Steelers allow nearly a field goal less per game in points without Roethlisberger, the stunning number here are the takeaways.
Pittsburgh averages 0.7 more takeaways per game in 34 starts without Roethlisberger, which is equivalent to about an extra 12 takeaways in a 17-game season. That could make a huge difference in close games if the Steelers somehow maintain this rate for a full season.
When Roethlisberger had elbow surgery in 2019 and missed 14 games, the Steelers led the NFL with 38 takeaways to finish 8-8 despite an offense that was among the very worst at moving the ball.
That was good enough for an 8-8 record in 2019, but is this all still enough to avoid a losing record in an AFC that could be 11 or 12 teams deep for serious playoff contention?
---
2022 Season Prediction
Fewer lines feel more perfect as a 50/50 proposition this season than the Steelers at 7.5 wins.
If Matt Nagy could get to 8-8 in Chicago in 2019-20 with Trubisky as his primary quarterback, and if Tomlin can go 8-8 in 2019 with Mason Rudolph as his primary quarterback, then you know Tomlin can do 8-9 with Watt gunning for the sack record again.
But I think the quarterback position is going to be a problem, the close games are not going to go Pittsburgh's way this time, and there will be some blowouts at the hands of better teams.
Tomlin will suffer his first losing season but going 8-9 would still put him over the line for your NFL picks. The more I look at the schedule and consider the struggles with Cincinnati last year and now an improved Baltimore team, my final pick is 7-10 at best for the Steelers. I will take the under 7.5 wins.
NFL Pick: Pittsburgh Steelers Under 7.5 Wins (+105) at Bovada (visit our Bovada Review)

Pittsburgh Steelers Under 7.5 Wins

(+105)
*The line and/or odds on picks in this article might have moved since the content was commissioned. For updated line movements, visit BMR's free betting odds product.
---
On the Last Season of "The Steelers": The End of an Era
---
By many measures, the 2021 season was the most difficult and emotionally draining season in the Ben Roethlisberger-Mike Tomlin era. The Steelers really had to gut out every win to make the playoffs as a No. 7 seed.
Steelers led the NFL with six fourth-quarter comeback wins and seven game-winning drives while going an absurd 9-2-1 in close games.
Steelers were outscored by 55 points, their worst scoring differential since being outscored by 61 points in 1989.
Steelers allowed 398 points, their third most in a season in franchise history.
Steelers ranked last in rushing yards (2,483) and rushing yards per carry (5.0) allowed.
The 2,483 rushing yards allowed 290 more yards than the previous highest season in team history (1954).
Some of these numbers were juiced by the addition of a 17th game, but it does not take a computer to figure out that the Steelers had a difficult time in most games with an ineffective offense and struggling defense.
---
Roethlisberger's Season Showed It Was Time to Retire
Roethlisberger officially retired as the all-time sacked quarterback with 554 takedowns in his regular-season career. At 39 years old and two years removed from elbow surgery, you could see the physical toll taken on his body last year as he barely got through his final season.
The Pittsburgh offense that fell apart so badly late in the 2020 season showed up to start the 2021 season. Minimal gains on the ground behind a bad line, the shortest and quickest throws in the league, and nothing creative down the field outside of some go routes down the sideline. Roethlisberger finished with a career-low 6.2 yards per pass attempt.
But after a 1-3 start, Roethlisberger did put in the last good stretch of his career in Weeks 5-14 when he threw 15 touchdowns to three interceptions with 7.1 yards per attempt.
Roethlisberger Came Back to Retire
After coming down with COVID and watching backup Mason Rudolph only get a tie against the winless Lions, Roethlisberger returned against the Chargers and played one of his best games.
The Steelers trailed 27-10 in the fourth quarter before taking a late lead only to see the defense give up the game-winning touchdown in a 41-37 loss.
A few weeks later, Roethlisberger again nearly rallied the Steelers from a 29-0 deficit in Minnesota. The Steelers were a dropped touchdown by Pat Freiermuth and a two-point conversion away from forcing overtime in a 36-28 loss.
That was arguably the last great game of his career as Roethlisberger was running on fumes the rest of the way. In the final four games, he averaged 4.49 yards per attempt, a number hard to believe it's so low. He threw for 123 yards on 46 passes against Cleveland in his final home start in Week 17, a 26-14 win thanks to the defense.
The Last Game
Roethlisberger did have one last great moment in him in Week 18 in Baltimore, the main division rival in his career. He led another overtime win for the Steelers, converting on third or fourth down three times on the game-winning drive. The
Steelers needed Indianapolis to lose as a 15-point favorite in Jacksonville and for the Chargers-Raiders game to not end in a tie.
The Colts choked, and while the Raiders were one missed field goal away from indeed ending in a tie to eliminate Pittsburgh, the field goal was good, and the Steelers made the playoffs as a No. 7 seed to extend Roethlisberger's career one more week.
---
Wild Card Loss in Kansas City
No one gave the Steelers a chance in Kansas City as a 12.5-point underdog. The teams met the day after Christmas and the Chiefs led 30-0 in the third quarter of that one before winning 36-10.
In the playoffs, the Steelers opened the scoring after T.J. Watt scored a fumble return touchdown. But that only seemed to anger the Chiefs, who scored six straight touchdowns in a 42-21 win.
It only took 11 minutes and 31 seconds for Patrick Mahomes to throw five touchdown passes in the second and third quarters.
Negative History
Pittsburgh became the first team in NFL history to allow at least 36 points in four straight playoff games, all losses dating back to the 2016 AFC Championship Game in New England.
At least it wasn't 62-7 for Roethlisberger, but it was the end of the line. Now the Steelers enter the difficult task of finding their next franchise quarterback.