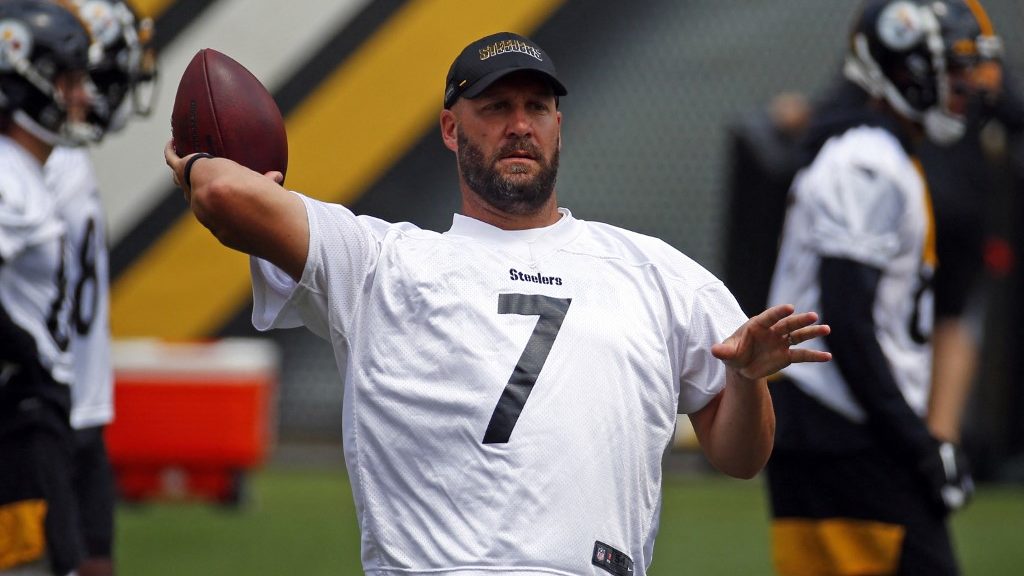 The Pittsburgh Steelers were 2020's last unbeaten team at 11-0, but they only managed one win the rest of the season. After allowing the Browns into the playoffs by resting starters in a Week 17 loss, the Steelers were embarrassed at home by their rivals, losing 48-37 in the wild card round. The Steelers have not won a playoff game since the 2016 season.
With 39-year-old quarterback Ben Roethlisberger eying 2021 as his final season, do the Steelers have enough left in the tank for one more run? Since drafting Roethlisberger in 2004, the Steelers have had 17 straight non-losing seasons, tied with the 1957-73 Browns for the third-longest streak in NFL history and only trailing the 2001-19 Patriots (19 seasons) and 1965-85 Cowboys (21 seasons).
Many of the top sportsbooks have the Steelers with an over/under of 8.5 wins. This is the fourth time in head coach Mike Tomlin's career that the Steelers had a preseason over/under of just 8.5 wins. In the first three seasons, the Steelers finished 12-4 (2010), 11-5 (2014), and 10-6 (2015). But this time the Steelers are being viewed as a third-place team in the AFC North.
On the Last Season of STEELERS: Same Old Steelers
The 2020 Steelers should be remembered for having one of the strangest seasons in NFL history. Even at 10-0, something just felt off about the team despite the historic company it found itself in. The 2020 Steelers are only the fourth team in NFL history to start 10-0 and score at least 24 points in every game, joining the 2007 Patriots, 2009 Saints, and 2011 Packers. Those teams were offensive juggernauts with Tom Brady (MVP), Drew Brees (Super Bowl MVP), and Aaron Rodgers (MVP) respectively having the best season of their careers.
While the Steelers were thrilled to get Ben Roethlisberger back after he missed all but six quarters in 2019, he was not at his best in 2020. He was not at his worst either, but he was certainly a different quarterback trying to throw the ball quickly and short in a way he never has before. Very rarely did the gunslinger and sandlot football tendencies show for Roethlisberger, but he was doing a fine job on third downs, throwing touchdowns and avoiding interceptions, and the Steelers kept winning despite a schedule that was manipulated multiple times due to COVID outbreaks from Pittsburgh's opponents.
The Steelers walloped the Browns 38-7, beat the 5-0 Titans 27-24 in Tennessee, and turned Lamar Jackson over four times to win in Baltimore. But it was during that stretch where the offense started to become painfully one-dimensional. Roethlisberger led the Steelers to a difficult comeback win in Dallas despite the Cowboys starting Garrett Gilbert at quarterback. A week later the Steelers made short work of the Bengals in Joe Burrow's first clash with the team, but the offense still only rushed for 44 yards.
The Steelers became the first team in NFL history to win three straight games without rushing for 50 yards in any of them. Pittsburgh made it to December at 10-0, but that was when things started to fall apart. After a rematch with Baltimore was rescheduled multiple times, the teams finally met on a Wednesday afternoon of all things. Baltimore had several important players out with COVID, but the Steelers played a sloppy game and struggled to put them away. The 19-14 win was the first time all season Pittsburgh failed to score at least 24 points.
Things only got worse from there. Just five days later, the Steelers were back in action against Washington. Despite a 14-0 lead, Pittsburgh faltered on two fourth downs and the defense let Washington take a late lead. The dropped passes and mistakes were worse than the Baltimore game and the Steelers suffered their first loss of the season, 23-17. Do you see it for your future NFL odds?
Against a hot Buffalo team, Pittsburgh played poorly on both sides of the ball, but especially on offense in a 26-15 loss. Then the Monday night game in Cincinnati happened. Despite being a 14.5-point road favorite, the Steelers played arguably their worst first half of the Roethlisberger era. The offense had five punts and three turnovers in the first half. A rally attempt fell short, and the Bengals won 27-17, cementing a four-game run where the Steelers sunk lower and lower on offense.
In Week 16 against the Colts, the Steelers found themselves down 24-7 in the third quarter before a vintage Roethlisberger performance led to a 28-24 comeback win. That locked up the AFC North and allowed the Steelers to rest starters in Week 17 in Cleveland, a 24-22 loss that put the Browns in the playoffs for the first time since 2002.
With the way Cleveland fared against Pittsburgh's starters earlier in the season and a meager win over Mason Rudolph and the backups in Week 17, no one was expecting what would happen to begin the wild card rematch. On the first play from scrimmage, center Maurkice Pouncey snapped the ball over Roethlisberger's head and the Browns recovered for a touchdown. Roethlisberger then threw an interception and the Browns were quickly in the end zone again. Cue another turnover and Nick Chubb looking unstoppable on the ground, and the Browns left the first quarter with a 28-0 lead, the largest lead after a quarter in NFL playoff history.
Pittsburgh actually outscored Cleveland 37-20 the rest of the way, but Tomlin's poor game management cost the team again. The Steelers had a chance to go for a fourth-and-1 at midfield down by 12 points to start the fourth quarter. Instead, Tomlin punted and the Browns were in the end zone a few minutes later to make it 42-23. Game over. Season over. Only a 17-point comeback against the Colts saved the Steelers from losing six straight after the 11-0 start.
While Pittsburgh had a season-high five turnovers in the playoff loss, the defensive no-show is worth noting. In their last 78 games, the Steelers defense has registered a sack and/or takeaway in 76 of them. The only two games where they didn't get a sack or turnover were their last two playoff games at home against the 2017 Jaguars and the 2020 Browns.
The Notable Changes for 2021
Most teams would sound the panic alarm if they lost four offensive line starters in the same offseason, but for these Steelers, it honestly is no big deal. The line was a huge weakness last year and it is hard to see how things could get any worse. The Steelers got zero push up front in the running game, could not convert short-yardage runs when their season depended on it, and Roethlisberger got rid of the ball faster (average time to throw of 2.3 seconds) than any quarterback in the last five seasons according to Next Gen Stats.
Center Maurkice Pouncey and right guard David DeCastro made the Pro Bowl entirely on reputation rather than 2020 performance. When Pouncey botched that opening snap in the playoff game to start the 28-0 avalanche, that should have been all the evidence he needed to retire as he later did. DeCastro was not healthy and was released this summer. He will be replaced by Trai Turner, who has 89 career starts. Alejandro Villanueva was a declining left tackle and players like Matt Feiler are replaced all the time.
The line was never going to be a strength for this team. Maybe the biggest downside to that is the negative impact it could have on first-round pick running back Najee Harris. He could really do some damage with a mauling line in front of him, but the hope is that his talent will lead to better runs than what the Steelers got out of James Conner and Benny Snell last year. Pittsburgh finished dead last in rushing yards and yards per carry (3.6) in 2020.
At the very least, Harris should help as a goal-line back and he also is a capable receiver. The Steelers also drafted Penn State tight end Pat Freiermuth in the second round. Think a poor man's Heath Miller without the chant-worthy name. Eric Ebron will continue to get most of the tight end targets behind the same young wide receiver group from last year that had its ups and downs.
Defensively, the Steelers are mostly returning the same unit from last season. They did not sign any free agents of note or draft a defender until their fifth pick in the fourth round. Linebacker Bud Dupree signed for big money in Tennessee, but Alex Highsmith can fill that role in his second season. The Steelers already have three proven pass-rushers in Cameron Heyward, Stephon Tuitt, and T.J. Watt is a favorite for Defensive Player of the Year. Former first-round pick Devin Bush is also back after missing 11 games last season. Steven Nelson won't be missed in the secondary after allowing a team-high seven touchdown catches.
The Steelers are the only team in NFL history to have three straight playoff games where they allowed at least 36 points and had zero takeaways. When you consider that fact, then maybe giving defensive coordinator Keith Butler the same group of toys to play with does not sound that encouraging. But of course, the attention is still going to be on the offense.
Fixing the NFL's Most Predictable Offense
The man to fall on the sword for Pittsburgh's latest playoff letdown was offensive coordinator Randy Fichtner. He was always in over his head for the job, but 2020 showed an incredible lack of adjustments or imagination. Unfortunately, the Steelers could be stuck in the same position after staying in house and promoting Matt Canada to offensive coordinator. Fichtner was a Tomlin hire back in 2007 and was the quarterbacks coach since 2010 before he was promoted to OC in 2018. Canada is only in his second season with the Steelers, but guess which position he held last year? He was the quarterbacks coach.
The Steelers are walking Canada down the same path they walked Fichtner, so does anything actually change this year? Trust plays a huge part with this offense. Did Roethlisberger trust his line and body a year after elbow surgery to hold the ball and take hits? It did not appear he did, hence the fastest release time by any quarterback in at least five seasons. While it kept the sacks very low, it came at the detriment of the offense in hitting big plays. Roethlisberger had a career-low 9.5 yards per completion and 6.3 yards per attempt in this dink-and-dunk offense. He had 13 passes batted at the line, second only to 5-foot-10 Kyler Murray (14) in Arizona, as defenses wised up and started sitting on those short throws they knew were coming.
With the worst rushing attack in the league, the Steelers felt they could not use play-action passing, so Roethlisberger used that less often than any quarterback. Play-action is basically a cheat code for offenses, but the Steelers continue to ignore it because they think you need to run the ball well for it when all studies show that is false. According to Next Gen Stats, the Steelers have had the lowest usage rate of play-action on first down for five straight seasons, even extending back to the Le'Veon Bell era (2016-17).
Does adding a back like Najee Harris change their philosophy towards play-action? Not likely, meaning it will be an offense that is almost exclusively shotgun and no early shot plays using play-action. Roethlisberger used play-action on 7.9% of his passes last year while other starters averaged 21.7%. The other problem is replacing Antonio Brown, which the team still seemingly has no plan for after two seasons to do so.
When JuJu Smith-Schuster was Brown's teammate in 2017-18, he was very effective. He even scored a 97-yard touchdown in each of his first two seasons. But JuJu's average depth of target dropped from 8.8 yards in 2018 to just 5.5 yards last season. He only averaged 8.6 yards per catch as so many of his routes were drag routes or quick slants. Defenses rarely had to worry about him running 10 yards down the field.
JuJu gets a lot of negative attention, justified or not, for his social media usage, but he is a talented receiver and can still be effective if used properly. He can play the slot and be used on intermediate and deep routes. When the Steelers used him like a normal receiver against the Colts and in the playoff game, he had big production.
The Steelers had three wideouts last year with at least 800 yards but no one over 1,000 yards. This should be an advantage to Pittsburgh with defenses not being able to key in on anyone in particular, so Roethlisberger can pick his best matchup that week. But the way they used these receivers is bad. Chase Claypool had a nice rookie campaign but should develop as more of a deep threat this year. Diontae Johnson is the closest thing to filling Brown's shoes, but he had the drop problems last year (15 drops including the playoff game) for a team that led the NFL with 39 dropped passes. They must clean that up, but the design of the routes was the biggest problem with this offense last year.
A baseball team cannot hit a home run by bunting. In football, you cannot expect to consistently move the chains if your passes are thrown so short of the sticks and your running game is trash. Roethlisberger and Canada are going to have to work together to come up with an offense that takes more chances down the field, and some of that has to be the 39-year-old's willingness to hold the ball longer with his new shaky line, extend the play, take some hits, and do the things that have served him so well in a Hall of Fame career.
Last year was a different approach. It worked for a couple months, but as the end of the season showed, you might not be able to win a game in this league being this predictable and one-dimensional.
Prediction
It is understandable why so many prognosticators are down on the Steelers given the way last season ended. But perhaps the most valid argument against Pittsburgh continuing its streak of non-losing seasons is this brutal 2021 schedule. The Steelers have 10 games against playoff teams from 2020.
They have five road games against teams that won at least 11 games last year, including early trips to Buffalo and Green Bay and late trips to Kansas City and Baltimore (Week 18 finale). Those could easily be four losses, and we have not even gotten into the possibility that Joe Burrow takes a big step forward with the Bengals, Justin Fields is the real deal for the Bears (Week 9), and the Browns were not a one-year wonder. The closest thing to a "gimme game" is hosting the Broncos and Lions.
Of course, the Ohio teams and Chicago offense could disappoint as usual, setting the Steelers up for a 7-4 start heading into December. That was when things started to fall off the rails last year and it could easily happen again with a finish of Ravens, at Vikings, Titans, at Chiefs, Browns, and at Ravens. With how things look today, it is hard to say the Steelers will win more than two of those games, and a 1-5 finish would not exactly be shocking.
So, you can see why the line being at 8.5 games is quite reasonable for this team. For my NFL picks, I am going to trust my gut on this one and go for that 9-8 finish that may be good enough for a final wild card spot. I do not believe Roethlisberger is coming back to play for the first losing team of his career, so the Steelers will run the ball better, use their receivers better, and the defense will be good enough to get the team above .500 again.
But do I think Harris is some Terrell Davis-type of back who will help carry Roethlisberger to another Super Bowl and retire on top a la his idol John Elway? No, but hopefully he won't be another Rashard Mendenhall (Super Bowl XLV) or Fitzgerald Toussaint (2015 AFC Divisional at Denver) and fumble away what should be the final season in the Roethlisberger era in Pittsburgh.
2021 Steelers Over/Under Pick: Over 8.5 wins (+100) at Bovada (visit our Bovada Review)
*The line and/or odds on picks in this article might have moved since the content was commissioned. For updated line movements, visit BMR's free betting odds product.