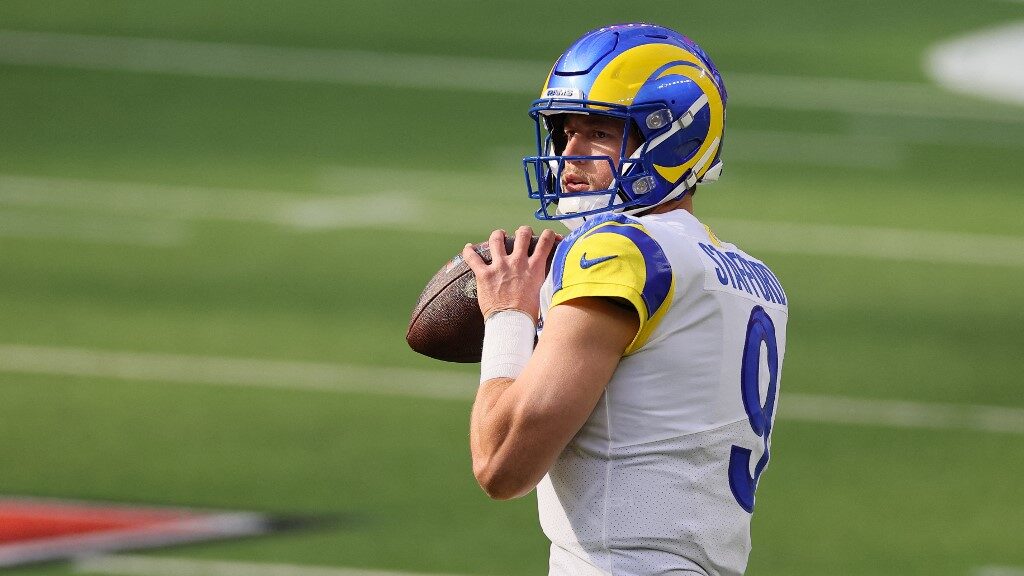 The Los Angeles Rams followed Tampa Bay's 2020 blueprint by bringing in a veteran quarterback to a talented NFC roster and immediately winning the Super Bowl in the team's home stadium in February. While copying that strategy paid off, now the Rams must try to repeat, something no team has done since the 2003-04 Patriots. It is the longest drought in NFL history without a repeat champion.
The Rams are actually behind the Buccaneers in the NFL futures odds for this year's Super Bowl winner, due in part to a tougher division in the NFC West. They both trail Buffalo, Los Angeles' opponent on opening night. But the Rams are still getting an Over/Under line of 10.5 wins at many of the top-rated sportsbooks. Should you trust or fade these champs?
Seven of the last eight Super Bowl winners made the playoffs the following season. Only the 2016 Broncos (9-7) missed after Peyton Manning retired.
---
The Notable Changes for 2022
Like all Super Bowl winners before them, the Rams now deal with overcoming complacency and finding a different path to the same endpoint. If it was easy, someone else would have done it in the last 17 seasons.
The 2021 Rams have the feel of a team that reached the summit after a long journey rather than a quick climber who is not ready to come back and join the mere mortals.
Let's review some of the key changes in personnel and mindsets for the most important parts of the defending champs.
The Wunderkind Coach
Sean McVay, widely considered one of the most influential coaches in the game, was building up this system for five seasons before breaking through for his first ring. He is still just 36 years old, but how many of his assistants can he lose to better coaching jobs before he's overworked?
Offensive coordinator Kevin O'Connell is the latest departure after taking the Minnesota Vikings head coach job. He will be replaced by Liam Coen, who has been on the offensive staff since 2018.
We already saw the Rams dip from a top-ranked scoring defense in 2020 under coordinator Brandon Staley, the current Chargers head coach, to an average one in 2021 under Raheem Morris.
A similar drop for the offense is not likely as the offense is more consistent in this game than defense, but with much of the league looking to hire a McVay assistant, it is a risk to trust these in-house promotions will keep working out.
Donald Done Soon?
Defensive tackle Aaron Donald will go down as the best defender of his era, but the word "retirement" has already come up this offseason.
He is 31 now, but the Rams making him the first non-quarterback to make over $30 million per season should keep him around for at least a couple more seasons.
There is no reason Donald should not be dominant again in 2022 and a contender for Defensive Player of the Year, but once a player starts saying he's "at peace" with his career accomplishments, there is a valid concern about just how much drive he has left to be the best now that he's won a ring.
Goodbye to Veteran Mercenaries
The Rams have been so aggressive at acquiring proven, veteran talent under general manager Les Snead. They are not done doing that as they added future Hall of Fall linebacker Bobby Wagner from rival Seattle this year, and an in-season trade is never out of question either.
But many of those key additions and unsung heroes, especially the players added in 2021, are either retired or have moved on to other teams.
Von Miller took his talents to Buffalo after becoming the second player in NFL history with multiple sacks in multiple Super Bowl games.
Odell Beckham Jr. remains a free agent after he tore his ACL during the first half of Super Bowl LVI. He played some of his best ball in the championship games.
There is still a chance he could return to the Rams, but after a serious February injury, his 2022 status is in doubt.
Safety Eric Weddle had not played in the NFL since the 2019 season, but the Rams signed the 37-year-old late in the season and he ended up making two playoff starts before securing his first ring.
He announced his retirement as did left tackle Andrew Whitworth, the 40-year-old who went out on top against his former team.
Whitworth leaves an opening at left tackle, which is expected to be filled by Joe Noteboom, who has only made 17 starts in his four seasons with the Rams.
With the way the Rams trade picks, they once again did not select anyone in the top 100 picks in April's draft. Expectations are low for their rookie draft class, so the stars have to keep carrying the team, which they did a fine job of in the playoffs last year.
But the loss of Whitworth and the potential of third-round rookie guard Logan Bruss starting suggests that the offensive line could take a step back in 2022.
With Apologies to Matthew Stafford
In a dozen seasons with the Detroit Lions, Matthew Stafford was 8-68 (.105) in games against teams that finished the season with a winning record. It was a shockingly bad record even if he had played much better than an 8-68 quarterback in those games.
But after the Rams lost four of their last five games against winning teams going into the playoffs, and Stafford tied for the league lead in interceptions, it was fair game to wonder again if he could get the job done in the playoffs.
As it turns out, he went from an 8-68 record to a 7-5 record against winning teams in 2021, nearly matching his career wins in one season. He also replaced the "best win of his career" about five times during a season that saw him throw 41 touchdowns, tied with Kurt Warner (1999 Rams) for the most in NFL history by a quarterback who won the Super Bowl that season.
Stafford won this Super Bowl in a postseason where his running backs fumbled four times in Tampa Bay and also produced 19 carries for just 30 yards in the Super Bowl.
Stafford's 35 fourth-quarter comeback wins, including five in 2021, now rank sixth in NFL history, and the other 12 players with at least 30 are all likely Hall of Famers. No player in the NFL last year did a bigger boost to their Hall of Fame chances than Stafford.
It would be easy to point out that Stafford rarely stacked his best seasons in Detroit, or that the two times he won double-digit games, he was 4-12 and 7-9 in the next seasons. But if 2021 taught us anything, it's that he's not in Detroit anymore, and a lot of firsts are on the table for him with McVay and a talented roster in Los Angeles.
Cooper Kupp and Regression
Perhaps the main reason for Stafford's success in his first run with the Rams was wide receiver Cooper Kupp having arguably the greatest wide receiver season in NFL history:
Including the playoffs, Kupp is the first player in NFL history to break 2,000 receiving yards in a single season with 2,425 yards in 21 games.
Including the playoffs, Kupp's 178 receptions are 22 more than the previous record held by Michael Thomas (156) for the 2019 Saints.
Kupp became the NFL's fourth receiver since the 1970 merger to win the triple crown for receivers, leading the league in catches (145), yards (1,947), and receiving touchdowns (16) in the regular season.
Kupp had at least 5 catches for 60 yards in all 21 games. The only longer streak in NFL history belongs to Antonio Brown (24 games in 2013-15).
Outside of two home games against Arizona, Kupp had at least 92 receiving yards in the other 19 games.
Kupp's streak of 13 games with 90-plus receiving yards is the new NFL record, breaking Michael Irvin's record of 11 games.
Kupp had 142 yards and 2 touchdowns in the NFC Championship Game against the 49ers, making him the only player in NFL history to have five games in a season with at least 130 receiving yards and 2 touchdown catches.
Kupp was named Super Bowl MVP after catching 8 passes for 92 yards, 2 touchdowns, and he had a 7-yard run on a fourth-and-1 to save the game-winning drive that people tend to forget about.
In hindsight, we probably should have given Kupp the regular season MVP over Aaron Rodgers, because he really was that consistently spectacular. The playoff run just puts his season over the top.
Will Cooper Kupp Downgrade?
It is hard to see the Rams being better in this area as how does one improve on the best receiving season ever? Only Calvin Johnson (2011-12) and Antonio Brown (2014-15) have ever had at least 1,600 yards in consecutive seasons in NFL history. No one has had 1,700 yards in consecutive seasons, though Brown was two yards shy of it and Kupp will have a 17th game to do so.
But chances are Kupp will have some down games in 2022, and the Rams will have to pick up the slack without Robert Woods and likely without Odell Beckham Jr. The team still has Van Jefferson, but he had a quiet postseason (102 yards in four games) and is not a better starter than Woods or Beckham.
The Rams added Allen Robinson, who has been plagued by a lot of bad quarterback play everywhere he's been in the NFL. Robinson had just 410 yards in 12 games for the Bears last year. Stafford will be the best quarterback Robinson's ever had, but again, it is hard to see this year's receiving corps outdoing last year's performance.
On the bright side, the running game could be better for the Rams in 2022 since Cam Akers, their most explosive back, should be healthier after returning late in the season.
---
Hunger Games: It's Not Just About the Rams
Finally, the simple fact about the difficulty of repeating is that it's not just about what happens with your team or how complacent you get after winning a ring. Many times, someone else just gets better and wants it more.
As much as the Rams may want to repeat, they may not want it more than a talented Buffalo Bills team that is still looking for the franchise's first Super Bowl after blowing a lead with 13 seconds left in Kansas City Chiefs last year.
Speaking of the Chiefs, they feel like they should have been playing these Rams in the Super Bowl after blowing an 18-point lead in the AFC Championship Game. The last time the Rams played the Chiefs, it was a 54-51 game in 2018.
But you never know when it could finally be the year for the Dallas Cowboys and Mike McCarthy, or for McCarthy's former team, Green Bay, to finally return to a second Super Bowl with Aaron Rodgers. You know Tom Brady is not going to want to go out without another Super Bowl, but these Rams still may be the best team in the NFC to stop the Tampa Bay Buccaneers.
There is also the division where Arizona could be better if it ever finishes a season strongly, and San Francisco is a real wild card with Trey Lance taking over at quarterback. Maybe next time, Jaquiski Tartt doesn't drop an easy Stafford interception at midfield in the fourth quarter of a playoff game. Maybe Lance is the next big thing at quarterback in this league and does not implode like an injured Jimmy Garoppolo did.
The Rams will face all seven teams just mentioned in the regular season, and potentially some of them again in the playoffs. The NFL odds are against any team for repeating, but we'll just have to see which way the ball bounces.
---
2022 Rams Prediction
McVay has always had a winning record, this schedule should make it challenging to easily go over 10.5 wins. Sweeping the Cardinals or 49ers in the division is no easy feat, and the Rams will have some good home challenges on opening night from Buffalo and on Christmas from Denver.
The key fact is the Rams have to travel to four of the top contenders this season in Kansas City Chiefs, Tampa Bay Buccaneers, Green Bay Packers, and Los Angeles Chargers. At least that last one will be at SoFi Stadium, but the Super Bowl will not be there again this year for the Rams.
Even if the Rams take a step back, that could still mean a playoff season with 10 or 11 wins. So, no matter which way you go on your NFL picks, this one is likely not getting decided until Week 18.
While the last three defending champions increased their win total from the previous year, that was after a stretch of seven seasons where they failed to do so. The Rams did not underachieve last year, and this team is not reloaded for a stronger run to repeat, but I still like the over 10.5 wins to hit.
2022 Rams Wins: Over 10.5 Wins (-130) at Bovada (visit our Bovada Review)

---
On the Last Season of "The Rams": Screw Them Draft Picks
The Rams certainly did not come out of anywhere to win a Super Bowl last year. Head coach Sean McVay knew nothing but winning records in his first four years, but he watched his offense come up well short in his last two postseason trips.
After aggressively trading for Detroit quarterback Matthew Stafford, the Rams were poised to make the fifth year the charm for McVay.
The team was among the talk of the NFL in the first half of the season. The Rams convincingly won their key Week 3 showdown with Tom Brady and the Buccaneers with a dazzling display by Stafford in arguably the biggest win of his career to that point. It would be a distinction he would reset multiple times during the year, but first, the Rams had to shake off a slump midway through the year.
The Slump
While Stafford was great against the Buccaneers, the team played flat at home against the surprisingly undefeated Cardinals in Week 4. It became the only loss for the Rams during a 7-1 start, but Stafford's numbers were great, wide receiver Cooper Kupp was dominating every week, and Aaron Donald led a championship-caliber defense.
But the Rams were facing the weakest teams on their schedule. By the time November came, the Rams ran into a three-game losing streak against three playoff teams: Titans, 49ers, and Packers. Stafford reverted to his Detroit form with a pick-six in each game. Wide receiver Robert Woods was lost for the season with a torn ACL.
The Rams hoped to compensate with trades for star-wideout Odell Beckham Jr. and future Hall of Famer Von Miller from the Broncos.
A winless November was followed by a five-game winning streak, including a big win in Arizona to split the season series. But with Stafford throwing 7 picks in his last three games to finish tied for the league lead with 17 interceptions, there were some familiar concerns about trusting him in big games against good teams.
The Super Run
Stafford's last pass of the regular season was a game-ending interception in overtime against the 49ers after the Rams blew a 17-point lead. That allowed the 49ers to make the playoffs, which may have been a blessing in disguise as the 49ers knocked out the top-seeded Green Bay Packers in the divisional round.
But before the Rams could avenge their San Francisco loss, they had to take care of the Cardinals and Buccaneers again. Stafford got a full team effort in his first playoff win against Arizona as the defense forced Kyler Murray into one of the ugliest pick-sixes of the season in a 34-11 win.
In Tampa Bay, the Rams faced arguably their stiffest test of the season: overcoming Tom Brady's playoff luck.
Despite the Rams taking a 27-3 lead, a series of bad fumbles, and a 47-yard field goal that came up short eventually led to a tied game in the final minute. But Stafford was able to read the blitz and complete a bomb to Kupp to set up the game-winning field goal.
Stafford was 0-53 in his career when his team allowed more than 24 points against a team with a winning record. He'll take a 1-53 record into 2022 after that 30-27 win in Tampa Bay.
The Rams got to host San Francisco in the NFC Championship Game instead of traveling to Green Bay against a team they have struggled with. Of course, the 49ers had won six straight meetings with the Rams, so this was a difficult matchup too.
The 49ers led 17-7 going to the fourth quarter before Stafford led his most notable fourth-quarter comeback in the NFL.
Sure, he caught a break when the 49ers dropped an interception during the rally, but his defense came through by forcing Jimmy Garoppolo into a game-ending interception.
In Super Bowl LVI, the Rams became the first team in NFL history to win three straight playoff games by three or fewer points. It was another tough battle with Cincinnati, made even tougher by an injury to Beckham in the first half when the Rams looked to be in rhythm.
After the Bengals took a 17-13 lead, Stafford's second interception seemed to change all the momentum towards Cincinnati, but Donald and the defense made sure the Bengals would only add a field goal despite the great field position.
In the end, the ability to get pressure and sacks on Joe Burrow proved greater than the Bengals picking off a couple of Stafford's passes. In the fourth quarter, Stafford led a game-winning touchdown drive with the game-winning pass going to Kupp, who capped off arguably the greatest wide receiver season ever by winning Super Bowl MVP honors.
On fourth down at midfield, Donald cemented his legacy and the championship with a pressure on Burrow to force an incompletion.
For a team that has not made a first-round pick since 2016, the Rams finally got everything to work in their favor in 2021. It may not be a repeatable strategy or one that another team should even dare copy, but it worked for this group.