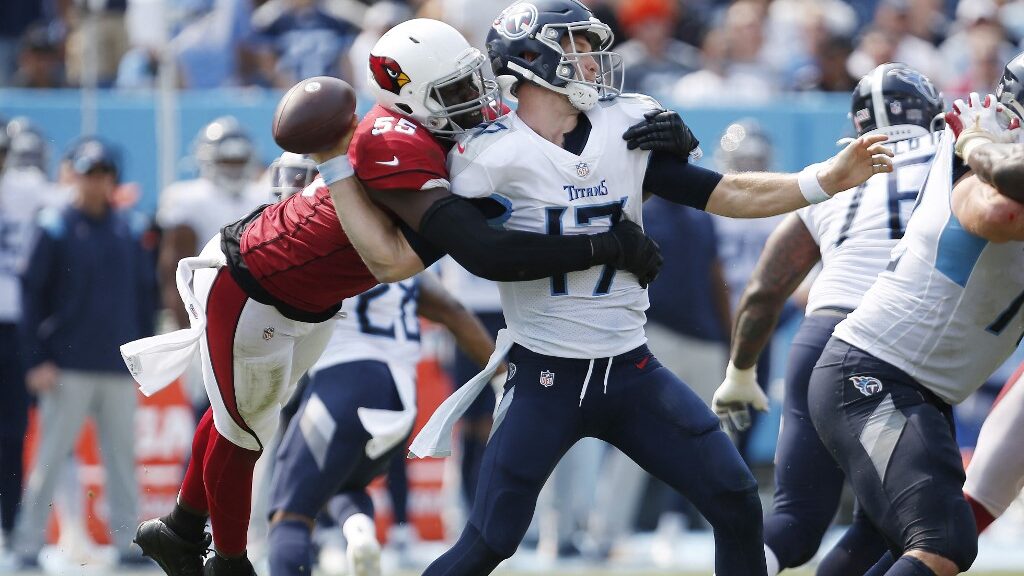 The Tennessee Titans have quietly put together the second-longest active streak of winning seasons in the NFL at six, behind only Kansas City (nine). Last year looked like it was going to be the one that pays off with a championship after the Titans finished 12-5 to claim the top seed in the AFC while already having dominant wins over the Chiefs and the eventual champion Rams.
But even with the offensive weapons getting healthy for the playoffs, things ended as they often do for the Titans when they are the No.1 seed – a home playoff loss.
Echoes From the Past
Echoing 2000 and 2008, the Titans fell flat at home offensively against the Bengals in the divisional round. Ryan Tannehill struggled and threw a back-breaking interception late in a playoff game for the second year in a row as the Titans fell 19-16.
Expectations are dropping for the Titans. They are no longer the favorites in the AFC South division after the Colts acquired quarterback Matt Ryan. Many of the top-rated sportsbooks have the Titans with an over/under of 9 wins.
Coach of the Year winner Mike Vrabel has always won at least nine games in his first four seasons, but should we still trust the Titans and especially Tannehill after another playoff flop?
PLAY NOW: $25,000 Free-To-Play NFL Contest: BMR's 2022 Pick'Em Pool Opens for Registration
---
The Notable Changes for 2022
---
The Titans are largely running it back with the same cast in 2022, except for a very serious change in the wide receiver corps with the departure of A.J. Brown, who'll be missed.
Bye Bye Brown
In an offseason dominated by No. 1 wide receiver movement, the Titans shocked everyone by trading 25-year-old receiver A.J. Brown to the Eagles. While Brown's efficiency metrics have dropped each season, injuries had to at least be part of the problem in 2021. The Titans were 10-3 when he played more than eight snaps in a game last year.
Brown was crucial in some of the team's biggest wins over the:
Colts (155 yards and a touchdown)
49ers (145 yards and a touchdown)
Chiefs (133 yards and a touchdown).
Even in the playoff loss against the Bengals, he looked like the team's best offensive player with 142 yards and a touchdown.
Less surprising was Julio Jones not returning to the team after one season. Now 33 years old, Jones had a career-low 434 yards in 10 games for the Titans.
Into the (Robert) Woods We Go
The Titans are going to look very different at wide receiver this year after replacing Brown and Jones with Robert Woods (Rams) and first-round rookie Treylon Burks (Arkansas).
So, the team is not without a plan, but it is hard to see this as anything but a downgrade for 2022. Woods will be a better free agent than Jones was, but he is more like giving Tannehill another Jarvis Landry – think of their Miami days – than he will be like Brown, who could stretch the field better.
Woods is also coming off a torn ACL, is 30 years old, and you never know how these connections will work out. Woods was not at his sharpest with Matthew Stafford in their half of a season together in Los Angeles last year.
As for Burks, he has good size (6'3") and consistently averaged just over 16 yards per catch in his three seasons at Arkansas. His best season was his last season with 1,104 yards and 11 touchdowns. He scored a touchdown in his final preseason game.
Early in the season, Nick Westbrook-Ikhine could see a lot of action as the most trusted receiver to return to the team this year. The Titans, who did not have a tight end break 300 yards last year, also added tight end Austin Hooper, but he was a bust in Cleveland the last two years.
It is not the most encouraging collection of skill players.
Is Ryan Tannehill His Generation's Jake Plummer?
An athletic but flawed quarterback leaves his drafted team for a better system and supporting cast. He immediately has the best statistics of his career, leads the team to the playoffs three years in a row, and even wins a playoff game over Tom Brady and Bill Belichick, but he always gets bounced short of a Super Bowl with one trip to the AFC Championship Game.
In Year 4, this quarterback, now approaching his mid-thirties, starts to implode offensively. He gets benched for a draft pick and the team never looks back as he retires.
The quarterback just described was Jake Plummer, but it could end up being Ryan Tannehill as well. Plummer went from Arizona to Denver and had a good three-year run, but it was clear there were limitations that he would not overcome in a conference with:
Tom Brady
Peyton Manning
Ben Roethlisberger
The Titans may not be facing anything that loaded, but the AFC is so deep right now with Matt Ryan and Russell Wilson joining the ranks this year. Can the Titans ever get to a Super Bowl with a quarterback who averages 150.8 passing yards per game in the postseason like Tannehill?
His 2021 season is so hard to analyze because of the injuries to the three main skill players.
When Tannehill did not have Julio Jones and A.J. Brown on the field, he averaged just 5.5 yards per attempt.
On the small number of plays (10.9% of his dropbacks) where Jones/Brown/Henry were on the field together, Tannehill averaged 9.4 yards per attempt (source: Warren Sharp).
Red Alert I
Yet, with those players all available to him in the playoffs, Tannehill coughed up three bad interceptions against the Bengals. On the heels of what happened against the Ravens in the playoffs the previous year, trust is at an all-time low for Tannehill.
But the Titans did not use a very high draft pick for a replacement. Expectations were for Liberty quarterback Malik Willis to go in the first round in April, but he slid to the third round and 86th pick by the Titans. He did not have the kind of preseason success that gave past teams confidence in their mid-round rookie starters such as Russell Wilson and Dak Prescott.
If Tannehill were to falter this year, it is possible we could see Willis start some games.
Derrick Henry: Red Alert II
Last year, we highlighted several areas of regression for the Titans. They still ended up going a respectable 5-3 in close games and were strong again at No. 5 in scoring touchdowns in the red zone. But one area that finally caught up to them was the health of Derrick Henry, the league's top workhorse back.
After leading the NFL in carries two seasons in a row, Henry finally cracked and had the most significant injury of his career. He suffered a Jones fracture in his foot, which caused him to miss the last nine games of the regular season. Even in the two games before his injury, Henry was held under 3.0 yards per carry.
Now 28 years old, are Henry's days as a workhorse over? Do the Titans really need to invest in a decent backup if they want to run the ball this often? In his last three playoff games, which were all losses, Henry has rushed for 69, 40, and 62 yards while averaging under 4.0 yards per carry each game. That tank is running on empty by the time the team gets that far.
Even last season, Henry's rushing success rate was plummeting according to Football Outsiders:
2016 – 55% rushing success rate, ranked 6th
2017 – 48% rushing success rate, ranked 15th
2018 – 51% rushing success rate, ranked 16th
2019 – 51% rushing success rate, ranked 17th
2020 – 57% rushing success rate, ranked 7th
2021 – 45% rushing success rate, ranked 42nd
It is possible Henry has one more dominant season left in him, but given the nature of the running back position, it is more likely we are going to see continued performance decline from him after the Titans overworked him since 2019.
Is the Defense Good Enough for a Super Bowl?
Defensive consistency is hard to come by in the NFL, but the Titans were one of the most improved units in 2021 after promoting Shane Bowen to defensive coordinator. He returns along with a stunning number of the starters from last year, including all three Pro Bowl players.
Harold Landry, Denico Autry, and Jeffery Simmons gave the Titans a strong three-man pass rush last season with Landry (12.0 sacks) and Simmons (8.5 sacks) earning their first Pro Bowl. The Titans will also look for more out of Bud Dupree, two seasons removed from his serious knee injury in 2020.
The secondary is all homegrown draft picks, led by Pro Bowl safety Kevin Byard, and the team also drafted corner Roger McCreary in the second round. Veteran corner Janoris "Jackrabbit" Jenkins was released in March, but he was not at his best last season as the most targeted player on the defense.
Unproven First-Rounder
The Titans are still waiting to see what they have in corner Caleb Farley. The 2021 first-round pick only played in three games last season before tearing his ACL. Injuries in college led to him dropping in the draft, so he has to prove he can stay healthy.
It is safe to say a defense that can hold Patrick Mahomes and the Chiefs to three points, force Matthew Stafford into multiple picks, and sack Joe Burrow nine times in a playoff game is capable of winning a championship. The defense was not the unit that let down the Titans last year, and it was not the main issue in the playoff loss to Baltimore the prior season either.
Will the Titans be able to improve or maintain last season's defensive performance? That may be tough, but a lot of the right pieces are still here.
2022 Season Prediction
We saw last year that injuries to key skill players and tough opponents could not prevent the Titans from still earning the No. 1 seed with a 12-5 record. But good luck to any team in trying to repeat that.
The Brown trade is going to lead to regret after the Tannehill-Henry offense falters this season. The defense will not be good enough to salvage a ridiculously tough schedule that features the:
On top of that, they also face what should be a better Indianapolis Colts team.
Those are just the home games. The Titans travel to Buffalo and Kansas City instead of hosting them like last year. They also have road games with the:
Philadelphia Eagles
Indianapolis Colts
Vrabel has been good enough as a head coach for things to not completely fall apart but taking the under 9 wins feels like one of the safest bets for your NFL picks.
NFL Pick: Tennessee Titans Season Wins Under 9 (-125) at Bovada (visit our Bovada Review)
---
On the Last Season of "The Titans": Fun Regular Season Leads to Eyesore Playoff Exit Part II
---
It should be noted that the above title was the same for Tennessee's 2020 season.
It will be interesting to see how history remembers this Tennessee run. When the Houston Oilers made the playoffs seven years in a row in 1987-93, they were infamous for blowing leads, including a record 32-point lead in Buffalo, and never getting past the second round.
These Titans have been to an AFC Championship Game in 2019, but they have dropped back-to-back home playoff games with Ryan Tannehill putting up some very unimpressive numbers in January starts.
The 2021 Tennessee Titans are an especially perplexing team because they earned the No. 1 seed in historic fashion, yet you almost knew you could never trust them in the playoffs.
The Slow 3-2 Start
The Titans were blasted 38-13 at home by the Cardinals in Week 1, though little did we know the Cardinals would start 7-0 last season. Tennessee came back in typical Tennessee fashion from a 14-point fourth-quarter deficit in Seattle to win an overtime game.
But the Titans also dropped a winnable overtime game against the lowly Jets in Week 4. That game was the start of some wide receiver issues as A.J. Brown and Julio Jones were both inactive.
The Historic Winning Streak
In Week 6, the Titans hosted Buffalo, which was coming off a huge win over the Chiefs in prime time. But the Titans delivered in a shootout with Derrick Henry rushing for 143 yards and three touchdowns. Josh Allen was stopped on a late fourth-down run to preserve the 34-31 win.
This started a crazy five-game winning streak for the Titans over five teams that made the playoffs the previous year.
A week later, Tennessee handed Patrick Mahomes the biggest rout of his career in a 27-3 win. In Week 8, the Titans erased a 14-0 deficit in Indianapolis and tortured Carson Wentz on the way to a 34-31 overtime win, a key win in the division battle to complete the sweep over the Colts.
But after Henry was injured and feared being lost for the season, where was this team going to be? They rely so much on him offensively. The Rams were hosting the Titans on Sunday Night Football in Week 9, but some good old-fashioned pressure on Matthew Stafford forced the quarterback into a pick-six. The Titans did not even break 200 yards of offense, but two Stafford picks made the difference in a 28-16 win.
Finally, the Titans held off the Saints in a 23-21 win to improve to 8-2. Vrabel should have wrapped up Coach of the Year by this point.
A Sloppy Month
Getting into late November, the injuries to Henry, Brown, and Jones were starting to compound and be detrimental to the offense's efficiency. The Titans ended up losing three of their next four games with turnovers being the main culprit. Tennessee coughed up the ball five times against Houston and four times each against New England and Pittsburgh in ugly losses.
During this month, Tannehill threw six interceptions against two touchdowns, averaged 5.59 yards per attempt, and had a 66.4 passer rating. The Titans scored just 13 points in all three losses.
Brown Returns in Time
The Titans hosted San Francisco in a big Thursday night game in Week 16. Brown made his return count with 145 yards and a touchdown as the Titans won 20-17 on a late field goal.
The Titans won their next two games to finish 12-5 and clinch the No. 1 seed and home-field advantage in the playoffs. The 2021 Titans also finished with eight wins against teams with a winning record, the most in NFL history. They also had the best win percentage (8-3, .727) in such games in a season in NFL history (min. nine games).
Were those records a little inflated by the new 17th game? Yes, the Saints and Dolphins were able to get a ninth win in Week 18 to finish with winning records (9-8) that otherwise would have been .500 in the past. But the Titans had more quality wins than any team in the NFL last season and they seemed to be getting healthy at the right time for the playoffs as Henry would make his return to the backfield.
The Playoff Dud vs. Cincinnati
Blaming a playoff loss on a quarterback choking is usually a bad idea in a team game, but it is hard to point to much else than what Tannehill did against the Bengals in the divisional round.
Tannehill threw an interception on his first pass of the game, his first pass of the second half, and his last pass of the game in the final minute of the fourth quarter. It was like he was trying to fill out some interception sudoku. If the game had gone to overtime, he probably would have thrown one there too. But the fact that the game did not get there was the most egregious part.
Well, there is also the fact that the Bengals won despite taking nine sacks and scoring fewer than 20 points. Teams who do that are now 2-126-2 (.023) since 1960.
But with Tannehill, he forced a ball from midfield when overtime was almost a sure thing to get to. He gambled and it did not pay off. The Bengals used that final pick to set up a short field for the game-winning field goal. Henry finished with 20 carries for 62 yards in his first game since Halloween.
Tannehill has been quite good in the regular season for Tennessee, but he has either been a caretaker or Mr. Self Destruct in the playoffs. It is hard to imagine the Titans will have a better shot at a ring in 2022 than they did last season.