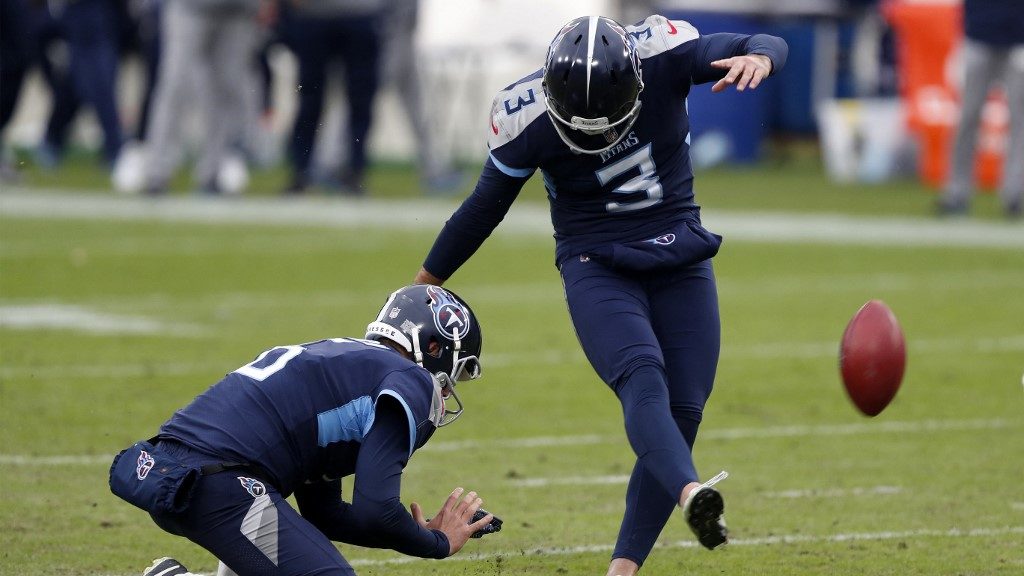 Championship Game in 2019 was not a flash-in-the-pan moment. Head coach Mike Vrabel led the Titans to an 11-5 record, ending a four-year streak of finishing 9-7. However, the offense faltered badly at home in the playoffs against Baltimore, losing 20-13 in a one-and-done postseason.
Now the Titans are expected to battle with the Colts again for the AFC South division they narrowly won last year. Many of the top sportsbooks have the Titans with an over/under of 9.5 wins. Can Vrabel lead the team on another deep playoff run after adding Julio Jones, or is this the year when regression hits hard for Tennessee?
On the Last Season of TITANS: Fun Regular Season Leads to Eyesore Playoff Exit
There is no denying the Titans had one of the most fun regular seasons to follow last year. The team started 3-0 after winning the games by a combined six points. They had the league's first COVID outbreak, leading to a rare Tuesday night game against Buffalo where they took advantage of short fields in a 42-16 blowout win.
After a thrilling 42-36 overtime win against Houston where the Titans piled up 607 yards of offense, the 5-0 Titans hosted the 5-0 Steelers. Pittsburgh led 27-7 before a Tennessee rally came up a missed field goal short of taking the game to overtime. Kicker Stephen Gostkowski had a tough year with eight missed kicks and a lot of them happened early in the season. Do you see it for your future NFL odds?
Once the undefeated seal was broken, the Titans finished 6-6 in their last 12 games, including that deflating wild card loss to the Ravens in the playoffs. That was extra disappointing since the Titans beat Baltimore 30-24 in overtime in Week 11, one of the team's best wins. Along the way, the Titans slipped up badly in Cincinnati, were blown away in the first half at home by Cleveland and suffered a 40-14 beatdown in the snow in Green Bay on Sunday Night Football. The team also split games decided by 17-plus points with the Colts, their main competition in the division.
Still, it was a successful regular season. Ryan Tannehill delivered the best full season of his career and Derrick Henry joined the exclusive club of 2,000-yard rushers. As for the defense, the nicest thing you can say is that they were not the main culprit for the playoff loss. Not on a day where Henry rushed 18 times for 40 yards and Tannehill barely threw for more yards than Lamar Jackson ran for. That led to a season-low 13 points.
The Notable Changes for 2021
The Titans are going to look a bit different offensively with three of the five leading receivers gone. After Corey Davis failed to make a catch in the playoff loss, fans are probably happy to close the book on his career there as a disappointing top five pick. Replacing Davis with a future Hall of Famer like Julio Jones sounds promising, but Jones is coming off an injury-plagued season and is 32 years old.
Jones averages 95.5 receiving yards per game, the highest average in NFL history. Can he still contribute at a high level at 32? Absolutely, but it should be noted that only Don Maynard (1967), Jerry Rice (1994-95), and Andre Johnson (2013) had a 1,400-yard receiving season after turning 32. Jones is unlikely to have a transformative effect on the Titans a la Terrell Owens (2004 Eagles) or Randy Moss (2007 Patriots). Jones is a deep threat like A.J. Brown, so the Titans are going to have to find ways to get plays underneath. Josh Reynolds could be the breakout player as a slot receiver, but the Titans do not throw a lot to their secondary receivers.
At least the offensive line can welcome the return of left tackle Taylor Lewan, who only played five games last season. Perhaps the underreported loss in Tennessee is offensive coordinator Arthur Smith, who was with the team since 2011. He took the head coach job in Atlanta this year. Smith was the coordinator of this successful offense the last two years. Replacing him is Todd Downing, an in-house promotion who worked with the tight ends in recent years. The only other time he was an offensive coordinator in the NFL was with the 2017 Raiders, who saw their offense take multiple steps backwards.
Tennessee also desperately needs a pass rush. Harold Landry led the team with scant totals of 5.5 sacks and 34 pressures. The Titans and Bengals were the only defenses last year to have fewer than 20 sacks and a pressure rate under 20%. The Jadeveon Clowney experiment did not work, and now the Titans splurged for Bud Dupree from Pittsburgh after he tore his ACL in December. Dupree was a slow developer for the Steelers, and while his 19.5 sacks since 2019 were a nice improvement, he took advantage of the presence of T.J. Watt and Cameron Heyward. If the Titans are expecting him to be the main pass rusher, they may be disappointed with the results they get.
At least Tennessee was able to snatch defensive lineman Denico Autry away from the Colts after he had 20 sacks there in the last three seasons. Malcolm Butler was another notable player the Titans moved on from after he was targeted 127 times in coverage last season. Cornerback Caleb Farley (Virginia Tech) was the team's first-round pick with the hope to give them another good player in the secondary to go with safety Kevin Byard.
Regression Alert: Red Flags Everywhere
Perhaps more than any other team going into 2021, there are a lot of regression red flags with the Titans. Some of these existed a year ago as well, and the Titans were able to overcome them, but doing so for another season is hard to do in this league.
First, consider all those close wins. Tannehill led the Titans to five fourth-quarter comebacks and six game-winning drives in the fourth quarter or overtime, both totals that led the league. Four of those games were against teams that went on to lose 11 or more games too. Historically, teams that win at least six games in the fourth quarter or overtime finish with a worse record the following year 75% of the time. Tannehill does not quite have the track record of sustained success in this area too.
Second, the red zone offense has to crash back to earth eventually. It was off the charts good in 2019 when Tannehill took over at quarterback from Marcus Mariota. Expecting a decline last year, the Titans actually finished No. 2 in the league, scoring a touchdown on 75% of their red zone trips. But this time it could be talent changes that brings the numbers down. Julio Jones is a fantastic player, but one of the oddest things about his career is his lack of touchdowns. He has 60 touchdowns on 848 career receptions, only scoring 10 touchdowns once in his career (2012).
Jones and Wes Welker are the only wide receivers in NFL history to have at least 800 catches and no more than 60 touchdown catches. It is not like Matt Ryan was a bad quarterback in Atlanta to hold Jones back. For whatever reason, Julio just does not score a lot of touchdowns, which do often occur inside the 20-yard line.
Tight end Jonnu Smith left the Titans for New England. He was not a great player, but he was more athletic than Anthony Firkser and a much bigger red zone threat. Smith had eight touchdown catches (all inside the 15-yard line) to one for Firkser last year. So, the Titans may need to redesign the offense in the red zone, but we know they will still heavily rely on play-action passes and Derrick Henry runs to get there.
That comes with its own warning for 2021. At a time where teams are realizing that running backs are easily replaceable, the Titans have gone all in on Henry. He led the league with 303 carries in 2019 and that number only went up to 378 in 2020. Add in the playoffs the last two years and Henry, a very physical runner, has carried the ball 782 times.
Historically, this does not bode well for Henry's ability to stay healthy and effective. Henry had a streak of 20 games with at least 18 carries end last year, which was the second-longest streak in NFL history. Emmitt Smith has the record at 23 games, which ended early in the 1996 season when he was 27. Smith averaged 3.7 yards per carry that year, his worst season with the Cowboys, and never won another rushing title or broke 1,400 rushing yards in a season. That does not mean Henry, who is 27 this season, is a lock to get injured this year, but he is coming off an excessive workload in an era where no back is being used this way. Take that in count next time you see your NFL picks.
If Henry were to get injured this year, the Titans do not have a replacement on the roster who will give them what he does. That would almost certainly mean the Titans would dial back their play-action passing, even if they shouldn't. But Henry is so heavily involved in the philosophy and identity of this offense that it is a safe bet that would happen, which might bring negative consequences to Tannehill's passing efficiency with more straight dropbacks.
Finally, since these warning flags are primarily on the offense, I will note some possible positive regression for the defense. The 2020 Titans allowed offenses to convert 51.9% of their third downs, the worst season on record (since 1991) and the only defense above
50%. It is remarkable the team won 11 games given this fact, but the 2019 Houston Texans also won the AFC South with a 10-6 record after allowing 48.5% of third downs to be converted. So, maybe it speaks more about the state of the division and defense in a pandemic season. Three of the nine worst third-down defenses since 1991 happened in 2020.
However, the Texans did not improve much defensively in 2020 (47.5% on third down), and the team finished 4-12 despite a stellar season from Deshaun Watson. It was in 2019 when Watson led the team on five game-winning drives, but he could not buy one last year. Could history repeat itself in the AFC South with the Titans struggling to win close games with a defense that is still bad?
Prediction
The Tennessee schedule looks frontloaded in the first half, and that is not even considering the potential of Kyler Murray taking the Cardinals to the next level or if Trevor Lawrence and the Jaguars are going to surprise people. Both key matchups with the Colts take place in the first eight weeks, and the Titans also have tough trips to the Seahawks and Rams as part of drawing the toughest NFC division. The Chiefs are coming to town, but at least the Titans get to host Kansas City and Buffalo in back-to-back weeks instead of playing on the road. We should have a great idea of what this team is capable of by November.
Between Deshaun Watson's legal problems, Trevor Lawrence's rookie status, and Carson Wentz's general ineptitude, this might be the first time since the AFC South was created that the Titans enter a season with the division's best quarterback. That reason alone is Tennessee's best hope to make the playoffs for a third year in a row. But I do not see a team ready to leapfrog the Chiefs, Bills, or Ravens even though Tennessee is 3-0 against those teams in their most recent regular-season meeting. Emphasis on regular season.
When it comes to the final pieces to a championship puzzle, the Titans needed to find more than a 32-year-old wide receiver and Bud Dupree. I see the offense taking a step back this year while the defense does not improve enough to crack the top 10. That should pull the Titans back to the mediocrity of a 9-8 record, which is not a far cry for a team that historically mastered going 9-7 prior to last year.
2021 Titans Over/Under Pick: Under 9.5 wins (-105) at Bovada (visit our Bovada Review)
*The line and/or odds on picks in this article might have moved since the content was commissioned. For updated line movements, visit BMR's free betting odds product.