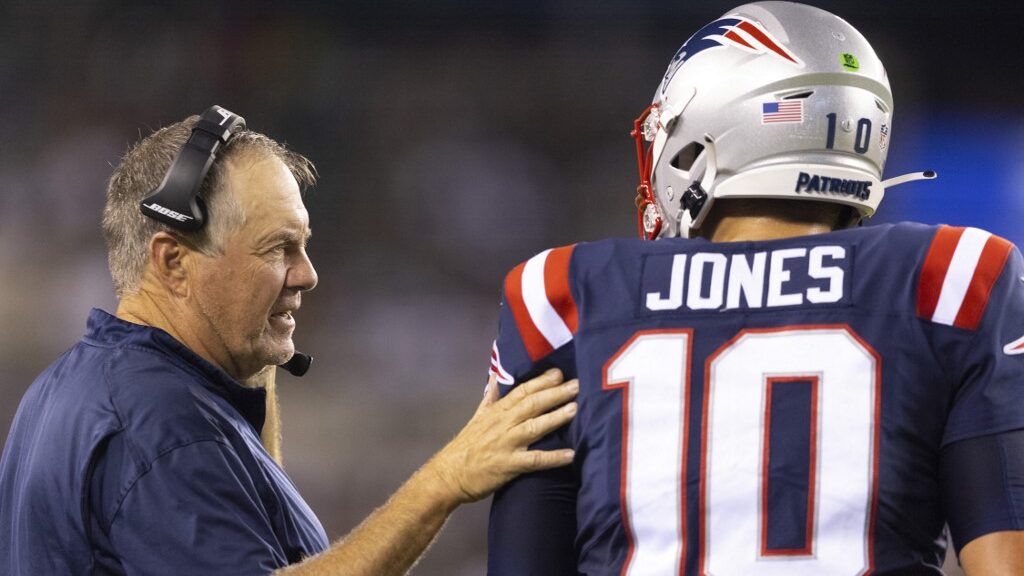 The New England Patriots returned to the playoffs with a familiar script of putting a lot of help around rookie quarterback Mac Jones, who surprisingly finished well ahead of his rookie class despite being the fifth quarterback taken.
But after the worst defensive performance of Bill Belichick's career led to a quick wild card exit in Buffalo, the Patriots have to face the fact that they are no longer the favorites in the AFC East they controlled for two decades.
Always a First Time for Everything
The 2022 season is not even a "Beat Buffalo" revenge tour as the Patriots were also swept by the Dolphins for the first time since 2000, Belichick's first year on the job. With Buffalo and Miami having winning records in consecutive years for the first time since 1998-99, the Patriots are finally seeing real competition in the division and will have to keep up.
Many of the top-rated sportsbooks have the Patriots with an over/under of 8.5 wins. The Patriots have hit nine wins in every season since 2001 except for one: the pandemic-impacted 2020 season (7-9). However, is a winning record still a lock for Belichick as he begins his 70s navigating a deep conference without a top-five quarterback in the AFC?
PLAY NOW: $25,000 Free-To-Play NFL Contest: BMR's 2022 Pick'Em Pool Opens for Registration
---
The Notable Changes for 2022
---
Perhaps the biggest change in New England is that 70-year-old Bill Belichick may have more on his plate than ever before. He is the head coach, the de facto general manager. Also, the team has not named an offensive coordinator or defensive coordinator after losing longtime assistant Josh McDaniels to the Las Vegas coaching job.
Without McDaniels
Save for three seasons in 2009-11, McDaniels has been at Belichick's side since 2001, and he has coordinated the offense every year since 2006.
Obviously, the Patriots did not struggle on offense without McDaniels in 2009-11 when Bill O'Brien was the de facto coordinator. But there also is a big difference with this current roster on the field compared to:
Tom Brady
Randy Moss
Wes Welker
Rob Gronkowski
While former assistant Matt Patricia crawled back to New England a year ago after the Lions fired him, Joe Judge has done the same after losing the Giants job after two years. Patricia will coach the offensive line and Judge is considered an offensive assistant and quarterbacks coach. Still, neither is as qualified or as good as McDaniels.
Both have shared play-calling duties this preseason, but the Patriots like to keep things cloak and dagger about who will be calling plays in the games that count.
In the end, Belichick will have his fingerprints over everything this team does, but it is hard to say the coaching staff is as good as it used to be around him.
But is this roster better in 2022?
Improving the Wide Receiving Corps?
The Patriots made modest moves to bolster the receiving corps last year when they added wide receivers Kendrick Bourne and Nelson Agholor. Bourne was solid with a career-high 800 yards, but the team was still led in receiving by Jakobi Meyers, who finally scored the first two touchdowns of his career after 168 catches since 2019.
New tight end Hunter Henry was useful with nine touchdowns, but the days of having a dominant player there like Rob Gronkowski are over.
New England pulled the plug on 2019 first-round bust N'Keal Harry by trading him to Chicago. The Patriots drafted Baylor wideout Tyquan Thornton with the No. 50 pick, but this team deserves no benefit of the doubt when it comes to scouting wide receivers, arguably the worst position group in the Belichick era.
Old Foe, New Ally
That might explain why they settled for another modest move by adding DeVante Parker from Miami, who only played in 10 games last year and is often injured. Parker peaked in 2019 with 1,202 yards, but that sure does look like the outlier in his seven-season career.
He has never hit 800 yards in any other season, but he is another player who can contribute to this receiving corps that is deep but unspectacular across the board.
This approach worked well for the Patriots in 2001-06, but the game has shifted towards offense and having dominant players who can do things after the catch or star in the red zone. The Patriots had admirable success at moving the ball and scoring last year, ranking No. 9 in yards per drive and No. 7 in points drive.
Now we will see if that can be improved without McDaniels.
Secondary Loses Pick Machine and a Super Bowl Hero
Corner J.C. Jackson left in free agency for a big payday with the Chargers after his first Pro Bowl season in 2021. Jackson had eight interceptions and 23 passes defended (NFL best) in 2021.
This is a blow to those turnover numbers as Jackson really beat regression by becoming just the fourth player in the last 50 years to have consecutive seasons with at least eight interceptions.
The Patriots drafted corner Marcus Jones (Houston) in the third round, but like the wide receiver corps, this has been another difficult position for them in the draft.
Super Bowl 49 hero Malcolm Butler was hoping to come out of retirement for a second stint in New England, but that will never materialize as an injury has ended his comeback bid.
Keeping it Safe
The safeties are deep, but it is hard to trust this secondary with Jalen Mills as a starting corner. Mills allowed seven touchdowns while picking off zero passes in 2021 for the Patriots.
With the state of the secondary, pass rusher Matt Judon is going to have to be the best player in this defense. The problem is he already shined in his team debut last year with a career-high 12.5 sacks. Having a career year in back-to-back seasons at 30 years old is tough, but he is the only reliable pass rusher.
First-Round Pick May Still Be a Downgrade (Thanks, Tom Brady)
The offensive line is arguably the strongest position group in New England, and the team added to it with a first-round pick in left guard Cole Strange out of FCS school Chattanooga.
But this has come at the expense of losing right guard Shaq Mason to Tom Brady's Buccaneers after 98 starts with the Patriots since 2015. Mason will likely be a better player in 2022 than Strange will be as he adjusts to much stronger competition.
Tackle Trent Brown only played nine games in his return season last year, so he hopefully with play more this year. Tackle Isaiah Wynn has been an injury risk since he was drafted in 2018, but he played a career-high 16 games last year.
The line will be fine, but it should not be an upgrade over what was there last year.
Mac Jones Is Unlikely to Remain the Best QB in the 2021 Draft
For the Patriots to move into the next tier, quarterback Mac Jones will have to make a big leap in his second season after a successful rookie season that came with a few caveats.
Jones ultimately was better as a rookie despite being drafted after:
Trevor Lawrence (Jacksonville Jaguars)
Zach Wilson (New York Jets)
Trey Lance (San Francisco 49ers)
Justin Fields (Chicago)
Lance mostly rode the bench and only started two games for the 49ers in 2021.
Carry Over the One
But just because a quarterback was the best in his class as a rookie, it does not mean that will carry over the rest of his career. Consider these two recent classes:
In 2016, Dak Prescott was the best rookie, Carson Wentz was the MVP finalist in 2017, and Jared Goff was in the Super Bowl in 2018. Prescott ultimately won out (probably), but this was a carousel ride for years.
In 2018, No. 1 pick Baker Mayfield did look like the right pick for Cleveland with 27 touchdown passes as a rookie. But Lamar Jackson was MVP in 2019 after a historic season. Instead of building on that, he was passed over by Josh Allen's breakout year in 2020, which included a playoff win over Jackson's Ravens. Allen and Jackson are rivals in an undecided race, but most lean towards Allen being the best right now, which never was the case in 2018-19.
While Jones showed considerable poise and decent accuracy for the Patriots as a rookie, the team also insulated him with a far bettering supporting cast and situation to thrive under. It was really a copy of what the Patriots did for a young Tom Brady years ago:
New England's defense finished No. 2 in points per drive allowed (1.60) and was the best defense at limiting scoring in the red zone.
Patriots were 2-8 when allowing more than 13 points last season and 0-6 when allowing more than 24 points.
Patriots forced a turnover on 17.8% of opponent drives, the highest rate in the league.
Patriots had the third-best average starting field position in the league thanks to solid defense and special teams play.
The average New England touchdown drive was 63.3 yards, the fifth shortest in the league.
Patriots were No. 4 in rushing first downs and only the Eagles had more than the team's 24 rushing touchdowns.
Jones' receivers dropped 3.1% of his passes, which was the second-lowest rate in the league (Source: Pro Football Reference).
Even though Jones led the NFL with nine games where he completed at least 70% of his passes, he ranked 19th in on-target throw rate (76.0%) according to Pro Football Reference.
Jones held the ball for 2.71 seconds, the 12th-lowest average in 2021, but he still had the third-lowest pressure rate (18.4%) according to Pro Football Reference.
Quarterbacks playing for the Jaguars, Jets, and Bears were not having those advantages, and we will see what Lance can do in a strong situation in San Francisco this year.
Moving Past the GOAT
For two decades, the Patriots had a huge quarterback advantage over the division, especially against the Buffalo Bills. But that has changed since Brady left and Allen broke out in 2020. While Allen struggled with the Patriots early in his career, he has absolutely shredded them in three of the last four meetings. Only the windy game threw him off.
Jones is going to have to step up in those games against Buffalo, and that's without even mentioning the potential of facing Patrick Mahomes or Lamar Jackson in the playoffs if the Patriots are to get back to a Super Bowl before Belichick retires.
Jones is off to a solid start, but it is easy to see limitations in his game that will keep him from breaking into the elite quarterback discussion. Brady got there nearly 20 years ago with solid-not-spectacular play because the Patriots won so often.
But it seems unlikely that Belichick, who does not have a second soul to sell, can win that way in this era when so much has shifted towards the offense.
Prediction
Just as a reminder, 14 NFL teams finished 2021 within one game of their projected win total, including a 2021 New England Patriots team that barely went over 9.5 wins at 10-7.
A lot of these NFL picks are going to be close, especially in a conference as tightly contested as the AFC.
With the Patriots, the standard has obviously changed. What used to be a Buffalo sweep is now a Buffalo split at best. Even going to Pittsburgh (Week 2) is no longer a sure thing despite Ben Roethlisberger's retirement.
The Patriots will likely sweep the Jets and clean up against the Lions and Bears at home, but this is a tough schedule with games against:
Oh yeah, and that game in Buffalo to end the season.
The Pick
We also know the Patriots struggle in the Miami heat and that is the first game on their schedule. The Dolphins should be much improved and have a good chance to finish with more wins than New England for the second time in three years after not doing it once in 2001-2019.
While I still see the Patriots finishing with a 9-8 record to hit the over 8.5 wins, that step back may not be enough for the playoffs given the quality of Buffalo, Miami, and the loaded AFC West. I think the Patriots will go four seasons without a playoff win for the first time since a 10-year drought in 1986-1995.
NFL Pick: New England Patriots Season Wins Over 8.5 (-130) at Bovada (visit our Bovada Review)

New England Patriots Season Wins Over 8.5

(-130)
*The line and/or odds on picks in this article might have moved since the content was commissioned. For updated line movements, visit BMR's free betting odds product.
---
On the Last Season of "The Patriots": The 2001 Script Was Rejected in the Playoffs
---
The 2021 Patriots took their fans on a real rollercoaster ride from a 2-4 start to a seven-game winning streak that had the team thinking about another No. 1 seed to a 1-4 finish with an embarrassing playoff loss.
The 2-4 Start
The playoffs were an afterthought once the Patriots stumbled to a 2-4 start out of the gates, but the games did provide some insight into a team that was getting better and ready to prove more.
In Week 1, running back Damien Harris coughed up a fumble in the red zone late in a 17-16 loss against the Dolphins. The 2020 Patriots lost games to the Seahawks and Bills after coming up short in the red zone at the end as well.
The Patriots waxed the Jets 25-6 after intercepting rookie quarterback Zach Wilson four times.
In Week 3 against the Saints, rookie quarterback Mac Jones threw the first three picks of his career in a 28-13 home loss. Fortunately, he did not throw three picks in any other game.
Tom Brady made his super-hyped return to New England in Week 4, and Belichick's defense held him without a touchdown pass in a low-scoring affair. But the Bucs pulled ahead 19-17 on a late field goal that Nick Folk was unable to answer from 56 yards away in the final minute.
It took four games for Jones to lose after a clutch field goal was missed. It took 183 starts for that to happen to Brady against the 2012 Cardinals, and it has only happened once in 363 career starts.
Jones completed 19 passes in a row on the night, tying Brady's franchise record.
In Week 5, after falling behind 22-9 in Houston, Jones led the first comeback of his career as the Patriots scored the final 16 points in a 25-22 win.
In Week 6, the Patriots traded blows with a good Dallas team before losing 35-29 in overtime. Dak Prescott's 445 passing yards are the most ever against a Belichick defense in New England.
Jones led two go-ahead touchdown drives in the fourth quarter against Dallas before losing, which is something that has never happened in 363 starts for Brady.
The Patriots were 2-4, but they took superior teams in Tampa Bay and Dallas down to the wire and blew fourth-quarter leads in both games. Apparently, Jones will never share the same career luck as Brady.
It took 108 starts for the Patriots to blow two fourth-quarter leads in Brady's career. It took six starts for Jones, who became the first quarterback in NFL history to complete over 70% of his passes in five of his first six games.
But he was throwing a lot of short passes, the offense was not explosive, and it seemed like the defense could no longer be trusted to salt away games.
The Seven-Game Winning Streak
After a 2-4 start, the Patriots regrouped, took advantage of the schedule, and brought back a 2001 gameplan to help Jones rack up wins in a manner like a young Tom Brady in his first year as a starter. In 2001, the Patriots started 3-4 before finishing 11-1 and winning the Super Bowl. The team never allowed more than 17 points in any of the 11 wins.
From Weeks 7-13, the 2021 Patriots only allowed 13 points more than once while collecting 18 takeaways on defense.
In Week 7, the Patriots completed a sweep of the Jets with a 54-13 win that saw the offense compile a season-high 551 yards.
In Week 8, the Patriots won 27-24 against the Chargers, a team they have bullied for years after a pick-six in the fourth quarter proved to be the game-winning score in a 27-24 win.
In Week 9, the Patriots basically won their third game against the Jets when they tortured Carolina's Sam Darnold into a three-pick game, including a long pick-six, in a 24-6 rout.
In Week 10, the Patriots scored the final 45 points in a 45-7 rout of the Browns after knocking out Baker Mayfield.
In Week 11, the Patriots played a banged-up Atlanta offense and forced a 25-0 shutout with another pick-six at the end. Three different Atlanta quarterbacks threw an interception in the final 5:14, a feat you'll never see again in a real game.
In Week 12, this time it was the banged-up Titans offense (no Derrick Henry, Julio Jones, or A.J. Brown) who coughed up four takeaways in a 36-13 win for the Patriots.
The Windy Game
This set up a showdown on Monday Night Football between the 7-4 Bills and 8-4 Patriots in Buffalo for first place in the division. The Bills were a 4-point favorite, and almost as if Belichick has voodoo dolls on every big-name player in the NFL, the defense was missing star corner Tre'Davious White after he tore his ACL on Thanksgiving.
But the wind was going to be significant in Buffalo. Passing was expected to be underwhelming, but the Patriots shocked the NFL world by asking Jones to throw just three passes in the game, of which he completed two for 19 yards.
New England finished with 46 runs and basically won the game thanks to the defense holding Buffalo to 10 points and Harris breaking a 64-yard touchdown run. It was not a good offensive performance with the Patriots going 2-for-12 on third down.
The Patriotrs three pass attempts were the fewest by any NFL team in a game since the Bills threw two passes in 1974 against the Jets, or your typical AFC East shenanigans.
With the Patriots at 9-4 and having wins over the Bills and Titans, it felt like Belichick was back in charge of the AFC. But contrary to popular belief, he does not control Mother Nature, and the fool's gold nature of that Buffalo win would be exposed later.
The Rough Finish
After a bye week, the Patriots traveled to Indianapolis to take on the Colts on a Saturday night. The Patriots have not lost to the Colts since the infamous fourth-and-2 game in 2009, so this looked like another faith-building win to come against Carson Wentz.
However, the Colts were wise to employ their own hide-the-quarterback offense as Wentz completed just 5-of-12 passes for 57 yards. Indy led 20-0 before Jones tried to mount a comeback, shrinking the deficit to 20-17. But Jonathan Taylor ripped off a 67-yard touchdown run, and the Colts won 27-17.
Bills vs. Patriots Part II
With another showdown against Buffalo, the Patriots laid an egg at home in normal weather circumstances. Josh Allen took over the game and despite having 59 passes and runs, he took zero sacks and had no turnovers.
Jones threw 32 passes this time, but he had his worst passing game of the season as he completed 43.8% of his passes and averaged 4.5 yards per attempt. The Bills won 33-21 to take control of the division.
After routing a bad Jacksonville team 50-10, the Patriots bombed in Miami again with an early 17-0 deficit they could never crawl out of after Jones threw a pick-six. Miami picked up a ninth win while the Patriots finished 10-7, good enough for the No. 6 seed.
Wild Card vs. Buffalo: Invest in a Wind Machine, Bill
With a third meeting late in the season between these teams in the Wild Card round, there was some hope after the weather forecast called for snow and single-digit temperatures. But the real difference maker is wind, and that was not an issue as it was in the Week 13 meeting.
Still, few ever would have imagined that Buffalo would put on arguably the greatest offensive performance in NFL history against a Belichick defense in a playoff game.
The Bills scored a touchdown on all seven of their possessions before kneeling out the eighth drive in a 47-17 win.
The Bills never even faced a fourth down and their only plays that lost any yards were the kneel-downs to end the game.
Buffalo led 27-0 before the Patriots could put a field goal on the board to end the first half.
Allen ripped the defense for 308 yards and five touchdowns while only throwing four incompletions with zero sacks taken and 66 rushing yards for good measure.
Jones was not terrible in his playoff debut, but he was not good enough with 232 yards, two touchdowns, two interceptions, and three sacks.
This is only the third NFL game since World War II where a team had seven touchdowns, zero punts, and zero turnovers. But Buffalo is the only team to not kick a field goal as well.
You can say the rollercoaster crashed hard for the Patriots in the end, but at least the season was more entertaining and meaningful than the irrelevance of the team's 2020 season.