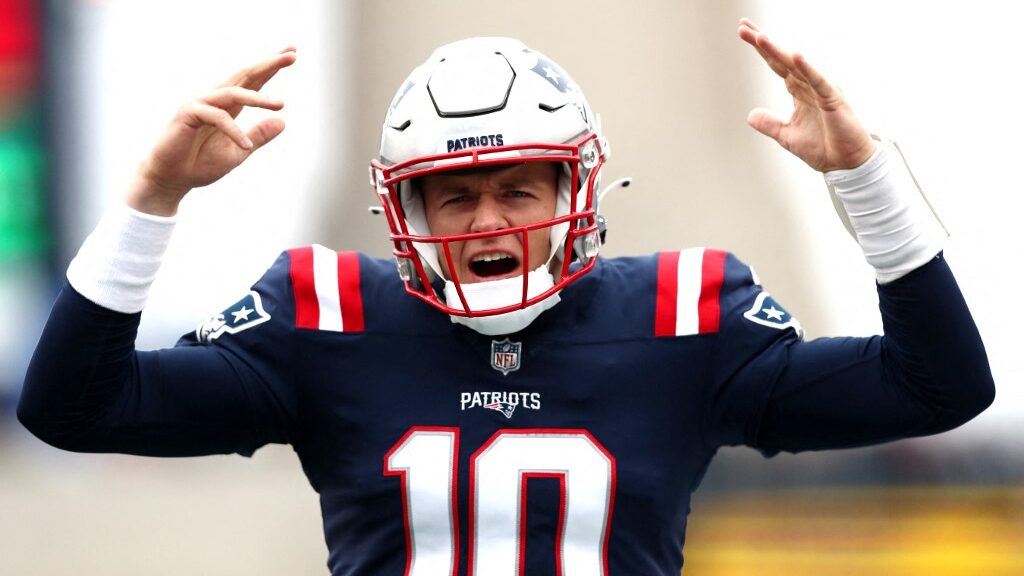 When Mac Jones was drafted as the last first-round quarterback taken in 2021, nobody expected him to finish the season as the best QB to come out of that class. But he did.
Jones ended his rookie year as one of the winningest rookie quarterbacks in NFL history, passing for 3,801 yards, 22 touchdowns, and a 67.6 completion percentage.
Now, he'll be looking to make an even better impression in year 2 and he has all the tools to do so.
Mac Jones's Deep Ball Improvement
For starters, Jones has already impressed at OTAs and minicamp. These early organized team activities might not mean a lot to outsiders, but they're actually where the foundation is built. And according to ESPN's Mike Reiss, Jones is lighting them up.
"The main takeaway: There is potential for significant improvement in the deep passing game. Jones delivered three downfield, tight-window throws in the final practice of mandatory minicamp that couldn't have been placed any better," Reiss said.
Reiss adds that Jones's deep ball could be the key to "what is missing" in the Patriots' offense considering the fact that Patriots' receivers ranked 25th with only 1.6 yards of separation on deep balls, per NFL Next Gen Stats.
Mac Jones's Improvement Plan
Despite some deep ball progress, Jones wants to continue to improve in all areas.
"We want to be able to do whatever we want to do at any given time, whether that's a run, pass, play-action — short, medium, or long. We're trying to be able to have a little bit of variety," he said.
With Jones already showing success downfield and having that kind of mindset, training camp, come July and August, should give him even more time to perfect it, which will get him all set for the 2022 NFL season. Not to mention, that his teammates are also behind him–something that's very important to be a successful QB.
Patriots' New Wide Receiver
The Patriots didn't go above and beyond in adding shiny new weapons for Jones this offseason, but they did make a trade with the Miami Dolphins which landed them veteran wide receiver DeVante Parker.
The addition of Parker gives Jones something he didn't have last season––a true No.1 wide receiver.
Who is DeVante Parker?
Parker, 28, comes to Foxborough after spending seven seasons with Miami as a first-round draft pick (14th overall) out of Louisville in the 2015 NFL Draft.
Since joining the league, the 6-foot-3, 219-pound receiver has played in 93 regular-season games with 64 starts.
Parker has logged 338 receptions for 4,727 yards and 24 touchdowns.
His best year was 2019 when he finished with 72 receptions for 1,202 yards and 9 touchdowns.
Last season, Parker started 8 out of 10 games and finished with 40 receptions for 515 yards with 2 touchdowns.
DeVante Parker About Mac Jones
According to Henry McKenna of Patriots Wire, Parker is another teammate that has been impressed by Jones's growth on the practice field.
"He's a leader," Parker said. "He's a young guy, but he's vocal as a leader. That's what this team needs. And even though I've just been out here a few weeks, I still see it."