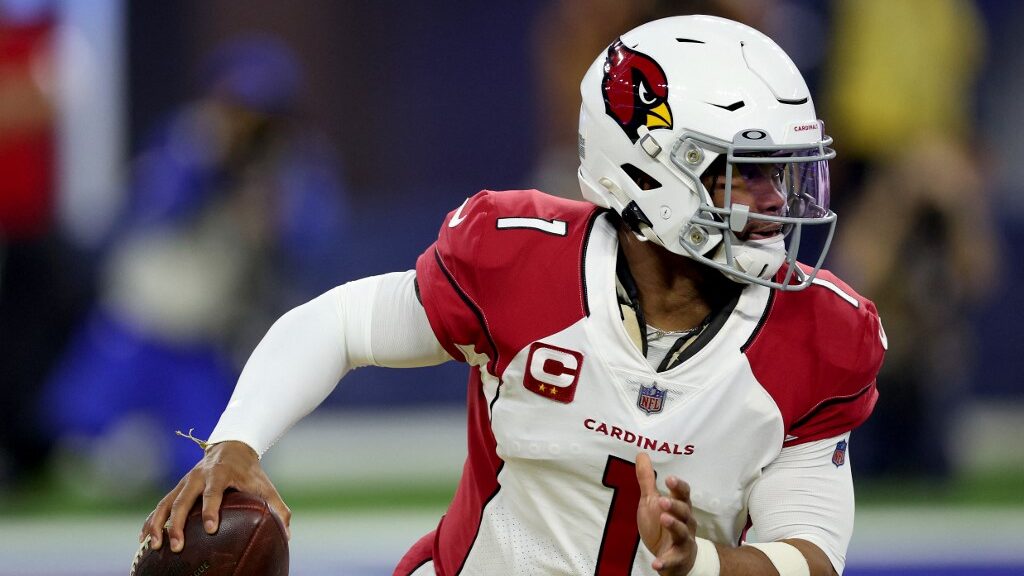 The Arizona Cardinals pulled off the unthinkable in 2021. They went from being the NFL's most improved team to the NFL's most disappointing team all in the span of one season.
Following a 7-0 start with a 4-7 finish and ugly playoff exit, the Cardinals have made a lot of negative headlines this offseason as they look to put their best foot forward in the fourth season of the Kliff Kingsbury and Kyler Murray era.
Many of the top-rated sportsbooks have the Cardinals with an Over/Under of 8.5 wins, so there is a sense of an inevitable decline this season. But is there any hope for this team to deliver a winning season?
PLAY NOW: $25,000 Free-To-Play NFL Contest: BMR's 2022 Pick'Em Pool Opens for Registration
---
The Notable Changes for 2022
Arizona has made some moves to look like a different team this season, but all anyone can seem to focus on are the puzzling stories that relate to its franchise quarterback.
Will Kyler Murray Live Up to Expectations?
You can argue what would have happened if he chose baseball, but Kyler Murray is in fact a highly paid NFL quarterback. The Cardinals picked up his fifth-year option and have signed him to a five-year extension worth $230.5 million, including $160 million guaranteed.
Is he worth it? You would hope that was a rhetorical question with this kind of money involved, but there are still some question marks about just how far he can lead this team. After three seasons, there is a troubling trend emerging for Murray:
Games 1-8: 15-8-1 record, 40 TD, 18 INT, 7.8 yards per attempt
Games 9-end: 7-16 record, 30 TD, 18 INT, 6.7 yards per attempt
It seems like an MLB schedule would suit Murray better because once the World Series is over in early November, it would seem so is his team's football season. There is also a general malaise in which he approaches the game, never getting too up or down no matter how incredible or egregious his previous play looked.
You can win a Super Bowl with a flat-liner quarterback like that as we have seen with Eli Manning (twice) and Joe Flacco. But with Murray, he can make the reaction to dodging 3 sacks and firing a 30-yard strike look the same as simply catching a pop-up in baseball. Boring. Routine. Onto the next play.
Regardless of what feelings you get from Murray as a leader, neither he nor his franchise has done their relationship any favors with a series of stories that have come out this offseason.
Does Arizona Even Trust Murray?
First, it was the story about Murray scrubbing any Cardinals references from his Instagram page, only to restore them later after it was discovered. But that is some Gen Z nonsense not worth trying to understand.
The big one came after the contract extension when the leaked "independent study clause" was posted by NFL reporters. It said that Murray was required to complete at least four hours of film study on a weekly basis away from normal team meetings and that he should not be distracted by any TV or video games during that time.
It is the kind of thing you would assume any franchise quarterback to already be doing with his nights during the season, but to see it actually put into words that could void a contract was insane. This made Murray's work ethic look bad as he has been quoted before as saying he's not going to kill himself over watching film because, in his head, he sees so much already. Whatever that means.
But this also makes Arizona look bad for breaking the bank on a player who needed this unique clause in his contract. Were they just trying to set up a clean getaway from the deal in a couple of years? Regardless of the intention to leak this ridiculous clause, the team removed it after the backlash.
Head coach Kliff Kingsbury soon added a little more fuel to the fire during training camp when he let Murray call plays into the backup quarterbacks to show him that "this s*** ain't easy" before joking that he wouldn't want to play for Murray if he was the play caller.
Offensive Improvement
This offseason silliness has overshadowed that Murray made more improvements in his game, especially as a passer, in his third season than he did from his rookie year to his second season in Kingsbury's system. Remember, this is one of the only teams in the league in decades without an offensive coordinator as Kingsbury calls the shots.
While Murray's QBR (57.3) in 2021 was technically the lowest of his three seasons, ESPN's QBR metric, in general, was down across the board last season. Murray actually finished with the No. 7 QBR in 2021, a good increase from ranking 15th and 14th in his first two seasons. This comes despite his lesser rushing effort in 2021, and QBR loves quarterbacks who run as Murray can do with the best of them when he wants to scramble.
You could also see general improvements in the offense even with his injury and late-season decline. The offense finished tied for fifth in third-down conversion rate after finishing 21st in each of the previous two seasons. Arizona finished 10th in points per offensive drive after ranking 15th and 14th in Murray's first two seasons.
Murray's Place Among the Top Quarterbacks
The potential for a stronger offensive season is there if Murray stays healthy, but 2022 should teach us if he is willing to put in the extra work to get better or if maintaining the status quo is good enough for him.
His methods have already led to him being rich at 25, which would be great enough for most of us, but we are used to seeing extreme competitiveness at this position in the NFL. Until Murray takes that next step, there is no reason to put him ahead of Patrick Mahomes, Josh Allen, Lamar Jackson, Justin Herbert, Joe Burrow, Dak Prescott, and maybe some others under the age of 30 right now.
This season and especially this Cardinals' schedule is a great opportunity for Murray to silence his critics. Imagine if you tune into December prime-time games and see Murray lighting up Bill Belichick's New England defense (Week 14) and outgunning Tom Brady and the Buccaneers on Christmas night (Week 16). That should change the perception.
If any quarterback wanted to feel taller with a chip on his shoulder, Murray should be that guy, but we will just have to see how he responds this season.
The Marquise Brown Signing
The Cardinals made a bold move on draft night when they sent a first-round pick to Baltimore for wide receiver Marquise "Hollywood" Brown and a third-round pick in return. The move reunites Brown with Murray, his college quarterback. In that 2018 season for Oklahoma, Brown had 75 catches for 1,790 yards and 10 touchdowns.
Clearly, this team was watching the way Cincinnati rode a familiar Joe Burrow to Ja'Marr Chase combo from college to the Super Bowl and wanted to give Murray a similar advantage.
The problem is that Brown has not been a stud in three seasons with Baltimore like Chase was instantly for the Bengals in 2021. Brown is coming off his most productive season, though he had some untimely drops. But this move is vital to give the offense a legit deep threat.
The Problem With DeAndre Hopkins
For as great as DeAndre Hopkins is, a lot of his catches come with him in tight coverage. He fights for the ball well, but the younger Brown can create more separation. Hopkins also was not having a big 2021 season in terms of yards as he never cracked 90 yards in any of the 10 games he played after having seven 100-yard games in 2020.
There is also the fact that Hopkins will be suspended for the first six games this season due to violating the performance-enhancing drug policy. The team needed a spark at the position after bringing back slow veteran A.J. Green and losing Christian Kirk to a ridiculous contract by the Jaguars.
Rondale Moore is also a player to watch out for in this receiving corps in his second season, though he only averaged 8.1 yards per catch as a rookie. The big plays are going to go to Brown this year, but that is assuming the NFL waits to discipline him for his recent criminal speeding arrest in Arizona after he allegedly was driving 126 miles per hour.
Between the speeding and forcing a trade out of a team he thought should get him the ball more, it is probably a good time to remind you that Brown is the cousin of famed malcontent Antonio Brown. For Arizona's sake, it better hope that apple is not rotted from the same tree.
NFL Draft Highlight: A Fresh Tight End
Tight end is not a position the Cardinals have put much stock into since moving to the state of Arizona. Veteran Zach Ertz returns as the presumptive starter, but the Cardinals used their highest draft pick this year, 55th overall, to take Trey McBride out of Colorado State. He was the winner of the John Mackey award in 2021, the college award for the top tight end.
McBride exploded in his senior season with 90 catches for 1,121 yards, though he only caught one touchdown. But he should be able to stretch the field and run better than Ertz.
Decline in the Trenches and Backfield?
It is hard to say the Cardinals are looking better in the trenches in 2022, especially since they already were relying on so many veteran players to stay healthy.
On the offensive line, new right guard Will Hernandez could be a downgrade if he plays like he did with the Giants, but he also is the youngest and only projected starter who started all 17 games along the line last season. Left tackle D.J. Humphries needs to continue being the leader here after making his first Pro Bowl in 2021.
That line is crucial in the running game, and it's especially important to play better there when the team made the decision to stick with James Conner instead of Chase Edmonds at running back.
The James Conner Situation
It made sense as Conner caught nearly every ball thrown his way (37-of-39 targets caught) and was a consistent touchdown machine with 18 trips to the end zone in 2021.
But Conner averaged a career-low 3.7 yards per carry compared to Edmonds's 5.1 average, which he has done before in his career. This is not just about short-yardage usage and one longer run on a smaller sample of carries for Edmonds being an outlier.
According to Football Outsiders, Edmonds's success rate, based on down and distance, was 58%, which ranked 10th among backs. Conner's success rate was 52%, which ranked 22nd. This is not to say they picked the wrong back, but maybe the running game will be less efficient this year with Conner getting a big workload instead of splitting with Edmonds.
What About the Defense?
As for the defense, the Cardinals have lost one of the best edge rushers in the game in Chandler Jones, who joined the Raiders.
Markus Golden stepped up last year with 11 sacks to lead the team, but he is going to need more help from J.J. Watt, who only managed seven games last year in his team debut before a shoulder injury did him in.
Watt only had one sack but respectable pressure numbers. It is just getting harder to rely on him to stay healthy as he is 33 years old and has missed 42 games since 2016 due to various injuries.
---
2022 Cardinals Prediction
The Over/Under 8.5 wins looks like another very fair line from Vegas that will come down to whether Arizona can split with the San Francisco 49ers and the Los Angeles Rams, the two division foes projected to be better than the Cardinals. Seattle should be an easy opportunity to split now that Russell Wilson is gone, and the team is rebuilding.
The six-game suspension for Hopkins to start the season comes at a time when the Cardinals need to rack up wins as it's the easiest part of their schedule. So, any faltering there without him could spell doom for the Over hitting, because late in the season the team has to play the Chargers, Broncos, Patriots, and Buccaneers.
Given the way this team implodes after early November, it could be an extra brutal finish as Atlanta (Week 17) looks like the only "gimme game" on the schedule after Week 9.
The Cardinals look to have one of the most volatile situations of any team heading into 2022. That could mean anything from a total collapse to Murray sucking it up and winning MVP. But since I already have preferred the chances for the 49ers and Rams to do well in this division, the Under for Arizona is my choice for your NFL picks.
2022 Cardinals Wins: Under 8.5 Wins (-120) at Bovada (visit our Bovada Review)

*The line and/or odds on picks in this article might have moved since the content was commissioned. For updated line movements, visit BMR's free betting odds product.
---
On the Last Season of "The Cardinals": From 7-0 to 4-7
Was it all just a fever dream when Arizona was 7-0, the last unbeaten team in the NFL? In what could very well look like a massive outlier in the Kliff Kingsbury-Kyler Murray era, the Cardinals won their first seven games with superb play on both sides of the ball.
The defense held every team except for Minnesota under 21 points. Coincidentally, that 34-33 Minnesota win was the team's luckiest on the season as the Vikings just had to make a 37-yard field goal to win the game but missed. Were there any other breaks? Sure, they got Trey Lance in his first career start for the 49ers, and Baker Mayfield was injured during the Cleveland game.
But Murray and the offense were hot, scoring at least 31 points in six of the first seven games. The Cardinals also dominated the Titans, the eventual top seed in the AFC, 38-13 on the road on opening day. They also ended an eight-game losing streak against Sean McVay and the Rams with an impressive 37-20 win in Los Angeles in Week 4.
This was looking like a team that had finally arrived, but then a bump in the road came in Week 8.
Green Bay Loss Begins Downfall
In Week 8, the 7-0 Cardinals hosted the 6-1 Packers in a marquee Thursday night matchup for the lead in the NFC. Arizona was a 6.5-point favorite with the Packers decimated at receiver as Davante Adams, Marquez Valdes-Scantling, and Allen Lazard were all out.
But Green Bay still found a way to lead 24-21 in the final seconds. Murray had a chance to make a statement in a muddy MVP race, but his timing was off on a throw to the end zone for A.J. Green, and the pass was intercepted to hand Arizona its first loss of the season.
It would hardly be the last as the team finished 4-7 the rest of the way. Murray missed the next three starts with an injury, and upon his return, his yards per attempt dropped from 8.9 to 6.7. The offense that had been scoring 31-plus points at will hit that total just once in Murray's final eight starts.
This was more than just a Murray problem as that Green Bay loss proved so costly to the team's season. DeAndre Hopkins was also injured after just 15 offensive snaps against the Packers. He missed the next three starts like Murray, but after both returned in Week 13, Hopkins's season would come to an end after further injury against the Rams.
Rams Destroy Arizona's Season
The Cardinals lost their big home rematch with the Rams in Week 14 as decision-making in crunch time was again a glaring problem for Kingsbury and Murray. That eventually led to the playoff rematch in Los Angeles as the Rams won the division from Arizona.
Confidence was very low for Arizona's playoff chances, but a third playoff meeting between division rivals can be interesting. However, in this case it turned out to be one of the biggest routs of the playoffs as the Cardinals were dominated and embarrassed in a 34-11 loss.
The exclamation point came in the second quarter when Murray panicked from his own end zone and forced an incredibly dumb pass that was intercepted and returned for a touchdown to put the Rams up 21-0.
Murray's 40.9 passer rating in his first playoff game is the lowest passer rating of his 47-game career. Seven of his nine lowest games have come in Week 12 or later. Now he enters 2022 under as much scrutiny as any quarterback in the league.