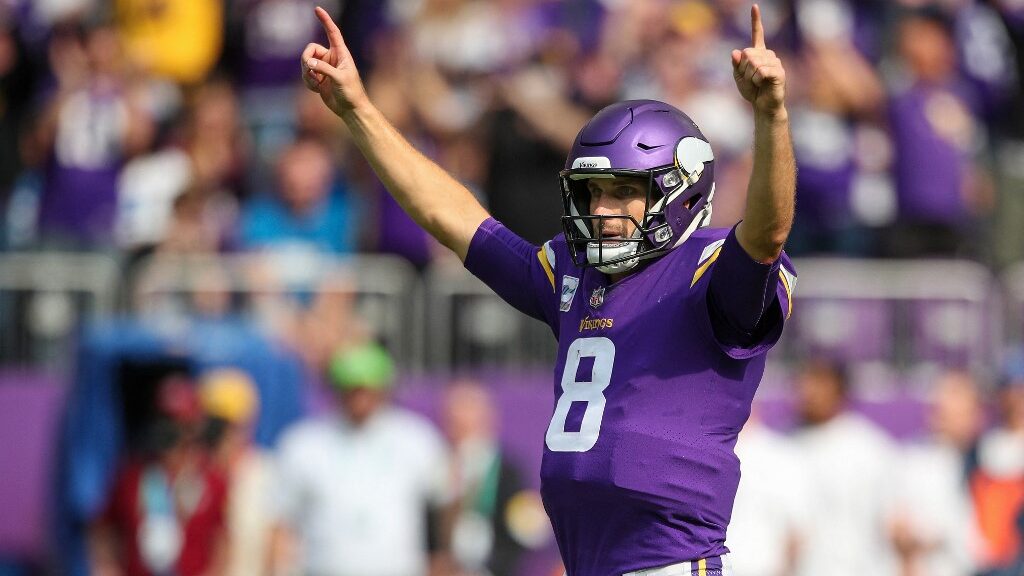 After the Vikings' new general manager, Kwesi Adofo-Mensah, seemed to doubt the potential of Kirk Cousins in a recent interview, it's fair to ask if the 2022 Minnesota Vikings have high expectations for their starting quarterback this season.
End of the Mike Zimmer Era
The Minnesota Vikings have moved on from the Mike Zimmer era after eight seasons. Kevin O'Connell is the latest Sean McVay protégé to take over as head coach of an NFL franchise, but will anything really change in Minnesota as long as Kirk Cousins is the quarterback?
For the sixth time in seven seasons as a full-time starter, Cousins finished with a record that was within one game of .500. In 2021, Cousins became the third quarterback in NFL history to throw more than 30 touchdowns and fewer than 10 interceptions without posting a winning record for that season.
PLAY NOW: $25,000 Free-To-Play NFL Contest: BMR's 2022 Pick'Em Pool Opens for Registration
That is how things have always been for him, but does O'Connell have an inside track to Coach of the Year by getting this team back to double-digit wins and the playoffs like it happened in 2019?
Many of the NFL odds at the top-rated sportsbooks give the Vikings an over/under of 9.5 wins, so the expectations are there in a conference that is not as deep as the AFC.
---
The Notable Changes for 2022
---
Three of the biggest changes an NFL team can make are:
The general manager
The head coach
The quarterback
Minnesota has changed two-thirds of those leadership positions after making Kwesi Adofo-Mensah the new general manager and Kevin O'Connell the new head coach. This ends a very long run for Rick Spielman, who was with the team since 2006 and in the role of GM since 2012.
But that other third remains unchanged as Cousins has signed another extension that should keep him in Minnesota through the 2023 season. His cap number is over $31M this season as he retains his difficult role of being the team's main asset and biggest roadblock to achieving greater success.
Kevin O'Connell: Things to Like
What are the things to like about new head coach Kevin O'Connell? There are the obvious answers:
His shiny new Super Bowl ring as the Rams' offensive coordinator last year.
His experience of learning under Sean McVay.
He has previously worked with Cousins as his position coach in Washington in 2017.
Here is a great reason that needs to be said: the 37-year-old O'Connell is far too young to have a son he can hire as his defensive coordinator as Mike Zimmer did.
Some coaching staffs simply overstay their welcome. Then after years of losing good assistants to other teams and the talent pool for in-house promotions running dry, you end up needing to clean house and start fresh. That is where the Vikings are, and it should be a good thing for the team after the defense collapsed the last two years and the offense has underachieved despite incredible skill players.
Vikings Have a Great Collection of Skill Players
O'Connell inherits one of the best collections of skill players in the league when the Vikings field Cousins with:
Dalvin Cook (Running Back)
Justin Jefferson (Wide Receiver)
Adam Thielen (Wide Receiver)
The offensive line is likely a step down from what O'Connell had with the Rams but left tackle Christian Darrisaw showed promise as a first-round rookie last year. Cousins has certainly dealt with lesser lines in Minnesota.
But O'Connell will have to make sure this talent is delivering as the Vikings underachieved last season despite Jefferson having another outstanding season after his rookie dominance. Minnesota finished 16th in points per drive, 26th in third-down conversion rate, and only the Texans went three-and-out more often than the Vikings (27.3% of drives).
Another Championship-Caliber Offense?
By comparison, O'Connell's Rams were:
Fourth in points per drive.
Seventh on third down.
Third-lowest rate of three-and-out drives.
That was a championship-caliber offense.
Can Jefferson do what Cooper Kupp did? Not necessarily. Kupp had arguably the greatest receiving season in NFL history in 2021, and he dominates from the slot and gets matched up with linebackers and safeties in a way that Jefferson is unlikely to see. However, Jefferson can put up huge numbers and O'Connell may have good ideas on how to move him around more to create those matchup advantages. Jefferson should again be incredible in 2022.
Can Kevin O'Connell Improve Kirk Cousins… Again?
The interesting question is can O'Connell bring a glow-up to Cousins' game like the Rams did for Matthew Stafford in 2021? In Detroit, Stafford was 8-68 (.105) in games against teams with a winning record. He had never won two such games in a row in his career. Last year, he won seven such games on his way to a Super Bowl win, including three straight playoff wins by three points (NFL record).
If Stafford can do that with a better team and system around him, then why can't Cousins? Remember, Cousins has better career efficiency stats than Stafford in practically every metric there is.
But Stafford seemed to get the label of a good quarterback held back by a terrible franchise. Cousins has the perception of being the problem with his team. No one ever thinks he is as good as his numbers suggest he is.
There is some validity to this perception, and the notable difference between Stafford and Cousins may be how much trust you put in each with the game on the line.
In games where he has the ball in the fourth quarter and is trailing by one score, Matthew Stafford's team is 35-51-1 (.408), the eighth-best record among active starters.
In games where he has the ball in the fourth quarter and is trailing by one score, Kirk Cousins' team is 12-36-2 (.260), one of the worst records among active starters.
Stafford is 45-52-1 (.464) in all game-winning drive opportunities in the fourth quarter and overtime.
Cousins is 21-37-2 (.367) in all game-winning drive opportunities in the fourth quarter and overtime.
The Stafford Case
Stafford was not a one-year wonder. In 2016, he led the Lions to eight fourth-quarter comeback wins, an NFL record for one season. That's almost as many as Cousins (12) has led in his whole career.
The 2021 Rams likely had a better supporting cast around the quarterback than the 2022 Vikings will have for Cousins. There also is the real question of how much success should we be giving O'Connell versus how much was McVay. O'Connell was the offensive coordinator in 2020 too when the Rams were poor on offense in Jared Goff's last season there.
After the Rams knew Goff would never get them over the hump, they made the move to trade for Stafford. O'Connell saw this firsthand. While he is going to give this a go with Cousins this year if things disappoint again with a record around .500, could the Vikings be the next team that looks to make a blockbuster trade at quarterback in 2023?
There is decent pressure on Cousins and O'Connell to be an instant success this year. Making the playoffs would be a success. But setting the bar to a Super Bowl because of what happened with Stafford last year would be a bad way to analyze this Minnesota team. Let's look for a better offense, 10 wins, and a playoff appearance first.
New Defense
Minnesota should remain an offensive-driven team that can be at least average on defense after two of the worst seasons in franchise history. Veteran Ed Donatell takes over as defensive coordinator after being s successful in Denver the last three years. He is best known as the coordinator who got fired from Green Bay after his defense allowed a fourth-and-26 conversion in a playoff game to the Eagles in the 2003 season.
A legacy shaped by painful playoff memories? He will fit right in with the Vikings. But he would love some better health for the defense.
Star pass rusher Danielle Hunter has only played seven games in the last two seasons. Anthony Barr is off to Dallas, but the Vikings are better at linebacker after adding Za'Darius Smith (Packers) and Jordan Hicks (Cardinals). Smith had 26 sacks in 2019-20 before getting injured in Week 1 last season. Green Bay's loss is Minnesota's gain.
The Vikings are still relying on veterans in the secondary with corner Patrick Peterson and safety Harrison Smith, but the team did add first-round safety Lewis Cine (Georgia) in the 2022 draft. Cine could be an upgrade to Xavier Woods from last year, but Peterson is going to need a better second season with the team after crafting out a Hall of Fame career in Arizona.
Season Wins Prediction
In this space a year ago we said that Newton's fourth law of motion states that a Cousins-led team cannot stay more than a game from .500. That would seem to make under 9.5 wins a mortal lock for your NFL picks, but what if an offensive-minded coach and easy schedule are the keys to Minnesota finally getting back to 10 wins?
The NFL's two West divisions are as good as it gets right now, but the Vikings only play one game against those teams this year: Week 8 vs. Arizona, a team they should have beat last year.
The Pick
Minnesota has gotten so good at splitting with Green Bay, another team that looks to be declining, that getting five wins in the division is realistic. There are other winnable games with the two New York teams, the Commanders, and maybe some pre-Thanksgiving revenge for the Cooper Rush game last year against Dallas.
It is hard to imagine the defense could be any worse than the last two years, and O'Connell's arrival should be a big boost to one of the most talented offenses in the league. It is a risky pick because of who the quarterback is, but I am sold on the Vikings going over 9.5 wins this year and being one of the seven playoff teams in the NFC.
NFL Pick: Over 9.5 Seasons Wins (-125) at Bovada (visit our Bovada Review)

Over 9.5 Seasons Wins

(-125)
*The line and/or odds on picks in this article might have moved since the content was commissioned. For updated line movements, visit BMR's free betting odds product.
---
On the Last Season of "The Vikings": Zimmer Had Enough Anyway
It was not a well-kept secret that former Vikings coach Mike Zimmer was not a fan of quarterback Kirk Cousins. Things finally reached a boiling point after four years together, and in the end, the team is moving along with the highly-paid quarterback and said goodbye to the veteran coach.
It probably is the right move, but the 2021 season was another classic example of why things only seem to go well half the time for a team led by Cousins at quarterback.
Turnovers and Close Games: Not What They Seemed
On the surface, the Vikings seemed to protect the ball well and finally had some success in close games in 2021. Minnesota was tied for the league low in giveaways with 13, and Cousins led as many game-winning drives (four) as he did in the last three regular seasons combined.
However, Minnesota is only the third team in NFL history to have fewer than 14 giveaways in a full season and still lose at least nine games. The Vikings were also 3-7 in games with a fourth-quarter comeback opportunity last year. Cleveland was the only other team with seven such losses. Minnesota was tied with several teams for blowing the most fourth-quarter leads with four.
Sure, Cousins led a great game-winning drive in overtime against Carolina on a banner day for the offense with a season-high 571 yards. He also got it done in a shootout against Green Bay in the team's most important win of the season.
Close Losses
But there were still seven close losses that sunk this team's season. Just one or two wins there would have been enough to make the playoffs in an NFC that sent a 9-8 Eagles team to the slaughter in the wild-card round in Tampa Bay. That should have been Minnesota's spot, but something always went wrong.
In Week 1, running back Dalvin Cook fumbled in overtime against the Bengals with Minnesota on the verge of a game-winning field goal. Maybe the kick would have been missed anyway because that's what kicker Greg Joseph did a week later on the final play of a 34-33 loss to Arizona when he missed a 37-yard field goal. The Vikings were 0-2 after failing on a couple of routine plays at the end of games.
The defense also had two of the biggest letdown moments of the season. On Halloween, the Cowboys were forced to start Cooper Rush for an injured Dak Prescott. Minnesota's defense allowed him to throw for 325 yards and the game-winning touchdown pass with 51 seconds left.
Biggest Upset of the Season?
In Week 13, the 0-10-1 Lions gave Minnesota all it could handle after nearly beating the Vikings in Week 5 as well. Embattled quarterback Jared Goff had the highlight of his season by leading a 75-yard touchdown drive against Zimmer's defense in the final two minutes, finding the game-winning touchdown throw on the final play of the game in a 29-27 upset to give the Lions their first win of the season.
Hold onto the ball. Make high-percentage field goals. Stop bad quarterbacks from driving the length of the field for game-winning touchdowns in the final minute. The Vikings could have been 12-5 if they weren't addicted to nonsense.
Peak Kirk Cousins Nonsense
There were three moments late in the season that sum up the difficulty of following a team with Cousins as the quarterback. The first was the 36-28 win on a Thursday night against the Steelers in Week 14. Minnesota built a 29-0 lead more than halfway through the third quarter by embarrassing Pittsburgh's run defense.
But the Steelers almost were able to come all the way back thanks in part to two terrible interceptions by Cousins. He finished the game with a 63.4 passer rating, which ended one of the wildest streaks in NFL history. Prior to this game, Cousins was 0-29 when his passer rating was under 85.0 (min. 20 attempts), the worst record in NFL history. He ended his 0-29 streak in a game where the Vikings nearly blew a 29-0 lead, and he would have been crucified for his part in that.
Just one week later against the Bears in prime time, Cousins passed for 87 yards (career-low in a start), took four sacks, and only had a 69.3 rating. But the Bears still won again thanks to the defense in a 17-9 snoozer. Cousins went from 0-29 with his rating under 85.0 to two straight wins with his rating under 70.0.
Perfect Timing?
But if you thought this would lead to a late surge and playoff push, then you underestimate the power of Cousins to bring things towards .500. After a hollow performance against the Rams in a loss, Cousins was hoping to complete a season sweep of the top-seeded Packers and keep Minnesota's season alive.
The only problem was he never took the COVID-19 vaccination, and he ended up having to sit the Week 17 game out after testing positive for the virus. Perfect timing for the first health-related missed start of Cousins' NFL career as the Packers destroyed Minnesota 37-10 and eliminated the Vikings from the playoffs.
Would Cousins return for the Week 18 finale to pad his stats in an easy win over the Bears to make sure he finished 8-8 in his starts? As if the Earth's rotation depended on it, he did just that to close out his third Pro Bowl season and end Zimmer's misery of showing up to work.
This is Kevin O'Connell's problem now.