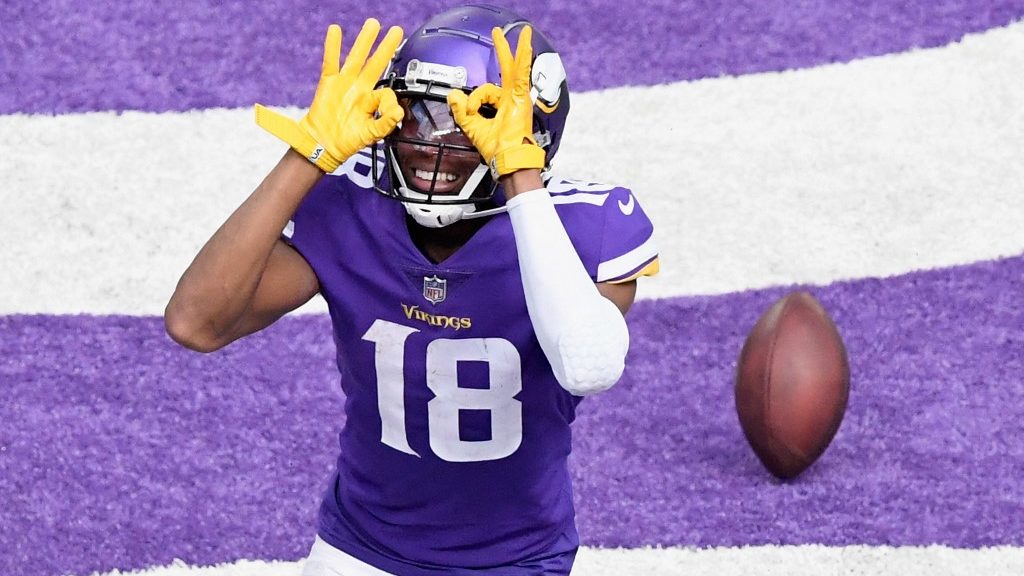 The Minnesota Vikings failed in their attempt to stack together playoff appearances for the first time since the 2008-09 seasons. Head coach Mike Zimmer saw his defense regress to its worst level during his coaching tenure, which took away from the impact of some very fine seasons by his offense's skill players. This has also taken a toll on the team's NFL odds going into the 2021 season.
In seven seasons with the Vikings, Zimmer has made the playoffs every other year. Can he continue that trend and return to the playoffs this year? Many of the top sportsbooks have the Vikings with an over/under of 8.5 wins, which may be the most fitting line possible given the quarterback in Minnesota.
Kirk Cousins is the only quarterback in the NFL since 1979 to finish a season 8-7-1 as a starter and he has done it twice (2016 and 2018).
2020 Season: Bad Start, Bad Finish
While the 2020 Vikings were never a championship-caliber team, there was potential for the playoffs, especially in a year where the Chicago Bears got in as an 8-8 No. 7 seed. But the Vikings finished 7-9 and blew three fourth-quarter leads, including a crippling one to a bad Dallas team with Andy Dalton at quarterback in Week 11. That one snapped the potential for a six-game winning streak that may have carried the Vikings into the tournament.
But, then again, would the No. 7 seed and a return trip to New Orleans had been worth the lower draft picks? After all, this was a team that needed overtime to get by a 1-15 Jacksonville team. While the Vikings did upset the Saints at home in the wild card round in 2019, this time the team played there on Christmas and watched Alvin Kamara score six touchdowns in a 52-33 loss. It was one of seven games last season where Minnesota allowed at least 31 points, something it did only one time in each of the previous two seasons.
The fact is the 2020 Vikings accomplished very little besides finally getting a road win in Green Bay and establishing rookie Justin Jefferson as an outstanding replacement for Stefon Diggs as the No. 1 wide receiver. Jefferson's 1,400 receiving yards are the second-most in NFL history for a rookie only behind Bill Groman, who had 1,473 yards in the pass-happy AFL back in 1960. That means Jefferson has the rookie record in an NFL season.
Jefferson achieved this in the highest-scoring season in NFL history where defense often looked optional, so we may want to cut down the hyperbole that he had a better rookie year than Randy Moss, who caught 10 more touchdowns in leading the Vikings to a scoring record and 15-1 season.
Nonetheless, it was a great rookie season and it crushed any idea that the Vikings would tank offensively without Diggs, who exploded in his own right with the Bills last year. The Vikings were not an elite offense last year and did pad some stats in garbage time but the bigger problems were by far on defense and a special teams unit that was surprisingly bad in almost every facet.
Still, you would like to see better play from that team as a whole in crunch time. For example, against the Titans and Cowboys, they only needed a field goal for the win but Cousins was unable to get the offense past its own 30-yard line.
In hindsight, the Vikings did start the season with a really difficult schedule. Four of their first five opponents all went on to win 11-plus games. Losing 40-23 to the 0-5 Falcons, who just fired head coach Dan Quinn, was inexcusable. The aforementioned Dallas loss was painful, but the Vikings also had a shot at a huge win over Tampa Bay when the future champs were reeling with a 7-5 record. Instead, Minnesota continuously settled for field goals, missing three of them and allowing six sacks of Cousins in a 26-14 loss. Throw in a 33-27 home loss to Mitchell Trubisky and the Bears and that was basically the end of the line for Minnesota.
The Notable Changes for 2021
After a disappointing 7-9 season, you might think the Vikings had some big coaching changes in mind. Instead, Zimmer is keeping things in the family as NFL coaches often do. His son Adam is still sharing defensive coordinator duties with Andre Patterson. Both have been with Zimmer in Minnesota since 2014. Offensive coordinator Gary Kubiak retired again, but his 34-year-old son Klint is taking over that job. After seeing the way Kevin Stefanski improved the Browns as their head coach in 2020, it might be safe to say the Vikings are missing him on the staff as they prioritize bloodlines.
At least the special teams' coordinator is gone, only to be replaced by Ryan Ficken, who has been with the organization since 2007. Kicker Greg Joseph is replacing Dan Bailey, who only made 79.7% of his field goals with the team since 2018.
The offense is, mostly, staying intact from last year. Tight end Kyle Rudolph (Giants) is gone after a decade, but Irv Smith already jumped ahead of his production in 2020. It is time for the third-year tight end to make a bigger leap after having similar numbers in his first two seasons. The receiving corps is not deep at all. Should something happen to Jefferson or Adam Thielen, this unit could get messy in a hurry.
The offensive line has been a point of contention for the whole Cousins era. It still looks like a weakness going into the season. Left tackle Christian Darrisaw was the team's first-round pick. Not to take draft analyst Lance Zierlein's scouting report from NFL.com as gospel, but I see it as a red flag when a player is noted for playing nonchalantly and relying on athleticism over technique.
The Vikings are going to be relying heavily on young, unproven players here as center Garrett Bradbury, guard Ezra Cleveland, and third-round guard Wyatt Davis were all drafted since 2019. This is how days like the six sacks in Tampa Bay happen if the Vikings play against a good defense.
But what if the Vikings play good defense again so the offense does not have to score as much to win? Last year's unit saw a huge drop in the pass rush production after veteran Everson Griffen left in free agency. The Vikings traded a second-round pick for Yannick Ngakoue, only to trade him to Baltimore in October, getting a third-round pick back in return. He still ended up leading the team with 5.0 sacks despite playing only six games.
Worse, Danielle Hunter went from back-to-back seasons of 14.5 sacks to not playing a down in 2020 due to neck surgery for a herniated disc. Hunter is back this year as is defensive tackle Sheldon Richardson, who played with the team in 2018. Richardson will back up new addition and run stopper Dalvin Tomlinson from the Giants, and the team also beefed up at nose tackle with Baltimore starter Michael Pierce. But a second top rusher is still going to have to emerge to help Hunter.
A New Defense
Health should also improve the linebacker corps in 2021. Anthony Barr has rarely played a full 16-game season in his career, but last year was his worst injury yet as he tore his pectoral muscle in Week 2 and missed the last 14 games. Eric Kendricks also missed a career-high five games one year after his first All-Pro season.
Safety Harrison Smith still leads the secondary but, otherwise, it has gone through significant changes, especially at corner. It was not long ago that the Vikings thought they had a workable trio in Xavier Rhodes, Trae Waynes, and Mike Hughes, all first-round picks in Minnesota. But all three are gone, and few would have expected former second-round pick Mackensie Alexander would be the one to return after a year with the Bengals.
Minnesota again used the draft in 2020 to invest heavily in corners with Jeff Gladney late in the first round and Cameron Dantzler in the third round. Both ended up playing a lot last year as rookies, but Gladney had a poor season. The Vikings already released him this month after he was indicted in a domestic violence case. Dantzler remains, but he and Alexander should take a back seat to starting veterans Patrick Peterson and Bashaud Breeland.
Peterson has built up a Hall of Fame resume in Arizona during the last decade. He's past his prime but he will be better than Gladney. Breeland has started 88 games and just had a solid two-year run in helping the Chiefs to two Super Bowl appearances. The Vikings are also replacing free safety Anthony Harris with Dallas' Xavier Woods, who had a down year in 2020 but has had some past success.
In a league where so many mediocre defenses did little to improve the roster talent this year, I give the Vikings a better shot than most to make a significant jump in the defensive rankings after the returns of Hunter, Barr, and Kendricks, and the additions of Tomlinson, Pierce, Peterson, Woods, and Breeland. It is basically a whole new defense.
Stats More Interesting Than Kirk Cousins Himself
As Kirk Cousins enters his 10th season in the NFL, he finds himself in an unenviable situation. No one loves him or thinks he is an elite quarterback, but he is never relevant enough to attract a throng of haters. People tend to just not have strong reactions about the 14th-best quarterback in the NFL.
Since becoming a full-time starter in 2015, Cousins has never missed a game for injury and has quietly built one of the stronger-looking statistical resumes with two different franchises. Cousins is one of 22 quarterbacks to attempt at least 2,000 passes since 2015.
Among those 22 quarterbacks, Cousins ranks second in completion percentage (68.0%), fourth in passing yards (25,342) between Tom Brady and Drew Brees, fourth in yards per attempt (7.79), fifth in touchdown passes (172), and fourth in passer rating (100.5) between Aaron Rodgers (101.6) and Brady (100.2).
That is amusing stuff, yet for a quarterback who has made "you like that?" as his catchphrase, NFL fans clearly do not like it that much. No one would think twice about lumping Cousins in with Brady, Rodgers, and Brees over the last six seasons. Part of the disconnect here is that his statistical passing success does not translate to more wins, as it does for those quarterbacks.
Cousins is an absolutely fitting 51-51-2 as a starter in the regular season (plus 1-2 in the playoffs). Since 2015, his records have been 9-7, 8-7-1, 7-9, 8-7-1, 10-5, and 7-9. It is as if he is incapable of straying more than a game from .500 or the Earth will spin off its axis. The one time he did in 2019, the world was thrown into a global pandemic. That is just the facts.
All jokes aside, Cousins does tend to produce misleading stat lines that can help explain why his teams do not win more. A 5-yard checkdown on third-and-14 is safe and helps the completion percentage, but it does not help a team win, especially if it's the final drive of the game and you need a score. Cousins is 9-29-2 (.250) at fourth-quarter comeback opportunities. Only Ryan Fitzpatrick (13-48) has a worse record among active veterans.
Breaking Habits
Taking a bad strip-sack and turning the ball over won't hurt your yards per attempt or passer rating, but it will hurt your team. Cousins has fumbled at least nine times in six straight seasons. Leading long touchdown drives when your team is down 43-26, 28-3, and 40-15 late in the fourth quarter – those are actual garbage time drives Cousins had against the Packers, Colts, and Falcons in 2020 – will make your stats look better, but the damage was already done by your earlier play.
More advanced metrics that take those situations into account show that Cousins' passing stats are not all they are cracked up to be. Cousins' average ranking in ESPN's QBR over the last six seasons is 12.3. He has not ranked higher than 13th with the Vikings and he has ranked from 13th to 18th in each of the last four seasons. Again, he is roughly the 14th-best quarterback in the NFL depending on how some of these young players shake out.
In Cousins' defense, he has never enjoyed the luxury of producing a below-average stat line and still walking away with a win that day. In his career, Cousins is 0-28 when he has a passer rating under 85.0 on at least 20 attempts, the worst record in NFL history. Only Chris Weinke (0-14) and Gary Huff (1-18) come even close to that record. Someone like Tom Brady is 60-52 (.536) when his passer rating is under 85.0. Since Cousins came into the league in 2012, 92 different starting quarterbacks have won a total of 538 games with a passer rating under 85.0 on at least 20 attempts. But zero of them for Cousins.
Baby steps for Cousins. He was 0-9 on Monday Night Football before getting his first win over the Bears last season. He was 0-22 when his teams allowed more than 30 points before ending 2020 with a 37-35 win over the Lions. Maybe 2021 is the season where he has an off day as a passer, but the Vikings still win because Dalvin Cook runs wild, and the defense dominates. Some football games are meant to play out that way. The problem with Cousins is that it's yet to happen to him after nine seasons.
The Vikings are pretty much locked into Cousins' contract through 2022 after he signed a two-year extension worth $66 million in March 2020. His cap number rises to $45 million next year. The team would love to see him make this work to stick around longer than that, but if the Vikings are going to continue hovering around .500, then there are cheaper ways to do that at quarterback while being able to add more pieces for the next franchise quarterback.
Prediction
The NFC North teams have drawn pretty tough schedules due to playing the NFC West and AFC North. However, Minnesota's draw looks better than most with winnable road games right off the bat in Cincinnati and Arizona as neither of those teams looks ready for September. Detroit is still very much a sweep-able team as it was last year for Minnesota and a split with Chicago is also more likely than not.
You are not going to trust the Vikings to go into Baltimore and win but hosting the Cowboys and Steelers in prime time are winnable games. Playing the Rams and Seahawks at home is also preferable to going on the road with real crowds this year.
For my NFL pick, I would feel comfortable with the Vikings finishing 9-8 this year. Remember, Newton's fourth law of motion states that a Cousins-led team cannot stay more than a game from .500. But the Vikings should play much better defense and the offense is still led by some star talent to make a run at the playoffs a real possibility.
2021 Vikings Over/Under Pick: Over 8.5 wins (-160) at Bovada (visit our Bovada Review)
*The line and/or odds on picks in this article might have moved since the content was commissioned. For updated line movements, visit BMR's free betting odds product.