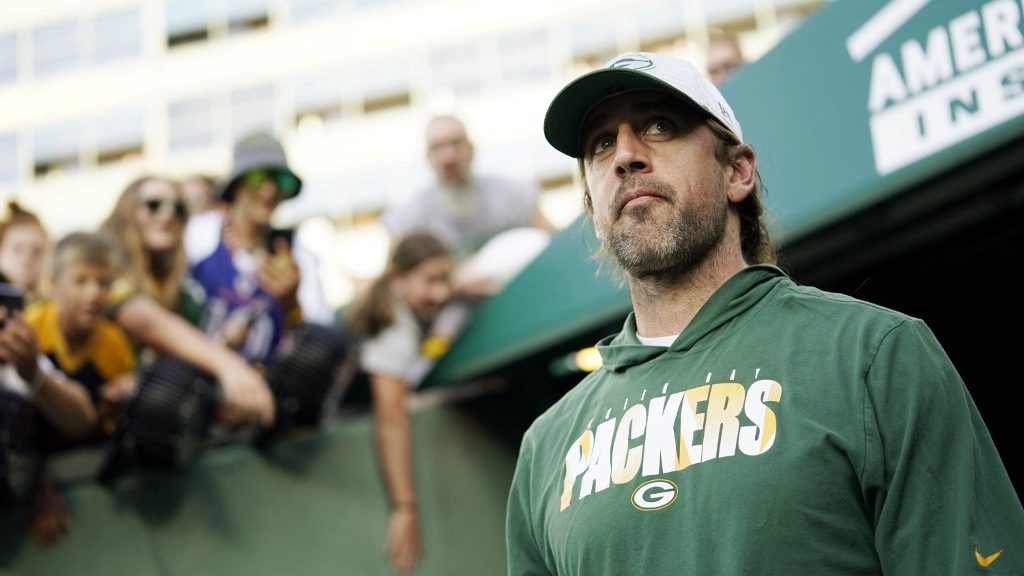 The Green Bay Packers proved that the path to 13-3 and losing in the NFC Championship Game can look very different even if the outcome is the same. The Packers have done those things in each of head coach Matt LaFleur's first two seasons, but last year saw quarterback Aaron Rodgers return to his dominant form and win his third MVP award. So, what are the expectations for the 2021 season? Let's see what the NFL odds tell us.
The offseason has been a dramatic one with the media spinning stories about Rodgers' future with the team, including a draft night in April that had some Denver fans believing Rodgers was being traded to the Broncos. Nothing happened as Rodgers mostly remained coy on the subject. Perhaps his most viral moment was in July when he posted a picture to social media, as did wide receiver Davante Adams, of Michael Jordan and "The Last Dance" Chicago Bulls, a reference to the documentary of the final championship season for that team.
Adams, in a contract year, is still looking for his first Super Bowl appearance as the team has infamously not gotten back there since Super Bowl XLV in 2010.
The 2019-20 Packers are the 13th team in NFL history to win at least 13 games in consecutive seasons, but none of the first 12 teams managed to do it three years in a row. However, there is a 17th game this year. Many of the top sportsbooks have the Packers with an over/under of 10.5 wins. That number may have cooked in some of the hesitancy from Rodgers to play for the team this season, but we are going to assume he is ready to go since he clearly did not get the Jeopardy! hosting job. Might as well give this leading Green Bay to a Super Bowl thing one more try.
Prime Aaron Rodgers Returns, But for How Long?
Believe it or not, but one of the strangest career arcs in NFL history is that of Aaron Rodgers. From 2009 to 2014, he looked to have the potential to go down as the greatest quarterback in NFL history. Even his 2015 season got off to another strong start at 6-0, but after a bye week vacation and a game in Denver against the No. 1 defense, Rodgers bombed. He failed to break a 100.0 passer rating in his next 14 games, relying on a couple of Hail Mary hits to stay relevant in the top quarterback discussion.
After a 4-6 start in 2016, only a hot streak to end the season had Rodgers looking like he was back on track. But another broken collarbone derailed his 2017 season, and in 2018, he played so cautiously that his ratio of 25 touchdowns to two interceptions failed to produce a good offense. The Packers finished 6-9-1 and fired longtime coach Mike McCarthy, who became the scapegoat for running an offense that had grown stale.
After adding Matt LaFleur as head coach, the 2019 Packers improved to 13-3. However, that team scored the same 376 points that the 2018 Packers scored on their way to 6-9-1. Green Bay got there with a lot of wins over bad teams where the defense had to hold onto a late one-score lead. Rodgers actually had a career-low 52.5 QBR in 2019 under LaFleur, which ranked 20th in the league. Green Bay was steamrolled in the NFC Championship Game in San Francisco, the second loss of the season to that team.
What happened to the Prime Aaron Rodgers of 2009-2014? His yards per attempt dropped from a stellar 8.4 in those seasons to 7.1 in 2015-19, a league-average number at best. One problem was a broken play-action passing game that failed to produce the big plays of past seasons. The receiving corps also went from the deepest in the league to mostly being the Davante Adams Show.
The only skill players the Packers drafted in the top 100 picks from 2015-19 were part-time running back Ty Montgomery and rarely used tight end Jace Sternberger. The team did not splurge for free agents and usually just added low-key tight ends on the downslope of their careers such as Jared Cook or Jimmy Graham.
So, you can probably see the frustration boil over when the Packers used the 26th pick in the 2020 draft on Jordan Love, a quarterback and potential replacement for Rodgers. Picks like that are not unheard of, especially when a quarterback is about to turn 37 like Rodgers was. The Broncos once drafted Tommy Maddox in the first round when a 32-year-old John Elway was coming off an AFC Championship Game loss.
The Patriots drafted Jimmy Garoppolo in 2014 when a 37-year-old Tom Brady had gone nine seasons without winning a Super Bowl. Even Rodgers himself was drafted after Brett Favre, who was going on 36, had a good playoff season in 2004.
A quarterback using his backup as motivation to get better is not unheard of either, as all three of those players did eventually do. After Joe Montana nearly lost his job to Steve Young with the 1988 49ers, he came back in 1989 and had the most dominant season of his career for another Super Bowl win.
Chip on the Shoulder
Rodgers, no stranger to holding grudges, also took things to a higher level last year. In Week 1 in Minnesota, he had a game as good as anything from his vintage days. A win over Detroit is nothing new for Green Bay, but then the 37-30 victory in New Orleans without Adams available was a great Rodgers performance on the road against a good team, something the Packers rarely ever pull off. Rodgers embarrassed a clueless Atlanta defense to get to 4-0 and this looked like an elite offense once again.
After a bye week, the Packers hit a roadblock in Tampa Bay. After opening a 10-0 lead, Rodgers was intercepted on consecutive drives, something you will rarely see him do. That seemed to rattle him as the plays basically led to 14 direct points for Tampa Bay. Rodgers continued to struggle, could have thrown two more picks, and the Packers were run out of the building 38-10. Left tackle David Bakhtiari also went down with an injury that cost him the next three games.
During that stretch without their left tackle, the Packers also dropped a home game to the Vikings in which Dalvin Cook went wild on the defense. In Indianapolis, the Packers lost an overtime game after Marquez Valdes-Scantling fumbled in overtime. Green Bay had seven turnovers in those three losses and just four giveaways in their 14 wins (including playoffs) last year. The Buccaneers and Colts were on a very short list of teams in the NFL, last year, balanced enough to be top 10 on both sides of the ball.
Naturally, that is the type of team that Green Bay would struggle most with as you need to be able to score enough points to beat Rodgers while also defending him well.
But most teams in the league could not keep up with the Packers as Rodgers completed a career-high 70.7% of his passes with a career-high 48 touchdown passes to win his third MVP. He also had a career-low sack rate of 3.7% as Green Bay's pass protection was outstanding. Still, it was a bit miraculous to see this offense lead the league in scoring after using almost the same offensive cast as 2019:
There was a change on the right side of the offensive line, but most of the starters were the same from 2019.
Running backs Aaron Jones and Jamaal Williams rushed for 1,609 yards in 2020 after rushing for 1,544 yards in 2019.
Second-round rookie and No. 3 running back AJ Dillon did not contribute a ton outside of his 124-yard effort in the snow against Tennessee.
Adams was healthier and playing at a higher level in 2020, but he was still the leading receiver for both offenses.
The secondary receivers were the same with Valdes-Scantling producing big plays mixed in with some mistakes and Allen Lazard even missed six games in 2020.
The biggest change was at tight end as Jimmy Graham's snaps were replaced by Robert Tonyan, who exploded with 586 yards, 11 touchdowns, and he caught 88.1% of his targets.
I refuse to believe Graham was holding the Packers back that much in 2019, and Tonyan's success had a bit of "no one expects him to be good, so here is some loose coverage" feel to it early in the season. Still, that Love pick might have been the best motivational move the Packers have made in a decade.
Protect the QB
But how would Green Bay fare in the playoffs against better defenses? One of the biggest losses last year was when Bakhtiari, who made the All-Pro team again, tore his ACL before the Week 17 game against Chicago. The Packers gave up a surprising five sacks to Carolina's bad pass rush in Week 15. How would facing Aaron Donald and the Rams' No. 1 defense go without their stud left tackle?
Green Bay was dominant in that first playoff game. Rodgers was sharp and got a short touchdown pass to Adams, who lost Jalen Ramsey in coverage. The big 58-yard play went to Lazard and the running game was excellent with 188 yards. The Packers had no problems in winning 32-18.
That set up the huge challenge with Tampa Bay in the NFC Championship Game. To get to his second Super Bowl, Rodgers was going to have to conquer the defense that put the biggest eyesore on his MVP season. While this game played out much differently, it was one where Bakhtiari was sorely missed as Rodgers took five sacks. But Green Bay mostly lost this game in a six-minute span late in the first half and to start the third quarter.
Rodgers was intercepted on a pass that looked like it may have drawn a flag on the defense, but there was no call. Tom Brady threw a 39-yard touchdown pass to Scotty Miller in the final seconds of the quarter as corner Kevin King had inexplicably bad coverage on the play. Aaron Jones then fumbled in the third quarter, which led to an 8-yard touchdown drive for Tampa Bay. That opened a 28-10 lead. Rodgers tried to lead the biggest comeback of his career, and the defense even intercepted Brady on three consecutive drives, but the field position was never advantageous, and the Tampa Bay pass rush had its way with the Green Bay line.
Even then, the Packers had a first down at the Tampa 8 with a 31-23 deficit in the final minutes. The best red zone offense in the league all year was stopped again as the Rodgers-to-Adams connection was off on this day. The Packers settled for a 26-yard field goal in what was a really difficult fourth-down decision to make. That made it 31-26, but Rodgers never saw the ball again. Tampa Bay ran out the clock after King, who had a horrific day all around for Green Bay, was flagged for pass interference on a third-down play.
What do the 2012 49ers, 2013 49ers, 2014 Seahawks, 2015 Cardinals, 2016 Falcons, 2019 49ers, and 2020 Buccaneers all have in common? They swept Rodgers and Green Bay out of the playoffs. Those 14 losses give one pause when it comes to picking the Packers to get back to a Super Bowl. Beating a team that got the best of them in the regular season has been a serious problem. On the bright side, the Buccaneers are not on Green Bay's 2021 schedule.
Regression Alert: 500-Point Teams
Concerning the bonus 17th game, the 2021 Packers are likely going to average fewer points per game and win a lower percentage of games than they did last year. As mentioned before, no one has won 13-plus games in three consecutive seasons. Also, only the 1999-01 Rams and 2010-12 Patriots have scored over 500 points in consecutive seasons, each doing it three years in a row. Oddly enough, no one has ever done it just two years in a row.
While a 17th game can certainly help with those counting stats, it is just a fact that really high-scoring teams like the 2020 Packers almost always regress the next year. It is also a fact that offensive numbers were at historic levels in 2020 likely due to the lack of a real offseason and the empty stadiums, all thanks to the pandemic.
As I touched on in the season recap, the Packers played a lot of poor defenses in 2020. The Vikings had their worst defense yet under Mike Zimmer, the Bears were a mediocre unit, and the 2020 Lions allowed the second-most points in NFL history. Houston and Jacksonville also had horrific defenses, and the Packers faced the Falcons before they fired Dan Quinn. The Packers also played the 49ers on a short week in a game that probably should have been delayed for COVID reasons with how shorthanded San Francisco was. Even the Titans, a playoff team, had an all-time bad third-down defense last year.
Around the league, we saw offenses hit record levels of scoring, third-down conversions, and red zone touchdown rate. In fact, the red zone success could be the main factor in why you should expect the Packers to take a step back on the scoreboard this year. In 2020, the Packers were 48-of-60 (80.0%) at scoring touchdowns in the red zone. That is the highest touchdown rate of any offense since at least 1999. However, the league-wide rate in 2020 was at 61.2%, the first season on record above 60%. Maybe the league is trending up in this area with more teams going for touchdowns on fourth down instead of settling for field goals, but chances are last year was too much of an anomaly due to the pandemic.
But for Green Bay, the red zone play was fantastic. No offense since the 2002-03 Chiefs has managed to finish No. 1 in red zone touchdown rate in consecutive seasons. The average decline is nearly 12 percentage points. Green Bay was also solid on defense, allowing a touchdown in the red zone 57.7% of the time. Subtract the defense from the offense and Green Bay was plus-22.3 percentage points in the red zone last year, the best differential in the league. Among the last 21 teams to lead the league in red-zone touchdown rate differential, their average rank the next season was 12.8. Seven of the last eight teams ranked no higher than 13th the following year.
We may have already seen some regression there in the playoffs, albeit the Packers were without Bakhtiari by then. Green Bay was 38-of-42 (90.4%) in goal-to-go situations last year, another staggeringly good number. However, the Packers were stopped twice there in each playoff game, combining for as many stops in the playoffs as they had in 16 regular-season games.
For as great as Rodgers' season was, it was quite arguably the weakest of his three MVP years when you consider the quality of defense around the league. Rodgers also threw eight touchdown passes of 1 yard, a new NFL record as no other quarterback had ever thrown more than six touchdowns from the 1-yard line in a season. Rodgers himself never threw more than five in a season before last year, but he sure seemed determined to get as many shorties as he could in 2020. Rodgers attempted 13 passes from the 1-yard line, six more than any other quarterback in 2020. Any fantasy players wondering why Jones saw his touchdowns drop from 16 in 2019 to nine last year, this has a lot to do with it.
Rodgers has generally led quality offenses in the red zone in his career, but last season was the first time the Packers ranked higher than third with him. Their average ranking since 2008 is 8.9 and they were eighth in 2019. But between the expectations of a tougher schedule and overall better defensive climate in the 2021 season with the return of fans, it is a safe bet that the Packers will not be as lethal on offense this year. After all, it is not like they added the prime version of Randall Cobb.
The Notable Changes for 2021
If this is indeed "The Last Dance" for Rodgers and perhaps Adams, in Green Bay, then the Packers should go all out in loading up the roster, right? Maybe even let Rodgers give some input on which players they should target.
Except he did that, and now they have traded to bring back slot receiver Randall Cobb. Rodgers has also jokingly expressed interest in linebacker Clay Matthews, who has not played since 2019. Maybe the best thing Rodgers can do is find the location of Tom Brady's Lazarus Pit and text Charles Woodson the address. The new Hall of Famer could come out of retirement and lead the defense back to a Super Bowl.
The one time Rodgers had a great defense (2010) was the one time he won a Super Bowl, and that was not a coincidence. The clamoring for more "first-round weapons" has been one of the pettiest arguments made about Green Bay during a run in which the team has allowed 35.0 points per game in four NFC Championship Game losses. How about someone on Green Bay's defense steps up in the playoffs and makes a name for themselves so we can show something besides highlights of Tramon Williams, B.J. Raji, and Nick Collins making playoff pick-sixes a decade ago?
Also, would Packers fans prefer a first-round pass-catcher or a great second-round prospect like Adams, Cobb, and Jordy Nelson once were? It is not just about that round, and it is not like the Packers have missed out on studs with their draft picks. Not to mention, Cobb was with the Packers through 2018. He and Adams made a solid duo that would have served Green Bay better or just as well had it gone with some of these rookies.
2015: Packers drafted safety Damarious Randall (1.30), passing on wide receivers Devin Smith (2.37) and Dorial Green-Beckham (2.40). No harm, no foul.
2016: Packers drafted Kenny Clark (1.27), a key part of the defensive line, and passed on tight end Hunter Henry (2.35), who arguably never had a season better than what Tonyan had in 2020.
2017: Packers drafted corner Kevin King (2.33), and yes, this may have proven to be a fatal mistake, but adding Zay Jones (2.37) or Curtis Samuel (2.40) was not the answer either.
2018: Packers drafted Pro Bowl corner Jaire Alexander (1.18), who allowed minus-3 yards on seven targets in pass coverage last postseason. Would it have been better to pair up Adams with wideouts D.J. Moore (1.24) or Calvin Ridley (1.26)? Maybe.
2019: Packers drafted linebacker Rashan Gary (1.12) and safety Darnell Savage (1.21), passing on tight end Noah Fant (1.20) and wideouts Marquise Brown (1.25) and N'Keal Harry (1.32). Again, no biggie. Not going for DK Metcalf in the second round is the mistake.
2020: Packers drafted quarterback Jordan Love (1.26), passing on wide receivers Tee Higgins (2.33) and Michael Pittman Jr. (2.34).
Look, there is understandable anger over the Love pick, but everyone from the fans to Aaron Rodgers himself need to face the reality of the situation. You did not lose to Tampa Bay because your team did not draft Tee Higgins or Chase Claypool. You lost because you had Kevin King exposed at corner in a Mike Pettine-coached defense.
When the wide receivers are good enough to have a season with the No. 1 offense, then they should be good enough to get to a Super Bowl too. For all their flaws, Valdes-Scantling and Lazard were the only players to have plays that gained more than 15 yards against Tampa Bay in January. They had three each while Jones nearly lost two fumbles and Adams failed to haul in a touchdown on one of those red-zone miscues that proved so costly.
The missing ingredient to a second Rodgers Super Bowl is not turning some mediocre second-round receiver into a first-round pick. It is getting the stars to still play like stars in the playoffs against tough teams that have already defeated Green Bay in the regular season. Show us something different in a rematch. It is getting a defense that will not let San Francisco's Raheem Mostert, an undrafted back who rushed for 220 yards in 2019's title game, make a mockery of the run defense, or watch Kevin King destroy a season at home since he couldn't cover any Tampa Bay receiver, including Scotty Miller, a sixth-round pick.
While Pettine is gone, the Packers made Joe Barry the new defensive coordinator after he coached the linebackers for the Rams the last four years. He has been around for decades but, of the four teams he was a coordinator for, they all finished in the bottom five in yards allowed and twice allowed the most points in the league, including the 2008 Lions (0-16). Not quite the track record you'd like to see.
The defense had 15 players play at least 340 snaps last year and they all return for 2021 except for Christian Kirksey, who Pro Football Focus graded as one of the worst linebackers in the league. That is a ton of familiar faces for a defense that was not championship material. The Packers ranked 17th in points per drive allowed and 14th in yards per drive allowed.
This year's first-round pick was corner Eric Stokes (Georgia). My gut tells me he shouldn't harm Green Bay's chances this season any more than drafting wide receiver Elijah Moore, the 34th pick to the Jets would help the Packers. Who knows, maybe Stokes could intercept a pass from Brady or Matthew Stafford that seals a playoff win this January.
The definition of insanity is doing the same thing over and over again and expecting different results. In 2021, the Packers are probably about to do a lot of the same things they always do. Pure, dumb luck may be their best hope of getting a different result this time. They wouldn't be the first team guilty of that.
Prediction
It is just stating a fact that in the last two years, the Packers finished 13-3 after playing pretty soft schedules. In 2019, the team's best wins were sweeping the Vikings and beating the Chiefs without Patrick Mahomes. Last year, the best win was in New Orleans early in the season. The only other win against a quality team was the snow game against Tennessee. In both seasons, the Packers were swept by the NFC Super Bowl team (2019 49ers and 2020 Buccaneers).
In 2021, Tampa Bay is not even on the schedule, but this could be the toughest slate yet for LaFleur as the Packers face the NFC West and AFC North while their own division should be improved. The true strength of the schedule will depend on just how far quarterbacks like Joe Burrow (Bengals) and Kyler Murray (Cardinals) improve, or if Justin Fields is the real deal for Chicago. Going to New Orleans for the opener without having to face Drew Brees should be an easier draw this time, but the 49ers should be better prepared for that 2019 NFC Championship Game rematch in Week 3.
But again, that is all speculation. As for which games we should confidently predict will be the toughest for Green Bay, they all fall in Weeks 9-15. Right off the bat is a trip to Kansas City where hopefully Mahomes will be healthy this time so we can see a game with him and Rodgers. Seattle is always a tough out with Russell Wilson. The Rams could be more of a threat facing Green Bay this year with Matthew Stafford having a lot of experience against this defense. Then there is a trip to Baltimore in Week 15, which is always one of the toughest places to play.
But even if the Packers lost all four of those games (not that realistic) and lost in San Francisco and split with Minnesota, that is still 11-6. So, for my NFL pick, I will take over 10.5 wins even if I think the Packers fail to hit 13 wins again as well as their bid to make this Last Dance last longer than the last two years.
2021 Packers Over/Under Pick: Over 10.5 wins (-120) at Bovada (visit our Bovada Review)
*The line and/or odds on picks in this article might have moved since the content was commissioned. For updated line movements, visit BMR's free betting odds product.