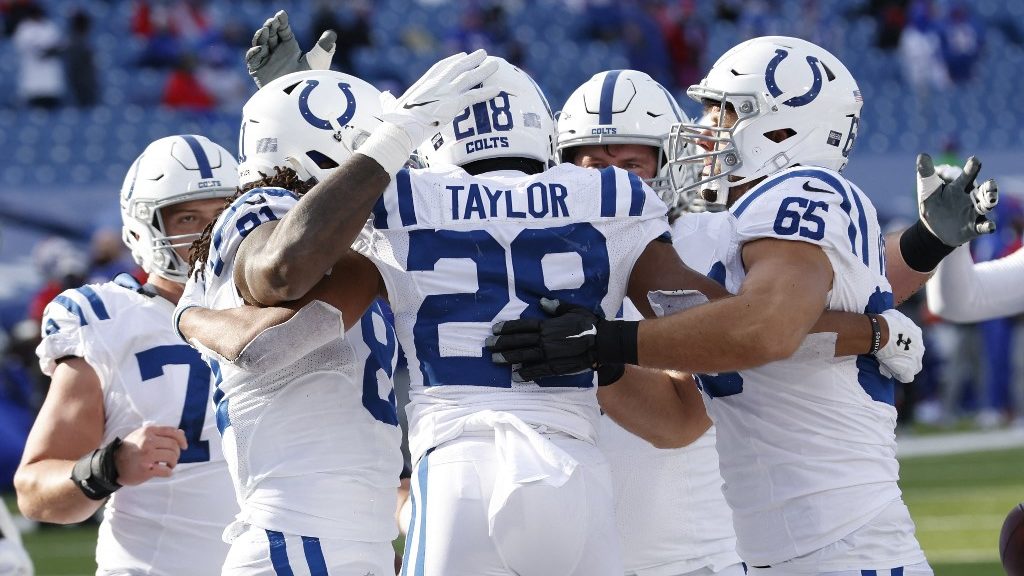 The 2020 Indianapolis Colts are the greatest No. 7 seed in NFL history. Granted, 2020 was the first season under the new playoff format and the only competition was mediocre Chicago in the NFC, but the Colts finished 11-5 and lost a close wild card game in Buffalo. The game ended up being the swansong of Philip Rivers' career as the veteran retired after spending his final season with the Colts.
Desperately needing a quarterback, the Colts went a predictable route of reuniting Philadelphia's Carson Wentz with head coach Frank Reich, who was his offensive coordinator in those first two seasons (2016-17) with the Eagles, including the only successful season of Wentz's career. Entering his fourth season with the Colts, Reich has had to work in a new starting quarterback every season from Andrew Luck to Jacoby Brissett to Rivers.
He has twice made the playoffs and finished 7-9 with Brissett, but Reich has major work to do here as Wentz fell to being one of the worst quarterbacks in the NFL last year. Still, many of the top sportsbooks are optimistic to give the Colts an over/under of 9.5 wins this season. Can Reich work some magic with Wentz to take advantage of one of the league's weakest divisions, or will the Colts slip back to the mediocrity their quarterback is trying to escape?
On the Last Season of COLTS: Farewell to Philip
After a painfully mediocre season in 2019 without Andrew Luck following his surprise retirement, the Colts moved forward by taking a chance on a 39-year-old Philip Rivers, who had finally moved on from the Chargers. The results were a balanced team that cracked the top 10 on both sides of the ball in numerous categories.
Rivers picked up his play as the season wore on, and rookie running back Jonathan Taylor really became a threat starting with the overtime win against Green Bay, the high point of the team's season. Taylor finished his campaign with 253 rushing yards against the Jaguars in Week 17 to give the Colts an 11th win and secure a trip to the playoffs. They played a tight game with the Bills in Buffalo before failing to send the game to overtime, losing 27-24, the smallest margin of defeat in any playoff game last year.
The Colts did not have a receiver with 800 receiving yards, no defender with 10 sacks, and only Kenny Moore (four) had more than two interceptions. But it was a good team effort to win 11 games. DeForest Buckner proved his worth in his first season with the team, leading in sacks (9.5) and pressures (31). Cornerback Xavier Rhodes had a rebound season with the Colts after he was picked apart in 2019 with the Vikings. Linebacker Darius Leonard and left guard Quenton Nelson were named first-team All-Pro.
Had the Colts not blown a 24-7 lead in Pittsburgh in Week 16, this team likely wins the AFC South and finishes as the No. 3 seed instead of the last team in the tournament. Still, with Rivers on his last legs and the stars of the team being a guard and off-ball linebacker, the Colts lacked that "wow" factor to make them more of a serious contender in the AFC.
The Chiefs have Patrick Mahomes, the Bills developed a lethal Josh Allen to Stefon Diggs connection, and the Ravens have Lamar Jackson to lead a historic running game. It is hard to see the Colts leapfrogging those teams in the AFC, and it is not like adding Carson Wentz to the equations tips the scale in their favor. If No. 1 pick Trevor Lawrence is the real deal for Jacksonville, the Colts could end up with the worst quarterback in the AFC South, a position their fans are not used to.
The Notable Changes for 2021
There are not many changes bigger in the NFL this year than the gamble that is Indianapolis trading for Wentz. General manager Chris Ballard wisely did not surrender a fortune – a third-round pick and a conditional second-round pick in 2022 – to get Wentz, but it did leave the team with only two draft picks in the top half of the 2021 draft. Both were spent on defensive linemen to replace the losses of Justin Houston and Denico Autry, so that could be a net loss at the position for 2021 if the rookies are not useful. Otherwise, the defense is largely the same as 2020 with the Colts relying heavily on their draft picks from the past four classes and for those veterans (Buckner and Rhodes) to continue success in their second season with the team.
We could easily hijack this preview by debunking the long list of excuses Wentz supporters had for his struggles in Philadelphia, but I will use this section to assess how he meshes with the 2021 Colts roster, and then in the next section we will look at the data from his five seasons in Philadelphia to see how much of a franchise quarterback he really is (or isn't).
The Colts spread the ball around a lot last year and had nine players with at least 250 receiving yards. They return seven of those players this year, including leading receiver T.Y. Hilton. After a big 2018 season with Luck as his quarterback, Hilton has slipped to barely averaging 50 yards per game the last two years. He is still best served as a deep threat, but the deep ball is not a strength in Wentz's game.
The Colts will try again to make Parris Campbell more than a second-round bust, but it's 2020 second-round pick Michael Pittman who could break out the most in this offense after a solid rookie year. Then again, Wentz has a bad history of developing young wide receivers. Nelson Agholor had a breakout year with the Raiders in 2020 only after leaving the Eagles and Wentz behind. Wentz was also not a huge fan of throwing to running backs in Philadelphia, and even in 2017 with Reich, no Eagles back had more than 13 catches. However, Nyheim Hines has proven to be an effective receiver for the Colts, leading the team with 63 catches. Even Jonathan Taylor caught 36-of-39 targets last year, though Rivers loved throwing to backs more than most quarterbacks to ever play the game.
Wentz's accuracy issues showed up more in trying to throw to wide receivers, so the tight ends were often his favorite in Philadelphia, especially Zach Ertz. Jack Doyle could be his Ertz in Indy. The veteran is a reliable receiver for the Colts, but he is 31 years old and only caught 23 balls last year. That is why the more athletic Mo Alie-Cox may become a favorite target of Wentz's this season. He averaged 12.7 yards per catch for the Colts last year.
But by and large, Wentz will have the same weapons that Rivers had last year. As for the offensive line, that is an area where Wentz should be getting an upgrade from his Philadelphia unit that was often hit by injuries. Still, Wentz has a bad tendency to hold the ball too long. It really seems to stem from a play in 2017 against Washington where he avoided a sack and made a brilliant completion out of it. Ever since that play, Wentz seems to try repeating it with often disastrous results. According to Next Gen Stats, Wentz's average time to throw was 2.91 seconds last season, the sixth-longest in the league and easily the longest of his career. The longest time belonged to Jalen Hurts (3.11 seconds), Wentz's replacement late in the season. Rivers was at 2.52 seconds, the sixth-fastest release time. Reich is going to have to coach Wentz to get rid of the ball faster like he did in 2017 (2.72 seconds).
The offensive line was often a scapegoat for Wentz in Philadelphia, but he played with some standout players in his tenure there, including a potential Hall of Famer in Jason Peters. It is hard to say that by coming to Indy that Wentz is going to see an upgrade at center (Jason Kelce to Ryan Kelly) or right tackle (Lane Johnson to Braden Smith), but he will inherit a standout guard in Nelson. While left tackle Anthony Castonzo retired after the season, the Colts made a logical move to replace him with Eric Fisher, the former No. 1 pick in 2013 by the Chiefs. Fisher is 30 and coming off a torn Achilles suffered in January, so there is risk to the signing. But if he is healthy to play, then it should be at least a lateral move for the Colts at a very important position.
Carson Wentz: Franchise QB or Fraud?
There is no denying that Wentz was at his worst in the NFL last season. He led the league with 15 interceptions and 50 sacks taken despite ranking 21st in pass attempts. Once rookie Jalen Hurts took over, the Eagles upset the Saints and had three of their best offensive games of the season. It was akin to 2018 when Wentz was injured again, and Nick Foles led the team back into the playoffs and nearly another deep run like when he was named Super Bowl MVP in 2017. Foles won four playoff games for the Eagles while Wentz did not have a successful dropback in his brief quarter of playoff action against Seattle in 2019 before he was injured.
If you remove Week 17 games for playoff rest and games that the quarterback did not finish due to injury, then Wentz was 7-19 (.269) against playoff teams during his Philadelphia run. In that same time, Foles (6-1) and Hurts (1-1) were a combined 7-2 (.778) as starters against playoff teams. Foles also led a game-winning drive against the 2017 Rams in the game that Wentz infamously tore his ACL. That game does not count as one of Foles' six wins or Wentz's seven wins. Wentz essentially got head coach Doug Pederson fired in Philadelphia as the team performed better, especially against tough competition, without him.
With Wentz, the positive narrative has always been to "get him back to playing like he did in 2017." But if someone gives you one great season and four mediocre ones, you should trust the bigger sample size. The 2017 season is the anomaly in this case, and part of the problem with "Wentz just needs Reich coaching him again" is misunderstanding what made 2017 so successful.
In 2017, Wentz had an excellent offensive line and running game, and he took advantage of great field position (short fields) and an easy schedule to trick people into thinking it was an MVP-caliber season rather than a promising season from a second-year player. While he threw 33 touchdown passes in 2017, Wentz ranked 25th in completion percentage (60.2%) and 11th in yards per pass attempt (7.5), meaning it would have been one of the weakest MVP seasons on record.
Wentz saved so many of his best plays for third downs and the red zone, which boosted his team's success, but it is hard to sustain that when you have problems with general accuracy and consistency as he always has. Throw in some injuries and apparently an ego that was too easy to bruise, and you get a player who continued to decline to the point where he was one of the worst in the league and traded before his 29th birthday.
But even before last year, there were warning signs that something was not legitimate with Wentz. The Eagles averaged more points per game (25.8) when Wentz failed to throw for 200 yards than they scored in games where he threw for 300-plus yards (23.2). He is the only starting quarterback in the last five years to have a split like that. Everyone else scored more points when they threw for more yards as yards often lead to points in this game.
In 69 games, Wentz never threw for more than 364 yards. Since 2016, 45 quarterbacks have thrown for more yards than that a combined 195 times. But the Eagles rarely benefitted from days where Wentz was prolific as a passer. When Wentz passed for 300 yards, the Eagles averaged 23.2 points, the second-lowest scoring average in 300-yard games since 1950 among the 77 quarterbacks with at least 15 such games. Only Kyle Orton (21.8 points per game) had a lower average. When Wentz threw for at least 310 yards, the Eagles were 4-9 and scored fewer than 24 points in 11 of those 13 games.
Unlike Foles, Wentz did not deliver in the clutch. Wentz is 10-23-1 (.309) at game-winning drive opportunities. Only Ryan Fitzpatrick has a worse record among active starters with at least 15 such games. Worst, five of Wentz's 10 game-winning drives were against the Giants during a four-year period where New York had the worst record (18- 46) in the NFL. Now he will be lucky to see his NFC East whipping boys once every four years.
Pro Football Reference has a stat called Adjusted net yards per attempt index (ANY/A+), which takes sacks into account with passing stats and normalizes the number for the league average that year, meaning 100 is average. Wentz's 2020 season had an ANY/A+ of 71, the lowest season in NFL history for any non-rookie who threw at least 400 passes. The only other quarterbacks under 80 were 2016 Brock Osweiler (74), 1995 Trent Dilfer (75), 1988 Vinny Testaverde (75), 1981 Vince Evans (77), 2001 Jon Kitna (79), and 2002 Jake Plummer (79). Not much career success there.
Plummer may be the most optimistic case for Wentz as he left Arizona for Denver in 2003 and had three years of success in Mike Shanahan's play-action heavy system. It is a good thing that Reich has familiarity with Wentz, but the best part is that he has shown he will adjust his offense to the quarterback's skill level. He did not ask Jacoby Brissett to carry the team a la Andrew Luck in 2019. He even toned down some of Rivers' gunslinger tendencies last year.
Reich cannot win if Wentz is turning the ball over like he did last year. In fact, the Colts finished second in turnover differential (plus-10) last season and lost a league-low four fumbles. The Colts basically won three games last year thanks to recovering a late opponent fumble, including both Houston games and the overtime fumble by Green Bay. That type of fumble luck is unlikely to continue when you add a quarterback who puts the ball on the ground a lot each season.
History shows that putting the offense on Wentz's shoulders to be successful, especially against better competition, is a disaster waiting to happen. Look for Reich to do his best with using play-action and RPOs while leaning heavily on Taylor and this offensive line to get the job done. It may work out enough to win one of the league's weakest divisions, but if the Colts ever need Wentz to outduel a Mahomes or Allen or Jackson in January, then we probably already know how that will turn out.
Prediction
Since Vegas is quite good at setting these win totals, I imagine the Colts will finish a game within their total of 9.5 wins this year. My problem with this team is that I fail to see where it will get better. Wentz is a downgrade from the accuracy of Rivers and probably the biggest problem in repeating last year's turnover differential success. Fisher after a torn Achilles is a lateral move from Castonzo at best. Does Pittman Jr. explode at wide receiver when the only 1,000-yard receiver Wentz helped create in five years was when he had tunnel vision for Ertz in 2018? The defense lost its second and third-best pass rushers and does not look dominant enough to lead a so-so offense to a Super Bowl.
If Wentz with a change of scenery proves that he is legitimately a better quarterback under Reich, then I will give him credit for that as the Colts will likely have a solid season. But I have never seen a reason to believe in Wentz as a franchise quarterback, so for my NFL picks I have the Colts taking a step back this season. The schedule, on paper, does the team very few favors. The first five games could be very rough as the Colts open at home with two of the best in the NFC West (Seattle and Los Angeles) before going to Tennessee, Miami, and Baltimore, three teams who won double-digit games a year ago.
The next five games should ease up considerably, but then the Colts are in Buffalo for a rematch of the playoff loss before hosting Tampa Bay and old nemesis Tom Brady, who has not lost to the Colts since 2009. Arizona could also be a tough road game on Christmas night. Wentz has done better than a 9-7 record as a starter just once in his first five seasons. Between the schedule and lack of elite players on the roster, a 9-8 record feels like the most reasonable and optimistic choice for the Colts this year.
2021 Colts Over/Under Pick: Under 9.5 wins (+125) at Bovada (visit our Bovada Review)
*The line and/or odds on picks in this article might have moved since the content was commissioned. For updated line movements, visit BMR's free betting odds product.