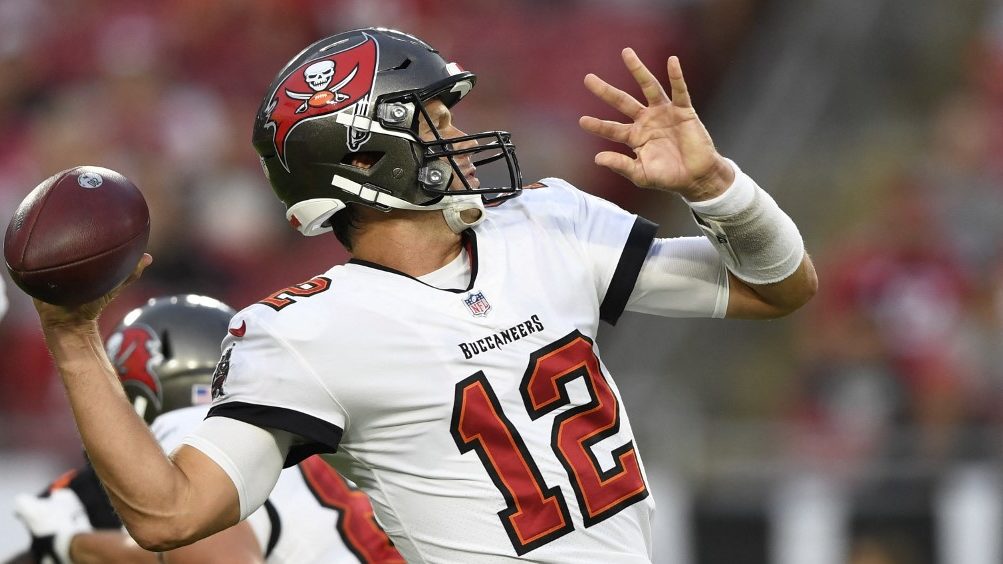 The Tampa Bay Buccaneers ended their long playoff drought in the best way possible by winning their last eight games and the Super Bowl. The crowning achievement was that 31-9 demolition of Patrick Mahomes and the Chiefs in Super Bowl LV.
In a short period of time, the Buccaneers have gone from 7-5 underachievers to playoff overachievers to being in one of the best positions we have ever seen to repeat as champions. We are in the longest drought in NFL history without a repeat champion as it was last done by the 2003-04 Patriots with Tom Brady at quarterback. Now he has a chance to do it again with Tampa Bay after a remarkable job by general manager Jason Licht and the team to bring everyone back from last year. Seriously, they probably have the same ball boys and Gatorade servers this year.
It is hard to recall a season where a rematch of last year's Super Bowl has ever looked so likely as we have here with Tampa Bay and Kansas City. The only time that has ever happened was in 1992-93 with the Cowboys beating the Bills both years, but we could be headed there again.
This time, even if the Chiefs have a healthy offensive line, the Buccaneers may be favored as the best team in football if they can live up to the potential. Many of the top sportsbooks have the Buccaneers with an over/under of 11.5 wins. The only Tampa Bay team to finish 12-4 was the 2002 Super Bowl champion squad led by an all-time defense, but these Buccaneers have the potential to be the undisputed best team in franchise history.
On the Last Season of Buccaneers: From Underachievers to Champions
Tampa Bay's path to the top of the mountain was not a smooth trip by any means. Going into Championship Sunday, the Buccaneers, an 11-5 wild card team, were the least celebrated of the final four teams. Buffalo was a Hail Mary in Arizona away from being on a 12-game win streak thanks to Josh Allen's incredible breakout season. Aaron Rodgers won his third MVP for Green Bay with a fantastic season (48 touchdown passes) for the No. 1 offense and No. 1 seed. Patrick Mahomes had only lost one of his last 25 starts with the Chiefs, the defending champions.
Those three teams won more games than Tampa Bay and their quarterbacks, who collected the 50 MVP votes, had better seasons than Brady did. But the Buccaneers were still offensively loaded and scored a franchise-record 492 points. The biggest difference between these teams was that Tampa Bay had balance and a defense worthy of winning a championship. The Buccaneers finished fifth in yards per drive and sixth in points per drive allowed. The Chiefs (19th in yards, 13th in points), Bills (16th in yards and points), and Packers (14th in yards, 17th in points) were mediocre on that side of the ball.
Once again, defense proved to be the difference in winning a championship. Whether it was the pressure put on Mahomes in the Super Bowl or the takeaways in the games leading up to it, the Buccaneers played the best on that side of the ball to complement what the offense was doing. If the Buccaneers can start a season with complementary football the way they ended last year 8-0, then a long winning streak is not out of question for this team in 2021.
But for more than half of 2020, head coach Bruce Arians and the Buccaneers were searching for their identity. There was no normal offseason because of COVID. The offense had been so prolific at moving the ball in 2018-19, but Jameis Winston's turnovers were costly to winning games. Now by adding Brady and Rob Gronkowski, expectations were higher. In Week 1, Brady threw a pick-six in New Orleans and the team struggled in a 34-23 loss. After some wins over bad teams, Brady looked frustrated with his offensive line against the Bears, even seeming to forget which down it was late in a comeback attempt that came up short in another loss.
Tampa Bay was an unimpressive 3-2. Then came the Week 6 game against a red-hot Green Bay team that was 4-0. The Packers led 10-0 early as double-digit deficits became common for the Bucs. However, once Rodgers threw a couple of interceptions in succession, he seemed to implode against this defense. Tampa Bay ran them out the building in a 38-10 win, the only quality win the Buccaneers had against a team with a winning record in the regular season.
After squeaking out a close one over the Giants, the Buccaneers were 6-2 and hosting New Orleans in a huge rematch for the division lead on Sunday Night Football in Week 9. The team had just acquired controversial wide receiver Antonio Brown, who was making his season debut. The game ended up being a bloodbath with Tampa Bay getting destroyed on both sides of the ball in a 38-3 loss. Tampa Bay finished with five rushing attempts, including one kneeldown, for the fewest runs in a game in NFL history.
Over the next few weeks, Brady continued to miss the deep throws that are a staple in an Arians offense at an alarming rate. In Weeks 8-12, Brady missed on 23 consecutive throws of 20-plus air yards, the longest streak by any NFL quarterback in the last four seasons. The Buccaneers fell short, 27-24, in consecutive weeks at home to the Rams and Chiefs, bringing them to 1-4 against teams with a winning record.
At 7-5, the Buccaneers looked like a disappointment that had one incredible afternoon against the Packers in Week 6. Brady dipped under 7.0 yards per pass attempt for the season while Gronk and Brown were not having the desired impact.
The bye week could not have come at a better time. The Buccaneers regrouped for a 26-14 win over Minnesota after cranking up the pass rush (six sacks) and watching the Vikings miss three field goals. But the real turning point may have come courtesy of the Atlanta Falcons. After falling behind 24-7 in Atlanta, Brady and Brown finally got on the same page and connected on a game-winning touchdown in a comeback win. The Buccaneers destroyed a bad Detroit team, 47-7, that was ravaged by COVID and an early injury to Matthew Stafford, then completed the sweep of Atlanta in Week 17 to finish 11-5.
Going the road-game route in the playoffs is not ideal, but it was not so bad in a pandemic season without normal crowd noise. Drawing the 7-9 Washington Football Team, winners of the worst division in modern NFL history, was also a pretty good deal. The Bucs even faced Taylor Heinicke, who had to make his second career start and first since 2018 on short notice with Alex Smith injured. To his credit, Heinicke ended up leading his bad offense to more points than Brees and Mahomes had against Tampa Bay in the playoffs. Imagine that.
But Tampa Bay's biggest hurdle perhaps was the New Orleans rematch in the divisional round. The only helpful thing to come out of 38-3 in Week 9 was that Brees fractured his ribs, which led to more fractured ribs and a collapsed lung a week later. He was never the same quarterback after that. Both quarterbacks struggled early in this third matchup, but a Brees interception by Sean Murphy-Bunting, who played very aggressive coverage in the playoffs, led to a 3-yard touchdown drive. Two more Saints turnovers led to short fields for Tampa Bay that were converted into touchdowns in a 30-20 win that sent Brees into retirement.
Suddenly, the Buccaneers were in the NFC Championship Game in Green Bay, making Rodgers face the only defense that embarrassed him in his MVP season. This game would play out much differently than 38-10, but it was another Rodgers interception that turned the tide. Late in the second quarter, Rodgers thought he would get a flag on the coverage of his throw, but Murphy-Bunting came away with another big interception. That led to an inexplicable 39-yard touchdown pass from Brady to Scotty Miller with seconds left in the half as corner Kevin King had an all-time terrible game in coverage.
To make matters worse, Aaron Jones lost a fumble to start the third quarter, which led to an 8-yard touchdown drive and 28-10 lead for Tampa Bay. Rodgers tried to lead the Packers back but could not take much advantage of a second half where Brady threw three interceptions on consecutive drives. The Packers, after having the best red zone offense in the regular season, stalled out again down 31-23 in the final minutes. Green Bay was 38-of-42 (90.4%) at goal-to-go situations in the regular season, but Tampa Bay's defense stopped them twice that day. Instead of trying a fourth down from the Tampa Bay 8, the Packers were in no man's land and kicked a field goal to make it 31-26. Rodgers never saw the ball again. The Buccaneers ran out the clock after King was flagged for defensive pass interference on a third down to put the final nail in the coffin.
Lo and behold, the Buccaneers were playing the Super Bowl in their home stadium, the first team to do so. But for the third playoff game in a row, the Buccaneers were underdogs. This time it was against the Chiefs, the last team to beat them and a team that opened a 17-0 lead in the first quarter in Week 12.
The game could not have played out any differently from the first matchup. What was supposed to be an all-time great Super Bowl turned out to be a major dud, won 31-9 by the Buccaneers. It is the first time Mahomes lost a game by more than eight points and the first time he failed to score a touchdown.
The Chiefs played an incredibly sloppy game. They racked up more penalty yards (95) by halftime than any team had in a first half in 2020. But pressure on Mahomes was the main theme as the Chiefs had to reshuffle the line's starters to make up for Eric Fisher's absence after the left tackle injured his Achilles late in the AFC Championship Game. Mahomes was pressured 29 times, the most in Super Bowl history.
While the Chiefs failed miserably at making tough plays under pressure, the Bucs put on a masterclass in coaching and making things easy for their offense. Offensive coordinator Byron Leftwich and defensive coordinator Todd Bowles deserve a lot of credit for the willingness to switch things up while so many teams fall victim to "we do what we do" in playoff games like this one. Next Gen Stats had many incredible stats on this game that show the tendency breakers the Bucs succeeded with and just how much more difficult a night Mahomes had than Brady:
Tampa Bay blitzed on 9.6% of dropbacks, the lowest rate for a Bowles-coached defense in any game since 2016.
To take away Kansas City's big plays, Tampa Bay aligned in a two-high safety shell on 87% of plays, the highest rate for a Bowles-coached defense in any game since 2016.
Mahomes traveled 497 yards before throwing the ball or getting sacked, the highest game by any quarterback in the last five seasons.
Mahomes' 10 passes into a tight window tied the highest game of his career.
Brady used play-action on 43% of his dropbacks, his highest game since at least 2016.
Brady's time to throw was his quickest in a game since Week 17 of 2016 and he was pressured four times, his lowest in a Super Bowl start.
Brady threw a season-low two throws into tight windows and averaged a season-low 6.3 air yards per attempt as Tampa Bay feasted on quick, short throws with play-action.
Tampa Bay's receivers averaged a season-high 4.0 yards of separation.
The extra week of preparation helps teams in doing new things, but if the Bucs can get this level of effort from everyone again, then they should be the favorites to repeat in 2021.
Regression vs. Reinvention
Normally I follow a team's season recap with a look at the roster/staff changes this year and a statistical regression area. For Tampa Bay, the recap was longer than usual not because the team won the Super Bowl, but because it is the same team trying to win again in 2021.
Most teams win a Super Bowl and lose important players or coaches. The Buccaneers said, "kill that noise." They are the first team in the salary cap era to retain all 22 starters from their Super Bowl championship team for the next season.
Arians still has his coordinators. Brady has the most talented and deepest receiving corps in the league. You could take any one of Mike Evans, Antonio Brown, or Chris Godwin and pair them with Scotty Miller and Tyler Johnson to create a good trio, yet the Buccaneers have all five receivers at their disposal. They even added Giovani Bernard to the backfield to replace LeSean McCoy's limited role behind Leonard Fournette and Ronald Jones. How many teams have ever been able to go five deep at wideout, three deep at running back, and three deep at tight end? So many teams are struggling with the offensive line, but the Bucs are whole there again with Tristan Wirfs a standout right tackle as a rookie last year.
Defensively, they still have all their studs up front, and Vita Vea is unlikely to miss 11 games like he did last year. It is hard to name a more stacked linebacker corps than Lavonte David, Devin White, and Shaquil Barrett. David has been known as a great player for years, but last season people got to see White shine and Barrett was a monster in the playoffs. The secondary is still young, talented, and developing as all four starters were drafted in 2018-20. Murphy-Bunting may never get a pick in three straight playoff games again or get away with all that contact, but he had a big impact on that playoff run after a shoddy regular season.
This is an incredible commitment to keeping the band together. The only teams to repeat in the salary cap era since 1994 are the 1997-98 Broncos and 2003-04 Patriots. Both of those teams got stronger in the second year. For these Buccaneers, it is a matter of retaining balance and playing more consistently this year. When Peyton Manning went to Denver, his best and most balanced team was the first one in 2012. But that team had the Rahim Moore/Jacoby Jones meltdown against the Ravens and lost in the divisional round. The Broncos then went to two Super Bowls with very imbalanced teams, including one offensive juggernaut (2013) and one great defense (2015). Staying highly ranked on both sides of the ball is hard to do in this league, but that would be better for Tampa's chances of repeating than having a record-setting offense would be.
Repeating is hard as the 2020 Chiefs, 2017 Patriots, and 2014 Seahawks have recently proved. We have seen teams win a championship and come back stronger the next year, only for something to go terribly wrong in the first playoff game (2007 Colts and 2011 Packers), or to see their star wideout accidentally shoot himself in a nightclub (Plaxico Burress on the 2008 Giants).
The path taken last year to a championship can never be fully replicated again, and I mean far more than just playing the Super Bowl in your home stadium. Consider these unusual circumstances that happened for Tampa Bay to win a championship. Despite some gaudy statistics, Tampa Bay trailed by at least 17 points in five games last season. The other Super Bowl winners since 1978 have averaged 1.3 such games in a season and none had more than three games before Tampa Bay. The Bucs were able to come back and beat the Chargers and Falcons, the first two teams in NFL history to blow three leads of 16-plus points in the same season. If not for those historic chokers, the Bucs could have easily been a 9-7 team last year.
Health was certainly a huge advantage in Tampa Bay's favor in 2020. In the playoffs alone, the Bucs drew Washington, winners of the worst division ever, and even got to face an unknown in Taylor Heinicke because of Alex Smith's health. Drew Brees first fractured his ribs against Tampa Bay's defense and was never the same after trying to recover from a collapsed lung. Even bigger than both of those were the left tackle injuries suffered by the Packers (David Bakhtiari) and Chiefs (Eric Fisher) so late in the season. Rodgers took five sacks in that playoff game, and we know all too well about the pressure Mahomes was under in the Super Bowl, the only game in 54 starts where he has not scored a touchdown. The timing could not have been worse for those injuries.
Meanwhile, according to Football Outsiders' Adjusted Games Lost metric, the Buccaneers were the healthiest team in football in 2020, only losing 30.6 player games to injury. That includes a ranking of the healthiest offense and the second-healthiest defense. Tampa Bay also finished 2019 ranked second in this stat, so it has been two excellent years of health for Arians' teams. It is really hard to keep doing that and given the way Tampa Bay is bringing everyone back, the sample of players being the same would seem to put them at higher risk in 2021 for some setbacks in this tough, violent game.
What about takeaways on defense? Those can be very difficult to repeat on a yearly basis. The Buccaneers had at least one takeaway in 18 of their 20 games last year, the first team to do it that often since the 2015 Panthers. But the field position those turnovers led to was most advantageous. Tampa Bay's average touchdown drive in the playoffs was 50.5 yards, the shortest among the 23 teams since 2001 to have at least 10 touchdown drives in a postseason.
Tampa Bay had five touchdown drives start inside the opponent 40, the most for any team in the postseason in at least 20 years, and four of those were off takeaways. Three of them came in the divisional round against the Saints, who had their most turnovers in a game since 2016 that day. All three of Tampa Bay's touchdown drives covered a combined 63 yards in that game. Throw in the 8-yard touchdown drive in Green Bay after Aaron Jones fumbled and it was like stealing for Brady and the offense.
Speaking of stealing, Brady did not have the cleanest postseason of his career. The Saints dropped multiple interceptions of his in the divisional round or else he could have had a poor stat line just like Brees had. Then in Green Bay, Brady took some chances with the lead in the second half and was picked on three straight drives. But the defense limited the damage of that. Brady is now 2-0 when he throws three interceptions in a Conference Championship Game. Every other quarterback in NFL history since the merger is 5-24 (.172) so maybe lightning can strike twice when you are this lucky.
Surprisingly, turnovers were not much of the story in the 31-9 Super Bowl win, but penalties were an overlooked factor in producing that blowout. Despite the pressures and dropped passes on third down, the Chiefs could have made that a much more interesting game after halftime had they played with some discipline. They had a Brady interception overturned by a penalty and even lined up offsides on a field goal that led to a first down and extra four points on a touchdown for the Bucs.
But there were also two phantom calls of defensive pass interference in the final minute of the first half that led to a touchdown and 21-6 lead that blew the game open for Tampa Bay. There was incidental contact on a pass to Mike Evans that drew a 34-yard flag and then Brady quickly threw a pass out of bounds through the end zone that should have been deemed uncatchable instead of putting the ball at the 1-yard line on penalty.
I detailed this before the game even happened, but Super Bowl referee Carl Cheffers had a tendency to call defensive pass interference (DPI) more than other crews did in 2020, especially on the road teams. The 2020 Buccaneers set a modern NFL record by drawing 23 DPI flags in the regular season and had another big one to ice the NFC Championship Game in Green Bay before these two cheap calls in the Super Bowl. No NFL team in the last 12 years has benefited from DPI more than the 2020 Buccaneers (plus-17 first downs and plus-317 yards). They should not count on that again.
However, the Buccaneers do not need to reinvent themselves. This roster is stacked, and their styles of play on offense and defense are conducive for winning championships. The competition in the conference also does not look imposing. The NFC East still looks heavily flawed. No rookie quarterback has ever gone to a Super Bowl, so slow your roll with hype for Trey Lance (49ers) and Justin Fields (Bears). The Saints will take a step back without Drew Brees and the rest of the division cannot compete with Tampa Bay. The Seahawks rely on Russell Wilson winning close games too much. The Rams have Matthew Stafford now, but he has never led multiple wins in the same season against teams with winning records (8-68 vs. winning teams). Newton's fourth law states that no Kirk Cousins-led team is allowed to stray more than two games from .500.
That only leaves Green Bay where Rodgers is bringing the Last Dance theme to a team that has not sniffed a Super Bowl since 2010 and could not beat the Buccaneers in two attempts last year. Maybe Rodgers can coax Charles Woodson to come out of retirement and take Kevin King's roster spot, but I would bet everything that Tampa Bay beats the Packers again if the NFC comes down to that.
It feels like a cruel joke that the sports gods have chosen Tampa Bay as the sports mecca during a pandemic, but that appears to be the case right now with the Tampa Bay Lightning repeating as Stanley Cup Champions and the Buccaneers in position to do so in the NFL. This should not be a long run of success for the Buccaneers with the ages of Brady, Arians, and Gronkowski, but good luck to the rest of the league in knocking this team out in 2021.
Prediction
As is often the case in America, the rich get richer. Tampa Bay's schedule looks like a more favorable draw than 2019's slate. The Buccaneers were underdogs six times last year, all in games against the Packers, Chiefs, and Saints. What changes this year? They could only play the Chiefs and Packers in the playoffs this time, and the Saints look like a team on the decline after Brees retired.
It is very possible that the Buccaneers will be underdogs no more than twice all season, and that will require a hot start by the Matthew Stafford-led Rams (Week 3) and another MVP-caliber season by Josh Allen with the Bills (Week 14). As if he never left New England, Brady gets to play the AFC East and NFC East with the two toughest games (Dallas and Buffalo) at home. Sam Darnold has also rejoined his division with the Panthers, who will face the Bucs twice in the last three weeks.
Injuries can always change everything, and banking on a 44-year-old quarterback to stay healthy is not something anyone has ever tried to do before. Alas, we are talking about Faust himself. Brady is not missing the opportunity to stick it to Bill Belichick and the Patriots in Week 4. That should be one of the dozen-plus wins the Buccaneers collect this season on the way to hitting the over for your NFL picks.
2021 Buccaneers Over/Under Pick: Over 11.5 wins (-160) at Bovada (visit our Bovada Review)
*The line and/or odds on picks in this article might have moved since the content was commissioned. For updated line movements, visit BMR's free betting odds product.