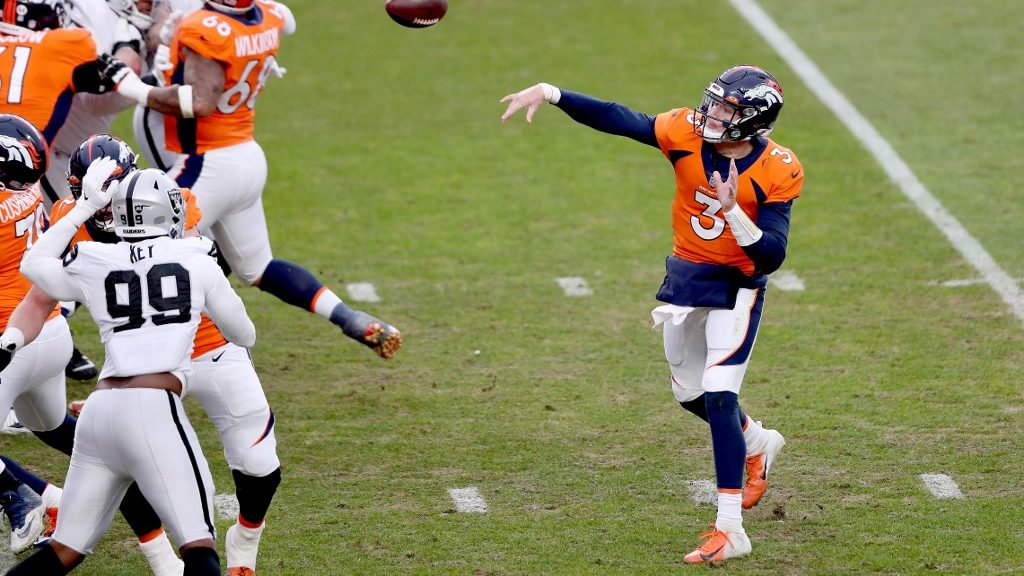 In 2020, the Denver Broncos suffered their worst season since the dark days of the Josh McDaniels era (2010). The five-year journey of finding a successor to Peyton Manning looks like it will continue after the team declined to use the ninth overall pick in the draft on Justin Fields or Mac Jones.
But was it all a careful plan by Denver to wait until the dog days of summer before announcing a blockbuster trade with Green Bay for reigning MVP Aaron Rodgers? That has been speculated since the draft in April with some oddsmakers even giving Denver the best NFL odds (about +200 in June) for Rodgers' non-Green Bay job in Week 1.
Is this possible but unlikely move giving the Broncos a higher win total than one would expect? Many top sportsbooks have the over/under at 8.5 wins after Denver finished 5-11 last season. If Rodgers was the quarterback, then the over is a steal. But assuming Rodgers is not coming to Denver to give head coach Vic Fangio a real quarterback, we are looking at a team stuck in purgatory.
On the Last Season of BRONCOS: No Quarterback (Literally)
In fairness to the 2020 Broncos, we never really got to see the team's vision come to life because of injuries. Von Miller has been the best player on the defense for a decade, and he suffered a freak injury in practice in September and missed the whole season. That was a big blow to a defense that fell off in practically every statistical category.
Then the offensive injuries started. Wide receiver Courtland Sutton made his season debut in Week 2 and quickly tore his ACL, ending his season. He barely got to play with rookie wideout Jerry Jeudy, who looked impressive at times. Second-year quarterback Drew Lock also went down early in that Pittsburgh game, prompting the team to start Brett Rypien two weeks later against the Jets, the first win of the season for Denver.
Lock returned after the bye week to start against the Patriots, who just got Cam Newton back from a bout with COVID-19. Newton played horribly in his return, but so did Lock, who recklessly threw two deep interceptions late in the game only for the defense to hang on in the 18-12 win.But nothing says Denver and COVID like the mess that happened in late November against the Saints. All four of Denver's quarterbacks were ruled ineligible to play Sunday's game on Saturday due to COVID protocols.
That left the team scrambling to find Kendall Hinton, a practice squad wide receiver, to play quarterback against one of the better teams in the NFL. In what was the biggest farce of the 2020 NFL season, the Broncos had 12 net passing yards in the 31-3 loss. It was the first time an NFL team completed one pass in a game since the 2005 49ers in Chicago.
If only that game was an outlier in an otherwise promising season. Alas, in the highest-scoring season in NFL history, the Broncos failed to score 17 points seven times, trailing only the Jets (nine) for the most such games in the league. Lock finished 29th in QBR (48.8), and every other quarterback in the bottom seven in that stat is likely not starting for the same team this year.The Broncos have finished 22nd or worse in points scored in each of the last five seasons, including a ranking of 28th in both of Fangio's seasons.
The Notable Changes for 2021
The first big move for Denver this offseason was John Elway relinquishing his general manager duties to George Patton, who spent 14 seasons with the Vikings in various player personnel roles. So, when you want to blame Elway for not targeting a quarterback in the 2021 draft, save some of that ire for Patton.
The Broncos did acquire a new quarterback in Teddy Bridgewater after trading a sixth-round pick to Carolina where the veteran had a better season last year than what Lock did for Denver. Bridgewater could even win the starting job this year, but he too is a limited player in need of coddling from the defense and running game. Bridgewater would be a stop-gap solution for the Broncos if Lock really bombs this season.
Playing in the AFC West, Denver needs to be especially great at stopping the pass. The cornerback play left a lot to be desired last year as A.J. Bouye and third-round rookie Michael Ojemudia were picked on. That may be why Patrick Surtain II was the team's first draft pick in April and you can expect him to start right away. The Broncos also had some success with Bryce Callahan last year, a player Fangio coached in Chicago. They went back to the Chicago connection to sign Kyle Fuller, who allowed only 6.3 yards per target in 2020.
Outside of cornerback, the Broncos did not aggressively load up to improve any position on the team. Their most promising additions are getting their injured players in 2020 back healthy. That means reuniting Von Miller with Bradley Chubb as a pass-rushing duo after the Super Bowl 50 MVP missed all of 2020. Perhaps the biggest boost is getting Courtland Sutton back to pair with Jerry Jeudy and tight end Noah Fant.
Both of those players flashed last year, and with Sutton breaking out in 2019, this is an impressive trio of pass catchers. Tim Patrick also took the injury situation to shine last year with a career-high 742 yards, and second-round running back Javonte Williams joins Melvin Gordon in the backfield to make up for the loss of Phillip Lindsay (Texans).
Lock or Bridgewater?
One of the most open quarterback competitions this year should be in Denver between Lock and Bridgewater. Personally, I would have drafted Justin Fields and taken my chances there, but the Broncos are going a different way. Regardless of who wins the job, the offensive line and skill players are good enough to provide the quarterback with a chance to succeed, if not thrive.
Bridgewater is the better player to this point, but Lock is young enough to have room for growth. It is just annoying to know that every bad quarterback in the next decade will have devoted fans cite Josh Allen in Buffalo as an example of a quarterback blooming in his third season or later. Sure, it could happen, but the fact is most quarterbacks who turn out to be legitimately good show it in their first or second season of action.
Lock has started 18 games, so that is barely more than one full season, but the results so far are not encouraging. In a season with record-setting passing statistics, Lock led the NFL with 15 interceptions despite ranking 20th in pass attempts. Oddly enough, Lock is somewhat of a poor man's version of Allen. He has above-average mobility, but he is not fast or elusive enough to be a big threat as a scrambler. He likes to throw deep, but he does so with little accuracy or thought.
Bridgewater gives the Broncos a different style of play. He is often conservative and will take plenty of checkdowns, which will at least cut down on the interceptions after Denver led the league with 23 of them last year. But in three seasons where he was a primary starter, Bridgewater never threw more than 15 touchdowns, which is unheard of in this era. In fact, Bridgewater is one of eight quarterbacks in NFL history to have three seasons with at least 400 pass attempts and no more than 15 touchdown passes. The last quarterback before Bridgewater to do that was Chad Henne.
Finally, the most amusing stat in this competition comes courtesy of Pro Football Reference. In 2020, Lock led all starting quarterbacks with a bad throw on 22.9% of his passes while Bridgewater had the lowest rate of bad throws at 13.0%. The stat is based on poorly aimed throws, excluding spikes and throwaways. If Lock is still reckless with the ball, then the Broncos have a pretty clear choice to make here. Go with the guy who can let the playmakers do the work and not put the defense in bad positions.
Prediction
Barring another medical disaster, the Broncos should field a better team in 2021 than they did last year. However, they likely will go into most games with the worse quarterback whether it is Lock or Bridgewater. The winner of that battle really does not change my NFL pick for the team's wins, but a confident preseason from Lock would probably encourage me a little more than Bridgewater having to take over.
The schedule has its ups and downs in terms of favorability towards the Broncos. Denver often has a dominant home record early in the season due to teams not being conditioned to play a full game in the high altitude. However, the Broncos start with two road games against the Giants and Jaguars. Baltimore is a tough home game and good early litmus test in Week 4.
After the bye in Week 11, five of Denver's last seven games are in the division. Again, that could be tough if they have the worst quarterback in the AFC West. The only bonus is maybe the Chiefs will rest starters in a meaningless Week 18 game that the Broncos can add to the win total. But even the very winnable home games against the Jets, Washington, Lions, and Bengals could all be challenges if the quarterback play is not improved.
Even if Denver lucks out to a 9-8 finish, the most exciting thing this team will have done in 2021 is make fans believe for a few hours on draft night that Aaron Rodgers was taking the Peyton Manning path to a second ring.
2021 Broncos Over/Under Pick: Under 8.5 wins (+105) at Bovada (visit our Bovada Review)