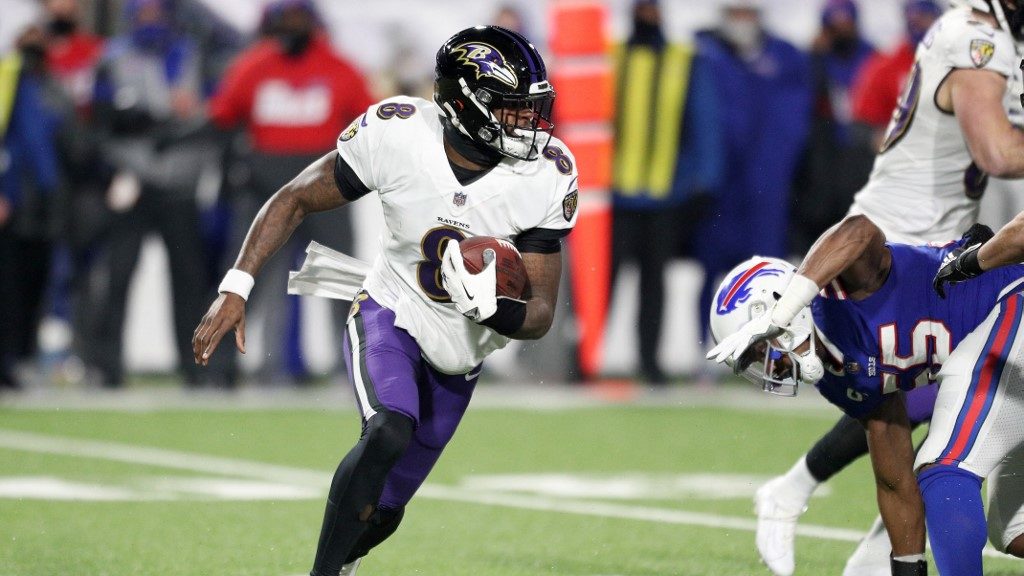 The Baltimore Ravens avenged their 2019 playoff loss to the Tennessee Titans by winning 20-13 in Tennessee in the wild card round, the first playoff win of the Lamar Jackson era. It was the first time the Ravens won a game after trailing by double digits since September 2016. While that was a good win, the 2020 Ravens did not take any other steps forward. The Ravens lost to Kansas City for the third season in a row, lost the AFC North to hated rival Pittsburgh by getting swept, and the offense faltered again badly in the playoffs, losing 17-3 in Buffalo.
But the Ravens are still a contender and on a very short list of teams with a good coach (John Harbaugh), MVP quarterback, and a championship-caliber defense. Many of the top sportsbooks have the Ravens with an over/under of 11 wins. Could this be the year a passing game pushes the Ravens to a Super Bowl, or will it be more of the same January disappointment?
On the Last Season of RAVENS: That Old Familiar Sting
The Ravens had high expectations going into 2020. In 2019, Lamar Jackson was named MVP as Baltimore had the NFL's best record, but the Ravens became the team with the highest scoring differential (plus-249) in the Super Bowl era to not win a playoff game. While playoff games are not won in September, the Ravens dropped another big opportunity in Week 3 against the Chiefs, the class of the AFC in recent years.
The Ravens lost 27-24 in overtime to Kansas City in 2018 and by a final of 33-28 in 2019. This time the game was in Baltimore instead of at Arrowhead, but once again the margin of defeat grew larger for the Ravens in the 34-20 loss. Lamar Jackson completed 15-of-28 passes for 97 yards while Patrick Mahomes was phenomenal with 385 passing yards and five total touchdowns. The quarterback showdown was more lopsided than ever. The game is only the second regular-season loss by more than six points of Jackson's career. Unfortunately, he has also lost two playoff games by 14-plus points.
Baltimore's next big test was hosting the undefeated Steelers in Week 8. It was only Jackson's second start against his chief division rival. In 2019, Jackson threw three interceptions for the only time in his career against Pittsburgh, but Baltimore escaped with an overtime win after JuJu Smith-Schuster fumbled. This time, Jackson started the game with a pick-six on his way to four turnovers, something the Ravens had not done in a game since 2015. The Steelers won 28-24, and a COVID outbreak that affected Jackson and numerous Ravens made the rematch in Pittsburgh a delayed joke that was eventually played on a Wednesday afternoon. Pittsburgh won that too, giving it the edge in the division.
Once Jackson returned from COVID, the Ravens cranked up the running game to an absurd rate and finished 5-0. Jackson is 2-7 as a starter when the Ravens allow more than 24 points in a game, but one of those wins was in arguably the Game of the Year for the 2020 season. Jackson led the Ravens to a 47-42 win in Cleveland on Monday Night Football, keyed by his 44-yard touchdown pass to Marquise Brown on a fourth down. To close the regular season, the Ravens rushed for 404 yards against Cincinnati, the second-most prolific rushing game in the NFL since 1960.
Baltimore really looked like the team no one wanted to face going into the playoffs, but the first challenge was Tennessee, the team that ended the Ravens in 2019 and also won an overtime game against them in Week 11. Things started poorly too with Jackson throwing an interception and the Titans taking a 10-0 lead in the first quarter. But the defense picked up and Jackson delivered a 48-yard touchdown run that really turned the game around.
The Ravens won 20-13, ending any talk that they cannot win a playoff game. Buffalo was the next challenge in the divisional round. It was a windy night where both teams made a lot of mistakes. Even Justin Tucker, arguably the greatest kicker in NFL history, missed two field goals. Jackson had his struggles and was not able to dominate as a runner (34 yards on nine runs). Do you see it for your future NFL odds?
Trailing 10-3 late in the third quarter, Jackson was fooled on a throw in the red zone and it was returned 101 yards for a crippling touchdown to provide the 17-3 final. Two snaps later, Jackson sustained a concussion after trying to prevent a fumble for his offense. The season essentially ended right there with the Ravens unable to get back to the AFC Championship Game for the first time since winning the Super Bowl in the 2012 season.
The Notable Changes for 2021
From the coaching staff to the starters, the Ravens have kept most of the band intact for 2021. Baltimore should have better options to throw the football more this year. Joining Marquise Brown and tight end Mark Andrews will be Sammy Watkins and first-round pick Rashod Bateman. Watkins struggles to stay healthy, but he can be an effective wideout when available. Bateman had that huge 2019 college season for Minnesota when he averaged 20.3 yards per catch with 11 touchdowns. Jackson did not have a completion of longer than 47 yards last year. This has not been the most welcoming offense to young receivers, but Bateman may not have to be more than the fourth receiving option as a rookie. For an offense that was trotting out Willie Snead and Dez Bryant last year, this looks like an improved unit.
On the offensive line, the Ravens will be happy to get left tackle Ronnie Stanley back after he only played six games in 2020. While the team traded tackle Orlando Brown to the Chiefs, keep in mind that the Ravens survived much of last season without Stanley and with D.J. Fluker starting games. Alejandro Villanueva comes over from Pittsburgh to start at right tackle, a position change for him after he always played on the left. It is a downgrade from having Brown, but the return of Stanley and addition of right guard Kevin Zeitler (134 career starts) should make the line above average again.
Outside of losing leading pass rusher Matt Judon to the Patriots, the Ravens basically return the same defense that finished No. 2 in points allowed and was not the problem in the Buffalo playoff loss. With a first-round pick from the Brown trade to Kansas City, the Ravens were able to add Penn State linebacker Odafe Oweh, He could be a good edge rusher for the team down the road, but like Judon years ago, Oweh will likely come off the bench this year.
Can the Ravens Win a Championship with Lamar Jackson?
The Ravens have not yet signed Lamar Jackson to a long-term deal, but all expectations are that it will happen soon. Jackson rushed for over 1,000 yards again in 2020, but every one of his passing statistics declined from his MVP season. While some of that is to be expected, it is a bit alarming that the Ravens threw the ball less in 2020 despite trailing more often. There did not seem to be any interest in developing the passing game as a bigger weapon in Baltimore's arsenal.
Sure, there is no denying that Jackson's talents are unique, and he has made this the most dominant rushing attack in the modern NFL. Including the playoffs, Baltimore has rushed for at least 110 yards in 35 consecutive games, trailing only the 1974-76 Steelers (37) for the longest streak in NFL history. Baltimore has also rushed for at least 90 yards in 43 straight games since Jackson made his first start in November 2018. That barely trails the 1983-86 Bears (45 games) for the longest streak in NFL history.
But even when Joe Flacco was the quarterback, Harbaugh's Ravens only reached the Super Bowl when Flacco had a big postseason run in 2012, averaging 285 yards per game with 11 touchdowns. It is really hard to succeed in this league if you put the passing game behind your running game and defense, but that is exactly what the Ravens love to do with Jackson.
Against most teams, it will work. Jackson is 31-10 (.756) as a starter, including 1-3 in the playoffs. Jackson has started six games where the Ravens trailed by at least 14 points. The Ravens are 0-6 in those games and half of them are the three playoff losses and two more are his last two games against the Chiefs. It sure seems like getting to the Super Bowl in an AFC where you are completely outclassed by the Kansas City quarterback and the Pittsburgh defense is a pipe dream. Those are the main conference and division rivals for the Ravens.
While four playoff games are not a huge sample size, we should question what Jackson has shown us in them so far. In 37 regular season starts, Jackson has led the Ravens to at least 20 points all but once (2020 Patriots). That is remarkable consistency. But in four playoff games, the Ravens have scored 17, 12, 20, and 3 points. Jackson has thrown more interceptions (five) than touchdowns (three) and his sack rate shoots up to an abysmal 12.3%.
In fact, 2020 was the third postseason in a row where the Ravens scored their season-low in points with Jackson at quarterback. Safe to say that stat will not come up in his contract negotiations. When you compare that to some other recent quarterbacks for how often they scored their season-low in a playoff game, Jackson's three-for-three is a huge eyesore. It is as many times as Peyton Manning, Aaron Rodgers, and Ben Roethlisberger combined.
Lamar Jackson (100%): three times in three postseasons (2018, 2019, 2020)
Patrick Mahomes (33.3%): once in three postseasons (2020)
Philip Rivers (28.6%): two times in seven postseasons (2007, 2009)
Tom Brady (27.8%): five times in 18 postseasons (2005, 2007, 2011-T, 2012, 2019-T)
Cam Newton (25.0%): once in four postseasons (2015)
Peyton Manning (20.0%): three times in 15 postseasons (2002, 2004, 2013)
Joe Flacco (16.7%): once in six postseasons (2009)
Matt Ryan (16.7%): once in six postseasons (2011)
Russell Wilson (12.5%): once in eight postseasons (2015)
Drew Brees (10.0%): once in 10 postseasons (2020)
Aaron Rodgers (0.0%): zero times in 10 postseasons
Ben Roethlisberger (0.0%): zero times in 11 postseasons
So, can the Ravens win a championship with Jackson? Not with the version of Jackson they have tried to win with the last three years. This is not to say that Jackson is done developing as a passer or that the Ravens should not lock him up for the long term. But the way they have tried to win a championship with him does not work and it will not work going forward. There must be improvement in passing the ball and that always starts with the quarterback.
Prediction
Baltimore's schedule looks difficult, but if home-field advantage returns with crowds in 2021, then fans should be satisfied with the draw. All five of Baltimore's non-division road games look very winnable for your NFL picks. The Ravens get to host the Chiefs, Colts and Chargers early on as well as the Packers and Rams late in the season. None of the games with Cleveland and Pittsburgh come until after Thanksgiving, but I think the Ravens have a more complete team than their division rivals. Baltimore should be favored in the AFC North.
The Ravens have still not earned my trust to beat the Chiefs or do well in the postseason, but when it comes to regular-season success, I have no problem picking this team to win at least 12 games. They offer a unique challenge that most teams in the league cannot handle. Unfortunately for Baltimore, we have a pretty good idea of which teams they cannot handle too.
2021 Ravens Over/Under Pick: Over 11 wins (+100) at Bovada (visit our Bovada Review)
*The line and/or odds on picks in this article might have moved since the content was commissioned. For updated line movements, visit BMR's free betting odds product.