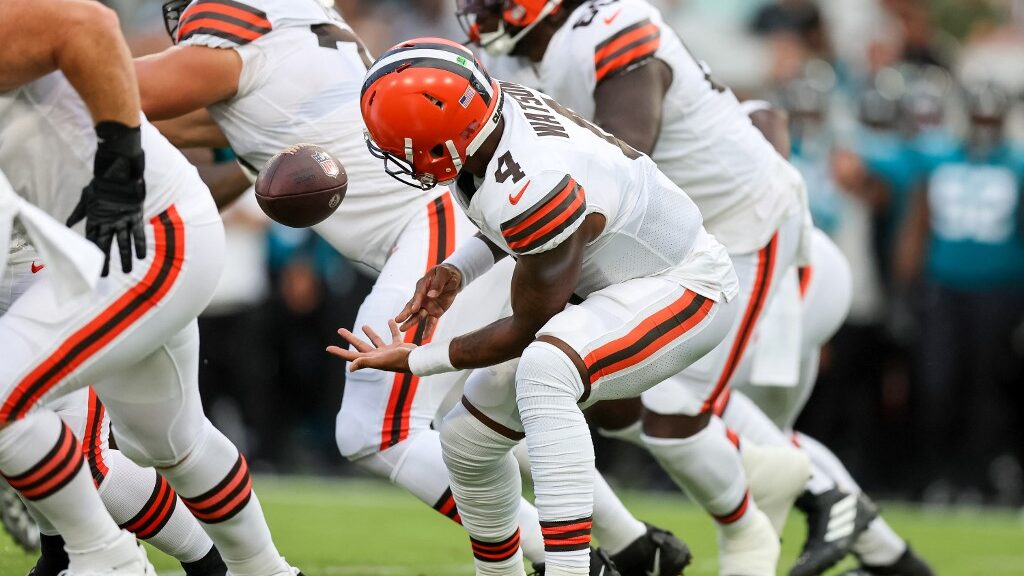 Just two years ago, the Cleveland Browns had their best season in decades, winning a playoff game in Pittsburgh and giving the Chiefs all they could handle in Kansas City. But after an 8-9 finish in 2021, Cleveland is moving on from Baker Mayfield as it reportedly wanted an "adult" at quarterback.
So, enter Deshaun Watson after he was accused of sexual misconduct by at least 24 women? In what could go down as the most shameful transaction in NFL history, the Browns traded a king's ransom of six picks to Houston for Watson while giving him a historic $230 million contract that is the most guaranteed money in NFL history.
Watson will be suspended for 11 games to start the 2022 season, so his debut will come no earlier than Week 13 in Houston (fittingly).
Cleveland's original line for wins in the NFL odds was set to over/under 9.5, but after news of the suspension, many of the top-rated sportsbooks have lowered the Browns to 8.5 wins.
No matter where you stand on Watson, you will be expecting Jacoby Brissett to start most of the games for Cleveland this year. Is he good enough to keep the team in the playoff race?
---
The Notable Changes for 2022
---
There are not many new starters at all in Cleveland this season, but obviously, that huge change at quarterback is going to be the main talking point here.
Regardless of which quarterback is starting, they are likely to have the best offensive line in their careers. The only downgrade could be at center with JC Tretter retiring.
Let's start with the player you may not see until December assuming he is able to control himself off the field the next few months.
PLAY NOW: $25,000 Free-To-Play NFL Contest: BMR's 2022 Pick'Em Pool Opens for Registration
---
Deshaun Watson and The Football Stuff
The last time we saw Deshaun Watson in the NFL he was leading the league in passing yards in 2020 for a 4-12 Texans team. The record said more about his team than him, and he would indeed be a good fit for a Kevin Stefanski offense with his ability to roll out and make things happen.
He is a definite upgrade in accuracy and consistency over Baker Mayfield, though he is a sack merchant and will take bad ones to hit big plays.
Sitting out a whole season and then some more months is practically unheard of for a quarterback in his twenties who signed one of the richest contracts in history just a couple of years ago.
Watson's Schedule
Even if there is some obvious rust and adjustment in learning a new offense for Watson, his return game is in Houston against what should be a lousy defense. Maybe some of those Texans will feel oddly motivated to embarrass him too given the state he's left that franchise in.
That is probably the most winnable game of the six on the schedule that Watson could see. A trip to Cincinnati won't be easy, the Ravens are always tough, the Saints can play defense, and road trips to Washington and Pittsburgh may even produce no more than a split.
It looks like a schedule that Watson could go 3-3 against, so how the Browns start without him will determine if this is going to be enough for a playoff push or if he's just wasted another season for a team.
---
Jacoby Brissett and Shady Situations
You almost feel bad for Jacoby Brissett as he only gets to take over a team when the situation is a mess:
Brissett's first NFL start came in 2016 for New England when Tom Brady was suspended for Deflategate and Jimmy Garoppolo was injured.
Brissett ended up being the Colts starter in 2017 after Andrew Luck mysteriously missed the entire season due to injury. He was 4-11 as a starter and finished 26th in QBR.
After Luck shocked the NFL world with an August retirement in 2019, Brissett led a solid Indy roster to a 7-8 record and missed the playoffs while finishing 21st in QBR.
With Brissett, you can expect a losing record and below-average quarterback play. While things reached their lowest point with Baker Mayfield last season, it is hard to see Brissett being an upgrade as a lot of Mayfield's issues are his own.
In 2021, Mayfield (73.6%) was 27th in on-target pass rate while Brissett (72.5%) was 30th with Miami according to Pro Football Reference.
Mayfield was not a good quarterback with the game on the line, and his 7-17 (.292) record at game-winning drive opportunities backs that up.
But Brissett's record is even worse at 4-15 (.211), which would be the second-worst winning percentage among active starters.
While the Browns could not win a high-scoring game in 2021, Brissett is 2-16 when his team allows at least 24 points in his career.
While Mayfield struggled last season in taking a career-worst 9.3% sack rate, Brissett takes a sack on 8.1% of his career dropbacks. Mayfield's career sack rate is only 6.5%.
Mayfield leaves Cleveland with an 8-22 (.267) record in games against teams with a winning record while Brissett is 4-14 (.222) in such games.
When Brissett's Browns meet Mayfield's Panthers in Carolina in Week 1, you can bet Mayfield will want to play his best game in that one after the team dumped him for someone with Watson's baggage.
That could start things on a bad foot as the schedule will soon get much tougher with games against the Chargers, Patriots, Ravens, and Bengals before the bye in Week 9.
Trips to Miami and Buffalo could also be rough for the Browns with Jacoby Brissett, and then it is at home against Tom Brady and the Buccaneers to close out the Watson suspension window.
Unless Stefanski has the magic recipe to unlock Brissett, this team, realistically speaking, could be 4-7 by the time Watson is eligible to return.
---
Is Amari Cooper Still a Difference Maker?
After not having a player with 600 receiving yards last year, the Browns made a trade with Dallas to acquire Amari Cooper. The good news is they only gave up a fifth and sixth-round pick for the 28-year-old receiver, who slipped to 865 yards in 15 games last season.
The bad news is with Jarvis Landry leaving for New Orleans, it may not be that big of a boost to the receiving corps, especially with Brissett as the passer. Cooper has always been a solid but unspectacular receiver in the NFL. He's never had a 1,200-yard season, and he always has five-to-eight touchdown catches.
For being a No. 1 receiver throughout his career, Amari Cooper also has a bad tendency to flat out disappear for whole games. Cooper has 17 games in his career where he failed to surpass 10 receiving yards, including four games with zero catches. Let's compare that to a few receivers Browns fans should be familiar with and one Brissett knows well:
Amari Cooper: 17 games with 10 yards or less in 112 career games (15.2%).
Jarvis Landry: 3 games with 10 yards or less in 126 career games (2.4%).
Odell Beckham Jr.: 3 games with 10 yards or less in 101 career games (3.0%).
T.Y. Hilton: 5 games with 10 yards or less in 152 career games (3.3%).
When Brissett was the quarterback in Indianapolis, No. 1 receiver T.Y. Hilton saw his stats suffer both years in 2017 and 2019. Even if Watson plays, Cooper is a downgrade from the DeAndre Hopkins connection he had in Houston.
---
Can Myles Garrett Win Defensive Player of the Year?
With the Browns not making a NFL pick in the draft until taking corner Martin Emerson at No. 68, it is not expected to be a productive rookie class in 2022.
Most of the key additions to the defense already came last offseason when the Browns added edge rusher Jadeveon Clowney, safety John Johnson from the Rams, and a draft that produced corner Greg Newsome and linebacker Jeremiah Owusu-Koramoah. That is a decent core to pair with corners Denzel Ward and Greedy Williams.
The Browns also have one of the best in the game in Myles Garrett, who finished 2021 with a career-high 16.0 sacks. He lost out on Defensive Player of the Year to division rival T.J. Watt, but Garrett is not slowing down as he enters his age-27 season. He knows it will be even more important to carry the defense while Watson is suspended.
With defensive coordinator Joe Woods returning, it is not like the Browns needed to overhaul this defense which was good enough to make the playoffs:
Cleveland lost three games in which it allowed 15 or 16 points, including a loss in Baltimore despite intercepting Lamar Jackson four times.
Cleveland finished No. 7 in yards per drive allowed but No. 18 in points per drive allowed due to the offense putting the defense in several bad situations with turnovers.
Cleveland forced a three-and-out on 25.1% of drives, the second-best rate in the league.
Situational performance remained bad with four blown leads and the Browns ranked 25th in points allowed per red zone trip.
The Browns were also just No. 23 in takeaways per drive with 19 takeaways on the season. If Garrett is going to deliver an award-worthy season, he may need to get better at stripping the ball. He only had one forced fumble in 2021 while Watt had five for Pittsburgh.
---
2022 Browns Prediction
It could be a tale of two seasons for the Browns with the quarterback situation, but my gut does not see more than eight wins on what looks like a tough schedule for both the Brissett and Watson portions.
Oddly enough, how Baker Mayfield performs for Carolina in that Week 1 opener could decide this line at 8-9 or 9-8 for the Browns. My money is on Baker to play one of his best games to start Cleveland at 0-1, and I will take the under 8.5 wins for your NFL picks.
NFL Pick: Cleveland Browns Season Wins Under 8.5 (-140) at Bovada (visit our Bovada Review)

*The line and/or odds on picks in this article might have moved since the content was commissioned. For updated line movements, visit BMR's free betting odds product.
---
Last Season of The Browns Premiering "Bon Voyage, Baker"
---
The NFL universe was not ready for the Browns to make the playoffs in consecutive years for the first time since that five-year run in the late 1980s. Baker Mayfield's fourth and final season in Cleveland ended up being his worst as he threw just 17 touchdowns, had a career-low 35.1 QBR, and he had injury problems for the first time in his career.
Cleveland's Week 1 loss in Kansas City, a 33-29 shootout, ended up being symbolic of the season to come. Tough opponents, close games, and any defensive letdown ended up destroying the Browns in 2021:
Cleveland was 2-8 against teams with a winning record, including a sweep over Cincinnati that may have only been made possible by the Bengals resting starters in Week 18.
Cleveland was a league-worst 0-7 at game-winning drive opportunities as the defense also blew four fourth-quarter leads to tie for the league lead in that category.
Cleveland was 0-6 when allowing at least 24 points in a game, a split where the 2020 Browns were 6-3 with a much better offensive performance.
Running back Nick Chubb and defensive end Myles Garrett continued to be great, but the rest of the team was lacking in a disappointing season. Now the Browns hope the same line cannot be written about 2022, but it certainly is possible with this 11-game albatross hanging around the team's neck to start the season.