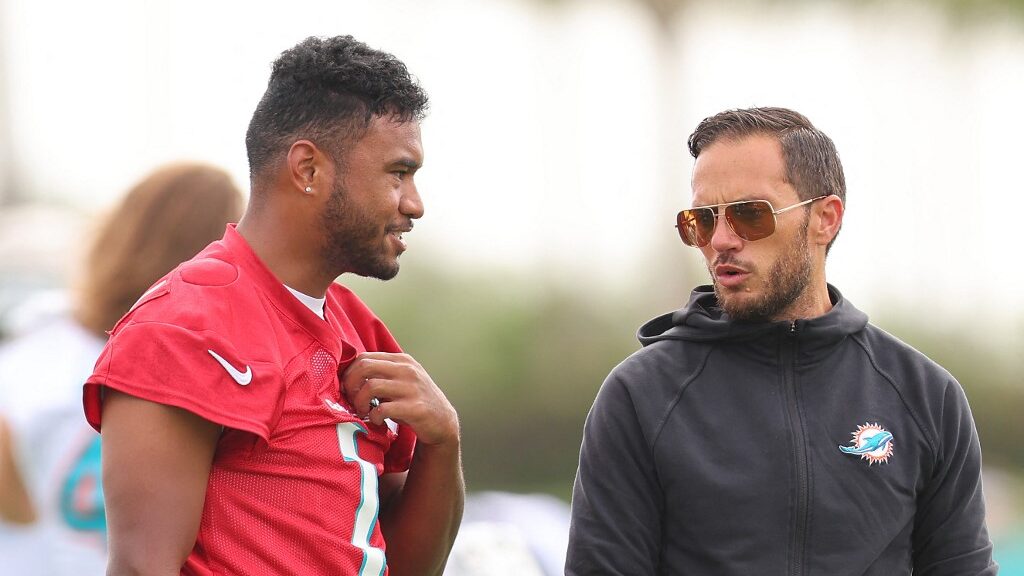 The Miami Dolphins missed the playoffs with a winning record (9-8) for the second year in a row. That is something that has not been done in the NFL since the Dolphins did it in 2002-03. They then fired head coach Brian Flores, who alleged in a lawsuit that the team paid him to tank games.
These are the kinds of headlines we have come to expect from the Dolphins in the 21st century. If not controversy and incompetency off the field, it is blandness and irrelevancy on it.
A Turn for the Best?
But maybe things are about to change after the team hired long-time Kyle Shanahan assistant Mike McDaniel from the San Francisco 49ers as the new head coach. It will be up to McDaniel to turn around third-year QB Tua Tagovailoa, but he is getting some great help from Tyreek Hill after a trade with Kansas City.
The Buffalo Bills are still the favorites in the AFC East, but expectations may be back for the Dolphins as well. Many of the top-rated sportsbooks have the Dolphins with an over/under of 9 wins. Should you trust McDaniel and double down with a Coach of the Year bet as well? He is currently +1600 at Bovada (visit our Bovada Review).
---
The Notable Changes for 2022
---
The Dolphins have been erroneously crowned for winning offseasons in the past thanks to spending a lot of (ill-advised) money on free agents, but this year is different. The Dolphins made a blockbuster trade to bring in a proven weapon, and they might finally have the head coach who knows how to use him. But do they have the quarterback? Believe in the system.
In Mike McDaniel (Via Kyle Shanahan) We Trust
So many NFL teams are on the hunt for offensive minds when it comes to finding their next head coach. The fact that the last Super Bowl was Sean McVay against one of his former assistants (Zac Taylor) has only reinforced that.
But Miami fans may be thinking that they have been burned twice in the last decade by such hires. Why would this be any different with Mike McDaniel coming over from San Francisco after one year as an offensive coordinator?
The difference is McDaniel is bringing a system. Those coaches who failed came from a place with talent the Dolphins could not replicate.
The Joe Philbin Experiment
In 2012, Miami hired Green Bay offensive coordinator Joe Philbin, fresh off a dominant 15-1 season in Green Bay. But Philbin was not bringing MVP Aaron Rodgers and the deepest receiving corps in the NFL with him to Miami.
He was stuck with a converted college receiver (Ryan Tannehill) and one of the weakest receiving corps. It did not work.
The Adam Gase Nightmare
Miami did not learn its lesson either. In 2016, the Dolphins hired Adam Gase as head coach. Gase got famous for being the offensive coordinator of the 2013 Broncos, the highest-scoring team in NFL history. But Gase was not bringing Peyton Manning's brain and another deep receiving corps with him to Miami, so it failed again.
It is easy to say "hire a Kyle Shanahan assistant" if you're an NFL owner. But the Dolphins have made one of the best choices possible by getting a coach in McDaniel who has followed Shanahan from:
Houston to Washington
Washington to Cleveland
Cleveland to Atlanta
Atlanta to San Francisco
Who follows someone to Cleveland if it's not true love? He has basically been stalking Shanahan since 2006 and should have fully absorbed this offensive system that has a long history of inflating production for quarterbacks who are not as good as the statistics suggest.
Some of those quarterbacks include Matt Schaub, Robert Griffin III, even Matt Ryan in his 2016 MVP season, and Jimmy Garoppolo. Few, if any, respect Garoppolo's gaudy passing statistics, such as his 8.4 yards per attempt, the highest for any NFL quarterback born after WWII.
A Very Friendly System for QBs
Remember Nick Mullens? He started eight games for the 49ers in 2018. Mullens was a backup with no pedigree, college or pro, but he still threw for 2,277 yards in his first eight starts. That is still the fifth-highest total for a quarterback's first eight starts in NFL history.
Why couldn't McDaniel bring his version of this system to Miami and make Tua Tagovailoa shine? The Dolphins are supplying some serious talent with the trade for Tyreek Hill that will help McDaniel pull off his YAC-heavy offense that should take advantage of play-action looks and the incredible speed now in Miami.
With the disclaimer that it was just preseason, look at some of the passing numbers for McDaniel's quarterbacks this preseason:
Tua Tagovailoa: 12-of-15 for 179 yards, 11.9 YPA, 1 TD
Skylar Thompson: 36-of-48 for 450 yards, 9.4 YPA, 5 TD
I think I hear Jimmy G's music. Before we get too crazy about August numbers that don't count, Miami did lead all 2021 teams in the preseason with 7.8 yards per pass attempt. No McDaniel, no system, no Hill, and that still happened a year ago.
But so far, all the signs are encouraging that McDaniel is going to be able to pull off something good here.
Fixing Tua Tagovailoa
Barring an injury, this really is a prove-it season for third-year quarterback Tua Tagovailoa. Most great quarterbacks in NFL history prove their worth in their first or second season as a starter. Outliers exist and, apparently, Josh Allen is one of them, but this is true for most franchise quarterbacks in NFL history.
Tagovailoa is 0-for-2 so far. He finished 18th in QBR (49.7) last season after finishing 26th in 2020 (44.8). He gets rid of the ball very quickly, and his accuracy on short throws is fine. This gives McDaniel a base to work with, and Tua is mobile enough to be used on rollouts and bootlegs.
Setting Up the Play-Action
According to Pro Football Reference, Tagovailoa threw 29.9% of his passes using play-action in 2021, the highest rate in the league. That is something the Dolphins should look to continue, especially since it was effective. Tagovailoa increased his yards per attempt from 6.1 without play-action to 8.5 with play-action.
The new offensive system and talent should help Tua with spacing, YAC, and opportunities for deep shots to open receivers. But the other big facet of a Shanahan-style offense is the zone run scheme that you can usually plug any running back into and find success. The Dolphins have a more than capable trio in place with:
Chase Edmonds
Raheem Mostert (former 49ers RB)
Myles Gaskin
This offense could lead the league in drives of 10-plus plays with the commitment to short passes and runs. Tagovailoa will not have to throw 40 times a week or for a ton of yards, which is good since he's never won a game in the NFL when he has thrown 30 passes and the Dolphins allowed more than 17 points (0-6).
Some of the issues in his first two seasons truly were roster issues outside his control. At Next Gen Stats, they track things like how aggressive a quarterback is based on how many of his passes are thrown into tight windows where the nearest defender is within 1 yard of the receiver. They also track the receiver's average separation from the nearest defender.
Painting the Picture
This data from Next Gen Stats paints a clear picture of the problems with the passing game in Miami the last two years, and how it extended to the other quarterbacks and not just Tua:
In 2020, Miami starter Ryan Fitzpatrick was the second-most aggressive passer in the NFL with 21.7% of his passes going into tight windows.
Tagovailoa (20.3%) finished as the sixth-most aggressive passer in his rookie season.
In 2021, Tagovailoa was the most aggressive passer with 19.3% of his passes going into tight windows.
Backup Jacoby Brissett finished as the third-most aggressive at 18.7%.
Meanwhile, look at how unaggressive the San Francisco offense has been since Shanahan and McDaniel got there in 2017:
In 2017, 49ers backup C.J. Beathard (12.5%) was the least aggressive passer in the NFL and newly acquired Jimmy Garoppolo (15.2%) had the eighth-lowest rate.
In 2018, 49ers backup Nick Mullens (12.0%) was the second-least aggressive passer in the NFL.
49ers starter Garoppolo had the 15th-lowest aggressiveness rate in 2019 (15.3%), the 12th lowest in 2020 (13.6%), and the 20th-lowest rate in 2021 (15.6%).
A high aggressiveness rate can happen when your best wide receiver and tight end struggle to separate.
In 2020, Miami's DeVante Parker (1.7 yards) and Mike Gesicki (2.0) had two of the three lowest averages in separation on their targets.
In 2021, Miami's DeVante Parker ranked dead last in average separation (1.7 yards), or almost two full yards less than Tyreek Hill (3.6).
Fortunately, the Dolphins have moved on from Parker and added the best speedster in the NFL.
Tyreek Hill and Jaylen Waddle, The Dynamic Duo
Since 2018, no receiver has probably had more clutch plays or a better highlight reel than Tyreek Hill. He was magic with Patrick Mahomes in that offense, and his most famous highlight will be the third-and-15 he converted deep against the 49ers in the Super Bowl to lead a comeback win.
That is why it was so shocking to see the Chiefs move Hill to Miami, but it happened in March. The price was obviously steep as the Dolphins gave up a
2022 first-round pick
second-round pick
two fourth-round picks
2023 sixth-round pick
But if it transforms the offense and helps turn Tagovailoa into a legitimate quarterback, then it was worth every pick. Wide receivers are rarely the final piece to the puzzle, and Tagovailoa is one very unfinished puzzle. But the addition of Hill really opens the offense to be one of the fastest in the league.
Hill's strength is obviously the deep ball, which is at odds with Tua's strengths, but the two have already connected for a 51-yard bomb this preseason in limited snaps together. Hill is not the kind of physical receiver that Deebo Samuel was for McDaniel in San Francisco, but he can still turn a pass thrown at the line of scrimmage into an 8-yard gain with shifty little moves.
That stuff is so valuable for an offense, easy for a quarterback to complete, and the Dolphins already were doing some of that with Jaylen Waddle last season.
Waddle, Sophmore Receiver
Waddle's average yards before reception was 5.5, one of the lowest for a wide receiver. His YAC number was nothing special at 4.2 per reception, but it was higher than Hill's (4.0). Better offensive design can boost both of those numbers for Miami, but it will be different than throwing to Samuel and tight end George Kittle who are just so physical and hard to take down after the catch.
Last season, Garoppolo (6.5) and Mahomes (6.2) were the top quarterbacks in YAC per reception according to Pro Football Reference. Tagovailoa (4.6) was 30th and Miami backup Jacoby Brissett (3.6) was 33rd or last. This is undoubtedly going to improve in Miami this year.
Beyond Hill and Waddle, the Dolphins are at least three deep at wide receiver. The Dolphins moved on from DeVante Parker and added Cedrick Wilson Jr. from the Cowboys after he shined with 602 yards and six touchdowns last season. That feels like an upgrade at this point as Parker is not a good fit for Shanahan's offense. Let tight end Mike Gesicki make the tough catches over the middle while draped in coverage.
The speed at wideout needs to be unleashed in Miami this year.
Is the Defense Championship Caliber?
Miami's defense certainly had great moments during the team's seven-game winning streak last year, but if you look at the other 10 games, there was not much to like.
It is one thing to get shredded by Tom Brady or Josh Allen, but the Dolphins let Carson Wentz have his first good game for the Colts. They also watched Matt Ryan, Derek Carr, and Trevor Lawrence march down the field for game-winning field goals on the final snap or else this could have easily been a playoff season.
Flores brought the Bill Belichick approach of a bend-but-don't-break defense to Miami. Keep the play in front of you, fundamental tackling, stay disciplined, and see how much the refs will let you get away with grabbing the receivers. It led to so-so results at best.
Josh Boyer is Still Around
The surprising part is that despite Flores' firing, McDaniel decided to retain defensive coordinator Josh Boyer, who has roots in New England himself. This is a rare move as a new head coach usually likes to hire his own coordinator, but the job remains Boyer's. There was a February report in Miami media that players were not happy about this news given the lack of success under Boyer, but you never know how much stock to put in anonymous sources.
Still, Boyer's presence means there is unlikely to be a major schematic overhaul this season, which might make it nearly impossible for the Dolphins to have a significant improvement on defense unless the talent got much better.
Has it?
Defensive Additions
While the Dolphins were busy trading for Tyreek Hill, they ended up not using a top 100 pick on any player in the draft. Their highest selection was Channing Tindall with the 102nd pick. He is an inside linebacker from Georgia, which seemingly had 45 defenders drafted this year. Tindall is not going to be a difference maker in 2022.
Cornerback Xavien Howard is now the longest-tenured player on the Dolphins. He is also one of potentially eight Week 1 starters on the defense that the Dolphins have drafted in the first three rounds since 2016.
One of the only non-drafted starters is Emmanuel Ogbah, who was acquired in 2020 and has put up back-to-back seasons with 9.0 sacks for the Dolphins. Since he needed a rushing mate, the team is giving Melvin Ingram a shot at 33 years old. Ingram disappointed in Pittsburgh last season before doing a couple of nice things for the Chiefs.
Keeping it Mediocre
If the offense is as good as the potential is, then this defense only has to be mediocre for the team to make the playoffs. They can do that with the pieces in place. But if the Dolphins are counting on some surprise Super Bowl season like the Bengals had last year, then some of these young draft picks are going to have to really peak, or Howard is going to have to intercept a ton of balls again. This looks like a defense that will still struggle mightily against the good quarterbacks and offenses in 2022.
2022 Season Prediction
We will get a great look if Miami is an improved team with a September schedule that brings the Patriots and Bills at home in the heat, and trips to the Ravens and Bengals. If this team can go 2-2 or better in September, then the rest of the season should be smoother sailing. An 0-4 start would be rough. Of course, we just saw the Dolphins turn a 1-7 start into 9-8 last year, but hopefully, it does not come to that again.
Come October, the next seven games all look very winnable before another tough five-game stretch. But by the time the Dolphins close at home with the Jets, I like that to be the 10th win to hit the Over for your NFL picks.
McDaniel for Coach of the Year
I also think McDaniel will edge out Brandon Staley (Chargers) and Kevin O'Connell (Vikings) for Coach of the Year. He will get the credit for turning the offense around while Staley will enjoy an MVP-worthy season from Justin Herbert, and O'Connell has established stars in Minnesota. I still have my reservations about Tagovailoa being legit, but I believe in the system enough to falsify the statistics to suggest he is this year.
It is bold to put expectations this high on the post-Dan Marino Miami Dolphins, but maybe McDaniel is the next big thing in coaching in the NFL. At the very least, maybe he is the person to bring the Dolphins back to relevancy.
NFL Pick: Miami Dolphins Season Wins Over 9 (-110) at Bovada
---
On the Last Season of "The Dolphins": Better Consolation Prize This Time
---
The 2021 Dolphins took just about the worst path to 9-8 and no playoffs as a team can take for its fans. Not only do you miss out on the tournament and a higher draft pick, but when a team starts 1-7, fans lose interest. Then when you win seven in a row to get to 8-7 and still have a shot, you get bummed out again when the Titans destroy your team 34-3 in Week 17.
On the bright side, Miami started and ended the season with a win over the Patriots. It is the first sweep of New England for the Dolphins since 2000. But Buffalo is the latest nemesis in the division, and the Bills outscored Miami 61-11 in two games last year. In fact, the seven-game losing streak after beating the Patriots in Week 1 started and ended with Buffalo embarrassing the Dolphins.
At 1-7, the Dolphins could have tanked, but they embarked on a seven-game winning streak that oddly still made the case that Flores had a limited ceiling with this team, and it could do better. It was one of the least impressive winning streaks of that length that you could imagine in the NFL:
Miami won seven games in a row while averaging 23.9 points per game. It is the lowest scoring average during a same-season winning streak of at least seven games since the 2005 Bears (17.4 points per game).
Six of Miami's seven wins were against teams that did not finish with a winning record in 2021.
The one who did, New Orleans (9-8), was forced to start fourth-string rookie quarterback Ian Book after Taysom Hill and Trevor Siemian landed on the COVID list. Book threw a pick-six on his second pass that set the tone in a 20-3 win for Miami.
Besides Book, the Dolphins harassed Tyrod Taylor and the Texans, swept the 4-13 Jets, beat the 4-13 Giants, and the 5-12 Panthers.
Miami beat the Texans 17-9 in a game with nine turnovers, including five by the Dolphins.
The real highlight of the streak was the pass rush destroying Lamar Jackson and the Ravens in a 22-10 win on a Thursday night, but even that upset hinged heavily on a fumble being returned for a touchdown by Miami.
Not the prettiest brand of football, and all it led to was a 34-3 drubbing in Tennessee in Week 17. Now the Dolphins can move on with what will hopefully be an exciting offense and a defense still capable of creating turnovers. The Dolphins and Bills are the only teams to force at least 26 takeaways in each of the last two seasons.