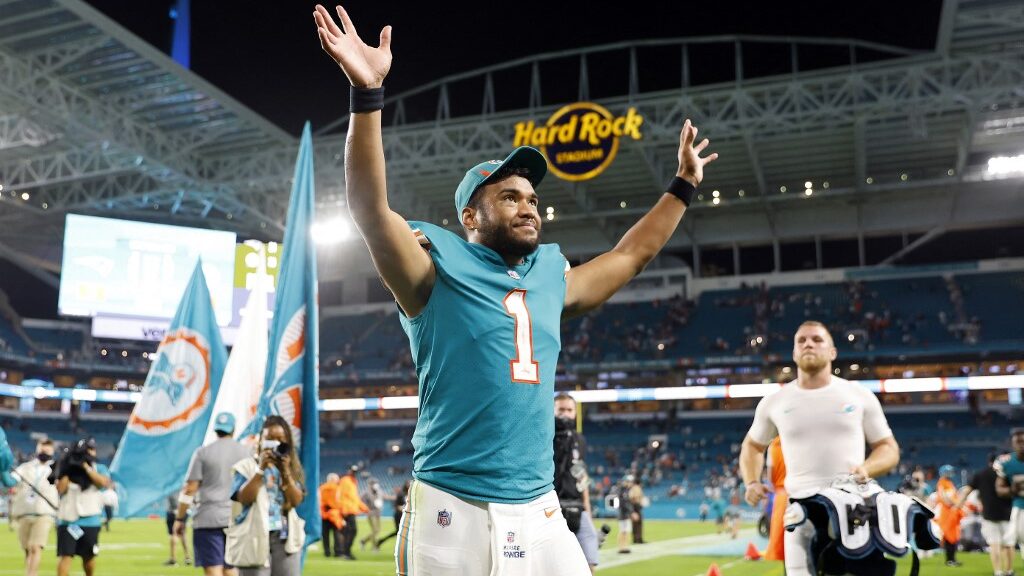 The Miami Dolphins are getting a fresh slate in 2022 under new head coach Mike McDaniel after divorcing Brian Flores back in January.
That's also good news for third-year quarterback Tua Tagovailoa, who seems to finally have the support system that he needs in the new coaching staff as he enters a make-it-or-break-it season.
Tua Tagovailoa's Stats for 2021
Tua struggled last season, finishing the year completing 67.8% of his passes for:
2,653 yards
16 touchdowns
10 interceptions
Passer Rating (13 games): 90.1 percent
However, it's important to note that those numbers are impressive for someone who had the least time to throw to his targets out of any quarterback in the NFL last year. Not to mention [he and] his top targets dealt with various injuries.
High Expectations for McDaniel and Company
After several bold offseason moves under McDaniel and company, Tagovailoa should be on track for his best season yet and prove that he is a franchise quarterback.
McDaniel certainly believes it's possible. "I think his best days are in front of him," McDaniel said of Tua shortly after he was hired.
Winning Starts in the Trenches
Tua is far from being a bad quarterback, but it may have looked that way last season since he was surrounded by very poor blocking.
The Dolphins' offensive line was embarrassing to watch in 2021 as they surrendered 235 total pressures, which was the most in the league, according to Pro Football Focus.
Now, for the first time in his pro career, Tua will have some solid protection after Miami addressed their offensive line needs and inked four-time Pro Bowl left tackle, Terron Armstead this offseason.
Armstead and Williams Missing Keys
Armstead, who will enter his tenth season, has spent most of his career protecting the blindside of Hall of Famer Drew Brees, which naturally speaks for itself. He comes to Miami on a five-year deal.
The Dolphins also signed left guard Connor Williams in free agency, marking another boost to their weak o-line. Williams joins the Dolphins after allowing just 1 sack in 569 pass-blocking snaps and only 13 total pressures in 2021.
Armstead and Williams should be the missing keys that solidify their offensive unit which optimize Tagovailoa's full potential and give him plenty of time to throw downfield to his endless targets.
Dolphins Ink Lethal Weapons for Tua
Not only should Tua have a reliable offensive line in front of him but he will also have various weapons to use–in both the run game and passing game. During free agency back in March, the Dolphins signed ​​three elite running backs:
Raheem Mostert
Sony Michel
Chase Edmonds
But those moves were just half of the fun.
Tyreek Hill: Best Offseason Move
Their biggest and possibly best offseason move came when the team traded for Kansas City Chiefs wide receiver, Tyreek Hill. Miami acquired Hill from KC in exchange for a first-round pick, second-round pick, and fourth-round pick in 2022 and a fourth-round pick and sixth-round pick in 2023.
Hill joins the Dolphins after spending his entire career with the Chiefs where he was a six-time Pro Bowl selection, named first-team All-Pro three times, and helped KC win Super Bowl LIV.
Since being selected in the fifth round of the 2016 draft, Hill has recorded 6,630 yards receiving, which ranks fifth on the Chiefs' all-time list while his 56 touchdowns and 479 receptions rank fourth.
Tagovailoa Has What He Needs to Deliver
With the addition of:
Along with an offensive line boost, we can expect to see Tagovailoa deliver in 2022. Not to mention that McDaniel should bring an exciting offensive scheme to Miami after spending a long time under one of the best in the business: Kyle Shanahan.