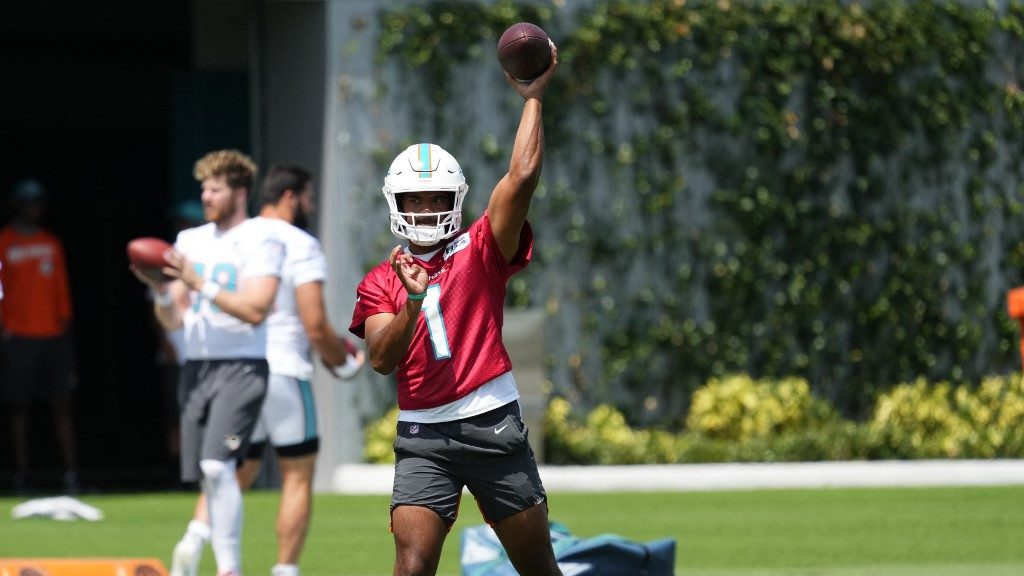 The Miami Dolphins continued their turnaround under head coach Brian Flores by finishing 10-6 in 2020. However, it was not enough to make an expanded playoff field as every playoff team in the AFC had at least 11 wins. Now the Dolphins will look to move forward with Tua Tagovailoa as their franchise quarterback. He had a shaky rookie season, but we should have a great idea by Week 5 where he is as a second-year starter.
Many of the top sportsbooks have the Dolphins with an over/under of 9.5 wins. The Dolphins have won at least 10 games in consecutive seasons just once since 1986, and that was back in 2000-01 before the creation of the current AFC East. While the Bills are the clear favorites, can we trust the Dolphins to stay ahead of the rebuilt Patriots and contend for a wild card again?
On the Last Season of DOLPHINS: No Playoffs, So Here's a Set of Steak Knives
In the NFL's 32-team era (2002-present), the Dolphins and low expectations go hand in hand. The team has only made the playoffs twice in the last 19 seasons. After starting 0-7 in 2019, Brian Flores led Miami to five wins in their last nine games with veteran quarterback Ryan Fitzpatrick finding some comfort in the offense. Still, it was a bad enough season to use a top five pick on Alabama quarterback Tua Tagovailoa.
Miami chose to start the season with Fitzpatrick, which was almost a lock that the playoffs would not happen as all 16 of Fitzpatrick's teams have failed to qualify for the tournament. This is even the second time that he played for a 10-6 AFC East team (2015 Jets) and still failed to make the playoffs as a wild card. But truthfully, Fitzpatrick was the best quarterback for the Dolphins last year. He was completing 70% of his passes through six games, obliterating a banged-up San Francisco roster in a 43-17 win and tossing three more touchdowns in a 24-0 shutout of the hapless Jets.
That is why the timing was a bit surprising when the Dolphins turned things over to Tua after the bye week. His first opponent was Aaron Donald and the Rams, the No. 1 defense in 2020. The game ended up being a laugher, won 28-17 by the Dolphins thanks to a four-turnover implosion by Jared Goff. Tua only passed for 93 yards on 22 passes as half of Miami's points came on long return touchdowns. The offense's only two touchdown drives covered a combined 34 yards, including a 1-yard drive after a Goff fumble.
Tua was able to show much more in a 34-31 win in Arizona, including the first game-winning drive of his career. But that was arguably the peak of the season for him. Miami never scored 30 points in any of the last eight games of the season. There was a very disappointing loss in Denver in which Tua, who took six sacks, was benched for Fitzpatrick, who at least made the game interesting.
Miami had an excellent chance to pull off an impressive win over the Chiefs in Week 14, jumping out to a 10-0 lead thanks to uncharacteristic turnovers from Kansas City. But the Chiefs scored the next 30 points, and the Dolphins came up short in the fourth quarter. In Week 16 against the Raiders in prime time, an ineffective Tua again was replaced by Fitzpatrick, who led a game-winning drive keyed by an incredible throw under pressure that drew a roughing the passer penalty.
In a Week 17 game against a Buffalo team that really had little to play for, the Dolphins were embarrassed on both sides of the ball in a 56-26 loss. Tua threw three interceptions after having only two going into the game. Does Miami's season turn out better if Fitzpatrick was never replaced by Tua? Other than probably winning the Denver game, that is hard to say. The only thing clear is that despite some improvements, the Dolphins still rank behind the likes of the Chiefs, Bills and Ravens in the AFC.
The Notable Changes for 2021
Miami has gone on some free agent shopping sprees in past years that did not turn out well, but 2021 was not one of those years. The Dolphins did add Houston wide receiver Will Fuller, who is a solid deep threat when he stays healthy, which is not that often. Still, he should make this a better receiving corps after DeVante Parker was the only wideout to break 400 yards in 2020.
But for the most part, this team is relying on many players added in Flores' tenure the last two years to get better in this system. On offense, that goes for everyone from Tua to the three offensive line starters drafted in 2020 to running back Myles Gaskin. Defensively, the Dolphins used high NFL draft picks on Christian Wilkins (2019 first) and Raekwon Davis (2020 second), but it was veteran Emmanuel Ogbah who stepped up to lead the team with 9.0 sacks and 36 pressures in his Miami debut. The Dolphins would also like to see more out of corner Byron Jones in his second season with the team after he allowed 10.6 yards per target.
In the draft, Miami took wide receiver Jaylen Waddle (Alabama) with the sixth pick and linebacker Jaelan Phillips (Miami) with the 18th pick. Phillips could be a pass-rushing success in a year or two, but most of the attention will go towards Waddle, who played with Tua in college. Waddle has already drawn comparisons to Kansas City's Tyreek Hill for his speed, but he was not a high-volume receiver in college.
The Dolphins really need speed and separation to get this offense moving better. According to Next Gen Stats, Miami's Parker (1.7 yards) and tight end Mike Gesicki (2.0 yards) ranked in the bottom three with Cincinnati's A.J. Green (1.7 yards) for the lowest separation on their targets in 2020. That sure can explain why Tua and Fitzpatrick were two of the six most aggressive quarterbacks at throwing into tight coverage.
But between Fuller and Waddle, the Dolphins have absolutely added incredible speed to their receivers. Will it result in more big plays? That was a main problem last year in Chan Gailey's offense. The veteran coordinator resigned and now the offense will be co-coordinated by George Godsey and Eric Studesville. Tua has already said he feels more comfortable in calling plays this year, but we will see if having a real offseason gets this passing game to live up to its potential.
Regression Alert: Turnovers
You always have to be leery of a team that builds its success around turnovers. While the Dolphins were middle of the road in protecting the ball on offense, the defense led the league with 29 takeaways. In fact, Miami was the first team since the 2012 Patriots to have a takeaway in all 16 games. Flores was on that New England staff with Bill Belichick and has certainly taken some pointers on the "bend but don't break" style of defense that the Patriots perfected.
Last year, the Dolphins had some unusual numbers that can largely be explained by turnovers. Miami's offense finished 22nd in yards, yet the Dolphins finished 15th in points scored. Miami's defense finished 20th in yards allowed, yet the Dolphins finished sixth in points allowed. If you sum the difference in those rankings of yards and points, the Dolphins finished 21 spots above expectations. That makes the 2020 Dolphins the 18th team since 2002 to finish at least 20 spots above expectations between yards and points. Twelve of those 17 teams won fewer games the following season.
A big part of the problem is that it is hard to consistently get turnovers on defense each year. Cornerback Xavien Howard is unlikely to pull in 10 interceptions like he did in 2020 after having one pick in 2019. Howard is also currently angling for a bigger contract and has requested a trade, so that is a situation the team will have to deal with before he takes the field again.
But even with Howard's stellar play and the takeaways, Miami still had some big flaws on defense last year. The Dolphins ranked 25th in yards per play allowed. A key part of the bend but don't break style is to limit big plays. Make the opponent drive a distance with minimal gains and hope that they eventually make a mistake that stalls the drive short of the end zone.
However, Miami allowed 12 pass plays of 40-plus yards, tied for the most in the league. Half of those went for touchdowns. Four quarterbacks, including division rival Josh Allen, tore up Miami's pass defense by averaging over 10.5 yards per attempt. Miami is the first defense since the 2018 Raiders to allow four games of 10.5 yards per attempt in a season.
The Jets will probably still be bad in 2021, but not three points in eight quarters bad like they were against the Dolphins last year. Those games boosted the stats for Miami's defense, which will no longer get to beat up on Adam Gase. Maybe the Dolphins could force another quarterback into a Goff-like performance this year, but no team with serious championship aspirations is going to sweat playing this Miami defense.
Prediction
Miami's schedule starts with a strong sense of déjà vu. For the second year in a row, the Dolphins open in New England before hosting Buffalo. The Dolphins have not won a game in New England early in the season since the 2008 Wildcat game. Miami also returns to Las Vegas in Week 3, the site of their last win. The Colts could be an easier game with the injuries to Carson Wentz and Quenton Nelson, but then it is a trip to Tampa Bay, the defending champs and old nemesis Tom Brady.
For as tough as that start looks, the over/under of 9.5 wins makes a lot of sense from the oddsmakers when you look at the rest of the schedule. The Dolphins also play the Jaguars, Falcons, Texans, Jets (twice), Panthers, and Giants. That is seven games against teams that had a losing record last year and none of them really look to have huge upside in 2021. Of course, the Dolphins lost a similar game in Denver last year so anything is possible, but there are not a lot of games on this schedule where the other team is significantly better than Miami.
Still, there are a lot of games where the opponent is close in caliber, so it could at least be a coin flip for the Dolphins. I do not see Miami starting better than 5-5, nor do I think the team is good enough to sweep right through the Jets, Giants and Panthers to get to 9-5 with three tough games left (at Saints, at Titans, vs. Patriots). A season after going 10-6, I see the Dolphins regressing to no better than 9-8 and still not part of the playoffs.
2021 Dolphins Over/Under Pick: Under 9.5 wins (-135) at Bovada (visit our Bovada Review)
*The line and/or odds on picks in this article might have moved since the content was commissioned. For updated line movements, visit BMR's free betting odds product.