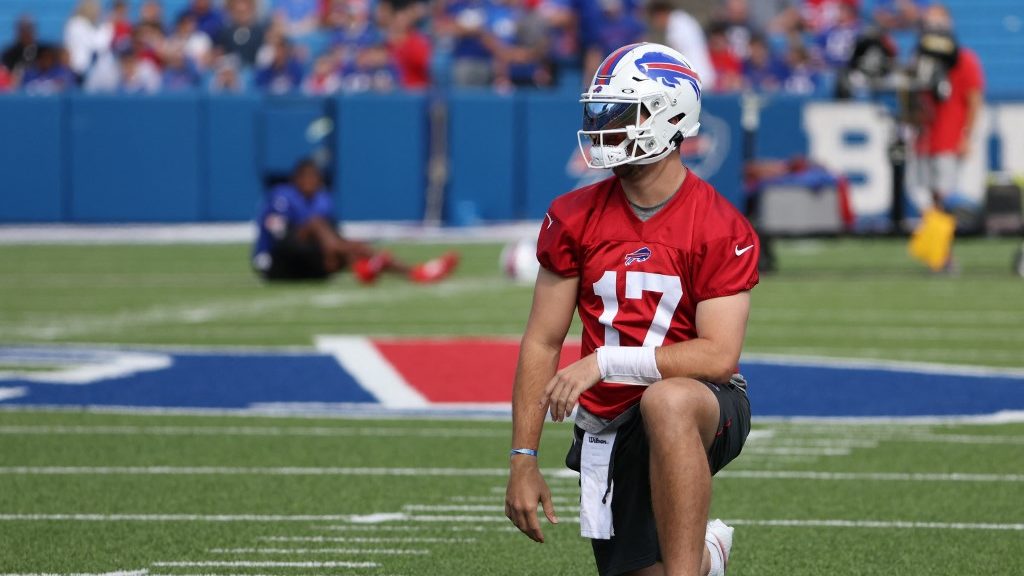 The Buffalo Bills finished 13-3, tying their franchise record for wins. They were also one win away from returning to the Super Bowl for the first time since those great teams in the 1990s that went to four straight. But much like then, there was a better team waiting for the Bills at the end. The Kansas City Chiefs completed a season sweep of the Bills with a 38-24 win in the AFC Championship Game, the second dominant performance of the season for the Chiefs against Buffalo.
But it was still a wildly successful season for the Bills, winners of the AFC East for the first time since 1995. The Bills have not won the division in consecutive years since that 1990-91 run that started the Super Bowl trips. That is also the only time in franchise history that the Bills won 13 games in back-to-back seasons, a very difficult feat in this league.
Many of the top sportsbooks have the Bills with an over/under of 11 wins, tying them with Baltimore and only behind the Chiefs (12.5) in the AFC. But this season needs to be more than just a Kansas City revenge tour. The Bills must show their offense is going to be an annual threat and that Josh Allen has arrived as one of the top quarterbacks in the league. The defense also must improve to championship caliber so that if there is a playoff rematch with the Chiefs, we have a reason to believe it will turn out differently this time.
On the Last Season of BILLS: Finally, the AFC East Does Not Belong to New England
While the 2019 Bills were a decent 10-6 wild card team, they were led by the No. 2 scoring defense while the flawed offense only ranked 23rd. Teams like that rarely sustain success and their ceiling is limited. A clear flaw in the offense was the erratic play of second-year quarterback Josh Allen. Could he ever develop enough accuracy to make the Bills a real threat during the window where the Patriots replace Tom Brady at quarterback?
Apparently, the answer is a resounding yes. Allen exploded out of the gate last year in leading the Bills to a 4-0 start with a highly productive offense built around his dual-threat abilities. Allen led the Bills to five wins last season in which he threw at least 40 passes. The Bills had five games like that from a quarterback in the previous 19 seasons combined. Even Hall of Famer Jim Kelly only did it eight times in his career, but this is where the game is trending with quarterbacks throwing a lot to lead the way for the most successful teams.
The Bills were determined to break the shackles of being a team that tries to win by hiding the quarterback. It led to a season where Buffalo scored 501 points, a franchise record. Helping Allen break out was Stefon Diggs, the sixth-year wideout traded from Minnesota who also had a career year with a league-high 127 catches and 1,535 receiving yards. Diggs was always a high catch rate receiver with the Vikings, but he caught 76.5% of his targets in Buffalo, a career-best mark.
In Week 10, Diggs caught a touchdown with 34 seconds left in Arizona that looked like it was going to win the game for Buffalo. However, DeAndre Hopkins caught a miraculous Hail Mary to win the game. Had it not been for that play, the Bills would have entered the AFC Championship Game on a 12-game winning streak.
Despite the record and No. 2 seed, there were legitimate questions about how well the Bills would fare in the playoffs after making the shift to a great offensive team with a middling defense. Those teams historically do not fare well at January football against better competition. We already saw the team shoot itself in the foot and give the Titans numerous short fields in a 42-16 loss. The Chiefs ran wild (245 yards) on the Bills in Buffalo in a 26-17 final that was not as close as the score suggests. Buffalo was playing well heading into the playoffs, but it caught the Steelers during their tailspin and the Bills demolished an untalented Patriots team on Monday Night Football to put a lovely bow on the AFC East turnaround.
Allen's play was extra erratic in his first playoff game against Houston a year earlier, an overtime loss. In these playoffs, the Bills and Allen were a mixed bag. The offense overcame terrible field position and a so-so performance by the defense to beat the Colts 27-24. It is Allen's best playoff game so far. Against Baltimore, the defense bailed out the offense and played its best game of the season, holding the Ravens to a field goal and returning a Lamar Jackson interception 101 yards for a huge touchdown in a 17-3 win.
But against the Chiefs with the Super Bowl on the line, only the special teams showed up for the Bills. Once the Chiefs stopped mishandling the ball early, they picked the Buffalo defense apart in a different way from the Week 6 matchup. Instead of running at will on the Bills, the Chiefs used a quick, short passing game to rack up huge YAC (185 yards) after Mahomes had a season-low 104 YAC in Week 6. Mahomes, playing on a bad foot, was barely pressured in the game.
Meanwhile, Allen returned to erratic play, losing 53 yards on four sacks. He had three games in 2020 where he failed to complete 60% of his passes and two of them were against Kansas City. In eight quarters against the 2020 Chiefs, the Bills were only able to gain 25-plus yards on one play, and that was a 34-yard pass to Diggs with the Bills down 38-21 late in the game. Buffalo lost 38-24 in the AFC Championship Game, ending the team's most successful season since 1993.
The Notable Changes for 2021
Fortunately, the Bills are pretty set at bringing back last year's successful offense. Speedy wideout John Brown is gone, but the team was able to add veteran Emmanuel Sanders to the mix.
More help was needed on the defensive side of the ball. The Bills ranked a mediocre 16th in both points and yards allowed per drive. They relied on takeaways, ranking second in takeaways per drive, which is not a good way to make a living for long on defense. While the Bills had 26 takeaways in the regular season, they only had two in three playoff games. They also did not have any one player make more than 5.0 sacks, so the pass rush was a collective effort that came up empty against the Chiefs.
Unfortunately, it does not look like the Bills got a lot of help for 2021. Their first two draft picks were spent on defensive ends, but the Bills will rely much more on veterans Jerry Hughes and Mario Addison, who turn 33 and 34 in the coming weeks. Hughes is also currently nursing a calf strain and coming off a down year. Ed Oliver, a 2019 first-round pick, was a non-factor for the defensive line last year. The good news is that the secondary, led by Pro Bowl corner Tre'Davious White, is still intact, and starting linebacker Matt Milano should play more than 31% of the snaps after injury cost him a good chunk of 2020.
Can We Trust Josh Allen and This Offense?
Most great quarterbacks in NFL history will show they are destined for greatness in their first or second season as a starter. Late bloomers happen, but they are still rare. Fortunately for Buffalo fans, Josh Allen appears to be a third-year breakout star at the position. He just had a legitimate MVP-caliber season, finishing with the ninth-highest QBR (81.7) in ESPN's database going back to 2006. Unfortunately for the rest of us, his 2018-20 seasons are going to be held up as the No. 1 example of why we should believe every terrible young quarterback is still going to turn out great.
That aggravation aside, what does the data say about Allen going forward? Is he going to be a perennial elite player, or was 2020 just the perfect combination of bad pandemic defenses not adjusting fast enough to the addition of Diggs? First, one of the biggest wins for Buffalo this year was retaining offensive coordinator Brian Daboll, the only coordinator Allen has known in his NFL career. He could have been a head coach somewhere, but he is returning to Buffalo to spend a fourth season with Allen.
Last year, Allen threw 37 touchdowns after throwing 30 in his first two seasons combined. He completed 69.2% of his passes after only connecting on 58.8% in 2019. There are numerous ways this could have happened artificially that would have me suspicious of Allen going forward, but I trust the Bills here. Completion percentage is one of the easiest stats to manipulate with cheap plays like screens and ineffective checkdowns. Sam Bradford once setting the record with 71.6%, on a Minnesota offense with Diggs no less, is proof of that.
However, Allen still ran one of the most vertical offenses in the league. The Bills were middle of the road in dropped pass percentage too. While Buffalo included more plays designed to get the ball out of Allen's hand quickly, he ended up holding the ball longer than he did in 2019. He was one of three quarterbacks in 2020 to average more than 3.0 seconds in time to throw, according to Next Gen Stats.
As for the touchdowns, Allen improved in the red zone as the Bills got there more times (68) than any offense in the league. However, 12 teams finished with a higher touchdown rate in the red zone, so that is an area where the Bills could still improve going forward. But it was not as if the Bills capitalized on a ton of short fields from their plethora of takeaways for Allen to run up the score a la the 2015 Panthers with Cam Newton or 2017 Eagles with Carson Wentz, two seasons that tricked many people into thinking MVP-caliber seasons were going to keep rolling there.
What makes me a believer in Buffalo's offense is the way it consistently moved the ball all season. The Bills tied the Chiefs for the NFL lead in first downs (397) and joined the 2012 Patriots as the only two teams in NFL history to have at least 20 first downs in all 16 regular-season games. Buffalo had the fewest punts per drive and the third-lowest rate in three-and-out drives (13.8%).
The Bills converted 49.7% of their third downs to lead the NFL. In the playoffs, the Bills were only 30.6% on third down, so that was disappointing. Still, teams that go on great offensive runs tend to rank highly on third downs each year. With that said, it would not be surprising to see the Bills drop a few spots in third down success.
While Diggs was a big part of the offensive turnaround, Allen's success at throwing to other receivers, especially Cole Beasley, should not go unnoticed. It is not like Diggs, who got through a full 16-game season for the first time in 2020, was on a Hall of Fame trek in Minnesota. No one should confuse Diggs for Randy Moss, but Moss is the best example of a game-changing receiver who immediately made an impact that was never surpassed in future seasons. The 1998 Vikings (Moss' rookie year) and 2007 Patriots both set the single-season scoring record after adding Moss. While some great offenses continued for those teams, they were never as special as those first seasons with Moss.
A similar thing can be said of Terrell Owens' brief time in Philadelphia (2004-05), but there are other examples that do not involve a receiver going full diva on his team. Santana Moss (1,483 yards) peaked right away with Washington in 2005 for an offense that never sustained success. Brandon Marshall had 1,502 yards and 14 touchdowns for the 10-6 Jets in 2015, but one year later the Jets were 30th in scoring and Marshall's yardage nearly dropped by half.
Allen, Diggs, and even Beasley all had career years in 2020. This is not to say they will not be very good again in 2021, but chances are they will take a step back as most offenses of this caliber do the following year. There is a reason only the 1999-01 Rams and 2010-12 Patriots have been able to score 500 points in consecutive seasons. Even the 2013-14 Broncos (606 points down to 482 points) and 2018-19 Chiefs (565 points down to 451 points) could not do 500 in back-to-back years. If Buffalo gets there in 2021, it will likely be due to the addition of a 17th game rather than a more dominant offense.
So, do not be surprised when Diggs' individual numbers go down in 2021 while someone like Gabriel Davis, who looked good as a fourth-round rookie, sees an increase. The Bills also could stand to get the tight ends and backs more involved in the passing game, but overall, this looks like a legitimate, fun NFL offense for years to come instead of a flash in the pandemic pan.
Prediction
This is one of the more interesting NFL picks as I could see it being a push with Buffalo finishing 11-6 as the offense takes a step back and the defense remains average. But at the same time, the schedule looks favorable, especially the nine home games. Despite making the playoffs last year, I do not trust Pittsburgh, Washington, or Indianapolis to go into Buffalo and win. Getting the dome Falcons in Buffalo in January is advantageous. I am still not sold on Miami or the Jets, and at best the Patriots will split with Buffalo. Going to New Orleans on Thanksgiving is also a very winnable game as the Saints should take a step back without Drew Brees.
Even if the Bills drop two division games, and lose on the road to the Chiefs, Titans and Buccaneers, that would still be a 12-5 season, hitting the over. So, 12-5 is my pick for this team since I do believe in the offense, but if it plays out that way with the Bills losing all those road games to contenders, then I have a feeling the playoffs will not go their way again. However, all you can ask for is another shot – unless you are anti-vaxxer Cole Beasley, of course.
2021 Bills Over/Under Pick: Over 11 wins (+125) at Bovada (visit our Bovada Review)
*The line and/or odds on picks in this article might have moved since the content was commissioned. For updated line movements, visit BMR's free betting odds product.