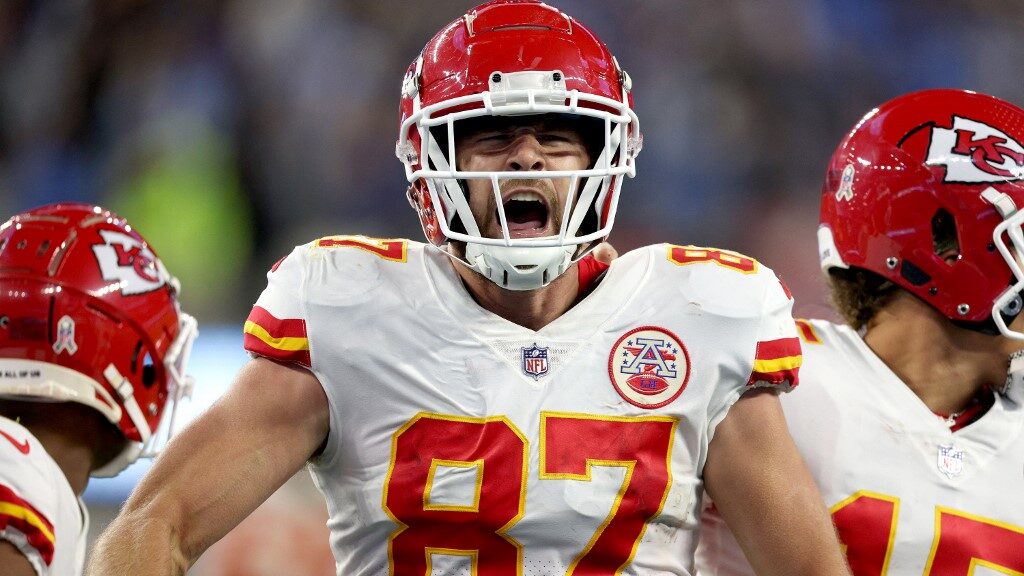 With the 2022 NFL regular season in the books, we wanted to take a look back at how our season win total predictions from the preseason and the midway point before Week 10 have held up.
These are always one of the most popular bets at top-rated sportsbooks before and during the season. If there is evidence that you should trust your gut, my preseason picks finished 15-14-3 and the updated midseason picks with new lines were just 12-19-1.
When I tried to zig in November, too many teams zagged in what was a strange season:
Only 12 teams finished with a positive scoring differential in 2022, the fewest in any season in the 32-team era (since 2002) and the fewest since 1994 (11), the beginning of the salary-cap era.
In the NFC, the Rams, Packers, and Buccaneers never quite figured it out on offense, all finishing with losing records one year after finishing with 12-plus wins, a Super Bowl win for the Rams, and a No. 1 seed for Green Bay. It is the first time in NFL history three teams in one conference went from 12-win seasons to losing records the next year.
In the AFC, the Jaguars and Dolphins both made the playoffs at 9-8 despite winning and losing streaks of at least five games each this year. That had only been done four other times before since the 1970 merger by playoff teams.
In 2022, there were 50 comeback wins from a double-digit deficit, a new NFL record, and 61.25% of games had a game-winning drive opportunity in the fourth quarter or overtime, the highest rate in any season since 2013.
Some will call it competitive, and some will call it mediocrity. Either way, let's put the 2022 regular season to rest with a look back at all 32 teams.
---
AFC East
Preseason Picks: 2-1-1
Midseason Picks: 2-2
---
Buffalo Bills (13-3)
The 2022 Bills may go down as the last 13-3 team in NFL history after their Week 17 game in Cincinnati was canceled following Damar Hamlin's cardiac arrest on the field. So, we'll never know if the Bills would have finished 13-4 or 14-3, but this team was my Super Bowl pick all year and there is little reason to change that now.
The Bills will have to settle for the No. 2 seed and at best a neutral-field site for the AFC Championship Game should it come to that, but they are still in good shape to achieve their goal this year.
They already won in Kansas City in Week 6, and they avenged losses to the Dolphins and Jets. They just have to be careful with the turnovers that got them into trouble earlier this year in losses to the Vikings and those AFC East teams.
But the Bills got fantastic news about Hamlin's health and they should be ready for this Super Bowl run with Josh Allen leading the way on offense.
---
Miami Dolphins (9-8)
The Dolphins just barely snuck into the playoffs after one of the streakiest seasons you'll ever see: 3-0, 0-3, 5-0, 0-5, and one ugly 11-6 win against the Jets to finish 9-8 for a preseason push.
If Tua Tagovailoa did not suffer multiple concussions, then there was a chance for this team to hit 10 or 11 wins. Tagovailoa finished No. 1 in passer rating, touchdown pass percentage, and yards per attempt this season. Tyreek Hill had a career-high 1,710 yards and paid off in the trade from Kansas City.
But we'll see if the Dolphins can pull off an upset in Buffalo on wild card weekend despite possibly preparing a game plan for three different quarterbacks due to so many injuries at the game's most important position.
---
New England Patriots (8-9)
The Patriots fell short of the playoffs after being in the unenviable position of playing in Buffalo in the first game after Damar Hamlin's health scare. The Bills returned two kickoffs for touchdowns in a 35-23 win that eliminated New England and denied the Patriots entry into the tournament.
But it was really back-to-back fumbles in Weeks 15 and 16 that doomed the Patriots. An ill-advised lateral by Jakobi Meyers in Vegas in a tied game was returned for a game-winning touchdown on the final play, and after nearly pulling off a 22-point comeback against the Bengals, Rhamondre Stevenson fumbled inside the 10-yard line late in the game in a 22-18 loss.
The Patriots just never made mistakes like that with the ball in crunch time for two decades under Bill Belichick, but this team keeps blowing games like this. They also did not get a good second season out of quarterback Mac Jones, and the loss of Josh McDaniels at offensive coordinator was significant. Matt Patricia cannot do that job, and Belichick is going to have to reconsider his options for 2023 to avoid further mediocrity.
---
New York Jets (7-10)
The Jets were always a bit of fool's gold with the 6-3 start, fueled by improbable comebacks against the Browns and Steelers. Zach Wilson was not progressing the way you would like to see from a second-year quarterback, and sure enough, the Jets won one game after the bye week to finish 7-10.
The good news is the draft class was fantastic. Corner Sauce Gardner and wide receiver Garrett Wilson could both legitimately win Rookie of the Year awards, and running back Breece Hall may have won the Offensive Rookie of the Year award if he didn't get hurt so early. That loss did not help matters offensively.
But once again, the Jets are a team without a quarterback solution as none of Wilson, Mike White (often injured), and Joe Flacco (backup phase of career) look like the answer for the future.
---
AFC North
Preseason Picks: 1-2-1
Midseason Picks: 2-2
---
Cincinnati Bengals (12-4)
At the time I doubled down on the Bengals being a disappointment, they were 5-4, ninth place in the AFC, Ja'Marr Chase's hip injury had an uncertain timetable, and the remaining schedule looked absolutely brutal. Well, they haven't lost another game since and remain a top-three option to reach another Super Bowl in the AFC.
The daunting schedule proved to not be so daunting with the declines of the Titans and Ravens (Lamar Jackson injury). Chase returned in Week 13 just in time for another 27-24 win over the Chiefs, and the defense turned Tom Brady over four times in one half for another win.
The Bengals may have even beat Buffalo in Week 17 had that game been able to play out, but we'll just see if they can do it in the playoffs most likely. This team is better than last year's Super Bowl runner-up.
---
Baltimore Ravens (10-7)
The Ravens were 8-4 before Lamar Jackson's injury has kept him out the rest of the way. Even then that record was disappointing because the Ravens had a two-score lead or better in the second half of every loss.
They also would blow a 10-point lead in the second half against Pittsburgh in Week 17 before resting starters in another loss to the Bengals, who came back to win the division this year.
Baltimore is back in the tournament, but way too many injuries at the skill positions and blown leads have messed up the chances for an elite season.
---
Pittsburgh Steelers (9-8)
We said in November that over 5.5 wins was the steal of all steals, because T.J. Watt was coming back, and the schedule was about to get much easier. Still, 9-8 from 2-6 was surprising and it helped the Steelers achieve a 19th straight non-losing season, tied for the second longest in history.
The turnaround was led by a rookie quarterback protecting the ball better in Kenny Pickett, better vision and running from Najee Harris, and Watt's return combined with a soft schedule of opposing offenses helped the Steelers to hold their final seven opponents under 18 points, something the team has not done since 2001.
But too many losses early in the year, especially to those AFC East teams, doomed the Steelers from sneaking into the playoffs again. But expectations should be higher in 2023, and just competing for a No. 7 seed should not be the standard in Pittsburgh.
---
Cleveland Browns (7-10)
The Browns blew some winnable games early, but the main story was a surprisingly solid season from Jacoby Brissett, who finished No. 8 in QBR (59.7). Deshaun Watson's QBR (38.6) would have ranked 27th for the season.
Despite getting plenty of practices in and six starts, Watson looked bad and made the offense worse. Cleveland was 3-3 in his starts thanks to the defense scoring touchdowns on turnovers and allowing 27 points in the three wins. But he looked nothing like the productive player he was in Houston.
The Browns could have finished 9-8 if Brissett was never benched, but this team is going to be under the radar going into 2023 given the rest of the division and Watson's disappointing job. When you take a huge PR hit to get bottom 10 quarterback play, that's not going to go over well.
---
AFC South
Preseason Picks: 2-2
Midseason Picks: 1-2-1
---
Jacksonville Jaguars (9-8)
The Jaguars won the AFC South after a 7-2 finish to make up for a 2-6 start, but they also needed the Titans to lose their last seven to make this possible. Still, it was a good turnaround either way with Trevor Lawrence looking like the quarterback the Jaguars hoped for when they took him No. 1 overall, the defense coming around, and Travis Etienne looks good as the lead back. The receivers they spent a lot of money on in the offseason also worked out better than expected.
Jacksonville also ended a 41-game losing streak when allowing more than 20 points in a game. They are 3-1 in such games since the 28-27 Baltimore comeback in Week 12, proving they can come back and win high-scoring games, which they'll need to do if they are to compete with the likes of the Chiefs, Bengals, and Bills in this AFC.
---
Tennessee Titans (7-10)
It looks like Mike Vrabel might survive this seven-game losing streak to blow up a 7-3 start, but general manager Jon Robinson was not so lucky, getting canned in December. The Titans never should have traded away A.J. Brown, and losing Harold Landry in the preseason was a big deal too for the defense.
But this team's losing streak to end the season with Ryan Tannehill starting most of those games is a real concern going forward. It may be time for wholesale changes in Tennessee.
---
Indianapolis Colts (4-12-1)
Well, one thing I was right about in November is that the Colts would be lucky to do better than 4-12-1 after hiring Jeff Saturday as interim coach despite no previous experience.
Saturday won his first game against the Raiders, because Josh McDaniels was beyond generous at handing out improbable wins this year. Saturday even nearly upset the Eagles in a 17-16 game, but after the Cowboys went on a 33-0 scoring run in the fourth quarter in Week 13, the Colts did nothing but embarrass themselves the rest of the year.
The Colts blew a 33-0 lead in Minnesota, the largest blown lead in NFL history. Matt Ryan fell on the sword for that one even though he was barely a supporting actor in that mess. Nick Foles lost his first start 20-3, the Colts let the Giants score a season-high 38 points, and they just blew a 32-31 game to Houston, the team who tied with them in Week 1.
It adds up to the most disappointing and embarrassing season in Indianapolis since a time before the Peyton Manning era. It would be a huge mistake to bring Saturday back. The Colts need a real head coach, a young quarterback, and an owner who takes a step back from the spotlight.
---
Houston Texans (3-13-1)
Since a tie is considered half a win, the Texans did push on 3.5 wins to finish the season. They pushed the Cowboys and Chiefs despite being underdogs of 14 and 17 points the best they could. For a 3-13-1 team, the Texans were very competitive most weeks and rarely were blown out, only losing two games by more than 15 points.
But in the end, Lovie Smith was never a good long-term hire, and he needs to go before the team can move on with a new quarterback as Davis Mills did not build on his rookie season. By blowing the No. 1 pick in Week 18 with a win over the Colts, hopefully the Texans can still get the quarterback of their choice in the draft.
---
AFC West
Preseason Picks: 1-2-1
Midseason Picks: 3-1
---
Kansas City Chiefs (14-3)
So much for the stacked AFC West race coming to knock the Chiefs down a peg without Tyreek Hill. Bad coaching in Las Vegas and Denver quickly made this lopsided, and the Chargers failed to take a big step. Meanwhile, the Chiefs still have Andy Reid, Patrick Mahomes, and Travis Kelce, which is all they really need it appears. At least I adjusted well at midseason to this division race.
The Chiefs were poor against the spread (6-10-1), but they kept winning the close games with the No. 1 offense in what should be Mahomes' second MVP season. He had the most passing yards and touchdowns in the league.
The Chiefs are sort of the de-facto No. 1 seed with the Bills-Bengals game getting canceled, and the Chiefs lost to both teams this year. They will likely have to avenge one of those losses in the playoffs, and it may be at a neutral site instead of Arrowhead. But by finishing 14-3, the Chiefs will not have to beat both the Bengals and Bills this postseason to get to another Super Bowl.
---
Los Angeles Chargers (10-7)
The Chargers did a good job late in the year of giving Justin Herbert some healthy receivers, a running game, and played some defense to beat the likes of the Dolphins and Titans. Granted, those teams were slipping hard when the Chargers faced them, but the Chargers came through to get their first playoff berth since 2018.
But they absolutely have to be kicking themselves for blowing two fourth-quarter leads against the Chiefs. This division race could have been a lot different if those games went their way, but they continue to be second fiddle to the Chiefs despite Herbert having a fourth-quarter lead in all five games against Mahomes.
But with a road playoff win in Jacksonville, we could see a third round between the Chiefs and Chargers in the divisional round. That would be an exciting matchup and a chance for the Chargers to take the next step they didn't quite do in 17 games this year. But at least they are in the tournament like we expected in the preseason.
---
Las Vegas Raiders (6-11)
Can we give Josh McDaniels some kind of award for coming up with the most creative losses of the season?
The Raiders lost to an Arizona team after giving up two touchdowns and two two-point conversions in the fourth quarter, then gave up a fumble return touchdown in overtime.
The Raiders blew three leads of at least 17 points, tying the single-season NFL record.
The Raiders blew four leads of 13-plus points, five double-digit leads, and six fourth-quarter leads.
Baker Mayfield led a fourth-quarter comeback from 16-3 down just 48 hours after joining the Rams to beat these Raiders.
Jeff Saturday won his first and only game as a head coach against the Raiders.
Josh Jacobs won the rushing title, Davante Adams led the league in touchdown catches, and yet McDaniels still finished 6-11 and benched Derek Carr, effectively ending that era in Vegas.
I have no regrets about going with over 8.5 wins in the preseason. This team should have won nine games with ease if they had anywhere near competent coaching in closing out games. But they did not.
---
Denver Broncos (5-12)
I thought the Broncos would be a playoff team this year, so it is hard to take much credit for going under 10 wins. But even by midseason I still believed Russell Wilson would turn this thing around with the No. 32 scoring offense. I was wrong.
Denver did not score 30 points until the final game of the season, two games after firing Nathaniel Hackett following 15 games at head coach, one of the shortest first-year tenures in NFL history.
The next coach is going to have to fix Wilson, but do not sleep on this team next year if they get a good hire like Sean Payton. Like the Raiders, this team had as many wins (five) as blown fourth-quarter leads.
The Broncos also had a lot of skill player injuries, and Wilson was not always 100% either. Let's not bury his career just yet, though I am hesitant to get hurt by trusting him again next betting season. This was ugly.
---
NFC East
Preseason Picks: 2-2
Midseason Picks: 1-3
---
Philadelphia Eagles (14-3)
The schedule was a huge reason to like the Eagles before the season, and it continued to be favorable throughout the year. But a late shoulder injury to Jalen Hurts knocked him out of the big Dallas rematch, which killed his MVP chances since we didn't get to see him in that showdown.
But it was the second game Hurts missed against the Saints that just kept them short of hitting their ridiculous midseason over of 14.5 wins. I think if Hurts plays instead of Gardner Minshew in that one, the Eagles win and still win against New York's backups in Week 18 to get to 15-2.
But health at this crucial point of the year is a big story for the Eagles. Hurts came back in time, but we'll see about right tackle Lane Johnson for the playoffs. Most people are flocking toward the 49ers as the team to beat, and they have more of a track record of success this time of year than Philadelphia.
---
Dallas Cowboys (12-5)
The Cowboys finished 12-5 for the second year in a row and led the NFL in takeaways on defense again as well. So much for the regression to come in that department for Dan Quinn's defense.
But after surviving the Dak Prescott injury early with Cooper Rush, the Cowboys have turned into a sloppy, turnover-prone mess down the stretch here. The team is still winning games, but we've already seen Dallas blow leads of 14 and 17 in the second half to the Packers and Jaguars, and that Week 18 loss to Washington was just plain ugly.
It was the first time since Week 1 that Prescott did not lead the Cowboys to at least 24 points. Now he has to play a Tampa Bay team that he lost 19-3 to in the opener. This could be another wild card exit for the Cowboys.
---
New York Giants (9-7-1)
The Giants faltered a bit after a 7-2 start, and beating good teams was tough as they finished 0-6 against the NFC playoff field. But they still hit their preseason over with ease, and if not for a tie against Washington, they could have won double-digit games in Brian Daboll's first year.
That's not bad when your wide receivers are largely injured or ineffective, and the defense did a good job in most games. The Giants may not be ready for a Super Bowl run, but winning in Minnesota is possible this weekend.
---
Washington Commanders (8-8-1)
Our midseason pick came at a time when the Commanders were 4-5 and just about to pull off their biggest upset this season by winning in Philadelphia to end the Eagles' perfect season.
But add Ron Rivera to the growing list of coaches who trusted Carson Wentz and saw it backfire. Rivera benched Taylor Heinicke for Wentz against the Browns in Week 17 and got a 24-10 loss and three picks for it. The Commanders were eliminated from the playoffs and going 0-1-1 against the Giants did them no favors either.
But a surprise win over Dallas in Week 18 with rookie Sam Howell making his first start enabled Washington to drop me to 0-2 on their predictions. Had Wentz started every game, I would have been right. Had Wentz not started any more games, Rivera would have made the playoffs.
---
NFC North
Preseason Picks: 3-1
Midseason Picks: 1-3
---
Minnesota Vikings (13-4)
You could argue the Vikings are the worst team in NFL history to win more than 11 games. Why? The 2022 Vikings are the only team in NFL history to win more than 11 games while being outscored on the season by their opponents.
The Vikings needed a record-setting 33-point comeback against the Colts and the most improbable fumble return touchdown since Joe Pisarcik's blunder in 1978 to beat the Bills this year. Just those two games alone are the difference in Minnesota being a more normal 11-6 team, but there was nothing normal about this Minnesota season.
The Vikings tied the NFL records set by the 2016 Lions with eight game-winning drives and eight fourth-quarter comeback wins in a single season. Minnesota coach Kevin O'Connell is 14-0 in close games going back to last postseason when he was offensive coordinator of the Rams when they became the first team in history to win three straight playoff games by 3 points.
If the Vikings go on a similar run this postseason, someone track O'Connell's every move in the last year, because that man sold his soul to the devil or found Tom Brady's Lazarus Pit.
---
Detroit Lions (9-8)
You could argue the Lions were the best team to miss the playoffs, but that 1-6 start and spending so many weeks as the No. 32 defense are hard to ignore. Still, Jared Goff did a fantastic job of leading this offense to a No. 3 finish in yards and points per drive, and he did not throw a pick in the last nine games this season. He certainly proved me wrong that this team was dead in the water by November.
Dan Campbell certainly knows how to rally the troops too. The Lions will be a trendy pick to win the NFC North in 2023 with Minnesota's expected regression and a possible Aaron Rodgers retirement in Green Bay. But they must start better next year.
---
Green Bay Packers (8-9)
The toughest year of Aaron Rodgers' career ends with another home loss in a must-win game with playoff advancement on the line. Was this the end of the road? We'll find out, but it would not be surprising. Rodgers turns 40 next December, and we just recently saw Peyton Manning, Philip Rivers, and Ben Roethlisberger retire after their age-39 season.
The Packers showed some promise on defense late in the season, rookie receiver Christian Watson looked great down the stretch, but Rodgers just ended the year with the longest streak of his career without 300 yards passing (22 games) and without throwing multiple touchdowns (five games).
It may be the end of an era in Green Bay and the beginning of Matt LaFleur trying to make things work with Jordan Love.
---
Chicago Bears (3-14)
Here is one where I should have trusted my gut, but I thought Chicago's win over New England and improvement in scoring would lead to more wins down the stretch. That would not be the case as the Bears lost their final 10 games and Justin Fields did not improve enough as a passer.
Chicago also became the first team in NFL history to lose three straight games when scoring more than 28 points. However, they did not score more than 20 points in their final six games, so you cannot say they ended things on a positive note for 2023.
---
NFC South
Preseason Picks: 2-2
Midseason Picks: 0-4
---
Tampa Bay Buccaneers (8-9)
As it turns out, a winning record was not necessary to win the NFC South this year. With every team finishing 7-10 behind Tampa Bay's disappointing 8-9 record, this was the only division where I was 0-4 on any set of predictions, doing so for the midseason update.
Tampa probably could have beat Atlanta for a ninth win on Sunday if not treating the game like it was preseason, but this was still a difficult path to a title after the Buccaneers struggled on offense all season. Tom Brady never led a worse offense or had a losing record before this year.
But with the NFC so unproven, do not be surprised if this team goes on a playoff run. Up first is Dallas, the only 10-win team the Buccaneers beat this year way back in Week 1.
---
Carolina Panthers (7-10)
At 2-7, it was hard to see the Panthers winning many more games with an interim coach, lousy quarterback situation, and Christian McCaffrey traded to San Francisco. But they put together an even better running game with D'Onta Foreman and Chuba Hubbard that was hit or miss, but when it hit, Carolina had huge rushing games, including 320 yards against the Lions.
They also upset the Seahawks in Seattle, but there were too many bad losses too, including a home game against Mitch Trubisky and the Steelers where Carolina rushed for 21 yards and allowed a 12-minute touchdown drive.
When it came time for the division title game in Tampa Bay in Week 17, Carolina came up short again. The Panthers have lost 50 straight games when trailing in the fourth quarter going back to the 2018 season.
---
New Orleans Saints (7-10)
Even going back to Week 1 when the Saints needed a 16-point fourth-quarter comeback to beat the Falcons, things never felt sustainable or right with Dennis Allen and this quarterback duo of Jameis Winston and Andy Dalton. It's a far cry from Sean Payton and Drew Brees.
But the Saints royally screwed things up in Week 13 in Tampa after leading 16-3 in the fourth quarter. If not blowing that game in the inexplicable fashion they did, this team may have won the NFC South this year.
But in the end, they caught a break with the Jalen Hurts injury in Week 17 to sneak out a win over the Eagles to hit their midseason over. In typical post-Payton fashion, the Saints still lost 10-7 at home to the Panthers to end a rough season.
---
Atlanta Falcons (7-10)
The Falcons were surprisingly competent early in the season with Marcus Mariota running a run-heavy offense, but the deficiencies soon shined through, and Arthur Smith had no choice but to bench him for the second time in their careers. It took rookie quarterback Desmond Ridder four starts to throw his first touchdowns in the NFL, but maybe the Falcons have something to look forward to next season.
Wide receiver Drake London and running back Tyler Allgeier also delivered in what should be a productive rookie class for the team. Get tight end Kyle Pitts back healthy next year, and maybe the Falcons can compete in the NFC South better than a 7-10 record after beating up on Tampa Bay's backups in the second half on Sunday.
---
NFC West
Preseason Picks: 2-2
Midseason Picks: 2-2
---
San Francisco 49ers (13-4)
The 49ers have won 10 games in a row with rookie quarterback Brock Purdy handling duties in the last six games after Jimmy Garoppolo was injured, the second starting quarterback to go down with a serious injury for this Super Bowl contender.
But the 49ers have been thriving on defense with few hiccups, and Purdy looks surprisingly competent and solid in a loaded offense. This team hasn't slipped up in over two months, and their path to another NFC Championship Game looks really solid with potential wins over Seattle (for a third time) and the Giants or Vikings.
No rookie quarterback has ever made it to a Super Bowl, but it is hard to think of many who had as good of a situation around him as Purdy. This could be the year to see it happen.
---
Seattle Seahawks (9-8)
Seattle was another one of those teams where I had to admit early defeat in taking the under when they started 6-3, then went one game too far in the midseason over.
But Seattle really did look like it blew its playoff chances after losing very winnable home games against the Raiders and Panthers. Kenneth Walker's injury led to the running game disappearing for a month, then the terrible run defense from earlier in the season returned. Geno Smith started making mistakes with more pressure on him to carry a one-dimensional offense.
But everything worked out in the end, thanks to Smith leading two game-winning drives against the Rams to get to 9-8, then the Lions helped by knocking out the Packers in the final game. The reward is a trip to San Francisco, which has shut down Seattle's offense twice this year, but you never know how a rookie quarterback is going to react to a playoff game.
It's not like anyone expected Geno Smith to throw 30 touchdowns, lead the NFL in completion percentage, and make the playoffs this year, but that all happened too.
---
Los Angeles Rams (5-12)
When the Rams were 3-5 after blowing a lead to Tampa Bay, I still had enough faith in Sean McVay, who never had a losing record before this year, to get to 8-9 with Matthew Stafford, Cooper Kupp, and Aaron Donald at his disposal.
Well, one by one, those players had season-ending injuries and would not play again. The Rams only won two more games all year, including a miracle comeback led by none other than Baker Mayfield against the Raiders.
The Rams finished 5-12, the most losses ever by a defending Super Bowl champion. The previous record was 6-10 by the 1999 Broncos. Now there is talk that McVay could step away from coaching the Rams in 2023. The other star players should be back, but it really does look like a team that went all in for a ring in 2021, got the job done, and now they are just another team that's mediocre at best.
Was it worth it? Sure. But next year we'll know better to have low expectations, especially if McVay does not return.
---
Arizona Cardinals (4-13)
Arizona was able to beat the Rams in the game where Cooper Kupp was injured, but the Cardinals lost out from there with Hard Knocks recording every excruciating loss that would lead to head coach Kliff Kingsbury's firing and general manager Steve Keim stepping away.
This will be a significant turning point for the Cardinals as they look for a new head coach and general manager. They also have to worry about Kyler Murray's recovery from a torn ACL late in the season, and his start to 2023 could be compromised. J.J. Watt retired on defense, and DeAndre Hopkins could be moved in a trade.
Big changes are coming for the Cardinals, but they really need to find a coach with staying power. The team has existed for over 100 years and no coach has ever lasted more than six seasons.