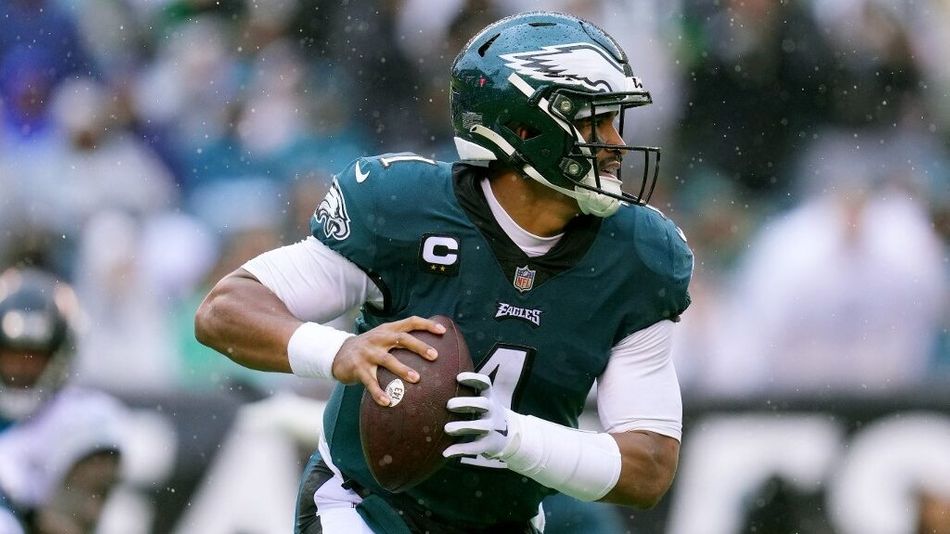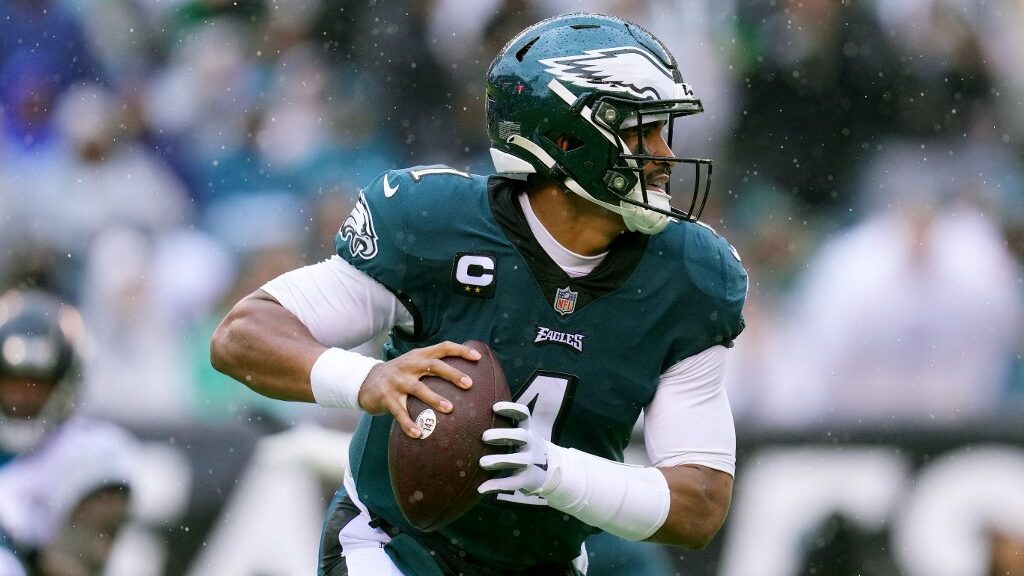 The NFL's 2022 regular season is at the midway point as we head into Week 10. This is a perfect time to review how our preseason win total predictions are faring, and what the best NFL picks are for the updated Over/Under win totals that can be found at the best sportsbooks.
All of the lines presented below are courtesy of Bovada (visit our Bovada Review)
---
AFC East
---
Buffalo Bills (6-2)
Are the Bills not the super team we thought they were? Some sloppy play, especially with the interceptions from Josh Allen the last two weeks, combined with some health concerns are casting some doubt on this team cruising to a Super Bowl.
Gabe Davis not being a consistent No. 2 receiving option to Stefon Diggs is also a problem for an offense that barely wants to use the running backs in the ground game as well.
All the focus this week will be on Allen's elbow injury, and if it did cost him a game, this would be a bad week with the 7-1 Vikings coming into town. The Bills are 0-2 in division games with four of those left, and they also have a trip to Cincinnati later in the season.
Buffalo still has the talent to do everything it wanted to accomplish this year, but based on recent play and Allen's elbow, this team looks like it's going to lose at least two more games before the playoffs. Our preseason pick still looks fine, but I would switch to the new under as the AFC East has turned into an unexpected juggernaut division.
2022 Bills Over/Under Pick: Under 13.5 Wins (-145) at Bovada
---
New York Jets (6-3)
Hard to believe but our preseason over 5.5 wins has already hit in early November for the Jets. Beating Buffalo after falling behind 14-3 was the biggest win this franchise has had since it beat the 2010 Patriots in the AFC divisional round. That was the last time the Jets were in the playoffs.
But let's not pencil in the Jets for the 2022 playoffs just yet. After this bye week, the Jets will be on the road against the Patriots, Vikings, and Bills. They could very well be 9-6 heading into the final two road games in Seattle and Miami, two games they would likely be underdogs in at this rate.
The defense is good, but Zach Wilson and the offense are still shaky, especially after losing running back Breece Hall to a torn ACL. I would still be skeptical of the playoffs and take the under 9.5 wins.
2022 Jets Over/Under Pick: Under 9.5 Wins (-150) at Bovada
---
Miami Dolphins (6-3)
Miami has still not lost a game Tua Tagovailoa started and finished (6-0). Any subpar defense is going to struggle to slow down Tyreek Hill and Jaylen Waddle.
The defense does not look like it will hold up in the playoffs for Miami, but this team has the talent to get there for sure, and I like them better than the Jets for that reason.
The Dolphins could get to 8-3 before a tough three-game road trip to the 49ers, Chargers, and Bills. As long as Miami gets at least one win during that span, it should finish with another couple of wins in the final three games with the Packers, Patriots, and Jets. I like the over for an 11-6 record and wild card season.
2022 Dolphins Over/Under Pick: Over 10.5 Wins (+100) at Bovada
---
New England Patriots (5-4)
Bill Belichick has to be fuming that he's 5-4 with a plus-37 scoring differential and he's still last place in an AFC East he owned for two decades. Meanwhile, a certain quarterback in the NFC South is 4-5 and in first place.
The Patriots still feel way too limited on offense to be a legitimate contender this year, but they are soundly coached to where they can crush a mediocre or bad opponent.
That Chicago loss may ultimately decide their over/under here, but we have stuck with over 8.5 all year long and see no reason to change it now. But 9-8 may still not be good enough to make the playoffs.
2022 Patriots Over/Under Pick: Over 8.5 Wins (-110) at Bovada
---
AFC North
---
Baltimore Ravens (6-3)
The Ravens have led by double digits in all nine games and really should have a better record than 6-3 going into the bye. The season-ending injury to No. 1 wide receiver Rashod Bateman is not good, but we should see the team get Mark Andrews back, it acquired linebacker Roquan Smith in a trade, and they still have Lamar Jackson's unique abilities.
This team should win the division and 12-5 is not unrealistic as long as they stop blowing leads. The division games will decide this one, but Pittsburgh isn't good enough to do more than a split this year, and the Ravens have already got one win over both the Bengals and Browns.
Let's continue trusting this team to be the third contender in the AFC behind Buffalo and Kansas City and take the over.
2022 Ravens Over/Under Pick: Over 11.5 Wins (+100) at Bovada
---
Cincinnati Bengals (5-4)
The Bengals could be without Ja'Marr Chase for their toughest part of the schedule with games coming up in Pittsburgh (with T.J. Watt), Tennessee (with Ryan Tannehill likely), and Kansas City. Cleveland is also a tough opponent for this team as Joe Burrow is 0-4 against them, and Deshaun Watson should be the quarterback for the Browns in that one.
Even when Chase comes back, the schedule really doesn't let up. Tom Brady and Bill Belichick have that demon luck that is always hard to beat, especially at home as the Buccaneers and Patriots will be. Then they close with the Bills and Ravens. Incredible schedule for a team that should have done better than a 5-4 start.
With the Chase injury, the way the offensive line still stinks some weeks, and this brutal schedule, I am sticking with the under 10 wins from the preseason.
2022 Bengals Over/Under Pick: Under 9.5 Wins (-125) at Bovada
---
Cleveland Browns (3-5)
Cleveland always looks great against the Bengals, but this upcoming schedule (at Miami, Buffalo, and Tampa Bay) looks like the team will be 4-7 or 3-8 by the time Deshaun Watson is allowed to play.
We don't even know how he'll fare after sitting out more than 1.5 seasons, and there are still some tough games later with the Bengals, Ravens, and Steelers in the division.
Nick Chubb and Myles Garrett are awesome, but the Browns have come up short in too many close games to put themselves in a position to do something this season. Stick with the under.
2022 Browns Over/Under Pick: Under 7.5 Wins (-115) at Bovada
---
Pittsburgh Steelers (2-6)
T.J. Watt might be the only defensive player today that can make a huge enough difference for a team to win several more games. If the Steelers had Watt in the last seven games, they realistically could have won the games against the Patriots, Browns, Jets, and Dolphins.
With Watt expected back this weekend, look for the Steelers to turn it around and pick up wins against the likes of the Saints, Colts, and Panthers, and do not count them out to split with Baltimore and Cleveland.
The over 5.5 should be one of the best values you can bet today, but our preseason prediction of under 7.5 wins should still be safe too.
2022 Steelers Over/Under Pick: Over 5.5 Wins (+100) at Bovada
---
AFC South
---
Tennessee Titans (5-3)
Mike Vrabel is one of the only head coaches who could nearly beat Patrick Mahomes in Kansas City as a 14-point underdog with Malik Willis at quarterback.
That was a tough loss, but Ryan Tannehill should be back soon, and Derrick Henry continues to be the most special back in the league.
The schedule is not really easy, but other than a trip to Philadelphia, it is hard to count the Titans out of any game left on the schedule. With three games left against the Jaguars and Texans, I am sticking with the over 8.5 wins for this team.
2022 Titans Over/Under Pick: Over 8.5 Wins (-105) at Bovada
---
Indianapolis Colts (3-5-1)
The Colts are going to go down as one of my worst preseason picks. Matt Ryan was benched for turning the ball over too much, but he had little chance behind the offensive line. Frank Reich was fired after the Colts scored three points behind Sam Ehlinger in New England on Sunday.
But to hire former Colts center Jeff Saturday as the interim head coach when he has no real coaching experience and was an active ESPN analyst? This is either madness, deliberate tanking, or both from Jim Irsay's team.
It is hard to believe the new line is set as high as it is (6.5 wins). Hammer the under as the Colts will be lucky to do better than 4-12-1 with these moves. If anything is a lockout of these 32 teams, this is the one.
Ryan coming back healthy and playing well is their only hope of salvaging this, and behind that line, it is too hard to see that happening.
2022 Colts Over/Under Pick: Under 6.5 Wins (-180) at Bovada
---
Jacksonville Jaguars (3-6)
Coming back from 17-0 down against the Raiders was helpful, but it is still hard to believe in these Jaguars. The offense is not consistent enough and Trevor Lawrence's accuracy is either strong or poor. His completion percentage has been above 70% or under 60% in every game this season. Nothing in between.
At least running back Travis Etienne is looking like the real deal, but this team still has to play the Chiefs, Titans (twice), Ravens, Cowboys, and Jets. I am sticking with the prediction of 6-11.
2022 Jaguars Over/Under Pick: Under 6.5 Wins (-105) at Bovada
---
Houston Texans (1-6-1)
Houston actually played the Eagles better than most teams this year, so give them credit for that. Rookie back Dameon Pierce looks like a player, but unfortunately quarterback Davis Mills looks like he needs to be replaced for 2023.
My preseason pick of a 5-12 record looks in doubt, but can this team beat Washington at home, Cleveland with Deshaun Watson coming to town, and the Jaguars in Week 17? They have won nine in a row over Jacksonville. Then they get the Week 18 gift of the Colts and their interim coaching mess.
I am still going to stick with a 4-13 record and the updated over hitting. Lovie Smith might get fired after one season if he doesn't get at least four wins out of this season.
2022 Texans Over/Under Pick: Over 3.5 Wins (+125) at Bovada
---
AFC West
---
Kansas City Chiefs (6-2)
Patrick Mahomes is still the best quarterback in football, and betting against him was not a smart decision. He is also the MVP favorite going into Week 10 for the first time this season after his incredible comeback win against the Titans and Josh Allen struggling with the Jets.
These Chiefs aren't perfect. The defense looks bad too often, and the offense is either scoring 40 points or struggling to top 20 this year without Tyreek Hill. But as long as the Chiefs have Mahomes, you just have to trust them to do well.
I still think they are going to split with the Chargers, and don't discount Russell Wilson somehow stealing one game from this team thanks to his defense, but 13-4 does look realistic with this schedule. I will take the over.
2022 Chiefs Over/Under Pick: Over 12.5 Wins (-115) at Bovada
---
Los Angeles Chargers (5-3)
The Chargers are 3-1 over the last four games despite becoming the third team in NFL history to trail by double digits after the first quarter in four straight games. It's been that kind of weird season for these Chargers, who again are going through a lot of significant injuries.
But Justin Herbert has led three game-winning drives and the Chargers are not blowing that many leads in the fourth quarter.
The schedule is going to be tough the next month, but the Chargers can take a few sighs of relief that the Rams are not good this year, the Titans are beatable, the Broncos and Raiders are a mess with their new head coaches in the division, and they play the Chiefs better than most teams in the league.
I was on the Chargers winning double-digit games all year and I see no reason to change the pick now. It's just unfortunate that they haven't taken a big step forward on defense or that Herbert isn't higher in the MVP race, but again, they've had their usual share of big injuries.
2022 Chargers Over/Under Pick: Over 9.5 Wins (+100) at Bovada
---
Denver Broncos (3-5)
Everyone's least favorite team to watch this season is still providing some value for your NFL picks. Sure, Russell Wilson has looked worse than ever before this season, but what if he turns it around? He is still hitting the deep balls and keeping turnovers low, so there are some positives.
The defense is one of the best in the league and that is going to keep this team in most games. The Over/Under keeps falling on this team, but I see value in over 6.5 wins with games to come against the Titans, Raiders, Panthers, Cardinals, Rams, and two cracks at the Chiefs.
You don't think Wilson can pull out some 16-13 wins in several of those games? Denver has not allowed anyone but the Raiders (of all teams) to score 20 points this year.
Let's go with the over, but that preseason pick should be safe even if it was a fluke as I still envisioned this team having a winning record and being in the playoffs behind Wilson.
2022 Broncos Over/Under Pick: Over 6.5 Wins (-145) at Bovada
---
Las Vegas Raiders (2-6)
If Josh McDaniels loses to Jeff Saturday and the Colts at home this week, he will be fired on the spot. No question about it.
The 2022 Raiders are the third team in NFL history to blow three leads of at least 17 points in the same season, joining the 2003 Falcons and 2020 Chargers. Both of those teams fired their head coach. McDaniels still has nine games to set that record with a fourth blown lead of three possessions.
This team is a massive disappointment, and while we may see the talent shine and some close-game regression turn things around in the second half, I am sticking with the under and sending McDaniels back to coach in New England. Maybe even before Thanksgiving if this continues.
2022 Raiders Over/Under Pick: Under 6.5 Wins (-105) at Bovada
---
NFC East
---
Philadelphia Eagles (8-0)
The schedule made this one of the easiest over predictions in the preseason. But it is surprising to see the Eagles still 8-0 and not really challenged late in the game by anyone but Arizona. The Eagles have still not trailed after the two-minute warning in the first half of any game.
Now it is time for the undefeated talk.
Week 10: Washington is a tricky division game, but the Eagles destroyed that offense in the first meeting.
Week 11: The Colts are a mess and might lose 62-7.
Week 12: Green Bay is a wreck and nothing short of Aaron Rodgers pulling out a vintage performance should change that outcome.
Week 13: Tennessee is a formidable underdog under Mike Vrabel, so that could be a roadblock to 12-0 if Derrick Henry pops some big runs.
Week 14: At the Giants is a great betting choice for Philadelphia's first loss as Jalen Hurts had the worst game of his career in MetLife Stadium last season, and we know the Giants can come back in the fourth quarter, a quarter where the Eagles like to cruise.
Week 15: The Bears are playing better offensive ball, but that should still be a game the Eagles win.
Week 16: At Dallas is the big one if Dak Prescott is playing well and the defense is still elite.
Week 17: Saints are very beatable this year.
Week 18: Giants again to close the season out, but it may be a game where the Eagles have nothing to play for except 17-0 if they escaped all these challenges with wins.
If the Giants don't get the Eagles the first time around, they'll get them in the rematch with Philadelphia resting starters. I still think Dallas wins the rematch in Week 16, so my final prediction is 15-2 for these Eagles. That's good enough for the over.
2022 Eagles Over/Under Pick: Over 14.5 Wins (-110) at Bovada
---
Dallas Cowboys (6-2)
The Cowboys were 12-5 last year thanks to beating up the NFC East (6-0 with dominant stats). This season, the NFC East has turned into the best division in football, but the Cowboys also might be a better team with a defense that can stop people cold instead of relying on turnovers.
As long as Dak Prescott can play at a high level as he has in the past, then this might be his most complete team yet in Dallas. Games with the Vikings and Eagles will be tough, but there are more than enough winnable games left to get this team to 12 wins again and hit the over.
2022 Cowboys Over/Under Pick: Over 11.5 Wins (-150) at Bovada
---
New York Giants (6-2)
One of the big surprises this year only needs two more wins to hits its over from the preseason. The schedule has been a big help, and so have five game-winning drives.
That's not to take anything away from the improved defense and resurgence in Saquon Barkley's play under rookie coach Brian Daboll, but this team's close wins and lack of passing game are why they are not taken seriously as a Super Bowl contender despite the record.
Still, they have games left with the Texans, Lions, Commanders (twice), and Colts, so that right there could be enough to get to 11 wins. I'll take the over even if this is the third-best team in the division.
2022 Giants Over/Under Pick: Over 10.5 Wins (+135) at Bovada
---
Washington Commanders (4-5)
Some recent upset wins with Taylor Heinicke taking over for Carson Wentz after he broke his ring finger has moved the line up to 7.5 wins from our last update. But with the Commanders still struggling to score and being the worst team in the NFC East, the under still looks like the right pick here.
Washington still has to play the Giants twice, a team it has struggled with in recent years. The Eagles are the next game up and the Cowboys are the finale. There is also a trip to the 49ers, who could be a contender again. This team should finish 7-10 at best.
2022 Commanders Over/Under Pick: Under 7.5 Wins (-130) at Bovada
---
NFC North
---
Minnesota Vikings (7-1)
In any normal year, a 7-1 team that has only lost to an 8-0 team on the road would be viewed as the second-best team in the NFL. But we are going into Week 10 and the general feeling is that it's skeptical to think Minnesota is good, let alone the second-best team in the league.
Even if the Vikings upset Buffalo this week, that could come with an asterisk if Josh Allen's elbow injury keeps him out or he looks severely limited because of it. The Vikings continue winning close games against bad teams, which is a refreshing change from losing most of those games in the past.
But statistically, they do not pass the sniff test for a 7-1 team. Even if the Vikings stumble against Buffalo and Dallas in the upcoming weeks, 7-1 is such a huge lead that I do think this team is going to get to 12-5, so I'm taking the updated over.
2022 Vikings Over/Under Pick: Over 11.5 Wins (-125) at Bovada
---
Green Bay Packers (3-6)
Green Bay was a shaky paper tiger at 3-1, but this five-game losing streak has been stunning to watch. Aaron Rodgers threw three interceptions in Detroit, the worst defense in football and a division foe he has eviscerated in his career. What's going to happen against the Cowboys' defense this week?
But given how crazy this season has been, Rodgers will probably beat an unbeaten Philadelphia team in Week 12 and pull out one more playoff run after beating the Bears, Rams, Dolphins, Vikings, and Lions. The sequel to 2016's "Run the table."
But having watched the Packers this year, I know that is unlikely. Still, I think Rodgers and Matt LaFleur somehow find a way to get to seven wins, so I will take that updated over.
2022 Packers Over/Under Pick: Over 6.5 Wins (-180) at Bovada
---
Chicago Bears (3-6)
This is one I want to change my pick for. Justin Fields was a disaster in the first four games this season, but he has turned it around and helped the Bears to become the fourth team in NFL history to rush for at least 230 yards in four consecutive games.
He has eight touchdowns to two interceptions since Week 5. The Bears are finally scoring points, and the wins are going to come when they start playing these teams like the Lions, Falcons, and Jets.
Beating the Packers in Week 13 could be the difference maker in this over hitting, so with the way Green Bay is falling apart, I am taking that to happen to get the Bears to 7-10 and on a short list of teams expected to do bigger things in 2023.
2022 Bears Over/Under Pick: Over 6.5 Wins (+130) at Bovada
---
Detroit Lions (2-6)
Detroit had the worst defense in football this year, but you couldn't tell on Sunday after the Lions intercepted Aaron Rodgers three times and held the Packers to nine points. It was the first time all year that the Lions allowed fewer than 24 points in a game.
But this team has been a disappointment, and it is hard to see them winning more than five games with some left against the Bears, Giants, Bills, Vikings, Jets, and at Green Bay in Week 18. Trading away tight end T.J. Hockenson netted solid draft value, but it doesn't help the passing game for the rest of this season.
I think 5-12 is the best-case scenario after a poor start. Take the under.
2022 Lions Over/Under Pick: Under 5.5 Wins (-125) at Bovada
---
NFC South
---
Tampa Bay Buccaneers (4-5)
This team is not good enough or coached well enough to win out, so you can probably hand me the loss on that preseason pick of 12-5. But just to get to 9-8 in the worst division in football? This should be a lock.
Tom Brady didn't end his retirement and marriage to come back to lose a division to one of these NFC South teams.
The Buccaneers are not turning the ball over on offense and the defense is holding most opponents under 21 points. That is a recipe for winning enough games to get to a winning record, which still may not be a requirement to win the NFC South this year.
2022 Buccaneers Over/Under Pick: Over 8.5 Wins (-120) at Bovada
---
Atlanta Falcons (4-5)
The Falcons started 6-0 ATS this season before not covering the last three weeks. However, this team just needs one more win to exceed its preseason total, proving me wrong quickly. The offense is still way too run-focused, but it will help to have Cordarrelle Patterson back in the lineup.
The schedule continues to help with games coming up against Carolina, Chicago, Washington, Pittsburgh, New Orleans, and Arizona. That's where most of the four wins should come from to get to 8-9, which could still win the division if Tampa Bay doesn't pull it together.
This team is too flawed to do anything if it gets in the playoffs, but not many teams on the schedule have the passing game to shred this defense and force Marcus Mariota to throw more. Take the updated over.
2022 Falcons Over/Under Pick: Over 7.5 Wins (-145) at Bovada
---
New Orleans Saints (3-6)
The Saints have been competitive despite a lot of injuries, but that loss to Baltimore on Monday night was not a good look.
Andy Dalton's return to Pittsburgh could be ill-timed with the Steelers looking to get T.J. Watt back this week. That could be another loss, as could upcoming games with the Rams, 49ers, and Buccaneers before a late bye.
If the Saints are 3-10, there's no way this team is winning out with trips to Cleveland (Deshaun Watson eligible) and Philadelphia left. I'll keep taking the under here.
2022 Saints Over/Under Pick: Under 6.5 Wins (+100) at Bovada
---
Carolina Panthers (2-7)
The upset over Tampa Bay was shocking and the overtime loss in Atlanta was a thrilling game the team should have won. But I am fading the team that just benched P.J. Walker after he had a 0.0 passer rating in Cincinnati.
The Panthers will be lucky to get to 4-13, let alone 5-12 or better. There needs to be a hard reset in Carolina this off-season. Stick with the under.
2022 Panthers Over/Under Pick: Under 4.5 Wins (-120) at Bovada
---
NFC West
---
Seattle Seahawks (6-3)
Well, it appears Geno Smith just needed a third season as a starter in this league to show he can get the job done. He leads the NFL in a lot of accuracy-based metrics as he has done a great job throwing the ball down the field.
The offense is also starting to thrive with rookie back Kenneth Walker taking over as the favorite for Offensive Rookie of the Year. The defense may be coming around too after a poor start.
The Seahawks continue to lead the NFC West despite the 49ers having the better NFL odds with a 4-4 record. Even if the Seahawks lose to the Buccaneers this week and the 49ers go on another big run, this team can still win 10 games with the remaining schedule.
It still sounds crazy, but trust Geno and these Seahawks to go over 9.5 wins now. Head coach Pete Carroll might be putting the final piece of the puzzle together for a Hall of Fame resume if he pulls out this division after so many projected this team to finish last.
2022 Seahawks Over/Under Pick: Over 9.5 Wins (-120) at Bovada
---
San Francisco 49ers (4-4)
The Christian McCaffrey was a great power move for this team, especially since it denied the Rams and Bills from doing the same. As we saw against the Rams, McCaffrey is going to be great in this offense. The defense has lost its shine a little in recent weeks, but only the Chiefs could light this unit up that badly.
San Francisco might only be an underdog one more time (if that) this regular season. This team is going to win at least 10 games again and could challenge for another NFC Championship Game or even Super Bowl appearance.
2022 49ers Over/Under Pick: Over 9.5 Wins (-160) at Bovada
---
Los Angeles Rams (3-5)
The Rams blew it badly in Tampa Bay with the old prevent offense leading to prevent defense leading to a Tom Brady game-winning drive. Sean McVay has to take the responsibility for that one as he is just too conservative.
The Rams have already failed to score more than 14 points in five games this season after doing so once in 21 games last year (playoffs included). This offensive line is outmatched against any decent defensive front.
Still, a team with McVay, Aaron Donald, Cooper Kupp, Jalen Ramsey, and Matthew Stafford should be able to figure out enough ways to win eight games, so I am still going with the over. But the repeat opportunity is all but dead. This team is probably not going to make the playoffs.
2022 Rams Over/Under Pick: Over 7.5 Wins (-145) at Bovada
---
Arizona Cardinals (3-6)
The in-season Hard Knocks on this team is going to be a rough watch as the Cardinals have already played poorly, and under head coach Kliff Kingsbury, they tend to play even worse in the second halves of seasons.
Unless they want to flip the script this time, this is going to end so poorly that it could be the end for Kingsbury in Arizona. With so many tough division games left and games with the Chargers and Buccaneers, it is hard to see this team doing any better than 6-11. They may be lucky to finish 5-12.
Take the under.
2022 Cardinals Over/Under Pick: Under 6.5 Wins (-150) at Bovada
*The line and/or odds on picks in this article might have moved since the content was commissioned. For updated line movements, visit BMR's free betting odds product.